29 Corporate Gifts for Clients to Wow Them This Year
Corporate Gifts for Clients
Why do you send gifts to clients? Is it out of common courtesy, or because you genuinely care about your continued partnership? Hopefully, your motivation includes a bit of both: you give gifts because you care and it's the right thing to do. We're here to help you make that gift the best it can be with 30 corporate gifts for clients and business partners.
Who to Give Gifts To
The first question you should probably consider is, "which clients should I be giving presents to?" The answer is simple: all of them. Every client, both major and minor, deserves to be thanked and appreciated for their patronage to your company. So if you do business with them, give them a gift regularly.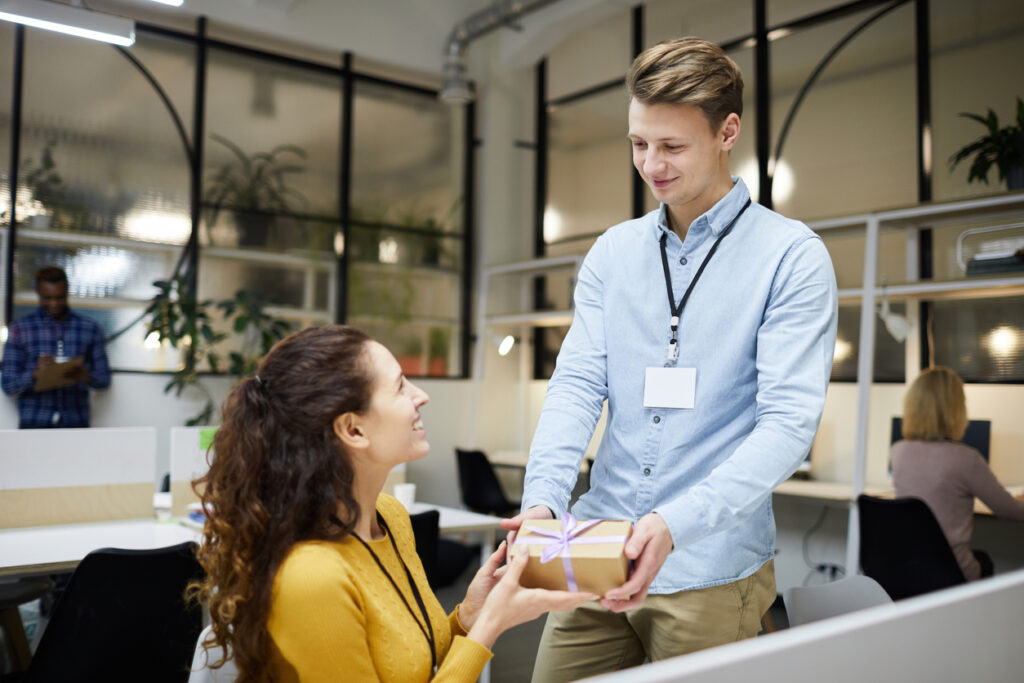 When to Give Gifts
A spontaneous gift "just because" can be a powerful way to show appreciation for a client, but there are also specific times when gift-giving is encouraged. Don't pass up these excellent opportunities to show your clients a little love.
Thanking Clients
It's good business to thank your clients frequently, even for the little things. Sometimes a simple "thank you" card will capture all the sentiment of heartfelt gratitude, but adding a gift to the mix is never a bad idea. Sending a gift to say thank you is particularly helpful if you feel like you don't know the right words to say. Instead of worrying about finding the perfect way to say thank you, you can focus on food, beverages, or new tech they'll be over the moon for.
Client Appreciation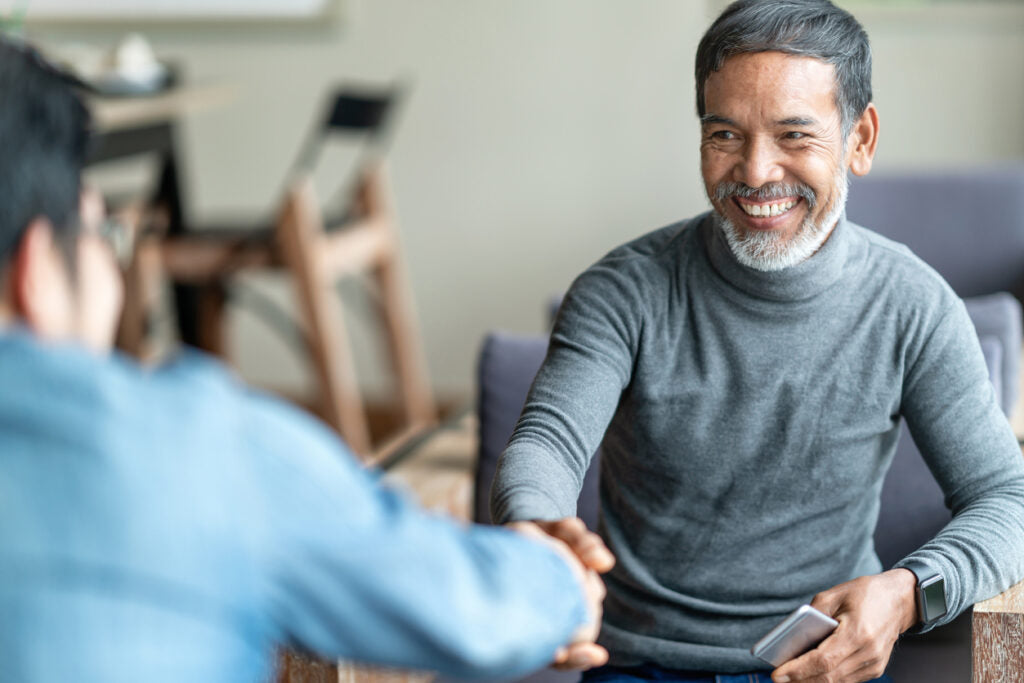 You might ask yourself, "what's the difference between thanking someone and showing appreciation?" While you can thank someone for something they did, appreciation is broader. To appreciate someone is to state why they mean so much to you. With that in mind, appreciation gifts should be more special, helping you demonstrate you value that relationship.
New Clients
Greet new clients with as much pizzaz and appreciation as possible. After all, they've shown they trust you by embarking on this new partnership, so you should show you trust and appreciate them back. A welcome gift goes a long way to making a great impression.
Client Birthdays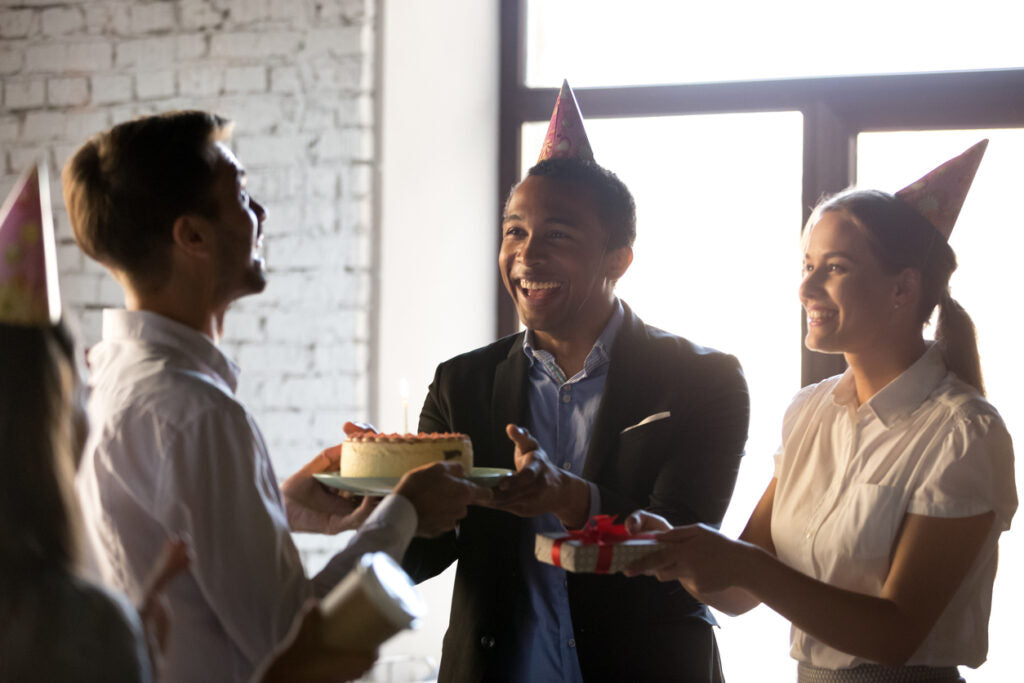 Some people might deny it, but everyone loves getting stuff on their birthday. It's free stuff, what's not to like? You can give individuals something on their birthday. And don't forget that companies have birthdays, too! Send a congratulatory present on the anniversary of their founding or your partnership together.
What Gifts to Give
Now let's get to the fun stuff. What kind of business gifts for clients would work under any of the above circumstances? To help you knock it out of the park, here are the best corporate gifts for clients.
Practical Gifts
These are the gifts that are preceded with "you can get a lot of use out of this." Maybe it's something that will help them stay organized and productive at work, or maybe it's something that will improve their personal life.
Charging Portfolios
Yes, this portfolio is good for organizing documents AND charging phones on the go. It's the perfect gift for clients who are always on the move and need quick access to their phone, pens, business cards, and notebook. Not to mention, their things will be protected in a surprisingly stylish package.
Water Bottles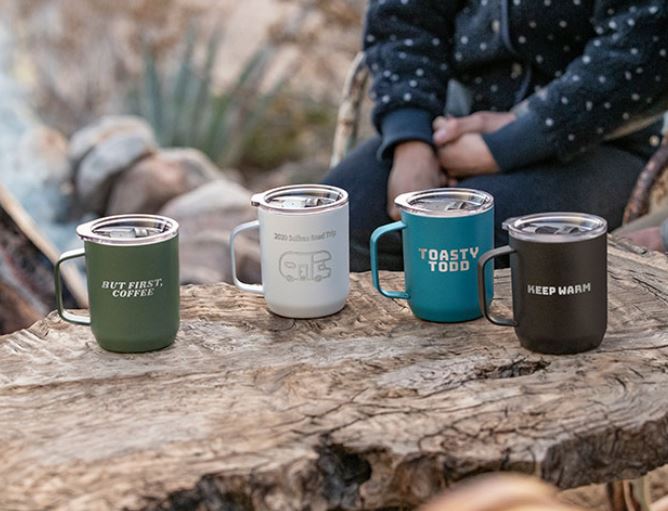 Anyone can send cheap branded water bottles. Instead, send your clients a stylish, high-quality water bottle that becomes their new favorite. Oh, and you can still add your logo to it.
Notebooks
The beauty of notebooks is they can be used for anything. To-do lists, meeting notes, and even screenplay ideas can be jotted down at a moment's notice. Make it personalized by adding your customer's name or their mantra to the cover. Pay attention and notice what kind of journals they prefer, for example, whether they like dotted, lined, or blank pages.
Spa Baskets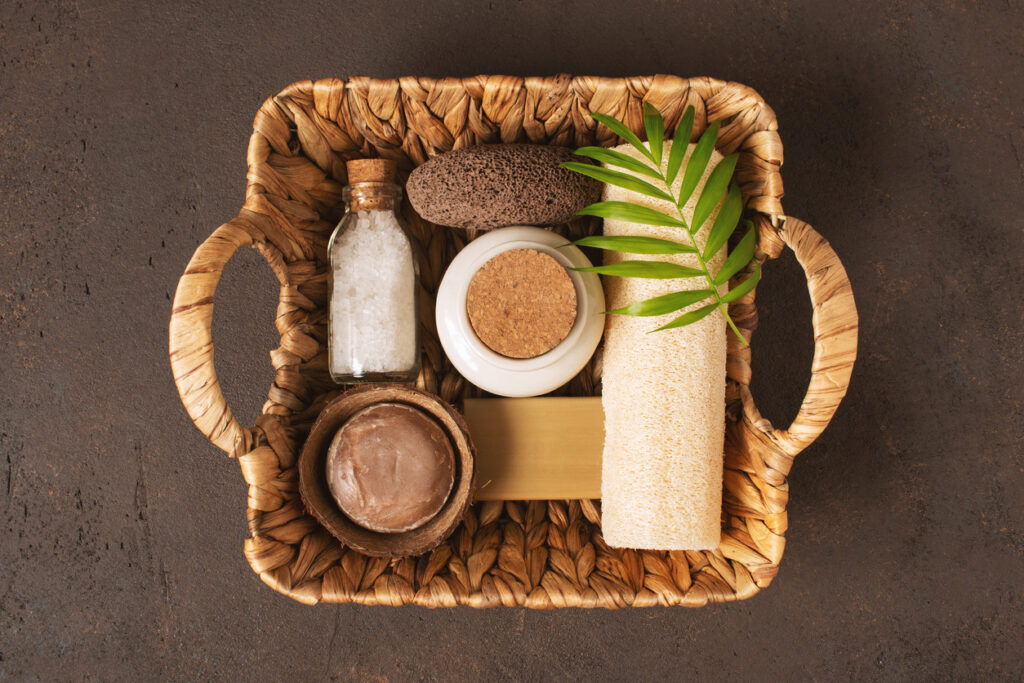 If your business is in the beauty or health industry, consider a gift that makes people feel great from the outside in. Custom spa baskets allow your clients to bring that spa treatment home with them as they unwind with a foot scrub or face mask after a long day at work.
Personalized Pens
Even if your client is glued to their keyboard, they'll still use pens for meeting notes, jotting down ideas, and doodles. And if you send them a pen with their name on it, it just might be their pen of choice.
Gift Cards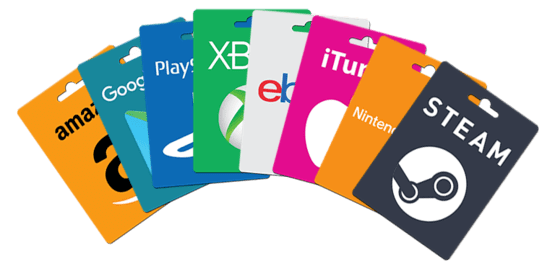 Give your client a gift card to their favorite restaurant or to a store that's related to their hobbies. If you don't know them well enough yet, an Amazon gift card or pre-loaded Visa card will do the trick.
Creative Gifts
Maybe your client appreciates the finer things of life. Or maybe you've developed some inside jokes over the years. You can reflect creativity and personal humor in your gift.
Coffee Table Books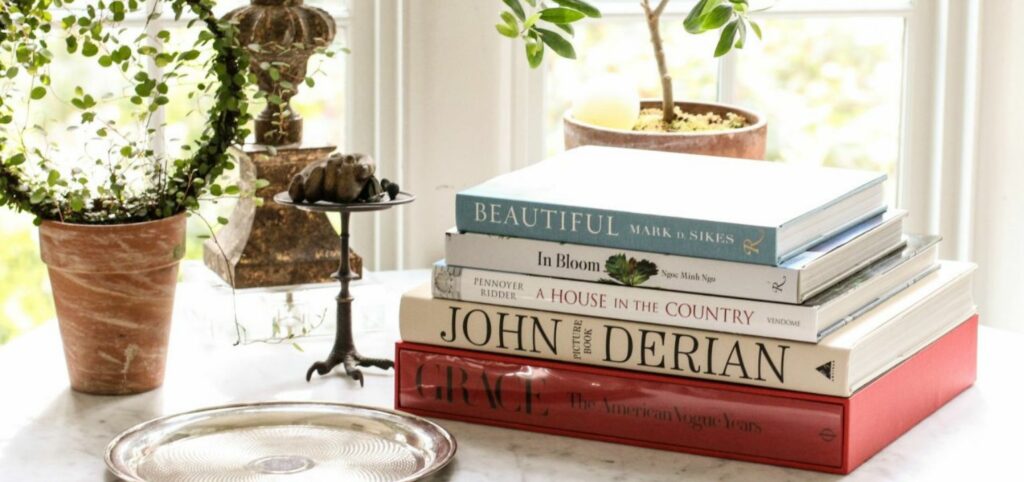 The best coffee table books are the ones that are aesthetically appealing and are genuinely intriguing to browse through. Get your client a book of interesting pictures, or find out their interests and get them something they would enjoy reading.
Coffee/Tea Blends
For coffee and tea enthusiasts, assemble a collection of specialty flavors and roasts. They're sure to love your gift after they've inevitably grown tired of the breakroom coffee and tea selection.
Accessory Swag
Wearable swag, like t-shirts and hats, might be worn a handful of times. Consider also creating swag from other things people will use, like phone chargers, glasses cases, or tumblers.
Beer Brewing Kit
Sometimes gifts can be fun adventures! In the likelihood that your beer-loving client has never personally crafted their own brew, send them a beer brewing kit. Take it one step further and include a branded pint glass or two.
Terrarium/Succulent Garden
There's something about desk plants that adds just a little extra energy to daily work. Maybe it's the extra oxygen in the workspace or the added color, but we bet will will make for a brighter day.
Indoor Putting Green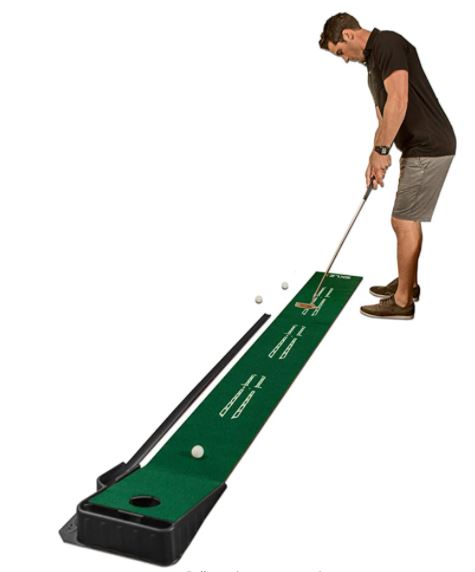 Indoor putting greens are perfect for golf enthusiasts and mini-golf champions alike, and can fit in almost any kind of office space. Now, even if your client can't pick up and go golfing whenever they want, they can practice their stroke in the office.
Thoughtful Gifts
A thoughtful gift is something that is relevant to your relationship and reflects their passions, hobbies, and life. These kinds of gifts feel good deep down.
Chef's Basket
If you know your client spends a lot of time experimenting in the kitchen, give a gift that encourages them to try something new! Pick out a cookbook, bookmark a recipe, and buy some non-perishable ingredients they can make it with. You can also find prepared baskets and recipes online.
Donation to Charity
Sometimes giving to a client can be about giving to someone else. Donating to a charity on a company's behalf is a great way to instill goodwill while contributing to a great cause. To do this right, find out your client's favorite charity. Then look their charity up and arrange the donation, and find out what their policy is on donating in someone else's name. Once you've donated, send a notification to your client with a letter in the mail or an e-card—often, the charity will do this for you.
Baked Goods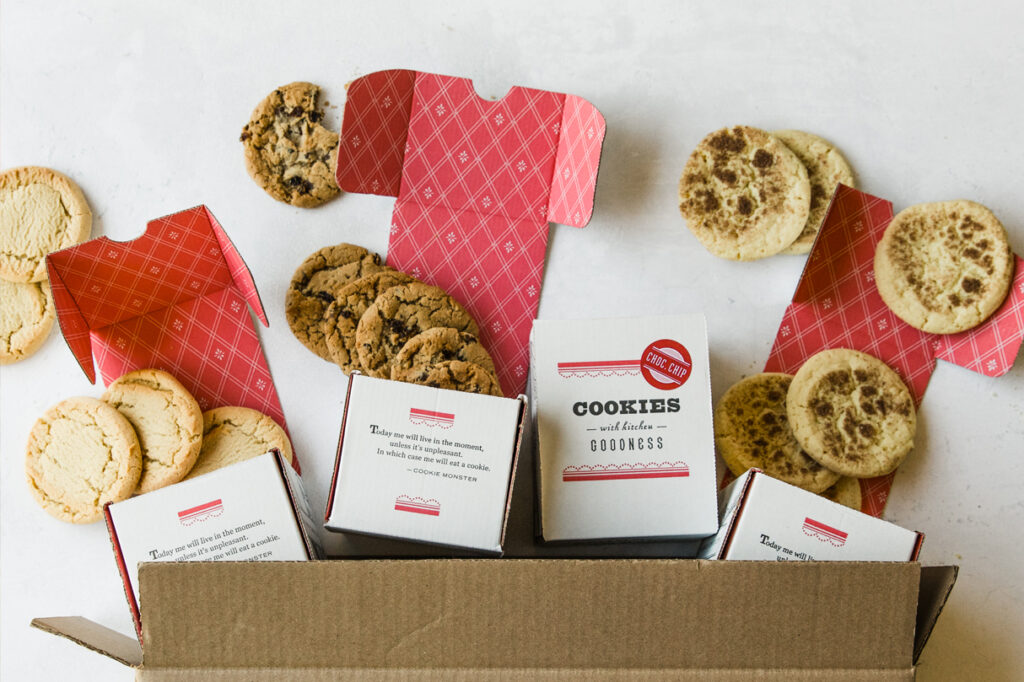 There's nothing to hate about baked goods. You can either make them yourself—or consider our delicious and delivered Cookie Comforts. It's enough to make someone's heart as warm as that fresh-baked cookie they're eating.
Candles
Candles are great for personal and working spaces. Their aroma is the perfect way to cleanse the mind and rid spaces of the smells from coworker lunches (as long as their office permits open flame). For something really special, find out where your client is from and get them a comforting candle to remind them of home every time they light it up.
Photo Album
A photo album with photos from company events, product launch, or any other memorable time can be just the thing to remind your clients of your wonderful shared experiences. A photo album can tell your clients how valuable they are to you! Mixbook has plenty of options for compiling a stylish and impressive photo album.
Food Gift Baskets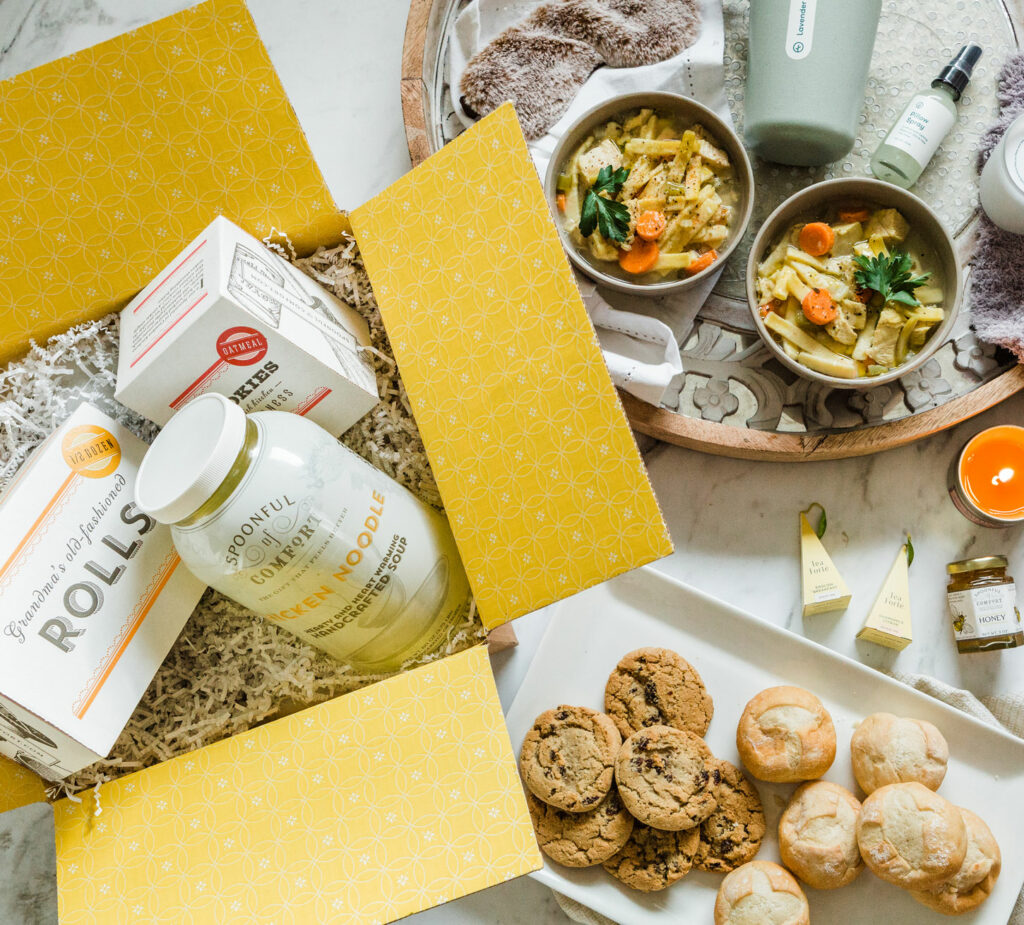 It's hard to go wrong with food as a gift, provided you're aware of any allergies your client suffers from. And while fruit baskets and assorted snacks can do the trick, we think you can go one step further with Spoonful of Comfort's Corporate Gift Basket. This includes our delicious soup, rolls, and cookies along with a personalized note card to your client.
Techy Gifts
Techy gifts can be for personal enjoyment or to benefit your client's business. For example, maybe there's a piece of hardware that would seriously improve their job performance or just make working more enjoyable.
Charging Station
Some clients have a lot of devices at work that they need to keep organized and charged at all times. For them, a charging station is just what the doctor ordered. Most come with a built-in surge protector so they won't have to worry about any accidents frying their information off their phones.
Tablet/Kindle
Though they're on the pricier side of the spectrum, tablets and Kindles are a great way to show clients you care about them. This gift can even be engraved on the back with your company name and a short, sweet message thanking your client for their continued partnership.
Online Classes
Before you say "taking a class sounds more like a chore than a present," hear us out. For some people, especially those interested in advancing in their field, an online class can be a cherished gift. This class might be something they always wanted to take but never had the chance. Now, you've given them the opportunity to do so.
Headphones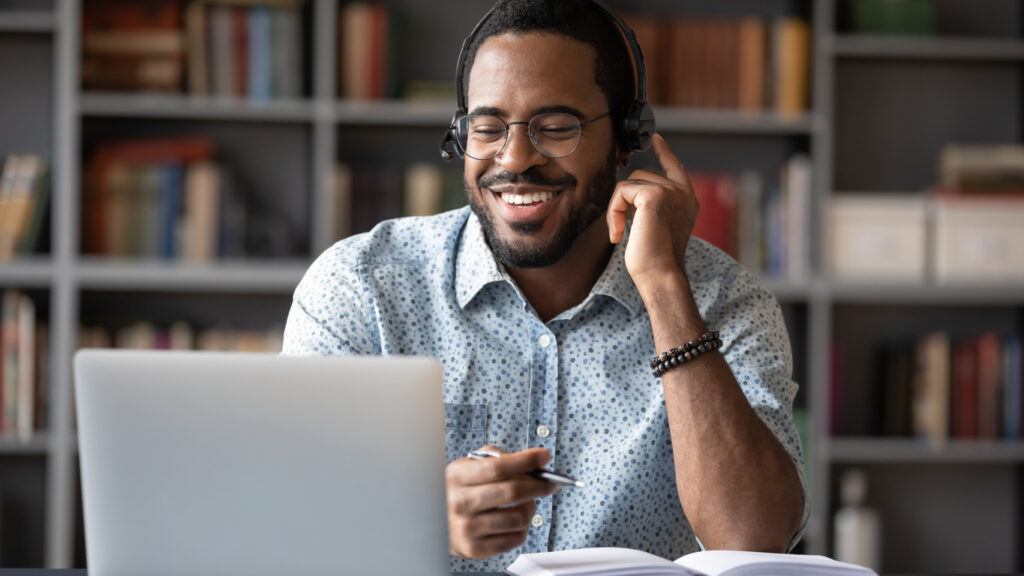 New headphones are a great client gift because they can help them focus on their work and improve the quality of the music they listen to all at once. Bose allows you to customize headphones on swag.com.
23. Portable Chargers
If your client is big into mobile gaming or is constantly seeing their phone die before they can get to a charger, a portable charger is the perfect gift. And coming in at just $10 on Amazon, it's a relatively inexpensive techy gift.
Inexpensive Gifts
You want to appreciate your clients, but you're on a budget. We get it! Luckily there are plenty of inexpensive gifts that are packed with meaning, sentiment, and creativity.
24. Calendars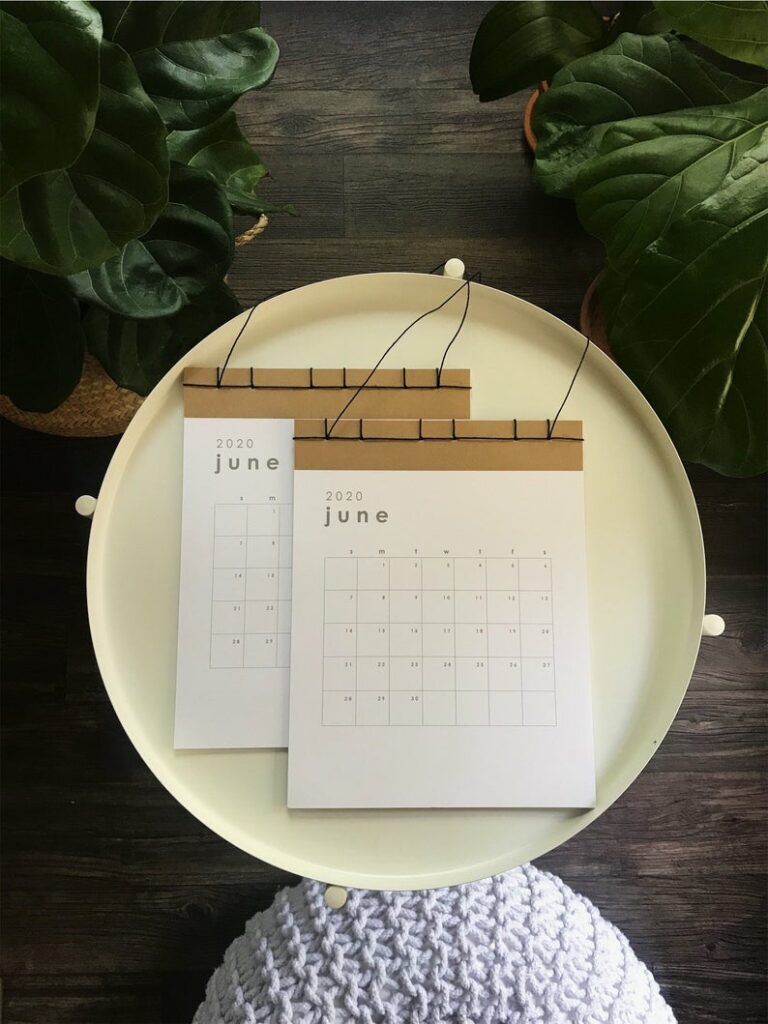 Keeping your clients organized with stylish and affordable calendars is an easy way to provide a simple and elegant present. Many calendars found on Etsy, like this Yasashi Wall Calendar, are super stylish, making it something they'll want to use.
25. Business Card Holders
If your clients still keep their business cards in their pockets or wallet, do them a favor and get them a business card holder. Amazon has $11 business card holders that are as durable as they are sleek.
26. Custom Coffee Mug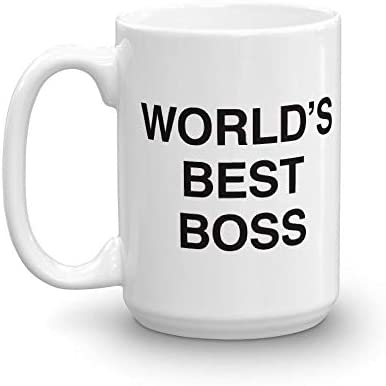 For less than $20, you can make a customized coffee mug with your logo or a photo of your choosing to remind your client of your business every time they take a sip of their morning beverage. Even if they don't use it for coffee, it's still a great place to put their pens.
27. Personalized Fortune Cookies
No one can resist opening a fortune cookie, but they'll be surprised to find your personal message inside! Customizable fortune cookies let you get bulk orders of cookies with your messages, and they only come to about 59 cents a cookie if you choose the most basic package. This makes for an inexpensive and creative gift, with something so unassuming turning out to be a personal message about you and your client.
28. Kazoos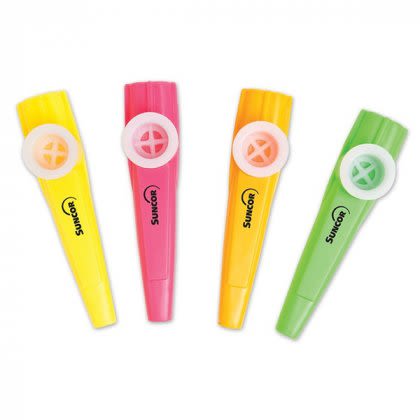 Yes, it may seem a little silly, but that's what makes memorable gifts. And a bulk order of customized kazoos will only run you less than $2 per kazoo, making it an incredibly affordable client gift.
29. A Handwritten Note
We're true believers in the power of the written word. (That's why all Spoonful of Comfort packages come with a personalized note card from you!). So if your budget's tight, there's nothing wrong with sending a simple note. Some unique stationery paper can make your thank you cards recognizable and special.
How Much Should You Spend On Client Gifts?
Hopefully, these business gift ideas for your clients helped you find something that would resonate with them. But now you're wondering, "how much should I spend?" It's common practice to spend between $20 and $80 on a present for a client. You don't want to go too expensive, as that can drain your overhead. By mindful, too, of any limits on gift values received by employees.
Then give yourself a budget. Then you can divide that by how many clients you need to buy presents for to determine how much you can spend on each gift.
So, say you set yourself a budget of $400. If you have eight clients you want to give a gift to, that means you can spend $50 on every gift.
Check Out Our Corporate Accounts
Spoonful of Comfort's corporate gift specialists can help you find gifts for every budget and every client—plus you'll get an automatic discount when you set up a free corporate account with us. One of our corporate specialists will oversee your orders and help manage the presents you want to give with prompt, personal service.

This article is part of our
Corporate Gift Giving Guide
to guide you to find the perfect gift for every gift-giving occasion in business. Don't forget to sign up for your
Corporate Gift Account
today and get a discount on corporate gifts for your employees, clients, and customers!
Corporate Gifts
Executive Gifts
Gifts for Employees
Gifts for Clients
30 Corporate Gifts for Clients to Wow Them This Year (← You are here)