Instapot French Onion Soup
How to Make French Onion Soup
Ever feel like making a fancy dinner, but without all the hassle of well...making a fancy dinner? We know it's not just us. Fortunately, you can feel fancy and still keep your dinnertime sanity. You just need the right recipe.
(Dramatic Pause.)
Here it is! A soup recipe your whole family will love, your grocery budget will appreciate, and you'll want to make again and again. It's our Instapot French Onion Soup, and we promise it's just the thing to break you out of a recipe rut.
French Onion Soup was a staple in Parisian bistros throughout the early 19th century, until it jumped the pond and became popular in larger American cities trying to replicate authentic French cuisine. (These are the historical facts you can force your kids/roommates/partner to listen to while you're waiting for the cheesy topping to broil.)
But what you really need to know is that French Onion soup is beloved for combining three very important flavors: savory broth, sweet caramelized onions, and tangy cheese. Those are flavors worth waiting for, and traditional recipes call for lots of simmering broth. But fortunately for you and your tastebuds, an instapot can make short work of this classic favorite.
Our homes and kitchens have become lots of things over the past few months: classrooms, offices, corporate boardrooms, even gyms! Why not a charming cafe in Paris? So grab your best striped shirt and a good baguette, it's time to get broiling!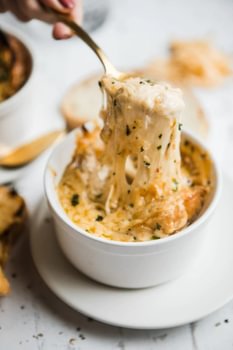 PS: French Onion Soup is a dish best served with friends. But if your friends and family are too far away to join you in the French dining establishment formerly known as your kitchen, you can always send a little love their way with one of our care packages. We don't ship French Onion just yet, but we promise there's a lot of other flavors to fall in love with.
Instapot French Onion Soup
Serves 4
2 Tbsp olive oil
2 large sweet onions, peeled and very finely sliced
1/2 teaspoon salt
5 cups beef or veggie broth
salt and pepper to taste
4 slices of crusty French bread or baguette
2 cups swiss or gouda cheese, shredded
fresh chopped parsley, for garnish
DIRECTIONS:
Turn instapot to saute mode. Add olive oil. Once hot, add onions and salt. Cook just until onions begin to soften and brown slightly. Add broth. Cover instapot with lid, make sure vent is closed.
Cook High Pressure for 7 minutes, allow to sit for 10 minutes, then release.
Salt and pepper to taste.
Spoon mixture into ceramic ramekins or bowls. Top with baguette or bread, sprinkle with cheese. Transfer bowls to a sheetpan. Place top rack of oven on the highest rung.
Heat oven to broil. Slide pan onto the top rack, watch closely, cook just until cheese begins to bubble and turn pale golden around the edges.
Garnish with fresh pepper and parsley, if desired. Enjoy!
And when you can't be there in person to make this mouthwatering dish for the ones you love, send them a healthy helping of yummy comfort soup from Spoonful of Comfort.