So Simple Italian Wedding Soup
Italian Wedding Soup
Bonjourno!
It's us again, ready to help you transform your at-home headquarters from a sea of empty pizza boxes and take-out containers (wait, is that just our kitchen?) to something a little more special. While we last left you feeling very chic and Parisian with our Instapot French Onion Soup recipe, today's recipe draws inspiration from Italy for a classic soup that everyone, even your resident picky-eater, will love.
Presenting our So Simple Italian Wedding Soup. Want to know what's especially great about this soup? The mini meatballs. We're convinced everything is somehow tastier when miniaturized, and these cuties are no exception. But don't worry, the hearty veggies and zesty parmesan are pretty delicious too.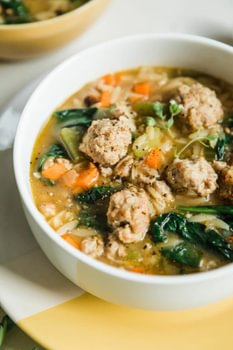 Intimidated about making homemade meatballs? No problem. We've come up with a few simple tricks for perfecting the process, so you can get dinner on the table, presto!
This really is the perfect meal for celebrating soup season and all things autumn—the cooler temperatures and cozy outerwear. Football games and their forever soulmate, game day snacks. Decorative gourds and pumpkin-spice everything. It's fall, friends! Time to celebrate the marriage of all our favorite things with a big bowl of soup and plenty of crusty bread.
You can find our So Simple Italian Wedding Soup recipe below, but before you bust out the pasta, don't forget to celebrate the season with the people you love. Whether that's sending over a batch of this goodness or letting us do the heavy lifting (and chopping, and simmering,) with a homestyle care package made just for them, there's lots of ways to make life a little more delizioso.
So Simple Italian Wedding Soup
1 pound ground turkey

1 packet dry Italian dressing mix

1 egg

1/2 cup panko breadcrumbs
3 Tbsp oil
1 cup carrots, diced
1 cup white onion, diced
3/4 cup celery, diced
3 cloves garlic or 1 Tbsp garlic paste
6 cups chicken broth
1 cup dry acini de pepe, ditalini or orzo pasta
6 oz baby spinach
1/2 cup shaved parmesan
In a large bowl, mix together turkey, Italian dressing mix, egg and breadcrumbs. Form into very small meatballs, about 3/4" in diameter.
Heat 2 Tbsp olive oil in a large pot over medium heat. Gently add meatballs to pan, turning with a fork or small wooden spoon until golden brown. Transfer meatballs out of pot, place on a large plate, set aside.
Return pot to stove, turn heat to medium high. Add 1 Tbsp olive oil. Add carrots, onions, celery and garlic topot. Cook until carrots are slightly tenderized, about 5 minutes. Add in chicken broth, pasta and add meatballs back to the pan. Cover and cook 15 minutes, until pasta is al dente and meatballs are cooked through.
Add spinach to pot. Cook just until wilted. Serve with parmesan.
If you're craving this soup but not in the mood to make it for yourself, have it delivered to your door!