31 Comfort and Cozy Gift Ideas That Keep You Warm
Hygge Holidays
At Spoonful of Comfort, we discovered a name for this bliss. It's called "hygge" (pronounced "hoo-gah"), the Danish word describing perfect moments of cozy contentment. Hygge is what you feel when you're wrapped in a blanket watching the snow fall outside. It's the experience of calm that comes during the simple pleasure of reading a book while sipping a cozy mug of tea. Hygge is that sense of contentment found in candlelight and quiet moments with the people you love.
In a word, hygge is what we think the holidays are all about. And it's the theme of our holiday gift lineup for 2020. But before we get to that, get a feel for hygge yourself with this list of cozy gifts that can help everyone you know experience a hygge holiday season.

Warm & Cozy Gift Ideas
The holiday season is packed full of parties, presents, shopping, wrapping, cleaning, cooking, and decorating. They're fun, for sure. But hygge happens in the quiet moments in between. These comfort gifts will help all the important people in your life enjoy a moment of peace and rest amidst the fun and chaos.
Comfort Gifts for Her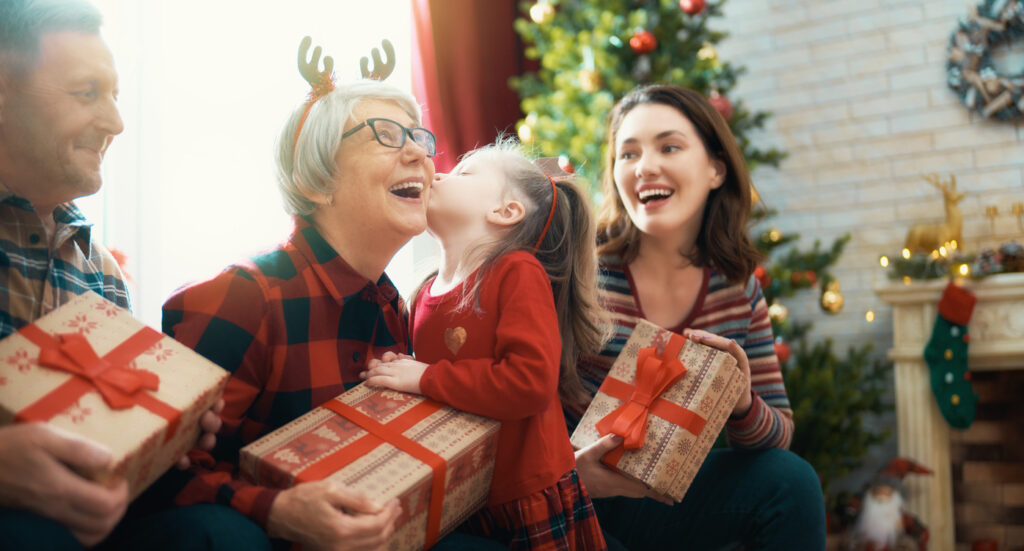 Mom, grandma, wife, or sister—you know the truth … these women in your life work nonstop to ensure everyone has the best holiday possible. Show your appreciation and help ease the pressure with a thoughtful gift that will keep them warm and relaxed.
Comfort Gifts for Him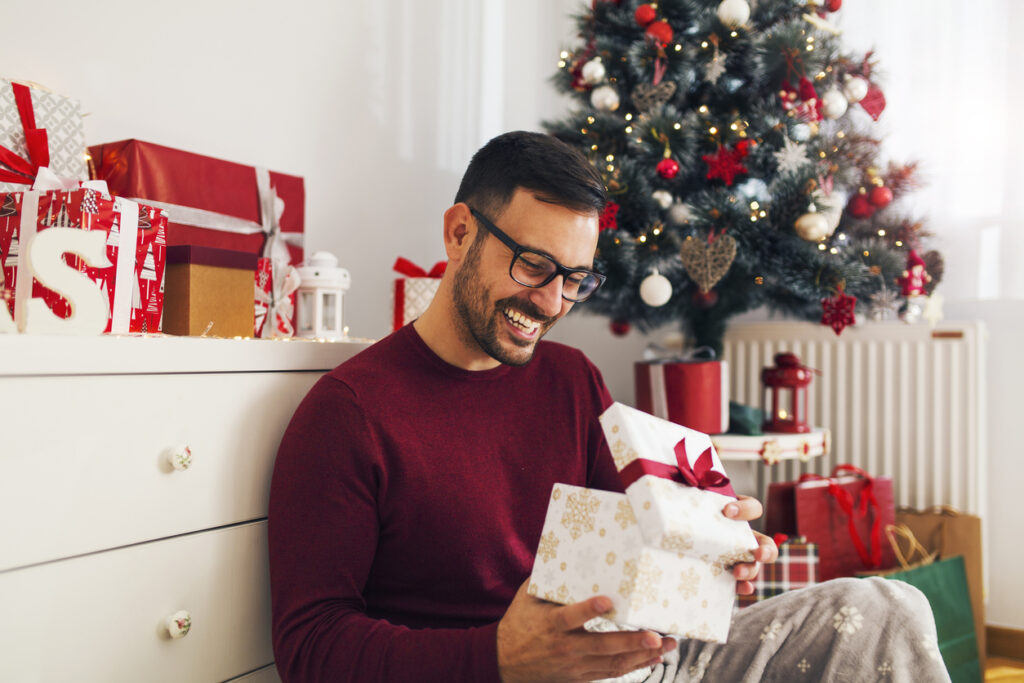 Climbing ladders, hanging lights, putting up the tree, and shoveling the driveway isn't easy for anyone. And if a guy tackles holiday chores in addition to mediating between his wife and mother, impressing his in-laws, and helping his kids build the best snowman in the neighborhood, he deserves a little hygge for himself. These comfort gift ideas are sure to help him get into the hygge holiday spirit.
Massage - How about a heated shiatsu back massager that fits onto his favorite chair. It's great for soothing those sore muscles any time of day.
Bluetooth Beanie - Help him stay warm outside, especially while shoveling snow off the sidewalk for all your holiday visitors. Make the job more fun with a Bluetooth beanie that allows him to listen to his favorite tunes while he works.
Insulated Mug - An insulated travel mug is a great way for him to keep his coffee hot on the way to work or his cocoa warm when he's out in the cold. Be sure to find one that fits nicely in the cupholder of his car.
Socks or Slippers - Believe it or not, men do occasionally get cold. Snuggle up together in your fuzzy socks or get him a pair of slippers for those chilly mornings.
Relaxing Pillow Spray - Help him relax as soon as his head hits the pillow with a relaxing lavender deep sleep pillow spray.
Comfort Gifts for the Kids
There's nothing like time off from school for Thanksgiving and Christmas, but even the kids need a little help relaxing sometimes. Tackle the traditions of holiday light displays, building gingerbread houses, cleaning their rooms (gee thanks, Mom), and writing letters Santa. And then create some well-deserved downtime for everyone. You can keep the holiday magic alive with these cozy gift ideas.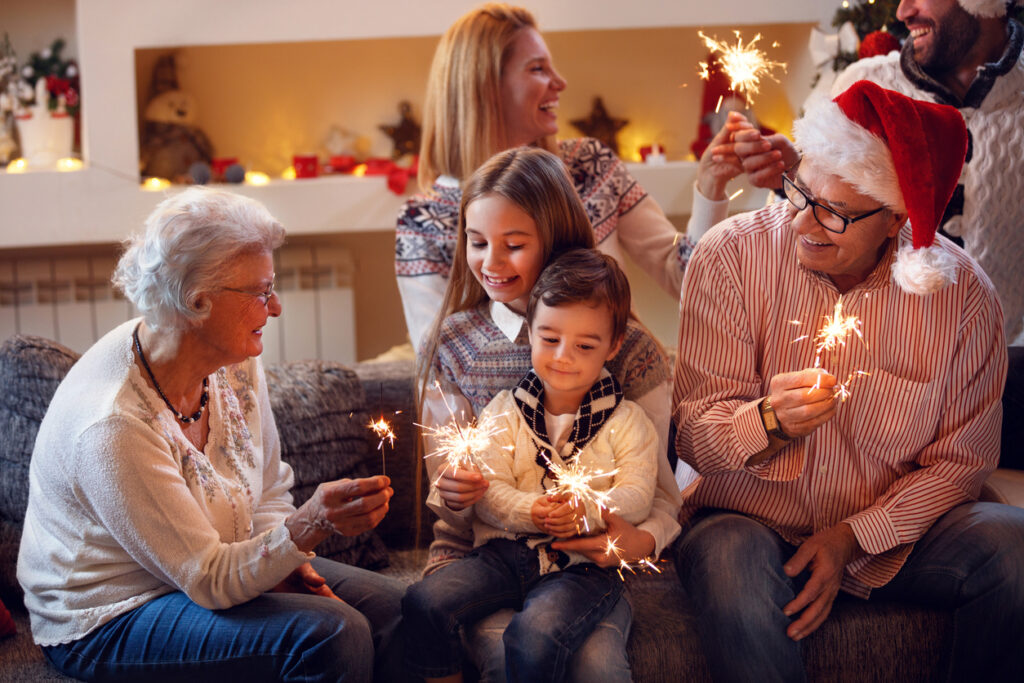 Snow Gear - The sparkling sun on freshly fallen snow is truly a winter wonderland when you're out of school for winter break. Help them bring their imaginations to life with tools they can use in the snow and cozy clothes to keep them warm. Hats, scarves, gloves, boots, and snow pants are more fun than you might think.
S'mores - Why wait for summer when you can make s'mores at home over the stove or in the fireplace? A s'mores kit makes a great gift for kids and can be used as a family anytime during the winter.
Slippers - Let your kids run around in their "bear" feet with a pair of fuzzy animal paw slippers that will keep them warm.
Hooded Blanket - Speaking of fuzzy animals, your kids will love these hooded animal blankets. They can wear them while reading, watching movies, and even playing games as a family.
Lounging Pillows - Let your kids lounge in the living room with a set of pillows and a cover that connects them to create the perfect seat. With the ability to bend into a variety of shapes, these cozy gifts can even be used as a bed if you'll be spending the holidays at Grandma's house.
Weighted Blanket - Help your little ones get a good night's sleep with a calming and super soft weighted blanket.
Comfort Gifts for Coworkers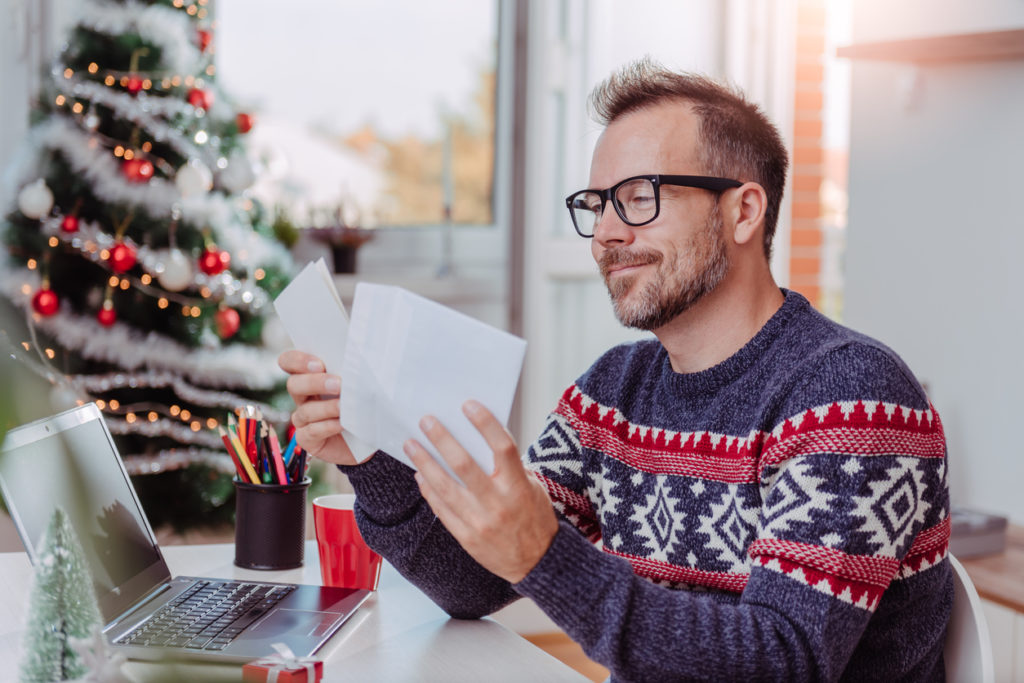 Don't forget cozy Christmas gifts for coworkers this year. Show your amazing team how much you appreciate their hard work with one of these comfort gift ideas.
Gift Baskets - We think a basket full of goodies is always a great present, especially if it includes a gourmet meal or a box of cookies. (If you help choose gifts for your company, get a discount on gift baskets from Spoonful of Comfort by signing up for a free corporate account.)
Mugs and Cocoa - Keep everyone in the office cozy and warm with an insulated tumbler. Fill it with packages of cocoa and other festive treats, or add a gift card to make it extra special.
Small Space Heater - Does someone keep turning the temperature down while others shiver at their desks? Warm-up your freezing friends with a small space heater that fits on or under a desk.
Coffee Sleeve - Keep their cup cozy with a knitted coffee mug sleeve that can be used all winter.
Cardigan - Female coworkers will also love a soft and warm cardigan they can wrap up in while they work, especially if it's beautiful and luxurious.
Lavender Eye Pillow - Help your colleagues get the rest they need between shifts and come to work bright-eyed and ready to go. Give them a lavender eye pillow for optimal relaxation.
Insulated Lunch Box - An insulated lunch box set is perfect for team members that bring their food to work each day. They can easily keep their lunch toasty warm until break time.
Cozy Christmas Gifts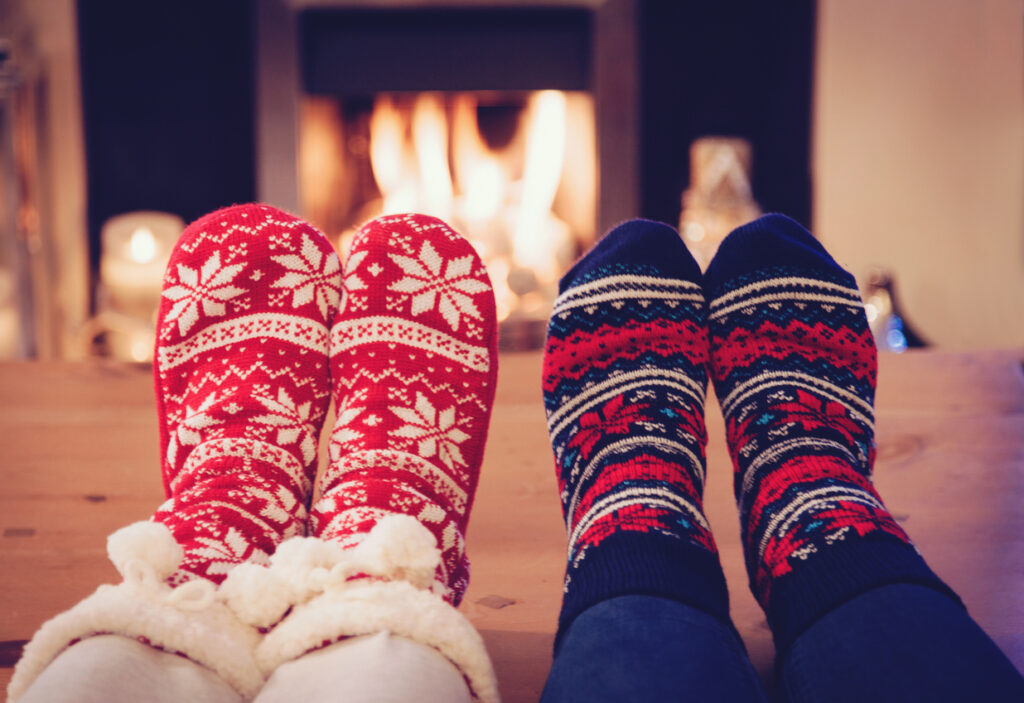 Ready to turn down the holiday hustle and tune in to hygge? We hear you. And we think anyone would love cozy Christmas gifts that keep them warm and comfortable during the winter. You can make hygge your theme for the holidays, too! Learn more about this cozy Scandinavian concept so you can share it with the people you love.
Then, see what Spoonful of Comfort has up our Nordic knit sleeve. Our 2020 Hygge Holiday catalog is full of warm and cozy gift ideas like these: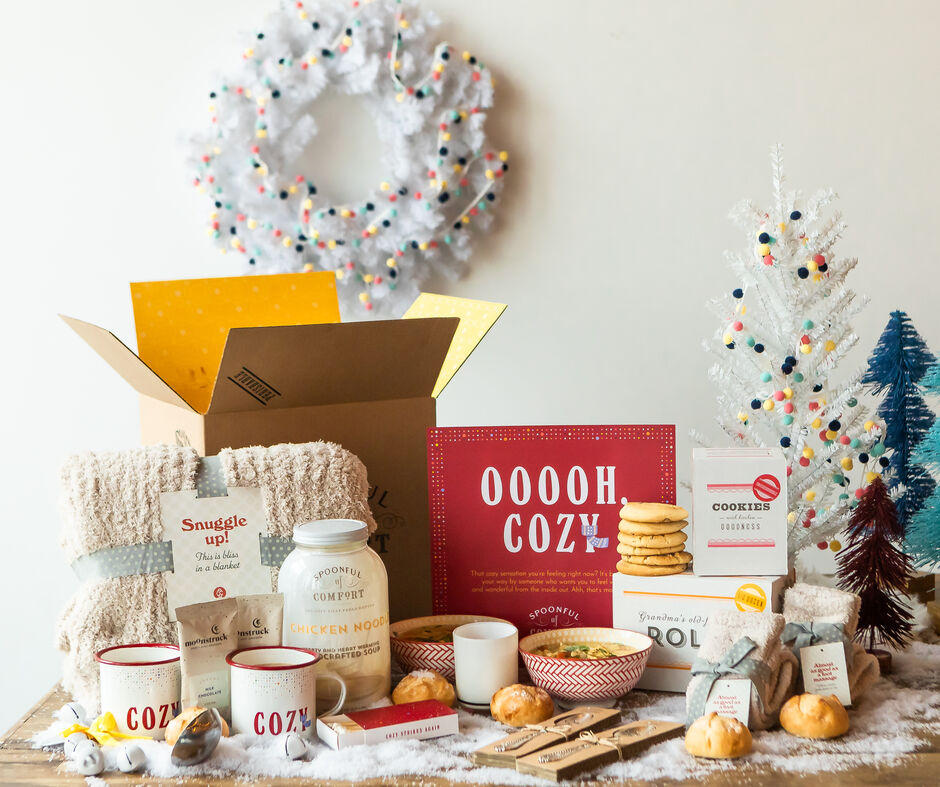 Cookies and Cocoa - 6 cookies, gourmet cocoa, and more.
Hygge Frame of Mind - Vanilla cashmere candle, gourmet cocoa, mug, and more.
Home for the Hygge - Cozy blanket, super-soft socks, cocoa, cookies, and more.
Cozy with the Crew - Dinner for the family, ladle, and conversation starter cards.
Make Spoonful of Comfort part of your hygge holiday this year and enjoy a more relaxed and cozy season.
This article is part of our Holiday Gift Guide: