Instapot Taco Soup
How to Make Taco Soup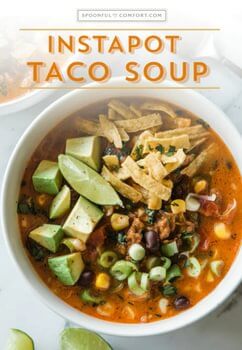 You know the old phrase, "it's 5 o'clock somewhere?" It's never been more true. You know what else is true—and delicious? Tacos! Tacos are always a good idea. So in celebration of one of our favorite meals, we'd like to incorporate a new mantra to help us navigate the weeks ahead. Ready? It's Always Taco Tuesday.
Sunday night blues got you down? Tacos. Your WFH conference call ran late? Tacos can help. Debating whether or not you should cut your own bangs? Put the kitchen scissors down and make some tacos.
And when you're ready for a little variety but still short on time, try our 10-minute Instapot Taco Soup, full of all the flavors you love and ready to serve in less time than it takes to regret that at-home hair cut. (Seriously, hide the scissors from yourself, it's for your own good. And remember, friends don't let friends cut or dye their own hair.)
Back to our favorite Taco Soup recipe: we love the kick from the spicy chorizo, the way you can add in all your favorite toppings, and the crunchy goodness of the tortilla strips. It really is the perfect meal for any day of the week, and it's also easily shareable, so consider making a second batch for someone who might need a little pick-me-up. Or as a gesture of apology to your hairdresser who will someday be responsible for repairing the damage you did last night when you thought you could pull off DIY bangs.
And if that at-home haircut requires more than one attempt at reconciliation, let us help. We offer made-with-love care packages for every important person in your life— including ones who need Gluten-Free bread, vegetarians who love that freshly-picked taste, and best friends with a passion for all things sweet. After all, It's Always Taco Tuesday, and it's always a great day to send someone a little love, extra avocado included.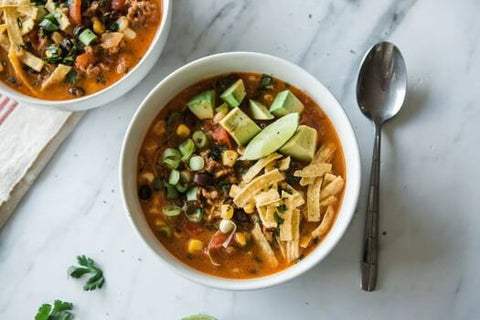 Instapot Taco Soup
1 Tbsp olive oil
16 oz chorizo (casing removed)
3 peppers (red, green or yellow), diced
1/2 onion
1 (1.25 oz) packet taco seasoning
32 oz diced tomatoes
32 oz beef broth
1 (15.5 oz) black beans
1 cup frozen corn
1 1/2 cups shredded sharp cheddar
Turn the instant pot on to the Sauté setting. Add the oil and chorizo, stirring often until browned.
Add taco seasoning, peppers and onions. Stir to combine.
Add the diced tomatoes, beef broth, and black beans.
Place the lid on the pot and lock in place. Turn the steam release knob to the Sealing position.
Cancel the Sauté setting and press the Manual button and set at 8 minutes.
Once the cooking cycle has finished, let the pot sit undisturbed for 15 minutes.
Stir in corn and allow to sit for a few minutes.
Taste and adjust salt, if needed,
Serve with any of the garnishes you like!