Best Cookie Delivery, The Sweetest Gift You Can Give
Cookie Comforts: Gourmet Cookie Gift Packages
Spoonful of Comfort is excited to now offer Cookie Comforts, the official Spoonful cookie gift package! Cookie Comforts are cookie delivery packages perfect to send as a quick, sweet, and heartfelt gift to the people you love.

Whether sendings regards, sympathy or a simple "I miss you", you can never go wrong with the gift of food. Especially the gift of cookies! With four different mouth-watering flavors to chose from, you can customize any package to your recipient's taste of choice. Chose two to four dozen of the confectionery goodies to pack inside our adorable gift package. Our flavors include Oatmeal Raisin, Chocolate Chip, Sugar Cookies, and Snickerdoodle Cookies. We will even add a personal touch to your cookie gift package by including a handwritten note authored by you and sent straight to their front door with free 2-3 day shipping! Learn more about our cookies below:
Oatmeal Raisin

So hearty and healthy you'll forget they are dessert! Oatmeal Raisin packs in the fiber while still tasting sweet... making this flavor the perfect feel good cookie!
Sugar Cookie
Taste as good as they look. Spoonful's sugar cookies are easy to sink your teeth into and rich with seasonal sprinkles and sugar!
Snickerdoodle
Melt in your mouth cinnamon goodness makes Snickerdoodles a tasty and whimsical choice for any friend in need of a pick-me-up.
Chocolate Chip
A true American cookie classic. Just the right amount of chewy and crispy. Just the right blend of semi-sweet chocolate and delightfully sweet dough. You can't go wrong with chocolate chip cookies, a guaranteed way to make any day sweeter.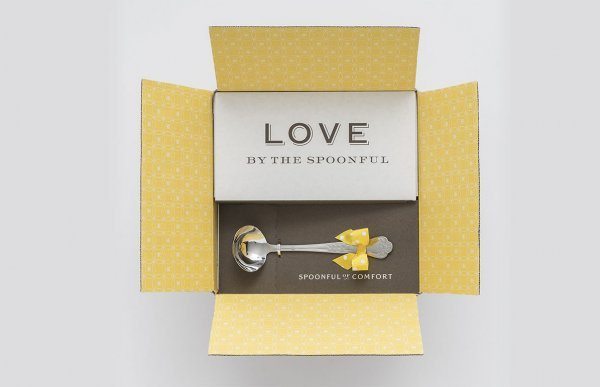 Spoonful of Comfort is dedicated to sending personalized gift packages that make people smile, improve their day, and make them say "yum!" with every bite. Our soup gift packages bring warmth by the spoonful. Our Cookie Comforts work to make every day a little bit sweeter. Whether someone you know is getting married, welcoming a new baby, going through a tough time, or lives far away, sending the gift of food is a special, unique experience that brings the nostalgia of a mother's kitchen to any occasion. Send gifts that are worth giving and share love with every package sent.