Take and Make Summer Sangria


We think a great DIY gift is anything that feels personal, unique, and creative. But we also love gifting something that feels both fun and useful—something a friend or loved one can use right away to make an ordinary Saturday night feel a little more special, or transform a casual Sunday brunch into something luxurious.


Summer Sangria
That's why we're big fans of this "take and make" Summer Sangria gift: whether you bring it as a hostess gift or deliver one to a new neighbor, it's an instant party starter—just pour the wine, add the fruit, and hooray, it's time to celebrate!

Want to give someone some perfect Summer Sangria? A little preparation goes a long way. Here's what you'll need...(And yes, we recommend picking up at least two of everything, so you're always ready to gift a little festivity.)
"Take and Make" Summer Sangria
A bottle of your favorite rosé: the perfect wine for a light and summery sangria.
Drink Dispenser: We found ours at Target, and it's available online and in store. You can find great alternatives at Kohl's and World Market, and even through Amazon. (Long live two-day shipping for gifters in a hurry.) Aside from the wine, (obviously) this is the best part of this DIY, since it's reusable and a must-have for outdoor festivities.
A blend of your favorite fruits: summer has so much fresh sangria-ready produce to offer, so hit up your local farmer's market (or your favorite air-conditioned grocery store) and pick up a variety of fruit. We love strawberries, peaches, nectarines, lemons, and limes for a drink that's tangy and sweet.
Optional: Ribbon and a "Sip Sip Hooray!" card thanking your hostess or welcoming the new neighbor.


Very Little Assembly Required
Once you've gathered your supplies, place the wine bottle into the dispenser first, and arrange fruit around the bottle. Add the lid, tie a festive ribbon around your gift, and head out the door, ready to be the most popular guest at the party. (Even if the party is just on your neighbor's patio, after work.) For an added touch, include a tag with your favorite sangria recipe or give our favorite a try:
White Peach Rosé Sangria
4-5 white peaches

3 limes

4 lemons

1 pint strawberries

1 cup raspberry vodka

1 bottle rosé

¼ grand marnier

1 bottle sparkling lemonade

Lots of ice
Directions: Combine all ingredients into the container, stir, pour and toast the host!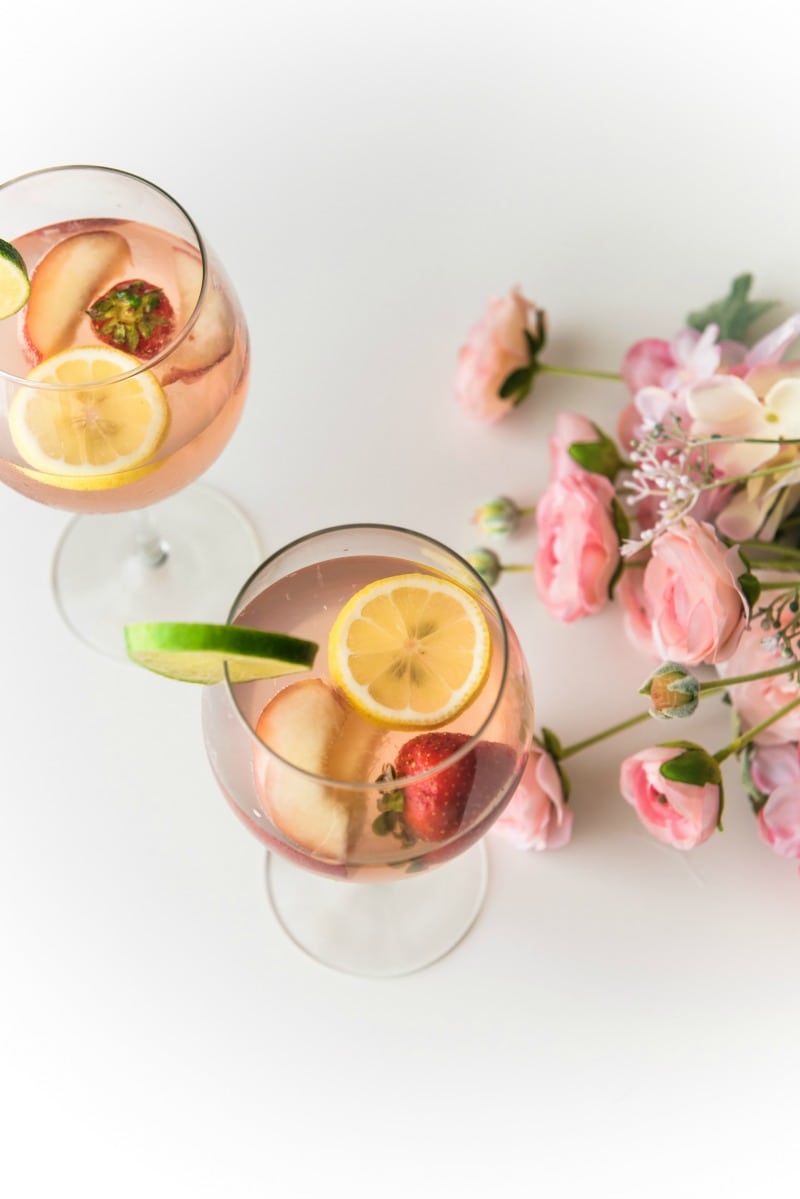 Cheers to Sangria....And Dinner
For friends and family too far away to benefit from your excellent party-making sangria skills, you can always send dinner. Our Soups and Sentiments care package comes with delicious soup, homemade rolls, and tasty cookies. You can customize your care package with a variety of soups and treats so that your favorite people will always feel the love, no matter how far away they roam.
Share with Someone You Love
We love when great ideas get shared. If this post inspires you to take and make some Summer Sangria, we'd love to see it! Share the love, snap a photo, and tag us on Instagram @spoonfulofcomfort #spoonfulofcomfort.SaveSaveSaveSave
SaveSave