10-Minute Tomato Soup: Inspired by our Bestselling Tomato Basil
10-Minute Tomato Soup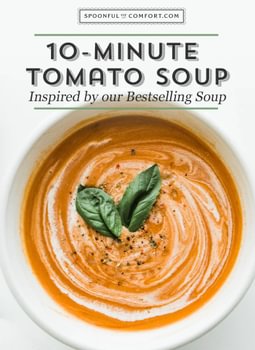 We're in the business of sending delicious meals and thoughtful gifts to your friends and family anywhere in the continental United States. And while we're proud of the fact that you can now send anything from the perfect brunch care package to dinner and dessert, our mission began with a bowl of soup. We wanted everyone to feel the love and care associated with a home-cooked meal, and we've expanded our recipes to include a variety of season options—think our rich Butternut Squash or hearty Harvest Vegetable.

And while we're the totally the dinnertime equivalent of a proud parent, promising loudly that we love each of our soups equally, we have to admit something: if we had to pick a favorite, our famous Tomato Basil soup would definitely make the short-list. It's both fresh and creamy, a little bit sweet with just the right amount of garlic and basil, and it's just as delicious on a warm summer evening with a grilled-cheese sandwich as it is on a chilly winter afternoon with crusty bread and a good book.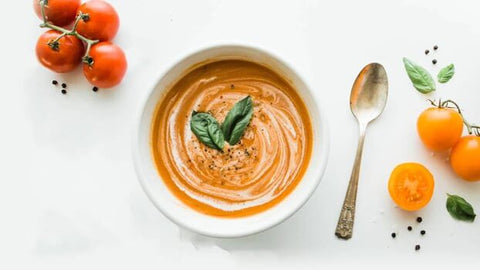 Apparently, you agree with us about the greatness that is our Tomato Basil soup, since it's one of our bestsellers and customer favorites. If you're ever wondering which soup would make the best beginning for one of our customized care packages, you can't go wrong with a soup that tastes like something straight out of mom's kitchen.

While we're ready and waiting to send a jar of this delicious goodness to anyone in need of a Tomato Basil fix, we want everyone to be able to enjoy a bowl of homemade goodness whenever the need arises. So, if you've got ten minutes and a few simple ingredients, we've got a quick and easy recipe inspired by our (secret but not so secret,) favorite soup.



10-Minute Creamy Tomato Soup Recipe

TOTAL TIME: 10 MINS PREP
TIME: 2 MINS COOK
TIME: 8 MINS


1 Tbsp garlic puree
2 (14 oz.) cans fire-roasted crushed tomatoes
1 handful basil leaves
3/4 cups heavy cream
1/2 cup fresh grated parmesan

Place all ingredients in a blender, puree. Transfer to a large pot, heat over medium-high heat for 5-10 minutes, just until steaming. Serve and enjoy!

Remember, for friends too far away to sit down with a bowl of warm soup, share the love with one of our all occasion Spoonful of Comfort care packages, complete with soup, fresh rolls, and bakery-style cookies. Happy Tomato Season!