10 Soup Toppers You've Gotta Try for National Soup Month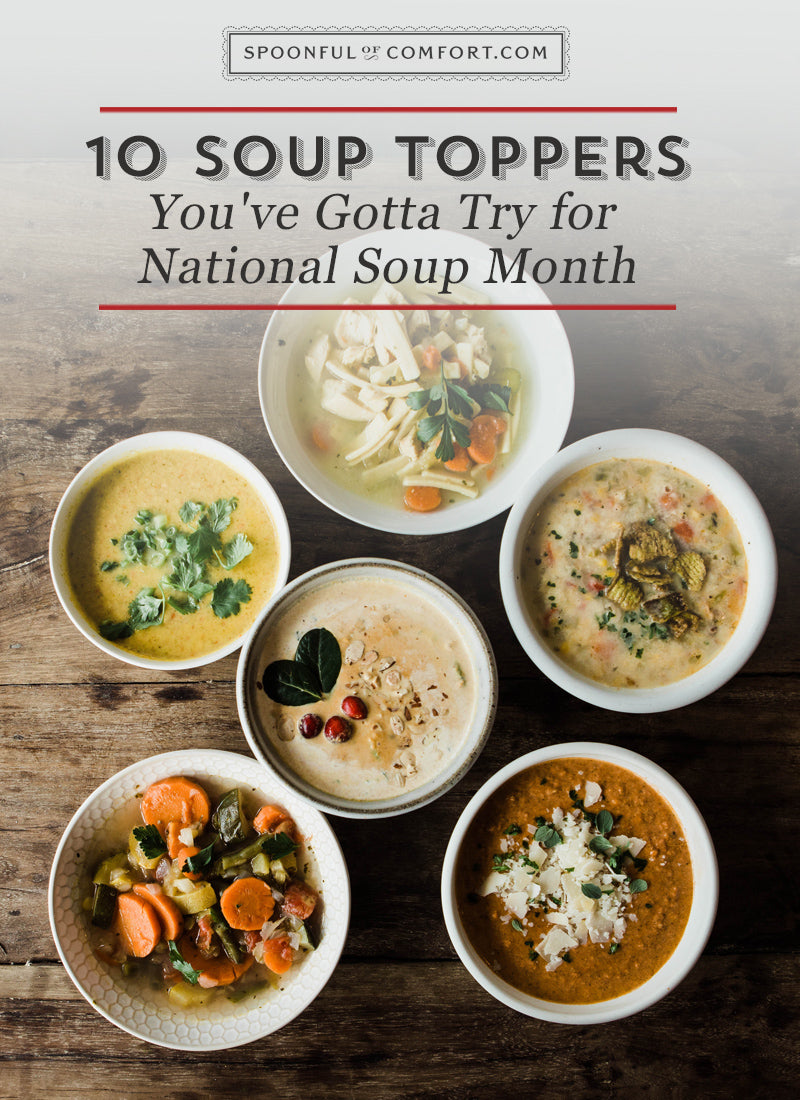 Soup Toppers To Try For National Soup Month
We're serious about soup. It's delicious, packed with nutrients, and all-around the ultimate comfort food. Whether you're just trying to stay warm in a cold climate or adding a soup course to a fancy dinner-party, why not celebrate National Soup Month with some quick and delicious tricks to take your favorite soup recipe to the next level. From adding flavor and texture to heating things up with some extra spice, there's something for everyone when it comes to making a bowl of soup feel like a special occasion.
Want to add a pop of flavor?
Pesto: Stir a spoonful of fresh basil pesto into each serving of your favorite cream-based soups. The basil and pine nut combo will help bring out the flavors in your other ingredients, especially in homemade tomato soup.
Toasted coconut: Spread coconut flakes onto a baking sheet, and bake for 5-10 minutes at 325°F. Perfect on pumpkin or butternut squash soup.
Avocado: Not just for toast anymore. Avocados are officially delicious on everything.
Sautéed Mushrooms: Update your classic chicken noodle, vegetable, or minestrone recipes with this flavor-packed topping.
Need Some Crunch?
Grilled Cheese Croutons: Take that perfect grilled cheese sandwich and make it even better by cutting it into bite-size pieces and using it as a wonderfully decadent soup topping. You'll never look back.
Tortilla Stars: Use mini cookie cutters to cut shapes out of flour or corn tortillas. Toss with oil or butter, and sprinkle with cumin or smoked paprika, salt, and pepper. Bake at 375° F for 10 minutes. Got a picky eater? Not with these stars on hand.
Parmesan crisps: Make tablespoon-size balls of grated Parmesan cheese 2 inches apart on a lined baking sheet. Bake at 350° F for about 6 minutes, or until golden brown.
Add Some Spice...
Spicy Chickpeas: Drain and dry canned chickpeas and coat with olive oil.

Add pinches of cayenne pepper, salt, oregano, thyme, and ginger. Bake at 400° F for thirty minutes. Voila! A heart-healthy and tasty alternative traditional chip toppings, and work great with your famous chili recipe or hearty stews.
Grated Ginger: Perfect with broth-based soups, ginger adds a flavor kick, but won't add too much heat if extra-spicy isn't your thing
Sliced Jalapeños: These, on the other hand, will bring the heat. If you love spicy but just can't seem to add enough fire to your favorite soup, (especially cream-based soups) a small handful thinly sliced jalapeños are the perfect topping.
Of course, the first step to any next-level soup is…the soup. And if you're hoping to celebrate National Soup Month with faraway friends and family, let us help with our Spoonful of Comfort care packages that bring any of our soup selection to the next level with fresh rolls perfect for dipping and gourmet cookies perfect for dessert. Who says Christmas is the only most wonderful time of the year? Here's to making National Soup Month a close and delicious second.