103 Unique Get Well Gift Ideas [Your Ultimate Guide]
Unique Get Well Gift Ideas
When someone you love is sick or going through a hard time, a get well gift can mean the world to them. But it can be hard to know how to help. We have compiled more than 100 great get well gift ideas to help you decide the best way to show you care.
Browse a specific category by clicking on any of the quick links below:
Get Well Gifts For Her
1.Gourmet Gift basket. Send a personalized gourmet gift basket for any occasion by adding a package of items to read, watch, eat, wear, or soothe.
2. Gift card to favorite drink place. Whether your loved one is a Starbucks junkie or prefers Diet Coke, give the gift of a tasty beverage gift card.
3. Gift box. For a DIY gift box just for grandparents, think about including printed photos, a handwritten letter, and other sentimental items they can appreciate for years to come.
4. Teddy bears. Gift a teddy bear so your loved one will always have a cuddle buddy, or send a Get Well Soon Finger Puppet from Finger Puppets Inc. for something on the smaller scale.
5. Balloons. Add cheer to your loved one's space with fun and colorful balloons.
6. Letters. Snail mail still has its merits, so get out your stamps and start writing.
7. Handwritten notes. Use these thoughtful get well quotes.
8. New blanket. Cozying up in a fresh new blanket is the ultimate comfort.
9. Aromatherapy candle. Smell is the strongest sense tied to memory, so your loved one will always associate this gift with your thoughtfulness.
10. Small plants. Choose a houseplant that requires little care for best results.
11. Bath bombs. Bath bombs or bath salts from Old Factory Soap are the ultimate relaxation technique to help your loved one unwind.
12. Shower sprays. For a relaxing, invigorating shower, try Travertine Spa's steam shower spray.
13. Essential oils/Diffuser. Check out Frankie and Myrrh for ideas on how to cure any number of ailments with the help of essential oils, or try Teramune's organic, essential oil Throat & Cough spray (clinically proven to sooth a sore throat).
14. Adult coloring books. Try gifting a beautiful version from Skyhorse Publishing.
15. New dishes. Eating will be even more enjoyable with beautiful new plates or bowls.
16. Bracelets/Jewelry. For an extra special piece of jewelry, consider a birthstone galaxy charm from Chamilia.
17. New journal. Your loved one may want to record this time of life in a nice journal.
18. Pen and pencil set. While you're at it with getting a journal, consider adding a pen and pencil set to complete any get well gifts for her.
19. Photo album. Capture happy memories with a high-quality photo album from Album Envy.
20. Digital photo frame. Since printing photos is difficult in today's digital age, upload them all to a digital photo frame and gift it to someone you love. Or, get the benefits of printing without the hassle by trying a photo printing texting service like NanaGram.
21. Decorative objects. If your loved one has an empty shelf in the house, add to the decor with a luxurious candle, unique sculpture, or other decorative objects.
22. Wreath. Your friend will love greeting guests with a cheery wreath in any season.
23. Comfortable clothing. When lounging around the house for long periods of time, your loved one will feel more comfortable in new sweats or pajamas.
24. Stuffed animals. Comforting stuffed animals are one of the best get well gift ideas after surgery.
25. Sleeping masks. Sleeping masks make for unique get well gifts to help your loved one get some much-needed rest.
26. A painting kit. Painting can be therapeutic when someone is feeling down.
27. Framed inspirational quote. Easily personalize a print with the help of Poster Haste.
28. Relevant holiday decoration. If it's close to a special holiday, consider gifting seasonal decor.
29. Inspirational calendar. Help a friend get organized and feel inspired with a unique and motivational calendar.
30. Handheld massager. Offer the gift of relaxation with a handheld massager.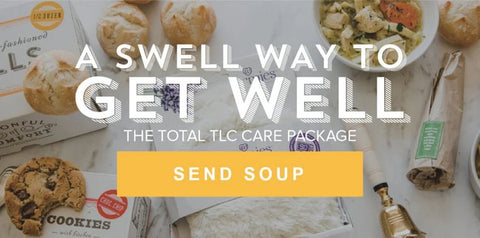 31. Warm/Fuzzy socks. Both a slipper and a sock in one, fuzzy socks are the perfect comfort gift.
32. Decorative rocks/stones. Offer a Loving Memory Garden Stone with a personalized message.
33. Netflix/Hulu subscription. Let your loved one have a TV show binge session with a Netflix subscription.
34. Playlist of new music. Your loved one will appreciate the time you spent crafting the perfect playlist on Spotify.
35. Aromatherapy face mask. Who wouldn't love to hydrate their skin with a fancy face mask?
36. New pillow. Add a silk pillowcase from Sleeping in Silk for the ultimate comfort.
37. Meditation book. Bring a calming spirit to your friend's life by teaching the art of meditation.
38. Box of aromatherapy soap. Choose a unique scent your friend will love!
39. Basket of household cleaners and sanitizers. Offer a basket of household cleaners to help them stay on top of the messes, and include some fancy products to help them enjoy the process more. We love toxin-free scented sprays.
40. Favorite magazines. Your gift will keep giving all year if you sign up for a magazine subscription on behalf of a friend.
41. Nice lotion. This is a great gift especially in the wintertime, when the air tends to be drier.
42. Incense. Bring in an exotic element with incense from around the world.
43. Fleece shawl or wrap. A girlfriend will love wrapping up in a cozy, wearable fleece.
44. Flowers. Flowers brighten a home and bring life to any room. Try your hand at DIY flower arranging to make the act even more thoughtful. And although flower are a classic gift, sometimes its nice to mix it up with something more unique.
45. Personal heater/heated blanket. If it's a cold month, a heated blanket will be the best gift you could offer!
Get Well Soon Gifts For Him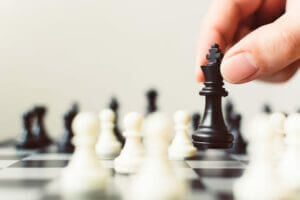 46. Favorite book/things to read. Pass on one of your favorite novels, or get creative with a personalized book for adults from I See Me.
47. Audiobooks. Audible has an amazing selection of books that can be downloaded in an instant.
48. Brain teasers, puzzles, & games. Try Alexa-connected travel board games for your ultra-techy friends.
49. Card caddy. For the more traditional non-techy folks try a card caddy from Narrows Hill.
50. Offering yard or housework help. Serve your friend by raking leaves or mowing the lawn.
51. Visit from a pet or animal. Don't own a furry friend? Rent one for truly memorable get well gifts for him.
52. Nice pair of headphones. If you have a friend or loved one who is into music, pick a nice pair of headphones to give them an even better listening experience. Or you could even try a pair of SleepPhones from AcousticSheep to give them a better night of rest.
53. New ties. Ties are the classic gift for any man, even when they're feeling under the weather.
54. Boxed coin set. Boxed coins are a great gift for someone who loves vintage items or history.
55. Movies. Keep your loved one entertained with the best new movie on demand.
56. Comic books. Bring a smile to someone's face with a fun comic book.
57. Decorative mug. A golfer would love a mug in the shape of a golf bag from Golfbeermug.com.
58. Getting organized. You could give the gift of getting organized from Everything In Its Place, if your friend isn't a big golfer.
59. Jar of hard candies. If your friend has a sore or dry throat, they'll especially love sucking on some hard candies.
60. New slippers. Quality slippers will last for years and make your loved one think of you every time they wear them.
61. New filtration water bottle. Choose a great filtration water bottle for a fresh way to quench thirst.
Bonus: See our 9 Best Get Well Gifts to Give Men (Instead of Flowers) for additional ideas for gifts to give to men whether they're in the hospital, at home after surgery or just plain sick.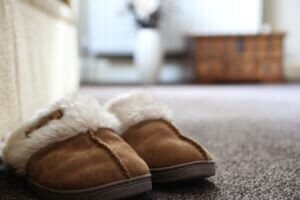 62. Favorite movie or superhero shirt. Wax nostalgic by gifting a T-shirt referencing an old movie or superhero.
63. Book of jokes. Find a great book of jokes to lighten the mood, and you could even throw in a fake rat from Gifted Rat.
64. Smartphone handset: A Bluetooth-enabled banana phone will give your friend a laugh while they open it.
65. New watch. You'll help your friend stay on top of the time with a new wristwatch.
66. Soft robe. Men appreciate a great, cozy robe just as much as women!
67. Backrest pillow. Ease back pain with this convenient pillow.
68. Lapdesk for laptop. Make working from home easier with a lapdesk.
69. Favorite movie character accessories. Pinterest has great inspiration on fun movie character accessories.
70. New fan. Help a loved one cool down with a quality standing fan.
DIY Get Well Gifts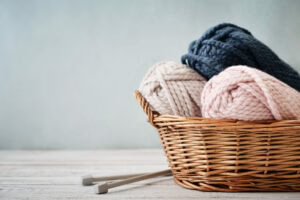 71. Homemade care package. You'll show extra thought with a unique package of goodies just for the person you love.
72. Custom song. Take things up a notch by creating your own song with the help of Your Song Maker.
73. Custom video. Try a get well video from Vidday to go along with the custom song.
74. Rice heating pads. Soothe sore muscles with a heating pad that can be made at home or purchased.
75. A meal with a movie. Whip up a homemade meal and add a Redbox movie to go with it.
76. Cross stitch. If you're crafty, make a memorable cross stitch for them to display at home.
77. DIY manicure set. There's nothing like a fresh manicure to lift someone's spirits!
78. Knitted scarf or hat. Knit a hat yourself or buy a unique style online.
79. DIY pedicure. Give the perfect DIY gift for her with an at-home pedicure done by you.
80. Offering to walk dog or take care of pet. DIY get well gifts don't have to be fancy—an act of service will work just fine!
81. Fabric bag filled with treats. Your loved one, friend, or colleague will appreciate the cute packaging in your DIY gifts.
82. DIY card kit with paper and stamps. Help pass the time by offering a fun craft activity.
83. Basket with medicine. Be sure to include hand sanitizer to stop the spread of germs as well.
84. Decorated boxes of facial tissue. Freshen up your loved one's space with a decorative tissue box cover.
85. Homemade bread and jam. Still looking for the perfect DIY gifts for him? This homemade classic will warm anyone's heart and fill their belly.
86. Personalized thermos. Your loved one will appreciate the added touch of thoughtfulness when they see their name on their thermos.
Get Well Food Gifts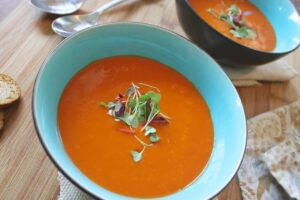 87. Gourmet soup. Spoonful Of Comfort offers great-tasting soups that can be conveniently ordered online. The cancer caring package is also ready for cancer survivors.
88. Candy. Give someone a high-end taste of the sweet life with ginger caramels from McCrea's.
89. Tea. Pick out your favorite blend and deliver it with a nice mug. Or, if your friend isn't a tea lover, try coffee beans from Eleva Coffee.
90. Cheese and crackers. Set up your own platter of assorted items from somewhere like Trader Joe's.
91. Cookies. You could really make someone feel special with an extra special chocolate chip cookie recipe, made with love.
92. Ice cream. There's nothing like ice cream to heal any ailment, and you can really impress your loved one by creating a custom ice cream flavor just for them with the help of eCreamery.
93. Fruit. Get creative and mail a microgreens growing kit from a company like Hamama, so your friend can have the ultimate satisfaction of eating something they've grown themselves.
94. Nuts. Nuts are a healthy and crunchy treat to keep anyone satiated and happy.
95. Tin of popcorn. Try Chicago popcorn for the ultimate cheddar and caramel combination.
96. Bottle of wine. Personalize the bottle if you really want to go the extra mile!
97. Personalized M&M's or candy. Your loved one will be surprised to see their initials or a special note on their candy!
98. Baked goods. Chocolate chip cookies are one of the best ways to show someone you care.
99. Assortment of dried fruit. Gourmet dried fruit is a special treat anyone will enjoy.
100. Supply of favorite hot chocolate. If your loved one is a chocolate fan, offer a stash of unique hot chocolate flavors.
101. Favorite pop/soda. Present the soda in a fun basket or other unique presentation style.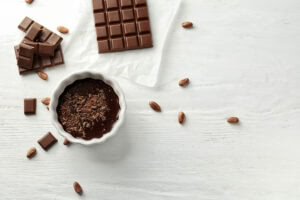 102. European chocolate. Because Europeans just do it better.
103. Chocolate dipped fruit. Pick an in-season fruit and go to town!
How to Send a Get Well Card or Message
Sometimes all someone needs to feel better is a kind word, note, message, or call from the people that support and love them: you. Here are four ways to send a get well message.
1. In-person:With digital communication so prominent in today's era, checking in on someone in-person can mean the world. Whether you stop by their home, check in with them at work, or visit them at the hospital, talking with someone in person and wishing them well face-to-face can do wonders for lifting spirits and morale. People like family and close friends, in particular, will love to see a friendly face when they're feeling down.
2. Phone call: Dropping a line to someone who isn't feeling well is a quick and easy way to let them know you're thinking of them and wishing them a speedy recovery. Consider phoning a family, friend, or loved one who lives in another city or whom you might not be able to visit in the near future.
3. Card: There's never a bad time to send an old fashioned snail-mail card, especially when someone in your life is feeling lousy. Whether it's a humorous get well card that's sure to bring smiles or a thoughtful hand-written note letting them know you're keeping them in mind, cards are a great get well message for everyone from close family members to neighbors and co-workers.
4. Email: Lastly, if you don't feel comfortable stopping by, dropping a line, or sending a card, you can always turn to email as a way of your sending get well wishes. Email is Ideal for letting people like co-workers, distant relatives, neighbors, and acquaintances know you're thinking about them, and is also a great tool for checking in on your loved ones throughout the recovery and healing process.
With plenty of options for cheering up those you know and love well, you might find yourself still at a loss as to what you should include in your get well message. The following prompts can provide you with guidance and inspiration for an array of different scenarios.
What Do You Write in a Get Well Card?
There are hundreds - if not thousands - of reasons to wish someone well. From inspirational get well messages to funny get well messages, below are four of the most common scenarios and ideas of content you can include in your message.
1. After surgery:
"Thinking of you and sending you all my love as you recover from your recent surgery. [We/I] hope your road to recovery is smooth and swift!
"We're wishing you health, wellness, and happiness on your road to recovery from your recent surgery. Remember how much we all care about you and know we're keeping you in our thoughts and prayers during this time."
"Hope you're recovering quickly and in high spirits following your recent surgery. Here's to wishing you the best in life and many more years of health and happiness. Get well soon!"
2. After serious illness like cancer diagnosis and treatment:
"My condolences are with you during this tough time. Know that I'm here with you every step of the way."
"I'm here for you and thinking of you during this time. Please know you can call me at any time, for anything."
"This diagnosis doesn't know what it's up against. You're a rockstar, my hero, and a light to others. We're all rooting for your health!"
3. After serious illness like a heart attack:
"Now you finally have an excuse to stop working so hard! Thinking of you and wishing you a speedy path to recovery."
"You already have a kind heart; we just want it to be healthy too! Please get well soon."
"I'm sorry to hear your heart is not well. I was sad to think about the possibility of losing you Take care of yourself, rest, and recover as fast and as well as you can."
"Your heart is the only muscle in your body that never gets even a few seconds of rest. That doesn't mean you can't rest a little. Wishing you a speedy recovery."
4. After the loss of a loved one:
"Thinking of you and wishing you moments of peace and comfort as you remember a friend who was so close to you."
"I'm so sorry for your loss and I hope you feel surrounded by so much love and support."
"It was a pleasure working with your [father/sister/friend, etc.] for [17 years]. He will be deeply missed and you and your family will be close in my thoughts."
5. When someone is dying:
"You're such a special person to me. I hope you have a wonderful day!"
"I feel so lucky to know you and I'm so glad to share each day with you."
"It's been an honor getting to work alongside you all of these years. I wish that nothing but peace and love fills your future."
6. When you want to write funny get well messages:
"Please get well soon. I can only be nice for so long."
"You immune system would make a terrible lawyer. It doesn't defend you well enough."
"We're missing you at work. You owe us 8 rounds of drinks, 3 birthday wishes, and 4 collections. Please get better soon."
When it comes down to it, the most important part of writing any type of get well message is that it comes from the heart. Your support will be much easier to express if you're coming from a place of heartfelt honesty.
Who to Write Get Well Messages For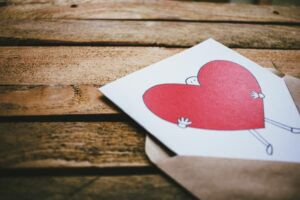 Sometimes it can feel like everyone in your life is struggling with a loss, illness, or other unfortunate event. If you write a get card for one person, does that mean you need to write one for everyone else? And if so, what are you to possibly include in all of these messages? Who is it even appropriate to send these types of messages to?
Check out this list of different people you might want to include in your list of "appropriate get-well recipients":
Family members:

In addition to siblings and parents, you should also keep grandparents, aunts, uncles, and cousins in mind.

For a friend:

Close friends should be at the top of your list, and those whom you consider acquaintances will likely also appreciate a kind word during difficult times.

For a boss:

Letting your superiors know you're thinking of them as they recover from illness, surgery, or tough times isn't just a great way to show respect, but it's also a kind and thoughtful thing to do.

For a coworker

: The people you work alongside every day are likely your professional support system. Sending them warm wishing during times of need is a great way to show your support and appreciation.
As a general rule of thumb, if you're thinking of someone during their time of illness, recovery, or difficult times - let them know! You'd likely want to hear from the people in your life if you were in the same boat.
Show That Special Someone You Care
Now that you've read through our list, you're sure to have found a great get well gift idea for someone you love. Whether it's a get well gift, a Mother's Day or Father's Day gift, or a present just because; you'll warm their heart and soul with the thoughtful gift you choose to give, especially when it's in the form of a comforting gourmet soup from Spoonful Of Comfort. If you found our article helpful or inspiring, spread the word and gift-giving spirit with friends and family.
Read more fun and interesting articles about "Get Well Gift" ideas
103 Unique Get Well Gift Ideas [Your Ultimate Guide] (➜ Currently Reading)
➜ Order the nutritious & comforting Get Well Gift Care Package from Spoonful of Comfort!