11 Long-Distance Christmas Tradition Ideas for 2021
Spending Christmas without loved ones can be lonely and difficult, but it doesn't need to be. There are so many ways to connect with faraway family—all it takes is a little planning and a sprinkle of creativity. 
We'll get into some fun long-distance Christmas ideas below, but first, here's the big tip for pulling off the best-ever virtual traditions.
Plan Ahead
Good luck getting anything off the ground without giving it some good thought first. Sure, you can wing a virtual gathering, but don't expect full excitement and participation if you decide to go that way. The trick is to build anticipation beforehand and turn it into a special event everyone wants to be involved in on the big day. 
Here are things to check off your list if you're going to get it right:
Don't delay, it takes time and thoughtfulness to throw a successful party.
Come up with a theme to maintain cohesiveness.
Discuss your ideas and agree on a plan.
Send an invitation to youHere are things to check off your list if you're going to get it right:r online event and include all the details. 
Shop for and prep any ingredients you'll need.
Gather enough craft materials for everyone to participate.
Send gifts beforehand so they'll be received on time.
Download any game, movie, or video/voice apps you'll be using.
Help everyone get connected and show them how to use the right technology. 
Doing these things is the only way to get a new tradition ingrained into the hearts of loved ones, but it'll be well worth it when you look back on the photos and remember all the good times!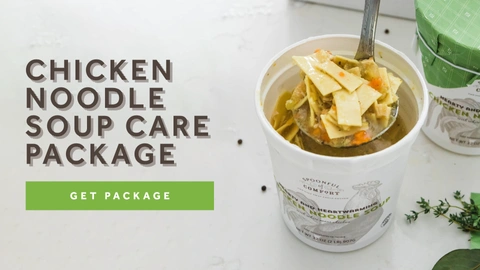 11 Long-Distance Christmas Traditions for Faraway Loved Ones
Spoonful of Comfort wants to encourage long-distance Christmas traditions when in-person ones aren't possible. To get the magic started, we're listing some great ideas that keep your connection alive throughout the sparkling holiday season. 
1. Decorate gingerbread cookies. You can make your own dough, use premade refrigerated dough, or buy already-baked cookies to pull off this activity. Just add decorating icing and candies (and turn on the video call), and you've got yourself an activity and treat all wrapped up in one simple tradition. 
2. Serve the same cause. One of the most surefire ways to forget your own worries and loneliness when not with those you love is to serve those who need it most. Come up with a cause you and your family care about and do something to help. Whether it's restocking a food pantry, spending time with homebound elderly friends, or going on a shopping spree on behalf of a newly immigrated family, there is a multitude of opportunities that support one another.
3. Play online board games. There are so many great multiplayer game apps that can be played together online. First, each person downloads the chosen game app. Second, everyone joins the game. Third, y'all have the best time playing hard and laughing out loud for the next hour.
4. Sing Christmas carols. This long-distance Christmas idea is an oldie (but a goodie) that becomes new again when you hold up your tablet to include your remote family in on the fun. Knock on the door and bring good cheer to a good neighbor who will be so excited to see their long-distance friend singing on the screen.
5. Film, share, and watch a homemade movie. Sure, you can just sit down and stream a movie together, but how about mixing it up a bit? Each family (or individual family member) can write, direct, and act in their own festive film. Pop some popcorn and watch the features before handing out silly awards for categories like "Most Christmasy" or "Best Believable Santa.
6. Compete in a photo scavenger hunt. This is a fun competition and doesn't require any planning ahead, so it's perfect for a last-minute get-together or as a time filler while waiting for guests to sign on. All you need is a list of festive things to find, like "your pet under the Christmas tree," "a real or fake snowball," and "a ringing bell." The first person to either snap a picture of it (or find one on their camera roll) and share it wins the round.
7. Do a Christmas craft. There are so many fun things to make together. From painting a winter scene on canvas, or beading a garland, to felting a snowwoman or marbling a clay tray, the options are endless. Just be sure to find an age-suitable project and test it ahead of time, then let the merriness ensue.
8. Put on a talent show. Little kids especially love this idea, but everyone should play along. Show Grandma Noelle or Uncle Claus your dancing skills, read your written poetry, lip-sync to the biggest ballad, or perform a magic trick. Anything goes! Make the audience laugh, cry, and give a standing ovation for the incredible acts.
9. Mail gifts and open them together.
The most exciting part (especially for children) of Christmastime is opening presents, and what better way to do it than together? If possible, gift wrap the gifts before packing them in a mailer so the presentation is a "wow." There's guaranteed to be smiles across the faces of all.
10. Cook dinner with each other and eat as one big family. There's no reason for anyone to eat alone on Christmas—breaking bread together virtually is almost just as good. The food is still delicious, and the comfortable conversation can still roll on. The only difference is the guests don't have to help clean up afterward!
11. Share good holiday memories while wearing matching pj's and sipping hot cocoa. This idea will make everyone feel like they're together at home, reminiscing about all the fun and sweet times. Be sure to hit the "record" button so the memories can be captured and then shared. Doing this every year and then watching the videos of years past will become a precious tradition for a long time to come.