18 Christmas Gift Ideas for Family Far Away
Christmas Gift Ideas For Distant Loved Ones
Perhaps more than ever, we're missing our distant family members and friends. We want to celebrate Christmas together and exchange gifts in person, but sometimes that's not possible. Cheer up, though. Through the power of technology and the ability to send gifts anywhere in the world (sometimes overnight), we can still communicate and connect this holiday season.
Spoonful of Comfort understands how important it is to maintain relationships, no matter where we reside. So here are 18 Christmas gift ideas for family far away—and for friends!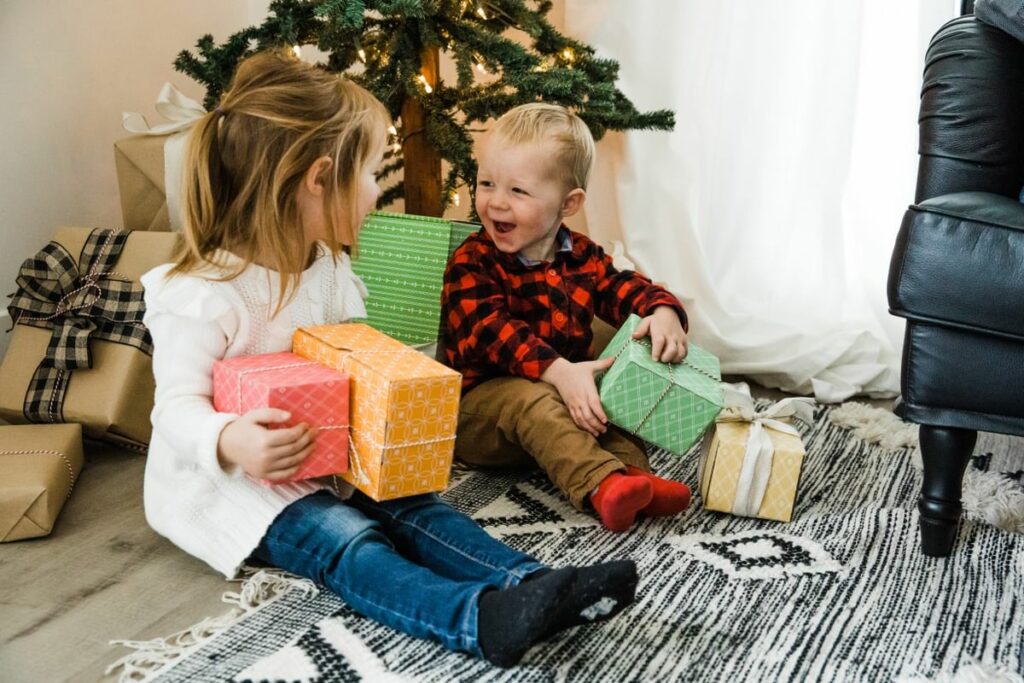 Tips for Gifting to Loved Ones Living Far Away
In the past, it may have been challenging to send gifts to loved ones living far away. And even though we have more choices today, the number of options can make it overwhelming. Sorting through Christmas gift ideas and shipping options can take so long that it's easy just to give up, even though you really want to show how much you care.
To ease that burden a bit for you, we offer some tips:
Don't delay. If you leave gifts to the last minute, your loved one might not receive it for Christmas, especially this year, as shipping delays are predicted to be high. It also means you'll be paying a lot more in shipping fees to get it to arrive on time.
Choose a gift that is prepackaged with care and style. After all, the first impression is an important one.
It's smart to purchase shipping insurance (USPS, UPS, FedEx) or make certain the company you're buying from includes insurance in their shipping rates if you're sending any of the following types of gifts:

High-value
Fragile
Time-sensitive
Perishable

Check the International Shipping Prohibitions & Restrictions list before mailing a gift from the U.S. to another country. Examples of prohibited items include alcoholic beverages, perishable goods (fresh fruits and flowers, etc.), perfume, and items containing lithium batteries.
The easiest way to send your long-distance Christmas gift idea is to shop through a well-respected vendor who you can trust to see that your package arrives at your loved one's door intact and on time.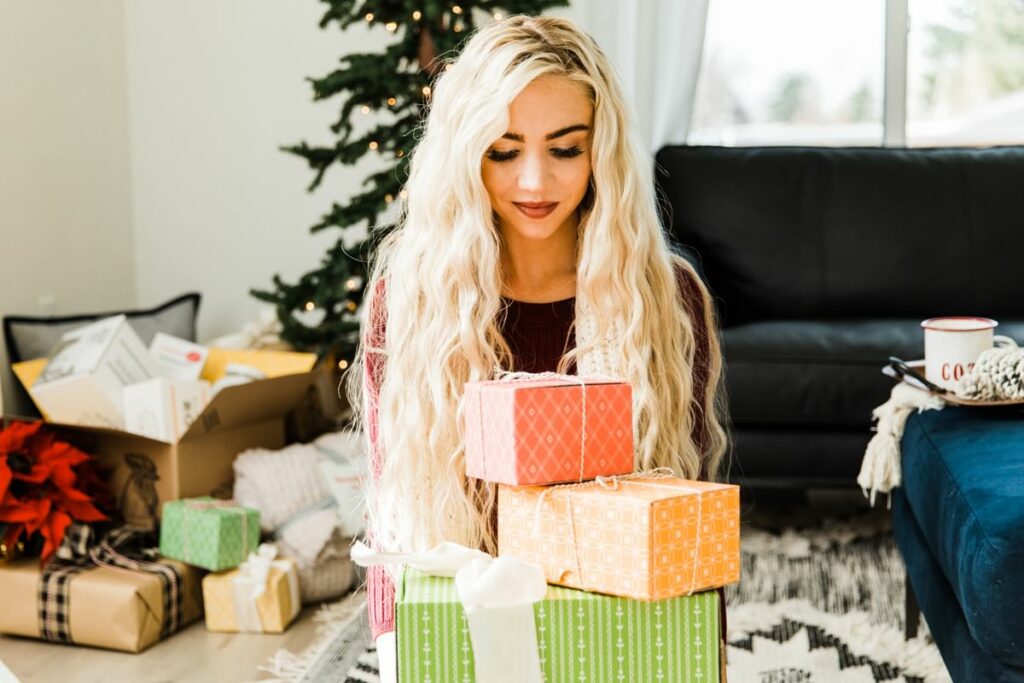 Long Distance Christmas Gift Ideas
We have some great Christmas gift ideas for family who is far away. Here are our top picks:
6 Long-Distance Christmas Gift Ideas for Family Members
Classic Puzzle Night Package: This puts dinner on the table along with a 500-piece puzzle your family members can put together...together!
Two-Time-Zone Clock: Let them know what time it is where you're located to help sync convenient communication times.
Blank Cards, a Fancy Pen, and a Stack of Stamps: Everyone loves receiving real mail. Become true pen pals and divulge your deepest feelings or simply exchange jokes via notes. Either way, everyone will smile ear to ear when a letter arrives in the mailbox.
Personalized Calendar: Before sending, circle the date you get to see your family member again and give them the satisfaction of crossing off the days in between. It may just make the time go by a little quicker.
Customized Hardcover Story Book: Two good options are 1) personalize the characters' names and facial features in a book to match yourself and your young family member, or 2) send a book in which you record your voice reading the story to your little loved one.
Family Member Distance Sign Post: You know those signs that mark the distance and direction from a current location to another one far away? You can get the same thing but customized with the names and distances of family members. It's perfect as a grandparent's backyard decoration.
6 Long-Distance Christmas Gift Ideas for a Partner or Spouse
Holiday Home Spa Package: Spoil your spouse or partner with a luxe package full of everything they need for a relaxing night in. It includes a super-soft blanket, cozy comfort socks, lavender eye pillow, warmable plush pack, and a holiday-scented candle.
Illuminating Love Lamps: Give one lamp to your significant other and keep one for yourself. With just a touch, you can communicate your love for each other through illumination.
Soft Sweatshirt: Winter weather calls for bundling up in a new pullover or hoodie, but you get bonus points for sleeping in it first before sending it off to your other half.
Daily Conversation Diary: With a new writing prompt for each day of the year, this little journal encourages you both to connect by finishing sentences like, "When I first heard your name, I thought you would be..." and, "I felt your love today when…"
Secret Message Locket or Keychain: Write your own personal message and fold it up inside a hidden compartment so your partner or significant other will always have it with them when they need a little pick-me-up.
Airline Gift Card: This one could be a bit expensive depending on where your loved one is located, but what could be better than getting a free ticket for a special visit?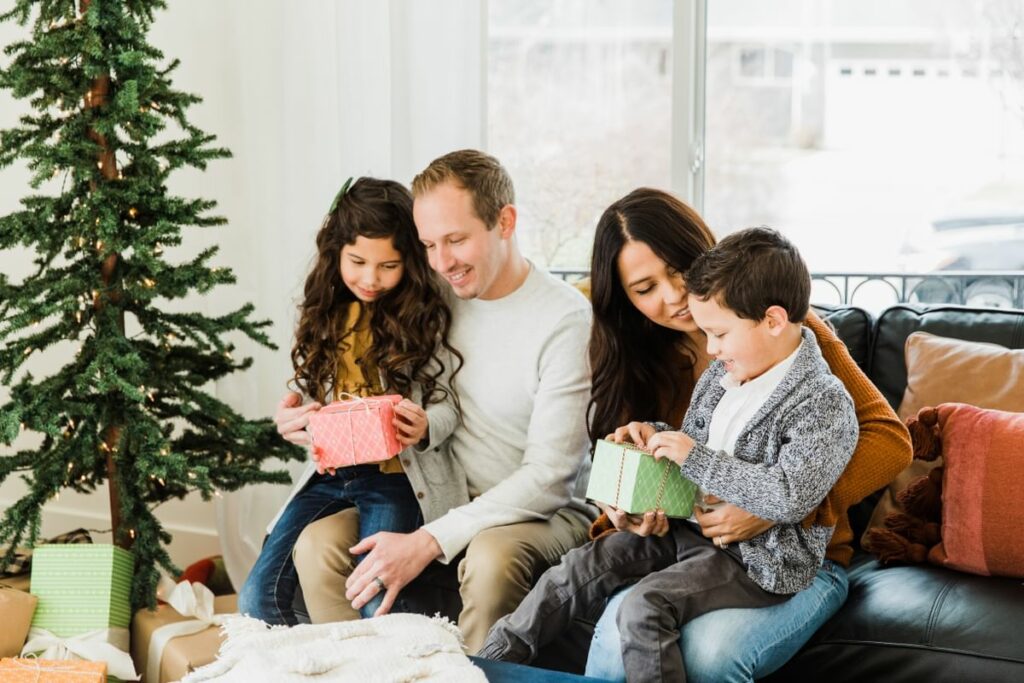 6 Long-Distance Christmas Gift Ideas for Friends
Cookies & Cocoa Package: The perfect gift that anyone will enjoy combines six cookies (you pick the flavor!), gourmet cocoa mix, and a buffalo plaid mug. The sweets and sips spell sweet holidays for even the pickiest recipient.
Phone Mini Photo Printer: Purchase one for the friend who inevitably has hundreds of phone pictures of the two of you having incredible adventures together.
Book Club Box: Each month, a subscription service sends you and your friends the same book, themed goodies, and discussion cards so you can continue having your own club even though you're far apart.
Advent Calendar: Send a prefilled one or make one of your own using little trinkets that remind you of your special friend. Either way, they'll get a gift that gives every morning for a month.
Friendship Necklace or Bracelet: You had them as kids, and there's no reason you shouldn't have them now! Customize the jewelry with meaningful engraving to add even more sentimental value.
Favorite Food Recipes and Ingredients: You know that one dessert you make that your friend loves? Remember that incredible meal you made together that one time? Create your own care package full of your friend's favorite recipes and the ingredients to make them on their own. Giving the gift of "food memories" will certainly touch their stomach and heart.