20 Best Summer Soup Recipes To Beat The Heat
Best Summer Soup Recipes
Soup tends to take the back seat during summer cooking- maybe because of its cold weather comforting properties. Still, chilled options such as Gazpacho and pea soup are so easy to make! So, don't give up on soup this summer! Choosing soup as a meal is one of the easiest ways to stay healthy this season. Soup is nutritious, diverse, easy to prepare, and easily digestible!
If you're wondering, "Can we have soup in the summers?" The answer is a resounding, yes! Many turn their heads at soup during hot summer days but some of the best soups are served chilled. The options are endless, between savory and sweet soups, and this list compiles some of the best recipes to chose from.
In order to reap the nutritional benefits and try something new this summer, check out 20 of these perfect for warm weather soups that will leave you refreshed and full.
20 Refreshing Soups for Summer
1. Chilled Lemon Basil Avocado Soup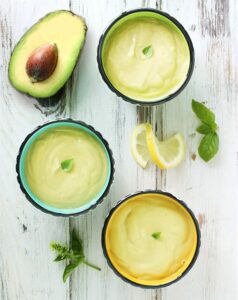 This green and creamy wonder is a great way to boost your immune system and give your tummy some healthy love. Check out this recipe for chilled lemon basil avocado soup from Soup Addict!
2. Slow Cooker Summer Chowder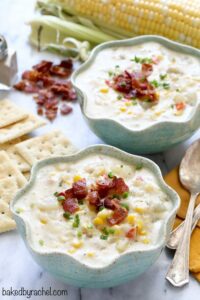 This summer comfort soup can be thrown in the crockpot for four hours and then served as a tasty meal for any day of the week. Packed with summer corn and chunks of potatoes, this soup tastes great and will fill you up fast! Check out the recipe from Baked by Rachel.
3. Tomato Mint Gazpacho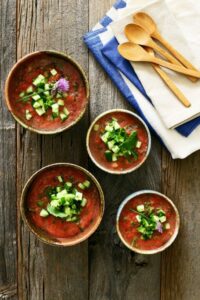 The traditionally Spanish chilled soup Gazpacho is loaded with tomato, cucumber, chives, and mint garnish, making it one of the healthiest meals on this list. Simply throw the ingredients in a blender and let chill for four hours. Get the recipe by Yummy Beet.
4. Cucumber Gazpacho with Watermelon & Mint
This flavorful take on Gazpacho packs a spicy punch with a light sweetness thanks to the unique addition of watermelon. Easy to make and perfect for a family meal (makes up to six servings), try this recipe from Food Network.
5. Grilled Beef & Vegetable Soup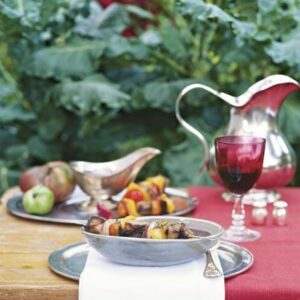 Fire up your summer grill for this healthy option. Grilled beef and veggie soup packs in the protein and nutrients to make any day a good day. This summer soup pairs perfectly with biscuits and a fresh summer salad. Check out the recipe from Country Living.
6. Ginger Turmeric Spiced Spring Carrot Soup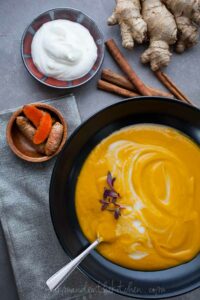 This recipe from Gourmande is sunshine in a bowl. With a little heat from spices, the star ingredients are ginger and turmeric. Ginger eases stomach pain and digestion while turmeric is a powerful anti-inflammatory. Use this summer soup as a pick-me-up when feeling under the weather.
7. Creamy Zucchini & Coconut Milk Soup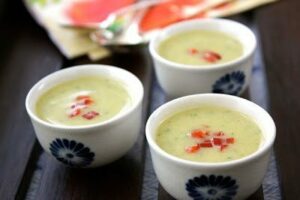 Creamy Zucchini & Coconut Milk soup is dairy free and serves as a perfect appetizer. Served hot or cold- this tasty treat is a seasonal must! Zucchini and mint perform their best growing season during the summer months, making this soup a fresh way to start any meal.
8. Chilled Melon and Lavender Soup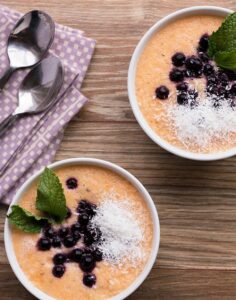 This whimsical dish is delicious just as much as it is pretty! Fruit soups are a great way to satisfy sweet cravings without adding processed sugars. This dish is dairy-free and gluten-free. It favors the raw flavors of natural ingredients. The star ingredient of this dish is the culinary lavender with its distinct floral flavor. Get the recipe from Sprinkle with Love to try today!
9. Summer Corn Soup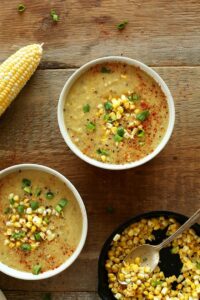 Corn is the go-to summer ingredient. Not only is this soup vegan and gluten-free (like Spoonful's Vegan Care Package), but it can also be prepared two different ways- blended smooth or chunky. This dish only takes 30 minutes to prepare and contains only 9 ingredients! Try it today from Minimalist Baker.
10. Sweet Potato Lime Soup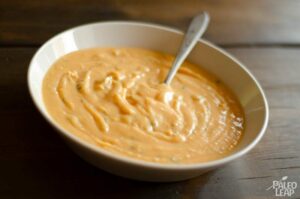 Although many find sweet potato soups to be more fitting for colder seasons, the hint of lime in this recipe from Paleo Leap is the perfect touch to make this heavier soup a zesty and refreshing treat. It is a filling soup and can be used as a main dish for any meal. Not to mention it's vegan!
11. Chilled Summer Borscht
This creamy, colorful Ukrainian dish is pretty and pink! With the main ingredient of beets, the pinkish purple color will brighten up your day. Although it looks like a sweet dessert, this soup is actually savory and bitter. Recipe by Ina Garten, host of Food Network's Barefoot Contessa.
12. Chicken Tortilla Soup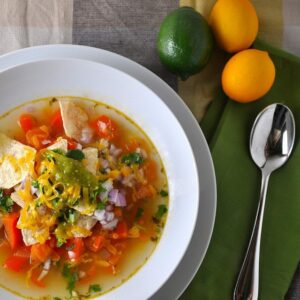 This soup is a classic summer dish, whether served as an appetizer or a main course. This dish holds a citrus punch with a hint of spice along with a variety of colors and textures that go well with the vibes of summer. Get the recipe from Turntable Kitchen.
13. Parsnip and Potato Soup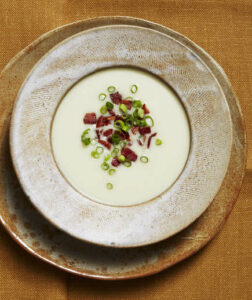 This twist on potato leek soup combines savory and sweet. The recipe from Real Simple includes filling potatoes with the garnish of parsnip for complimentary flavors. This recipe tastes great hot or cold, making it perfect for leftovers. Add scallions and bacon for more flavor.
14. Summer Vegetable Minestrone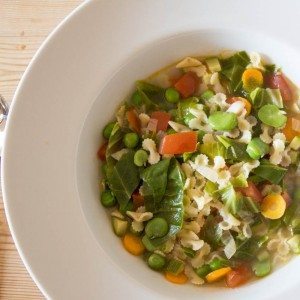 This colorful soup is hearty and healthy and tastes great hot or cold. Take advantage of your local farmer's market and get creative with a variety of veggies! This recipe is flexible for whatever your appetite desires. Get the recipe here from All That I Am Eating.
15. Sangrita Soup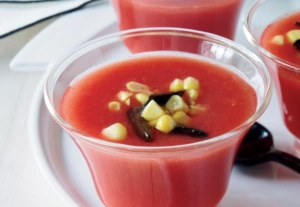 This cold soup brings in the flavors of the Mexican-inspired drink of Sangria and turns it into a soup. Delish's recipe says that it's meant to be served cold, and with the citrus and tomato juice mixed together with chile powders, it tastes sweet, tart, and spicy to add a kick of flavor to your summer days and nights.
16. Summer Garden Vegetable Soup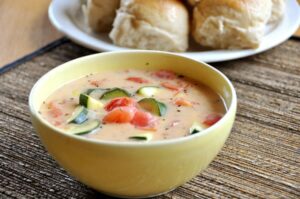 In some neighborhoods where everyone has a summer vegetable garden, zucchini and tomatoes overfill every fridge. The joke goes that if you leave your front door unlocked you won't be robbed, you'll only come home to find a few extra bags of zucchini and tomatoes waiting for you. This summer garden vegetable soup from Mel's Kitchen Cafe is a delicious solution for any home gardener struggling to figure out what to do with boxes of vegetables.
17. Chilled Asparagus Soup with Herbed Shrimp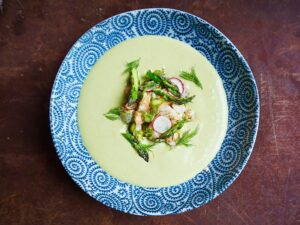 This chilled soup shows just how delicious and diverse an asparagus can be. Kevin Johnson uses asparagus as a key part of the creamy base and salad garnish, without it being overpowering.
18. Watermelon Gazpacho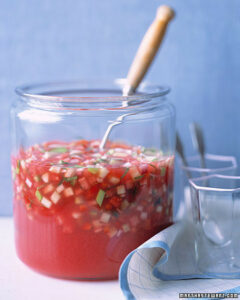 The quintessential summer food—no matter if you're at a barbeque, a family party poolside, or having a picnic—is watermelon. Its refreshingly cool taste is what you think of when it comes to summer foods, and this soup recipe from Martha Stewart uses the summer taste of watermelon to make your days a bit cooler and tastier.
19. Jambalaya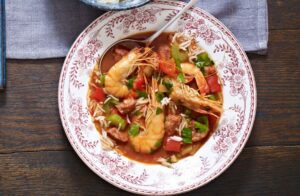 Summer soups don't have to be cold gazpachos to help you find a cooling and fresh taste in summer. GoodtoKnow's jambalaya focuses on using fresh spring and summer ingredients. By using colorful sweet peppers along with large, juicy prawns, you'll be able to get the complex and complete flavors of summer. It's a fast and easy recipe to follow, which will allow you more time to enjoy the long sunny days.
20. Posole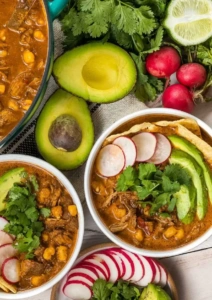 This soup is a Mexican classic and is built to fight against the sweltering heat of summer. It can be made with pork or chicken. Sommer Collier gives a simple and easy recipe to follow that uses ingredients you can find in most grocery stores. This mix between a soup and a stew is sure to brighten up your nights with fresh lime and cilantro, and quickly become a recipe that you use every summer.
Summer Soup FAQs
What Kind of Soup Do You Eat Cold?
The most common and famous cold soup is gazpacho. It originated in Spain and is a cold soup made from blended or chopped vegetables. Many other cultures have cold soups as well. Everything from borscht, okroshka, sorrel soup, vichyssoise, and naengmyeon are all types of soup that are meant to be eaten cold. Consider any of these for some summer soup ideas.
Is Chowder Served Hot or Cold?
Chowders are typically thick soups that have a cream or milk base to them. A chowder can be served hot or cold, depending on the recipe. There are quite a few recipes where a chowder tastes good hot or cold.
Is Bisque Soup Cold?
A bisque is a subcategory of soup that is generally smooth and creamy. Most bisques have some sort of shellfish or fish as a major part of it, like crab, lobster, crayfish, or shrimp with a high amount of cream in them added early in the cooking process. Bisques are almost always served warm.
Can You Eat Tomato Soup Cold?
Yes, you can eat tomato soup cold. Tomato soup is made from ingredients like tomatoes, thyme, basil, chives, onions, butter, garlic, and chicken broth. Make your own with Spoonful's bestselling tomato soup recipe. It might not top the list when people are thinking of cool summer soups, but it can be enjoyed cold or hot.

Spoonful of Comfort provides soup gift ideas for every occasion, even in the heat of summer. With a wide variety of soups and foods, you're sure to find something for every taste.