27 Meaningful Gifts for Friends Moving Away
What Can You Get Someone Who is Moving Away?
It is a bittersweet time when a friend moves away. Moving away gifts for friends can help you celebrate their exciting new adventures and opportunities while conveying to them how much they mean to you. From handmade cards to high-tech hugs, here are some goodbye gifts for friends moving away:
1. Digital Photo Frame
With a Smart WiFi frame, you can load your own photo memories first, and then continue to add and share pictures via the cloud-based app. Send a smile or share a momentous occasion instantly from your phone. It's a great gift for a loved one who needs decorations for a new place!
2. Online Photo Storage and Sharing
Buy your loved one a year's subscription for a cloud-based photo storage service. Some popular online storage options are Dropbox, Google Photos, and iDrive.
3. Housewarming Gift Box
Nothing says home like some good ol' comfort food, and nothing says "Welcome to your new home!" like a Housewarming Gift Box. Moving is hectic and can often be punctuated by grabbing quick meals that may not be the healthiest fare. But of course, we know that warm soup and rolls can improve everything, including unpacking! Add a comforting candle and a cozy throw, and your friend can wrap themselves in your kindness.

4. Personalized Welcome Mat
Personalized gifts for friends moving away can be fun and functional. For example, is your friend moving from Wisconsin to California for college? Get them a "Cheeseheads Live Here" welcome mat. Have one done with their name and family crest, or perhaps one for each season or holiday. Send it once they have already moved in, so it's one less box they have to pack!
5. Create a Scrapbook
Not only is a scrapbook a wonderful thing to gather your cherished memories, but it can also be a creative outlet that helps you deal with them leaving. Add photos, ticket stubs, playbills, poems, lyrics, and anything else that is special between your lives. They will love to pull this out when they are a little homesick.
6. Friendship Lamps
Friendship and functionality go together as well. Let your love shine with a long-distance friendship lamp. Each time you touch your lamp, your friend's lamp lights up too, as a little reminder that they are missed and are held in your heart.
7. Collage Painting
When they move into that new house, they'll want to adorn those walls with beautiful art. A collage painting is great for a rec area, home bar, or any other entertainment room. It's like a scrapbook for the wall. Paint it yourself or commission a local artist. Include school and sports team mascots, favorite restaurants, stores, beverages, and even iconic landmarks and monuments. Whatever they love, you can include it.
8. Prepaid Credit Card
Unexpected expenses often accompany a big move. A prepaid credit card can help cover costs without having excess cash on hand. It can also come in handy after they've settled, such as shipping and postage to friends back home!
9. Commemorative Jewelry
There are many options for friendship jewelry that will help you keep the connection. For example, matching friendship necklaces hold the reminder close to your heart. Get matching charms to add to your charm bracelets or matching lockets with each other's photos inside.
If your style is techier than traditional, gift you and your friend touch bracelets. A similar concept to the friendship lamps, when you touch your bracelet, your friend's bracelet might light up, vibrate, or even direct them to an app where you can share messages and pictures. There are many ways to use technology to bring someone messages of comfort in a new place.
10. Location Jigsaw Puzzles
Gifts for friends moving away can commemorate where they are moving from or just as easily where they are moving to. You can have a puzzle made that is a map of:
Their city

Their neighborhood

A location dear to their hearts

The spot where you met
Some custom puzzle manufacturers will have a house-shaped puzzle piece for their home location. You could even enhance this gesture by giving them a gift certificate to have the puzzle framed.
11. Memory Jar
On colorful pieces of paper, write down fond memories and other things that you know will make them smile and think of home. Place them in an upcycled gallon drink jar you paint or leave clear. Or, use some other thing that has significance to the two of you. Slip in a few that read, "Please send me a memory." You may be amazed at how often it comes just when you need it.
12. City Map Art
Make a stunning statement with framed map art. Just like the location puzzles, you can choose the spot you want to commemorate. Whether it's as simple as a poster for their new office or framed topography with UV-protectant glass, mapping out your friendship this way is a thoughtful goodbye gift for friends moving away.
13. Cleaning Service
As if packing and unpacking boxes and moving vans isn't strenuous enough, then your friend has to clean the entire house! Your friend will be forever grateful for the cleaning reprieve when you give the gift of a cleaning service.
14. Streaming Subscription
A subscription to streaming services like Hulu, Netflix, Disney+, and many more can be a multilayered offering. It can provide an opportunity to escape, destress, laugh, cry, and love. Did you share a love for a certain show? On many streaming services, you can now set up "watch parties" to watch the show simultaneously and chat together as you do it. There may be miles between, but you can still share the experience during your special someone's new adventure
15. Tell a Tale
Write your friend "The Story of Us." Include how you met, what you did together, good times and bad times, and strengths and weaknesses. You can give it as a printed hard copy, or even use a service to get it bound into their personal hardcover. You can also deliver it electronically, either as a complete story or perhaps send a chapter each month! It's your tale to tell.
If writing it yourself is too daunting, several "fill-in-the-blank" options are available.
16. Raise a Glass
The miles are meaningless when you raise a toast to each other thanks to video chat capability. Personalized coffee mugs, insulated tumblers, water bottles, and wine glasses keep your cherished moments alive and make great gifts for a friend who's moving away. You can even customize a couple bottles of wine that you can later share virtually.
17. Custom Keepsake Box
There are some things that we just can't throw away. So help someone collect and protect their memories with a personalized keepsake box. If you like to DIY, check out Pinterest and other sites to create your own. Ask around about a local woodcarver or another artisan that can craft treasures. Or you can find beautiful pieces in retail locations or online.
18. Show Caring with Comfies
There is an undeniable calming effect of comfy clothes, particularly after a stressful day. Give the gift of comfort with soft and fuzzy socks, hoodies, throw blankets, sweats, or yoga pants. Yep, you can have these customized, too! Get a set for yourself to share in the warmth.
19. Say It Softly
There is a fabric called Minky wrapping people in soft solace. Minky blankets are available in myriad colors, textures, styles, and sizes, and they'll be a quick favorite gift for a friend moving away.
20. Explore Their New Neighborhood
Hop online and do some research. Check out the local municipality's pages, look at "Best Things To Do In" lists, and then put together a gourmet gift basket from what you find and the info you gather. Some items you might include are:
Day passes to local sites of interest

Tickets to upcoming events like concerts, festivals, or sporting events

Gift cards for local restaurants
You can also put together an information packet for them, like the old "welcome wagon" used to do. Since you know your friends so well, you can include choices they'll love to be a part of!
21. Journal the Journey
The gift of a journal can provide an outlet for them, and a memento to look back at in years to come. In addition to documenting their new life, journaling can be very therapeutic.
You can also explore a shared journal app to upload photos and share your thoughts and daily activities. It is another way to stay in touch without sharing it with the world on general social media.

22. Memento Quilt
T-shirts make great quilts, so if you have shared experiences from which you bought a commemorative shirt, turn it into a creation of comfort. Concert tees, shirts from your favorite sports teams, commemorative shirts from a yearly event...they all come together to tell a beautiful story.
23. Something Old Instead of New
The best gifts are not necessarily brand new. Gift something to a friend who is moving away that you shared. If food and wine were a regular occurrence, gift them their favorite wine glass and your set of dinner napkins. Did they always sit in a certain chair? If they have the room, gift them the furniture. If not, perhaps the cushion will be enough to make them smile.
24. Fancy Fortune Cookies
Is it your BFF who's moving away? The one you'd get Chinese food with and watch chick flicks? Get your girlfriend the gift of inspiration with fancy fortune cookies with positive empowering quotes.
25. A Hug Vest
Sometimes you just need a hug, and so do they. Thanks to interactive fashion, you can now use apps that are synced to vests, jackets, and shirts that can simulate a hug over hundreds of miles. So when the 2-dimensionality of video time is not enough, embrace each other with hug fashion.
26. Monthly Gift Basket
Sometimes it's not at the time of the move when you need gifts for friends moving away, but rather after they are moved in, and the dust has settled. This is a perfect opportunity to send them a monthly care package, like Thinking of You, Just Because, or a birthday gift edition. Gourmet gift baskets are always a hit!
27. Homesick Candles
Our sense of smell is one of the most powerful memory-provoking senses. Various companies offer candle options by city, state, or country. Is your friend leaving New Mexico? Their homesick candle may include a blend of chili pepper, cactus, clove, bay, nutmeg, cedar, sandalwood, and musk. Diffusers are a great alternative to candles too.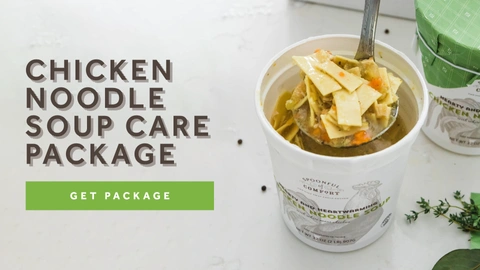 Send a Spoonful
When a friend moves away, you can chase away the melancholy with thoughtful gifts. Start with the Housewarming Package from Spoonful of Comfort, and go from there!