28 for 2021: Meaningful Christmas Gift Ideas for Women
Women wear a lot of hats: professional, mom, wife, caregiver, meal planner, family therapist...the list goes on. Demands on their attention and talents have only increased in the past year or two as we've introduced new ways of working, online schooling at home, limited services, and simply not being able to be together and rely on others like we used to.
That's why there's no better time than now to show how much you appreciate and care about all the women in your life. Spoonful of Comfort offers plenty of Christmas gift ideas for women that are sure to express just how much you love them.
What It Means to Give a Meaningful Christmas Gift to Women
Anyone can give a gift—even a good one—but to really show thanks and love, you want to give something meaningful. But what does that really mean, and how do you gift something that a woman in your life finds special? 
Meaningful doesn't mean expensive, complicated, flashy, or big. Meaningful does mean sincere, relevant, worthwhile, or purposeful. In other words, a meaningful gift can be anything as long as you put plenty of thought and love into it. 
But, what's meaningful to one woman may not be meaningful to another. Take into account their personality, their needs, and their desires before you buy anything. 
And remember, presentation is key. Not enough people put any thought into how a gift is presented, but that can make all the difference in how it's received. Wrap the gift in a beautiful package and give it with a smile and warm hug. You're sure to leave a nice impression they'll remember for years to come.
28 Christmas Present Ideas for Women
If you're drawing a blank on Christmas gift ideas for the women in your life, don't panic. We're here with 28 gift ideas that are perfect for Christmas morning.
1. Jewelry: A necklace or bracelet is a wonderful way to tell a woman she is loved. Don't fall into the trap of thinking only pricey gold and gemstones will do, though. Most women appreciate the sentiment more than the dollar amount spent.
2. Holiday Soup & Coziness Package: Your giftee will be thrilled with all the items included in this box. Practically homemade soup; a warm blanket and fuzzy, comfortable socks; and a softly scented candle will make her feel like she's being wrapped from head to toe in love. It's perfect for anyone, no matter how far apart you are this season.
3. Christmas Decorations: There are many directions to go here, like a tree ornament, door wreath, nativity set, or nesting snowmen. Whatever you choose, just be sure it matches her style.  
4. Portable Charger: Not necessarily the sweetest Christmas gift idea for a woman, but it still shows you care because you're helping her stay connected whenever she needs it. 
5. Relaxation Meme-Theme Package: Give her a night off with all the ingredients she needs for lavender-scented self-care. An eye mask, hand lotion, lip balm, and candle will calm her post-Christmas nerves and remind her that you respect her time.
6. Kitchenware: If your loved one loves to bake or cook, then new kitchen equipment will definitely come in handy to make her hobby a bit more fun. A serving spoon or a new knife is great, as is a waffle iron or pasta pot.
7. Homemade Food: Some women simply don't have the time or energy to make themselves a good meal, but that doesn't mean they don't crave one. Check that item off her to-do list by stopping by with a hot dinner and right-from-the-oven cookies. If you can't provide these things yourself, they'll love receiving a meal through the mail. 
8. Silk Sheet Set: There's nothing like the luxurious feel of silk. Encourage her to dive into a deep winter's sleep with sheets that feel as silky as . . . well . . . silk! And don't worry, most sets can be washed in the machine on a gentle cycle, so you won't be adding to her already-full workload. 
9. Flowers or a Plant: These are traditionally given for a reason—they're beautiful. Especially on a dark winter day, the greenery cheers up a space and puts a smile on anyone's face.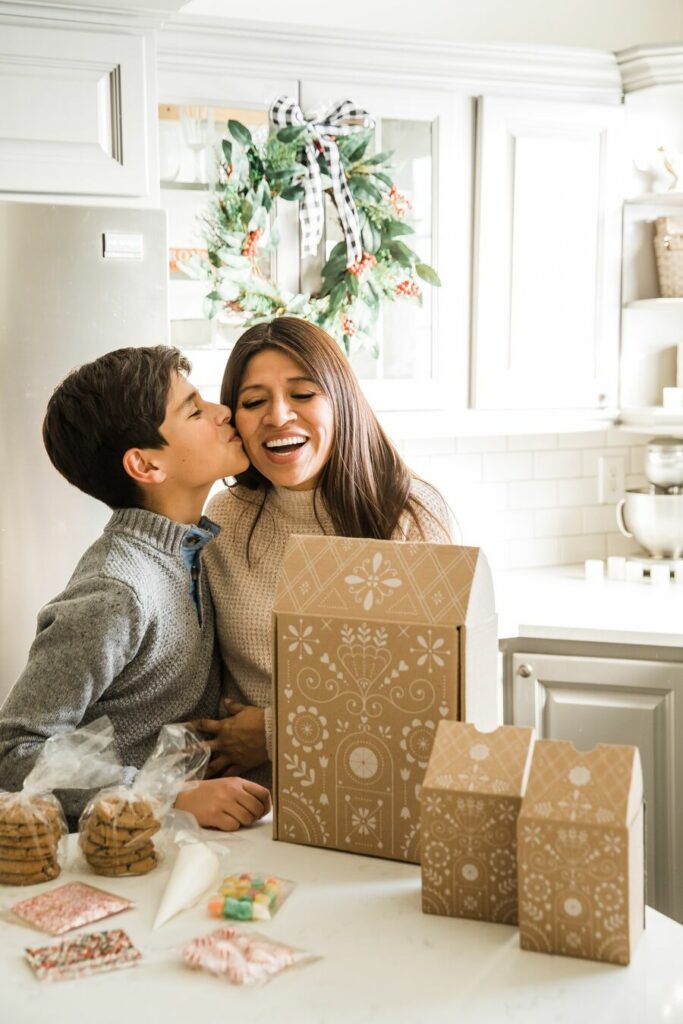 10.
Concert, Theater, or Sports Tickets:
Often, the women in your life would love to go see a show but won't spend their own money on tickets because they aren't a "necessity." So go ahead and gift them this "nicety." They'll love it even more if you join them.
11. Gift Card: Now, this could easily be construed as a thoughtless gift. But, sometimes a person really does prefer to shop for themselves. Just be sure to get the card for somewhere she will love to redeem it and wrap it up just as nicely as any other gift. 
12. Nail Lacquer: Sure, she can head to the closest drugstore and purchase nail polish herself, but why not give her something better? High-end nail lacquer doesn't cost a lot more than the generic variety, but it's a clear winner with its stunning colors, smooth finish, and long-lasting wear.
13. Photo Gifts: This could be anything from a custom-printed photo album to a photo-printed throw blanket. Showcasing a family vacation or special occasion is a lovely way to relive happy memories and is an ideal Christmas gift for women.
14. Headphones: Your audiophile lady will truly love listening to music with headphones that suit her fancy. Choose an over-the-ear wired or in-ear wireless variety according to her preference, and you'll put her in her happy place.
15. Family History: Putting together a family tree can show someone just how far their ancestry reaches. Whether with high-quality paper and ink or a 3D artistic rendition, a family tree can be an especially meaningful Christmas gift idea for a woman you love. 
16. Tea Time Treats: This gift is simple yet thoughtful. Buy a new or used teacup and saucer, include a trio of soothing teas and a jar of raw honey with a dipper. Maybe throw in some biscuits for good measure. 
17. Aromatherapy Bath Bombs or Shower Steamers: A bath or shower is never more relaxing (or invigorating!) than when fizzing and steaming essential oils are added to the mix. 
18. Exercise Gear: Depending on the person, they may really enjoy an upgrade to their workout equipment. If they already have a basic yoga mat, get a professional version. If their running shoes are wearing out, get them a gift card to buy new ones. Or, if they have an old fitness tracker, purchase the latest version. 
19. Art Supplies or Classes: Has the woman in your life always wanted to learn how to draw figures, watercolor, or turn pottery? Chances are, there's something she wants to try but just never gets around to it. Give the gift of opportunity with what she needs to explore the arts. 
20. A Good Book: There are so many books to choose from, so this idea can feel a little overwhelming, but it doesn't have to be. Come up with one genre you know she's interested in, then head to your local bookstore and ask for a couple of recommendations. Add a lovely bookmark for a special touch, and your gift will be very well received.
21. Gloves: If you are giving gloves as a Christmas gift for a woman, don't choose a basic pair—pick a standout. Buy ones that feature a fun pattern, supple leather, or hidden pocket, and you'll be sure to please. Just make sure that whatever you get is touchscreen compatible, so she can still use her phone while keeping her hands warm. 
22. Board Game: This is an especially fun gift for an aunt or grandmother who is always looking for activities to do with the little ones. Or, get a competitive game she can play with her game night gal pals.
23. Chocolate Assortment: There are treats galore around Christmastime, but give a treat they can sink their teeth into during the dark days of January. They'll remember how much you care as they taste the different decadent flavors. 
24. Plush Robe and/or Slippers: The cold winter mornings won't feel as bad if she has something warm to wrap up in. Plus, these items don't require you to know her exact size because they are generously designed. 
25. Makeup Brushes: Good quality brushes make a world of difference when applying makeup. These brushes get almost daily use, so we're sure they won't be returned.
26. Luggage: Does your loved one finally get to travel again? Celebrate the upcoming occasion with a new weekender duffle bag, hard-sided roller case, or a carry-on cross-body bag they'll get to use for years of travel to come.
27. Winter Garden Decor: A bird feeder, solar lights, or glass globes make the garden enjoyable all year round, no matter the weather. In other words, it's a knockout Christmas gift idea for a woman who loves spending time in her yard.
28. Cookies and Cuddles Care Package: The little lady in your life might be someone who'd like to snuggle with a fun picture book, warmable stuffed monkey, and cookies to share. Story-time sweetness was never so good. 
One thing that makes a gift meaningful is when it's not a last-minute thought but planned out and shopped for ahead of time. Let Spoonful of Comfort help you give truly wonderful Christmas presents to the women in your life. 4. 4.