How to DIY One Amazing Chocolate Strawberry Feast


Love those gourmet chocolate-dipped strawberries you can buy from high end chocolatiers, but wish you were fancy enough to DIY them? You are! We've gathered 4 totally simple ideas for gorgeous giftable strawberries so easy, you can make them at home in 60 minutes or less. Even if you're not a total Martha! Even if you burn water! These four ideas are 100% doable. So grab some strawberries, chocolate and sprinkles. And scroll on down for all the details on how to make, gift and share these adorable I-love-yous.

Listen, don't be alarmed...but Valentine's Day is upon us.

Shhhh. It's okay, it's okay, you can do this. Gift-giving is your specialty, and we can help. Whether you want to impress a new romantic interest, surprise a long-term partner with something different, or show your friends how much you care, we've got a great DIY gift idea you can't get anywhere else.

Show your devotion with a box of homemade chocolate dipped strawberries.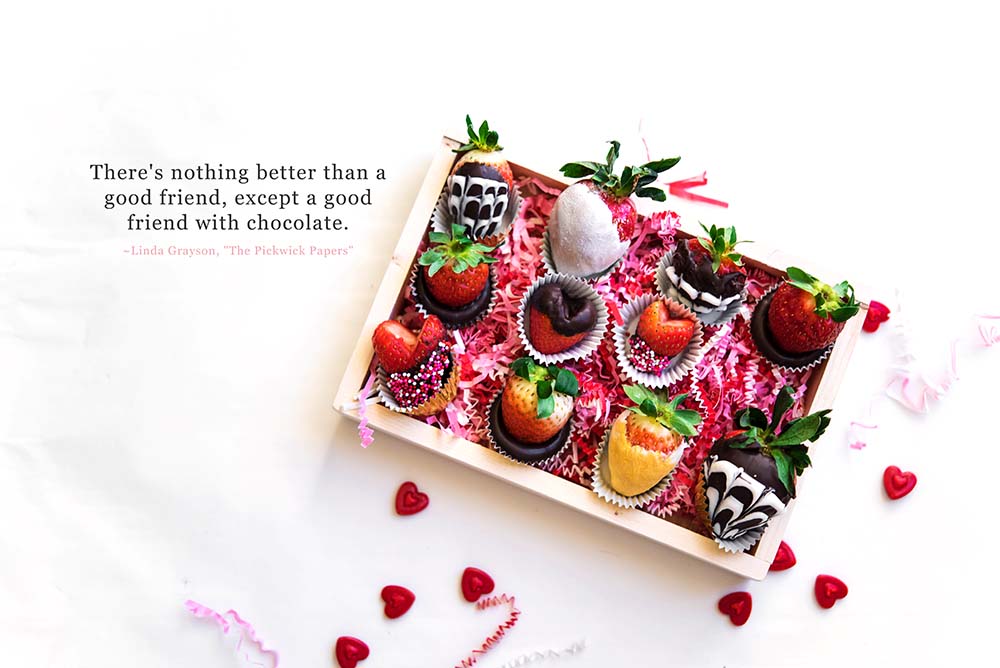 Show your extra, extra devotion with a box of homemade chocolate dipped strawberries made in four unique styles. Our DIY berries are a simple gift idea with undeniably gorgeous results. Bright colors, beautiful berries, and fun accents make this the perfect Valentine's Day offering. (But really, there's never a bad time to send chocolate.)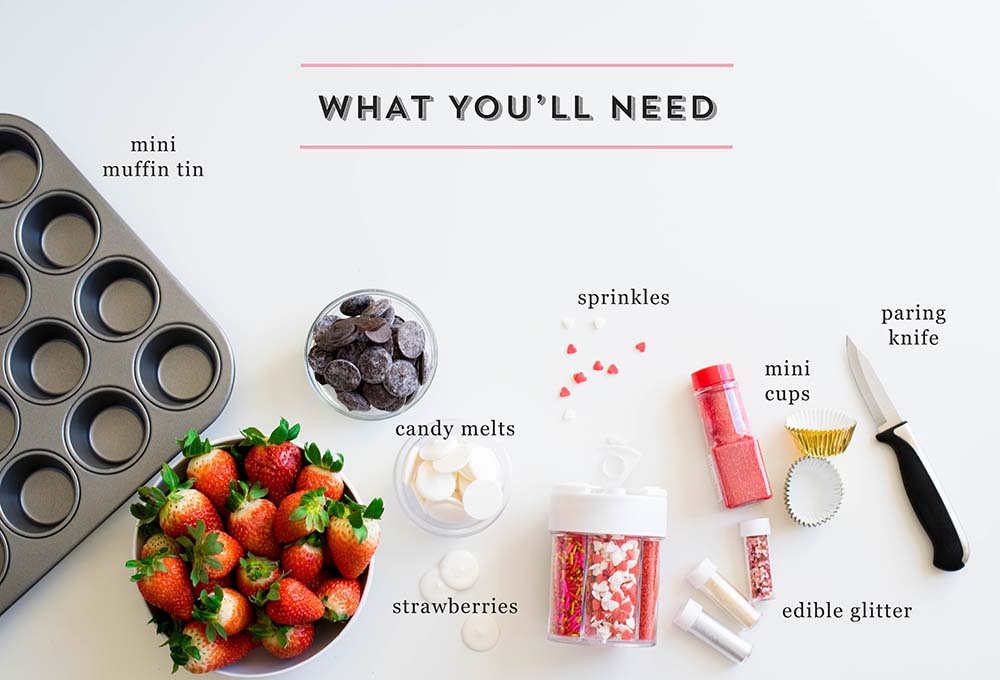 Chocolate Covered Strawberries: The Easy Way

Baking Supplies:


Mini muffin tin: available in the bakeware aisle of your local grocery as well as specialty baking shops.
Mini baking cups: find them in the baking section of general craft stores like Michaels, usually in a variety of fun color combinations.
Paring knife: probably one in your kitchen drawer, but if not, you can pick up an inexpensive one on your next grocery run.


Fresh Berries: Strawberries are available in grocery-stores year-round, but organic strawberries are usually best during winter months, since they've traveled shorter distances to get to you.



Confectionaries:


Edible glitter: I know, right? Glitter. What's not to love? Like your mini baking cups, this can be found in the bakeware section of Michaels, but is also found in local cake shops, and online.
Sprinkles: the mainstay of Michael's baking section, usually in seasonal colors and shapes. But you can also pick them up at the grocery store.
Candy melts: can be found in craft stores, some larger grocery stores, and online. Specialty bake shops might have a larger selection of colors, but we used standard chocolate and white chocolate for our strawberries.
Make it Pretty: Chocolate Covered Strawberries Four Ways
STEP ONE

Melting the chocolate candy melts. You can melt candy melts in your microwave, but make sure your power is at 50% instead of full blast. Melt the chocolate for 30 seconds, then remove and stir. Repeat until chocolate is a smooth consistency with no lumps.

You can also melt chocolate on your stove using a double-boiler. Fill the lower pan with water to just below where the top pan sits. Bring water to a low boil. Add candy melts to the top pan, and heat, stirring constantly, until candy is melted and smooth.
STEP TWO

Follow our handy "Four Easy DIY Berries" guide below. Mix and match your berries for a collection that is unique and colorful, or keep your berries looking chocolate-shop professional with one consistent style.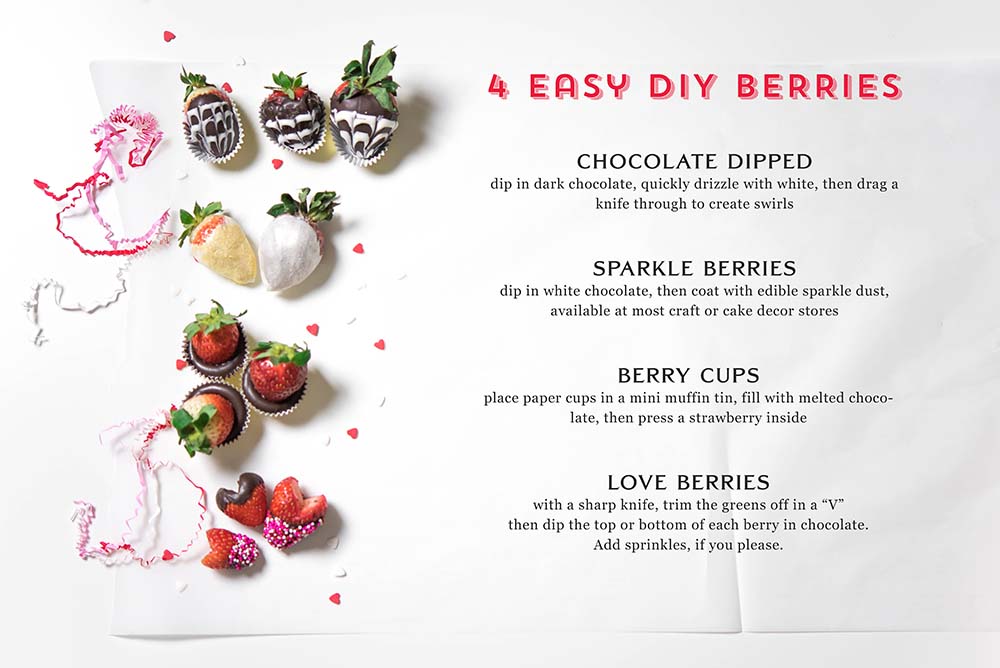 Box it Up!

Local craft stores carry a variety of decorative gift boxes and baskets, but we love the simplicity of the simple wooden crates found at Michaels. We filled ours with paper shred (also available in craft stores,) in Valentine's Day themed colors, but this is a gift that is perfect year-round, so get creative in your styling! (The possibilities are endless- red, white, and blue for the 4th of July, or pretty pastels for a springtime birthday…)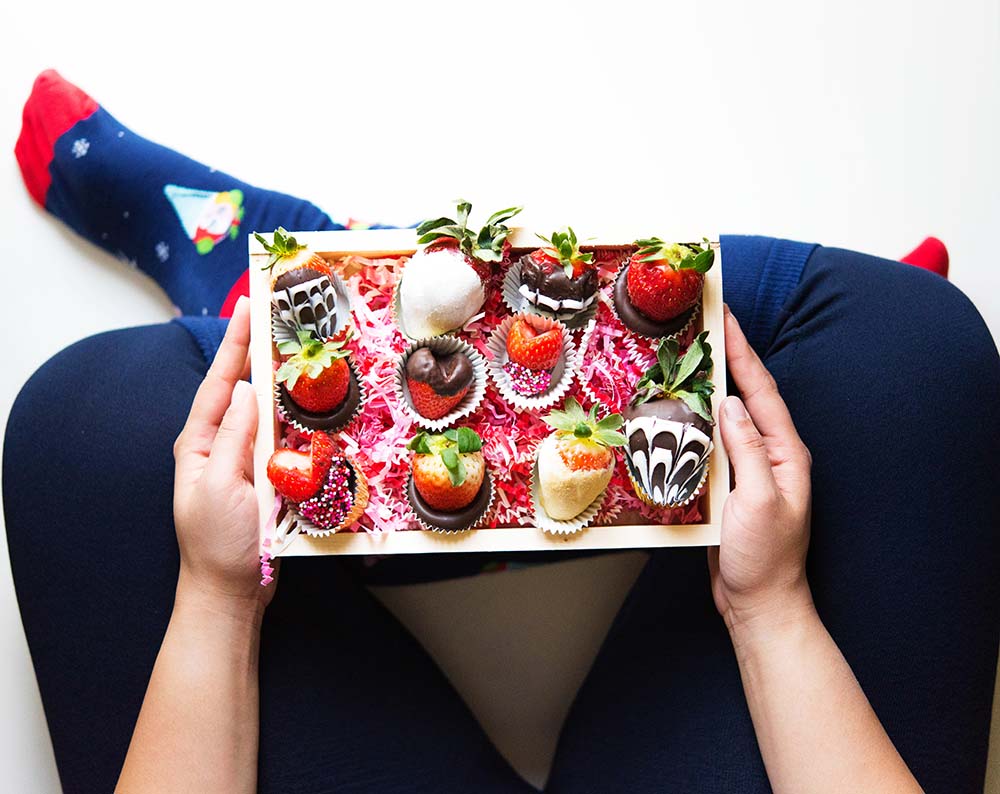 Need an Extra Hand?

Want to include a far-off friend or family member in your Valentine's Day festivities? You can still surprise a special someone with a unique and thoughtful gift. At Spoonful of Comfort, we take the guesswork out of gift-giving by making handcrafted meals complete with soup, cookies, and fresh rolls. So if your special someone is too far away for an in-person strawberry love-bomb, we'll deliver our homemade soup to any address within the continental U.S., because distance shouldn't stop us from giving and receiving love.

Click here to discover how easy it is to surprise the people you love, and spend a few minutes choosing the perfect soup, rolls, and cookies for your special someone. (We think that nothing says love more than a bowl of Butternut Squash soup, fresh rolls, and White-Chocolate-Chip cookies-but that's just us.)

So Whether you spend the weekend DIYing your strawberry-loving heart out or sending an old friend one of our Soups and Sentiments care packages, know that we are all in this together, finding the perfect gift for the people we love.
Share with Someone You Love

We love when great ideas get shared. If this post inspires you to make your own DIY Chocolate Covered Strawberries, we want to celebrate your creations!! Snap a photo and tag us on Instagram @spoonfulofcomfort #spoonfulofcomfort