7 Coffee Hacks to Try this Fall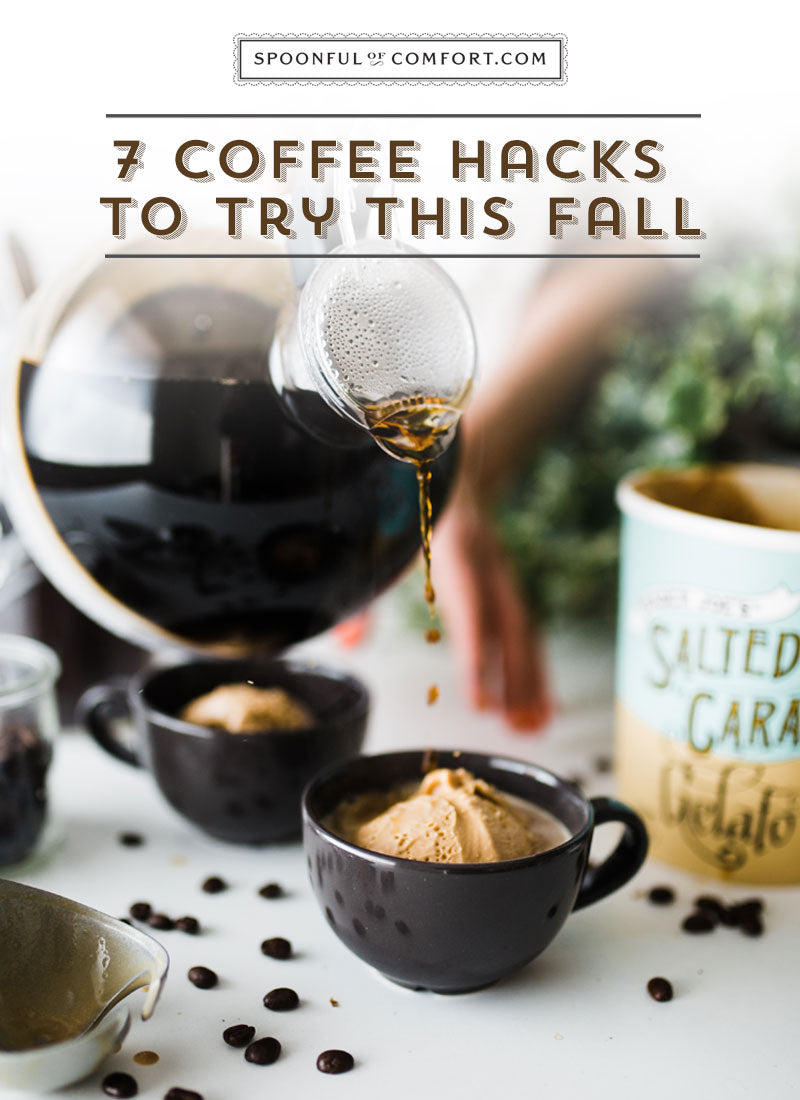 Coffee Hacks to Try this Fall
You've seen the meme: August 31st? You're lounging by the pool. September 1st? It's time for flannel blankets, pumpkin spice everything, and perfecting your sweater/scarf combos. It's fine. Autumn is on its way, and it's time to upgrade your caffeine situation with these simple and delicious coffee hacks.
1. Upgrade your iced coffee with flavored coffee cubes:
We're all excited for crisp mornings and cozy evenings, but with outside temperatures feeling more summer than fall, iced coffee is still required. Autumnize your beverage with flavored coffee ice cubes and stay cool while waiting for the seasons to change.
How to: Brew your favorite seasonal coffee—think pumpkin spice, hazelnut, or vanilla blends. Pour into an ice-cube tray and freeze. Use your coffee cubes instead of regular ice, and prevent your coffee from getting watered down while getting your fall-flavored fix.
2. Transition into fall with a delicious coffee float:
Celebrating fall doesn't mean giving up on your favorite summer treat. Keep your love affair with ice-cream going strong with coffee floats made with harvest-inspired ice cream flavors.

How to: Fill a large mug about halfway full of cold-brew coffee. Add a scoop of maple pecan, pumpkin spice, chai, or vanilla-bean ice cream. Top with whipped cream and a dash of cinnamon or nutmeg.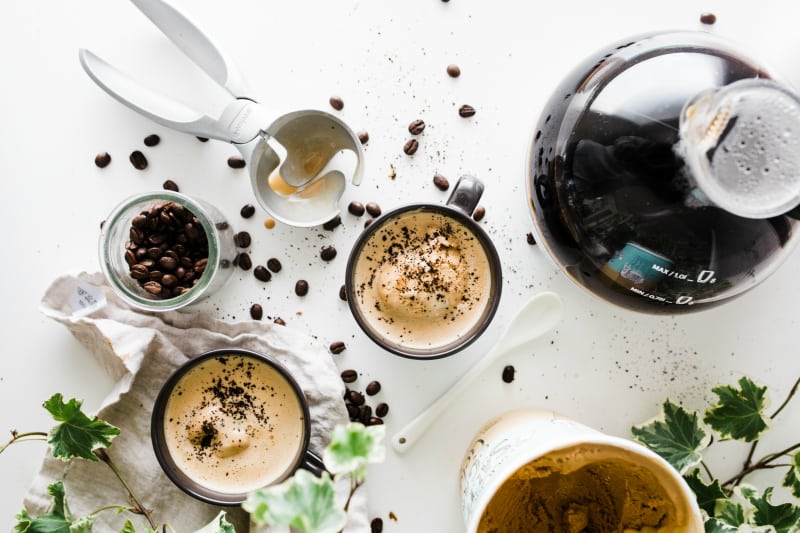 3. Need a break from pumpkin spice? Try a make-at-home Maple Latte:
There's more to life than pumpkin spice. Like drinking maple syrup in your breakfast coffee. We've even got a hack for foaming milk without a fancy apparatus: warm milk in a mason jar, tightly twist on the lid, and shake. Instant foamy milk you can make at home in your PJs.

How to: Add 1-2 tablespoons to the bottom of your mug. Brew a strong cup of coffee or shot of espresso, and pour over syrup. Stir to blend and then add foamed milk. Sprinkle with allspice, and enjoy.
4. Enjoy smooth and delicious white chocolate lattes:
Another unexpected variation on the classic latte, and a great recipe to multiply and serve at a fall brunch.

Ingredients
2 cups milk
1 cup half and half
1 cup white chocolate chips
2 tablespoons instant coffee
1 teaspoon vanilla
¼ teaspoon almond extract
whipped cream for topping
How to: Add milk, half and half, and chocolate to a medium-sized saucepan and heat until chocolate is melted. Stir in vanilla and almond extract, and top with whipped cream.
5. Break your café addiction with homemade coffee syrups
When you find out how easy it is to make your own flavored syrups, you'll start questioning all your life choices. It's ok, it's never too late to make your own arsenal of delicious coffee flavorings.

How to: Heat one cup water and one cup sugar in a small saucepan and simmer for about ten minutes, or until sugar is dissolved. Add one teaspoon of your favorite flavor extract, and you're done! (We love unexpected choices like orange extract or mint, but classic vanilla extract is great too.)
6. Make a DIY skin scrub that's perfect for gifting
You love coffee, and you love healthy skin. Make a coffee-based skin exfoliating scrub that you can keep for yourself, or bottle up and give to your fellow coffee-loving friends.

How to: Mix ½ cup brown sugar with 1 cup coffee grounds. Add ½ teaspoon of coconut oil, and 5-10 drops of your favorite essential oil or flavored extract. Make it pretty with a mason jar and some cute ribbon, and you're always prepared with the perfect gift.
7. Coffee naps. The ultimate hack:
Your two favorite things don't have to be at odds. Try a coffee-fueled power nap and take on the rest of your day feeling like a superhero. Drink a cup of coffee, and set an alarm for a twenty-minute nap. 20 minutes is just enough time to rest your brain, and the exact amount of time it will take the caffeine to kick in. Win-win.
Spice up Someone's Day
Coffee brings joy to just about everyone, but if you've got a friend who needs a little love added to their caffeine, send them the perfect fall meal: homemade rolls, hearty soup, and a batch of their favorite cookies. We'll deliver everything straight to their door, no cooking required. Click here to make the perfect care package and send some love.