7 Random Acts of Kindness You Can Do Today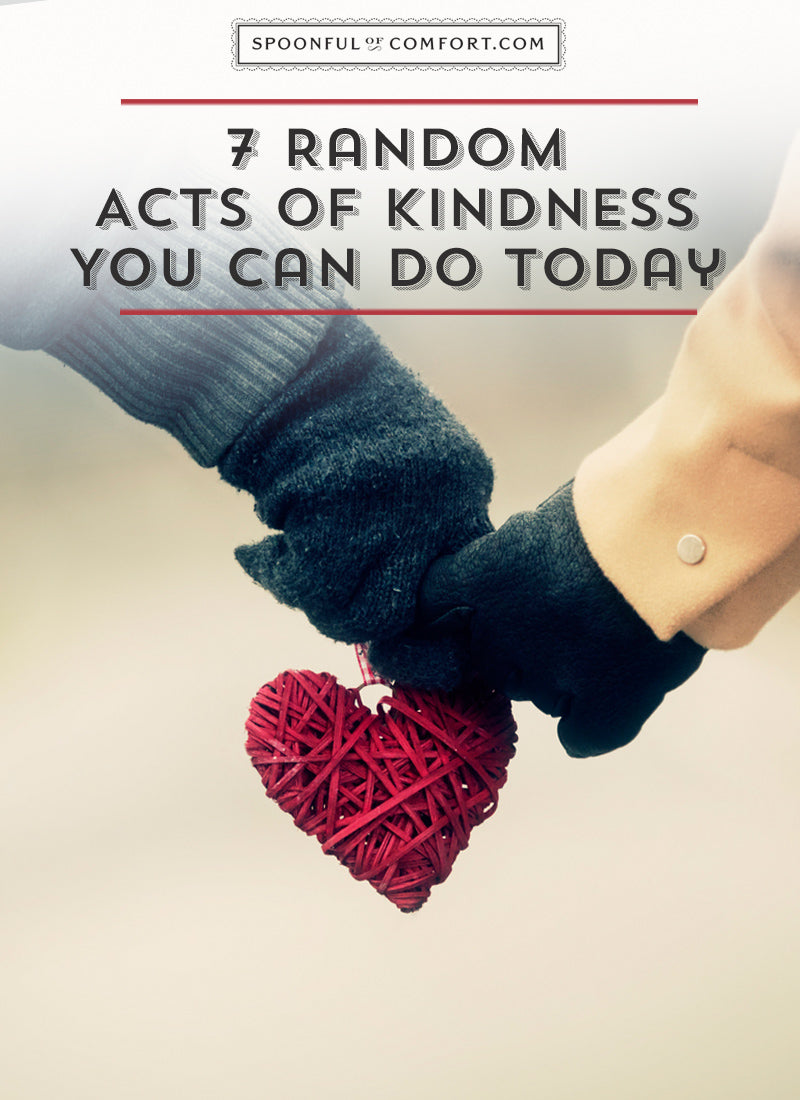 Random Acts of Kindness
It's getting darker earlier, and we're all settling in for a long winter of semi-hibernation, movie marathons, and hopefully an escape to somewhere sunny (even just for the weekend.) While it's a great time to practice some self-care while mastering the Danish art of Hygge coziness, it's also the perfect time to reconnect with your community through some simple acts of kindness. From leaving a surprise tip to writing a kind note, here are seven simple but meaningful ways to brighten someone's day.
1.Support a local business and then praise them online.
Even if you're normally a loyal Amazon.com enthusiast, find a local business that offers one-of-a-kind goods or services, and make sure to let others know where to go to for the best local bike repairs, Sunday brunch, or hard-to-find gifts. Small businesses rely on word of mouth, and an enthusiastic online review can help keep beloved neighborhood establishments thriving.
2. Write a letter of appreciation to a former teacher or mentor.
Whether it's your old soccer coach, the 6th grade teacher that made math fun and science exciting, or a former boss who took the time to teach you valuable career skills, the most important advisers in our life often go unnoticed and unappreciated. Take the time to write and send a thank-you card expressing gratitude for the people that helped you succeed, and then pay it forward with a little mentorship of your own—even something as simple as showing a new coworker how to master a tricky copy machine.
3. Tip higher than expected.
While we would all love to be the generous soul who leaves a hundred-dollar tip for a ten-dollar meal, it just might not be possible (right now.) But an extra five or ten dollars can still brighten someone's day. Next time you order take-out or grab coffee, add a little extra as a tip and make life a little bit brighter for a hard-working delivery guy or barista.
4. Set up a recurring donation to a local charity.
Want to change the world but struggle to find the time? Remember that small acts of kindness go a long way, and set up a small but repeated donation to a local charity or non-profit that represents your values. You may need to skip a dinner out or rent a movie instead of seeing the latest new release, but you'll feel great knowing you're supporting an important cause each month. And when you're schedule opens up a little more, you'll be ready to add volunteering to your not-so-random acts of kindness.
5. Make your community a little more beautiful or a little safer.
Spending Saturday morning raking leaves? Help out an elderly neighbor (or just a particularly busy friend,) and head over to their yard to gather/bag their leaves too. Snowed in one weekend? Take extra time to shovel the sidewalks on your street and make it easier for pedestrians to navigate the neighborhood safely. Even if it's simply taking out a neighbor's trashcans one morning, it's easy to find ways to contribute to your neighborhood community in a small but important way.
6. Call or visit your family.
Your grandma really does want to know how you're doing, and grandpa does want to hear the latest funny thing your kindergartener repeated in class. Even during busy seasons, it's important to connect and maintain relationships with loved ones. Make mom's day and give her a call just to catch up, or take Dad out to coffee and let him remind you to change your oil. Remember, your family can be the one you were born with, or the one you make, just so long as you reach out and let the important people in your life know you care.
7. Send dinner to a loved one in need.
From a sister recovering from a broken leg or a friend recovering from a broken heart, send someone a simple and satisfying meal that tastes great and makes an evening at home feel a little more special. Our care packages are the perfect way to say "I love you," and with a variety of seasonal soups, delicious cookies, and bakery-fresh rolls, it's also a pretty delicious way to show someone you care.