Best Get Well Soon Gift Ideas for Him: 15 Gift Ideas Men
Well Soon Gift Ideas for Him
No matter who you are or how sick you may be, nothing quite says "feel better soon" than receiving a carefully thought out gift. And while it's easy to treat your bestie with a little something extra, the men in your life also need a little extra love when they're not feeling their best. To help your favorite guy get through a nasty cold or a recent surgery, try sending one of these nine get well gifts for men:
What to Get a Man in the Hospital
Surgery is tough on anyone, but it shouldn't limit the gifts you can give to your family member, friend, or coworker. If you have a buddy who has recently undergone surgery and want to give a meaningful gift to him while he's recovering at the hospital, consider these gifts:
Service

- For someone in the hospital or at home in recovery, helping out with errands may be the best gift you can give. Whether it's folding laundry or picking up the mail, try lending a helping hand as a get well gift.

Entertainment

- If your loved one has a favorite movie, book, music genre, or game, there's no better way to kill time in a hospital than with a get well gift that provides a little entertainment. Many people recovering from surgery have a lot of downtime, leaving you with a lot of options.
Fun Get Well Gift Idea:
Pay for a subscription for a month or two to a favorite television channel, magazine, or streaming channel.
Comfort

- If he's a first-time patient at a hospital, giving the gift of comfort will go a long way. Those familiar with hospital rooms well know of the scratchy sheets, cold air, and food that is less than thrilling. Make his room comfortable with a new robe, his favorite pillow from home, fresh clothes, and a pair of slippers.

Balloons

- Who doesn't love balloons? If you're unsure what gift to bring or what is allowed, drop by the gift shop for a get well balloon.
What to Send a Man Recovering from Surgery (At Home)
If you missed sending a get well soon gift while your family member or friend was in the hospital, consider giving the best post-surgery gift you can give: a home delivery.
Delivery

- A gift delivered from your friend's favorite places is the perfect way to say "get well soon." Whether it's a meal or a care package, getting a post-surgery gift delivered right to your door is unbeatable.

Pay a Visit

- If in person is more your style, our best gift idea is offering your company. Whether it's playing the video game he's been eyeing lately or chatting over a favorite drink or late-night snack, sometimes company is all that's needed.

A Good Book

- If he loves to read, he may enjoy a new novel. Whether it's a short read or a page-turner,

consider giving him a book

that you know he won't be able to put down. Check out some of these classic novel suggestions:
The Great Gatsby

by F. Scott Fitzgerald

Band of Brothers

by Stephen E. Ambrose

Into Thin Air

by Jon Krakauer

The Call of the Wild

by Jack London

To Kill a Mockingbird

by Harper Lee

On the Road

by John Kerouac

Johnathan Strange and Mr. Norrell

by Susanna Clarke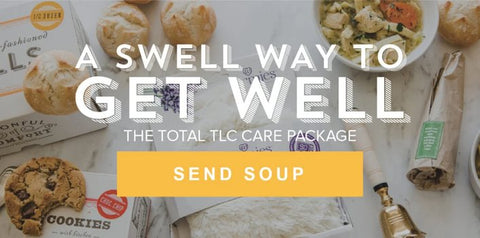 Get Well Soon Gift Ideas for a Sick Man
No one likes getting sick—whether it's the flu or the common cold, it's no picnic. For men who are sick, there are some great ways to show that you care. Here are some get well gifts ideas for sick men that will brighten any day:
Get Well Card. Show you care for him with a handwritten card. Whether it has a little comedy flair or the traditional "Get Well Soon," it's a great gift and will brighten anyone's day. Add in a printed art piece or a drawing from a younger family member to help make the card extra special. You could even spray it with your scent to remind them of you every time they read it.
Soup

. Eating a delicious bowl of hot soup can do wonders for those who are feeling under the weather. Spoonful of Comfort's

soup delivery

can be a delicious way to say you care. Chicken noodle soup has been known to help fight colds, clear nasal congestion, and has anti-inflammatory properties in it as well—open up for a speedy recovery!

Slippers

. Slippers are a great gift that any man will appreciate. He'll think of you every time he's comfortably padding about the house in a cozy new pair of slides. Consider the weather when picking out slippers-a thick, furry pair will be best for colder months, while a light-weight sandal slipper will be better for summer.

Snuggle Suit

. Every man can appreciate a cozy blanket they can wear, which is like sleeping in a gentle hug. If you know a man who's having trouble sleeping while sick, they'll love this thoughtful gift.
Get Well Gift Baskets for Men
Sometimes, something small doesn't seem quite enough when composing a thoughtful gift. In this case, a get well care package for men may be the perfect option. By building a basket around a certain theme, you'll be able to give several gifts and really show you know and care. Here are a few ideas for a thoughtful and personalized gift basket for him.
Beard Care Basket.

Do you know a man with an impressive beard? He probably won't want to let it run wild, even when he's sick. A beard care basket is the perfect way to help him feel like himself when he's recovering. Include items like beard oil, a beard trimmer, and a beard comb. He'll have everything he needs to keep his beard in great shape with this unique gift.

Camping Accessories Basket.

Remind your guy of better times by gifting a camping accessories basket, complete with a pocket knife, s'mores kit, and flashlight. Add in a camping voucher and invite him to go spend a weekend in the great outdoors when he's feeling better.

Movie Night Basket.

Sometimes a good distraction is all a man needs to feel better, even when under the weather. Create a movie night basket using a popcorn bowl, popcorn kernels, a cozy blanket, his favorite sweet treat, and a drink he'll enjoy. Then offer to come over and watch a movie with him sometime soon.

Foodie Gift Box

. If your guy loves checking out the latest restaurants when he's feeling well, you can give him the same excitement with a gourmet food basket. A basket with interesting treats and gourmet snacks for munching makes for an excellent gift.
Get More Gift Ideas for Men
Wondering what you can send a man instead of flowers? Or maybe you're looking for more get well soon gift ideas? If so, check out our ultimate gift guide with 103 unique ideas, order some nutritious and comforting soup as a get well gift, or check out our ultimate guide to unique Father's Day gift ideas.
You are reading a post from our Get Well Gifts Guide. Read on for more great ideas to help those you love (including yourself!) get well soon!
Get Well Gift Ideas
Get Well Food & Flix
Get Well - For the Hospital
How to Wish Them Well
Get Well Packages from Spoonful