Buy or DIY: Housewarming Gift Basket Ideas for Any New Move
Care and coziness are our specialties at Spoonful of Comfort—which is exactly what new homeowners could use during their time of transition. Looking to extend a "Congratulations on your abode," to a loved one or friend, but aren't sure the best way to say it? We've got plenty of wonderful housewarming gourmet gift basket ideas for any new move.
Here are four pro tips for giving a package that's both pretty and perfect:
You can buy or DIY any of our housewarming gift basket ideas, so do whichever works best for you.
Get others to contribute one item apiece to be given together. It's not required to spend a lot of time or money to express thoughtful care.
Presentation is everything. Make sure all the pieces make sense together by following a theme—and wrap it all up nicely!
Personal delivery is great, but housewarming gift basket delivery is a wonderful option if you live far away.
7 Housewarming Gift Basket Ideas
There are a hundred housewarming gift basket ideas out there, but since we have so much experience in the care package sector, we thought we'd pass our knowledge along. Below, we've provided seven surefire packages that are:
Easy to buy or DIY
Easily customizable
A treat to receive
Let's get into it with our housewarming gourmet gift basket ideas!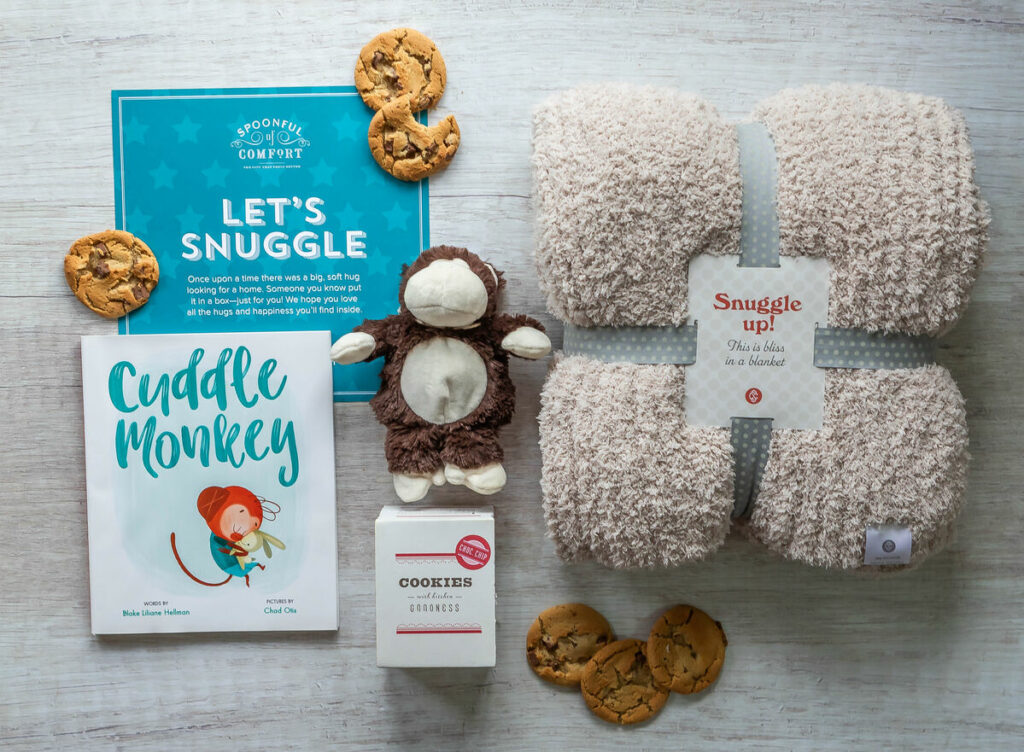 1. Cookies and Cuddles Care Package
Don't forget the little ones who may find moving to a new house a bit unnerving. A sweet package just for them might be the thing they need right now. A Cookies and Cuddles Care Package includes:
Delicious cookies
Cuddle-worthy blanket
Lavender-filled, warmable stuffed monkey
Cuddle Monkey book
A personal notecard from you
2. All-Natural Cleaning Kit
There's a 100% chance that the items in an all-natural cleaning kit will be put to immediate use. The following earth- and body-friendly supplies from Grove Collaborative make scrubbing hands and house a much more pleasant chore:
Walnut scrubber sponge
Seventh Generation disinfectant spray
Bubble Up dish soap dispenser & brush set
European dishcloths
Herbal smudge kit (from Spoonful of Comfort)
Matte cleaning caddy
3. Plant Parent Package
When it comes to turning a house into a home, the job's not complete without fresh foliage filling the shelves and corners. For those people who are proud plant parents, how about you add a few more to their brood?
Variety of botanical tools
A plant or two (be sure they're pet-friendly if there's a furry family member)
Grow lights
4. Baking Bundle
Putting old kitchen gear in a new space can feel a little anticlimactic, so gifting new gear is a good go-to. Throw in some nice basics and a couple of little luxuries, and you'll have a happy receiver who knows you care.
Olivewood pastry tools
Silpat nonstick boulangerie perforated crisping quarter sheet
Silicone perfect pie crust mold
Nielsen-Massey world vanillas
Copper mixing bowl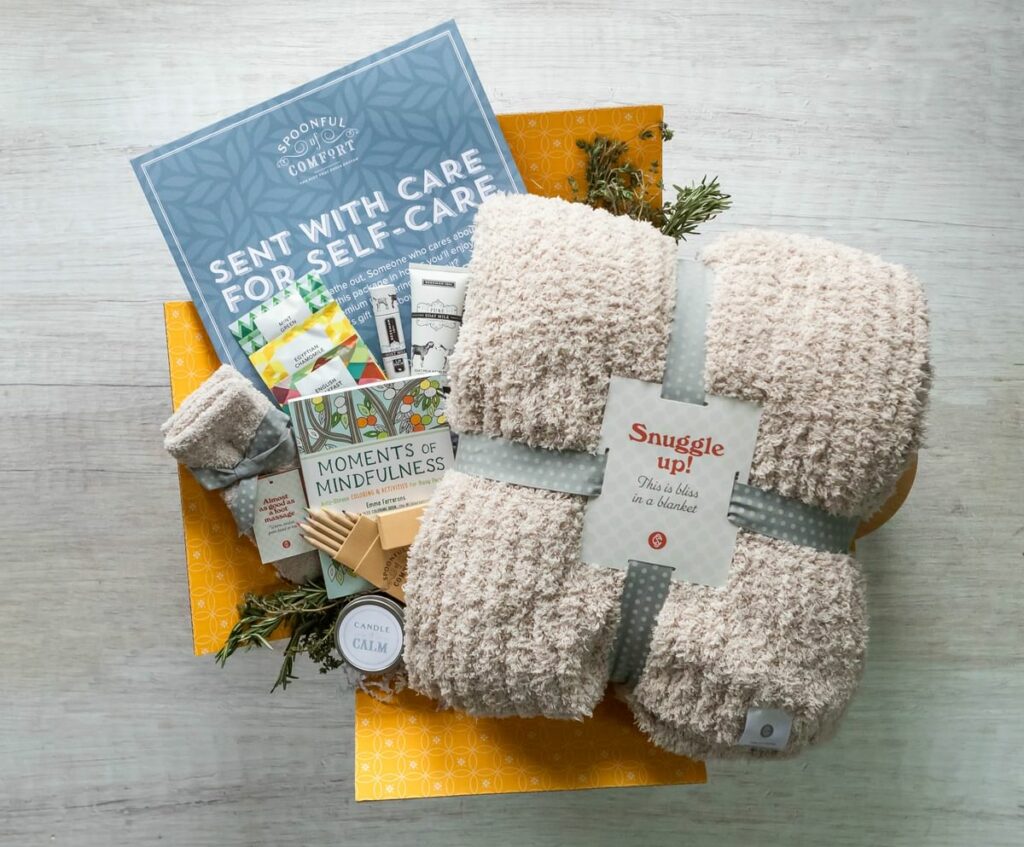 5. Peace and Pampering Package
Chances are good that the newly moved-in could use a moment of zen after all the chaos that comes with the packing and unpacking of boxes. Lucky for them, you've got just the thing they need. With a Peace and Pampering Package, they'll get to cozy up with everything listed below:
Cozy throw blanket
Comfy socks
Pure goat milk hand cream and lip balm
Soothing tea trio
Lavender and eucalyptus Candle of Calm
Relaxing coloring book and colored pencils
Comfort Has Met Its Matches
A personal notecard from you
6. Welcome to the Neighborhood Basket
Make a new neighbor feel ever-so-welcome with various gifts customized for the community they are just getting to know. This makes for a perfect DIY gift basket.
List of important contacts (including yours!)
Made-in-(name of new city) gift
Gift card to the best cinema in town
An open invitation to take them to lunch at a local restaurant
7. Home Sweet Home Housewarming Package
Spoonful of Comfort's Housewarming Package is everything any new homeowner would dream of receiving after their big move. Nostalgic comfort foods and thoughtful optional add-on items are just right for settling into any nest in this upgraded version of a traditional housewarming gourmet gift basket.
Included in this bundle:
Delicious soup like you'd make at home

Broccoli cheddar
Chicken and wild rice
Chicken noodle
Creamy corn and potato
Garden vegetable
Italian wedding
Tomato basil

Artisan rolls
Neighborly cookie options

Chocolate chip
Gingerbread
Oatmeal raisin
Snickerdoodle
Triple chocolate chunk

Display-worthy ladle
Options:
Candle
Coffee table book
Cozy comfort throw
Pie:

Apple caramel crumb pie
Marionberry lattice pie
Pecan with chocolate drizzle pie
And don't worry about dietary restrictions—soup packages also come in gluten-free and vegan varieties.
Show your love with a care package gourmet gift basket from Spoonful of Comfort for new homeowners, old neighbors, and far-away friends!