12 Care Package Ideas for a Sick Girlfriend
Care Package Ideas for a Sick Girlfriend
Is your girlfriend feeling under the weather? Whether you are close by or live far away, you are sure to make her day—and score some brownie points—by sending her a gift. A thoughtful care package can provide comfort to any woman who deserves a little TLC while she's on the mend.
When is it time for a care package to a sick girlfriend? You can't really go wrong. But think about situations like these:
Sending your girlfriend a simple gift while she isn't feeling well is more than a kind gesture. It can be an expression of romance, something to strengthen your relationship, and an opportunity to show your love for her.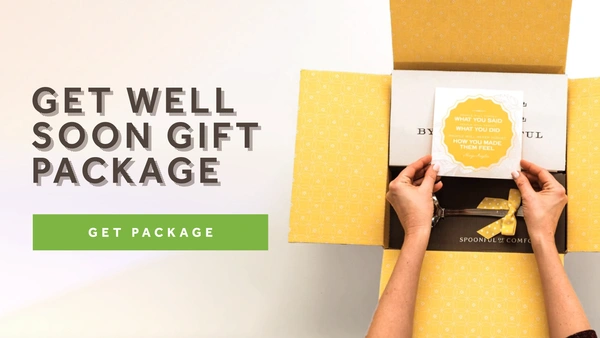 These ideas for a care package for a sick girlfriend will get your imagination working for a truly special gift.
1. Movie Rental
A good movie is sure to cheer your girlfriend up on a difficult day. If you are far apart, you can still rent a feel-good flick and watch it together on Amazon or YouTube, or you can send her a digital gift code to watch a show when she's up for it. If you are close together, you can show up with a copy of her favorite movie, flowers, and a snack to share.
Need a suggestion for a great movie choice? Her favorite chick flick is always a great option. Or the classic You've Got Mail—as a bonus, there's a great scene where a dashing Tom Hanks comforts a sick Meg Ryan, perfect for reminding your girlfriend of her attentive significant other. For more ideas, check out our list of 35+ feel-good films and Netflix for a sick day.
2. Soft Accessories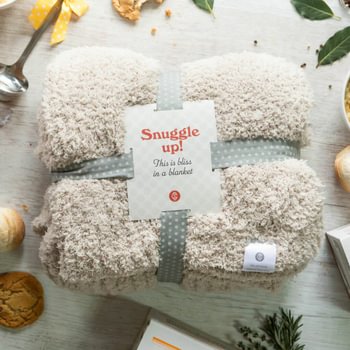 Help your girlfriend stay warm and cozy with the gift of a snuggly accessory. A bathrobe, PJ pants, slippers, fuzzy socks, pillow (plush body pillows are perfect when you're sick), or our soft blanket are all great for helping her feel comfortable while relaxing and getting some rest.
3. Comforting Meal Delivery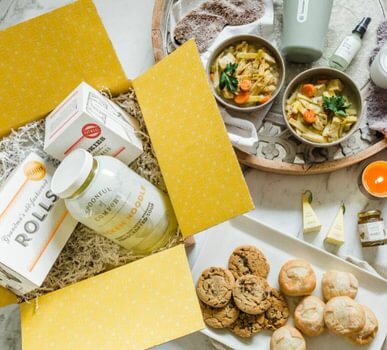 No one likes to cook when they're sick, or even head out to hit a drive-thru. Think ahead by sending her a gift card for her favorite meal delivery service, such as GrubHub or DoorDash. Even better, send a comforting heat-and-eat meal of soup, rolls, and cookies that you can share together or let her enjoy for a few days.
4. Something to Read
Taking a few sick days is a great time for your girlfriend to find a chance to read or listen to a good story. While her body is healing, she can occupy her mind with a book. You can offer to run to the bookstore or library to get the next book on her list, or surprise her with the gift of a book in the mail or an emailed gift code for a digital or audiobook of her choice. Consider also sending some light reading options, such as a magazine or collection of short stories. For book ideas, check out her to-read list if she's on GoodReads, our list of great summer reads, or the latest pick from Oprah's book club.
5. Bath Kit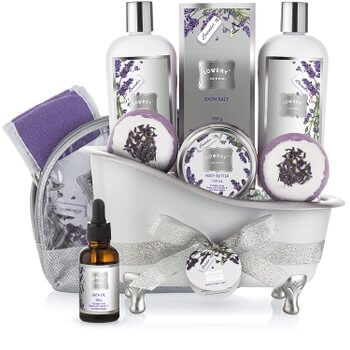 To go along with a great read, it's a nice touch to send along a gift to encourage her to take a long, soothing bath. Bath bombs, soaps, sugar scrubs (try making your own for a personal touch), loofahs, and more can be put into a basket for a great sick care package for your girlfriend. If you live far away, you can find a number of great options for bath kits on Amazon that will show up on her doorstep to encourage her to take time for self-care while she isn't feeling well.
6. Make a Modern Mixed Tape
The 80s are over, but every significant other will still smile at a carefully curated list of songs just for them. Make a modern mixed tape by burning a CD or creating a Spotify playlist that you can send to your girlfriend to listen to while she recuperates. Include your favorite songs, upbeat songs, relaxing songs, songs that remind you of her—she'll love knowing the music is meaningful to you.
Here are some ideas for sick-day songs that might make her smile. You could even go old school and create an actual mixed cassette tape, if you still have the right equipment. Or get her a fun music themed pillow to snuggle while she listens to your curated digital playlist.
7. Write a Love Note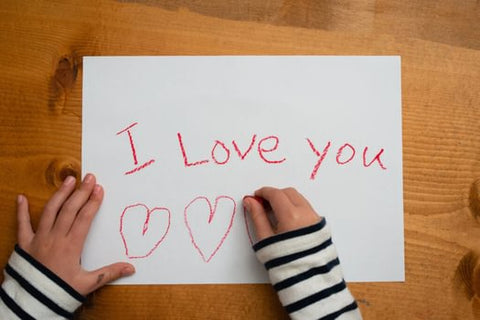 Send her a classic get well card. It's definitely OK to pick one out from the store, but a hand-made one that's funny, clever, or inspiring will be more impressive and meaningful. Be sure to include a heartfelt, personal message that expresses your love and affection during the time when she needs it the most. Or skip the get well cards and go straight for love stationery and cards and write out a list of all the things you love about her.
8. Soothing Tea Set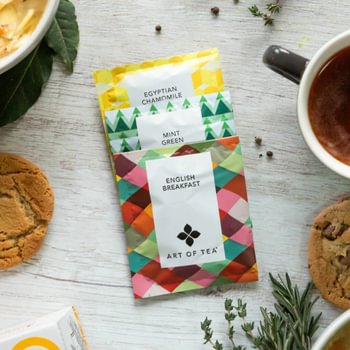 When you're sick, a warm, soothing mug of tea can feel like a hug. Our organic and sustainable soothing tea set will help your girlfriend relax and unwind while she is recovering from her sickness. If she has a sore throat, add our raw honey to any warm tea to provide relief.
9. Messages from Friends and Family
Sometimes being sick means isolating at home, away from loved ones, to avoid spreading the germs. If she is isolated not only from you but also from friends and family, the perfect care package for a sick girlfriend might include pictures of friends and family, along with cards, videos, and messages. Collect these messages and tuck them alongside another gift, like that great bath kit you put together for her, fill a mason jar with hand-written notes, or get a digital picture frame that you and others can send pictures to for her.
10. Adult Coloring Book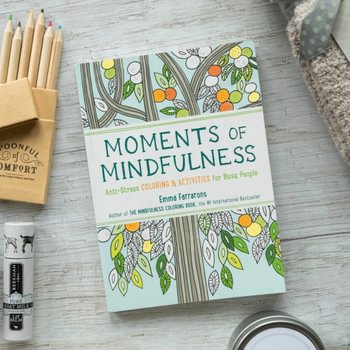 For some people, especially type-A personalities, convalescence can feel boring. Your girlfriend may not feel up to reading or working, so sending an adult coloring book and some nice colored pencils is a great option. Fun, creative, and relaxing, coloring books are a great way to spend the time during recovery from an illness. This one is filled with empowering affirmations and places to journal her feelings, and this feminist coloring book celebrates strong women—and includes fun activities.
11. Balloons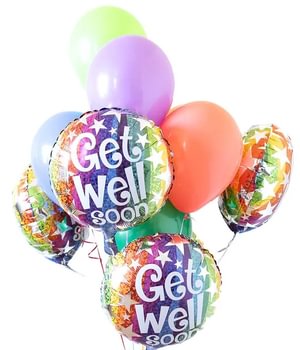 Balloons are a simple and cheerful way to add color to your girlfriend's room while she is recovering—plus, they are easier to take care of than flowers and houseplants. Choose balloons in her favorite colors, balloons with cheerful shapes and messages, or classic "get well" balloons. Aim to impress with a balloon bouquet delivery or make your own bouquet of customized balloons.
12. Get Well Soon Gift Basket
At Spoonful of Comfort, we are experts in providing comfort and care in times of need. For a care package for your sick girlfriend, we recommend our Get Well Soon gift basket or Total TLC package. It includes a few warm, delicious, comforting meals that are sure to help her feel more connected to you. This basket includes soup, rolls, cookies, a personalized card, ladle, and customized packaging. There's nothing like warm soup when you're feeling sick, and our delicious seasonal soups are sure to comfort your girlfriend in her time of need.
Let Spoonful of Comfort Help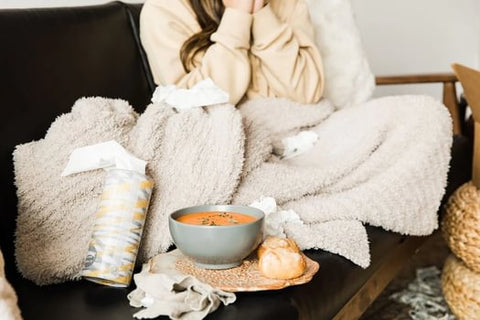 Soup is such a classic gift for anyone who needs a pick-me-up. Gifting soup as part of a sick care package for your girlfriend can create a positive and tender gift experience. When you can't be there to hug and pamper her yourself, this thoughtful gift will express your love and affection no matter how far away you are. The warm soup will feel like a hug from a loved oned.
Share your love. Send a gourmet comforting soup and cookie get-well gift to your sick girlfriend today. With Spoonful of Comfort, she'll know precisely how much you care.
You are reading a post from our Get Well Gifts Guide. Read on for more great ideas to help those you love (including yourself!) get well soon!
Get Well Gift Ideas
Get Well Food & Flix
Get Well - For the Hospital

How to Wish Them Well
Get Well Packages from Spoonful