Best Gifts for Client & Customer Appreciation by Industry
Gifts for Client & Customer Appreciation
Managing a successful business is no easy task. We know! Spoonful of Comfort started as a one-woman operation. No matter the business size, you and your team put in long hours to stand out in your industry. One of the best ways to do it is actually one of the simplest: show clients that you sincerely appreciate their business. A client appreciation gift doesn't need to be complicated or something to overthink. We'll show you what we mean. We've rounded up all the best customer appreciation gift ideas for you.

Stand Out By Going the Extra Mile
A timely and sincere customer appreciation gift is the best way to gain and keep a steady stream of loyal clientele. It shows you think of your client as a real person with a real life. And sometimes, the gift doesn't seem to do with business at all.
When you purchased a home, did your real estate agent give you a housewarming present? When your baby was born, did your insurance company send you a gift? Or perhaps your doctor gave you a baby blanket? These are all ways that businesses take the initiative to make a personal connection. Suddenly, what you provide becomes more than a product or service transaction—it's a genuine relationship.
Making a Genuine Connection
A thoughtful gift shows your customers that you are about more than just transactions. You are a company made up of real people who genuinely care about the individuals they interact with. You can show your clients that it's not just about the bottom line; it's about their happiness and satisfaction.
When you recognize the events that occur in your customers' lives, you go above and beyond the service they expect. You box up a dose of sympathy or celebration and send them on their way feeling like a VIP. Why would they go somewhere that treats them like everyone else when they can go to your business and feel seen, heard, and valued?
When a repeat customer feels appreciated or believes they are receiving exclusive benefits, they develop feelings of trust and loyalty for your company. They know they can expect excellent service because you've already delivered it.
When to Send a Client Appreciation Gift
You can send a client or customer appreciation gift in response to a formal client appreciation event, but there are plenty of other opportunities to build a relationship.
Many companies have designated customer appreciation sales and promotions at a specific time of year. Others host exclusive annual events that are open only to their clients. You can also make it more personal and send a customer appreciation gift on special occasions.
For example, show you care about their "regular life" by celebrating a birthday, engagement, wedding, or promotion. Or mark an anniversary with your business—say the day you helped them buy their home. You can express sympathy for a client's injury, illness, and if you hear about the death of a loved one. Or you can simply express gratitude for your business relationship.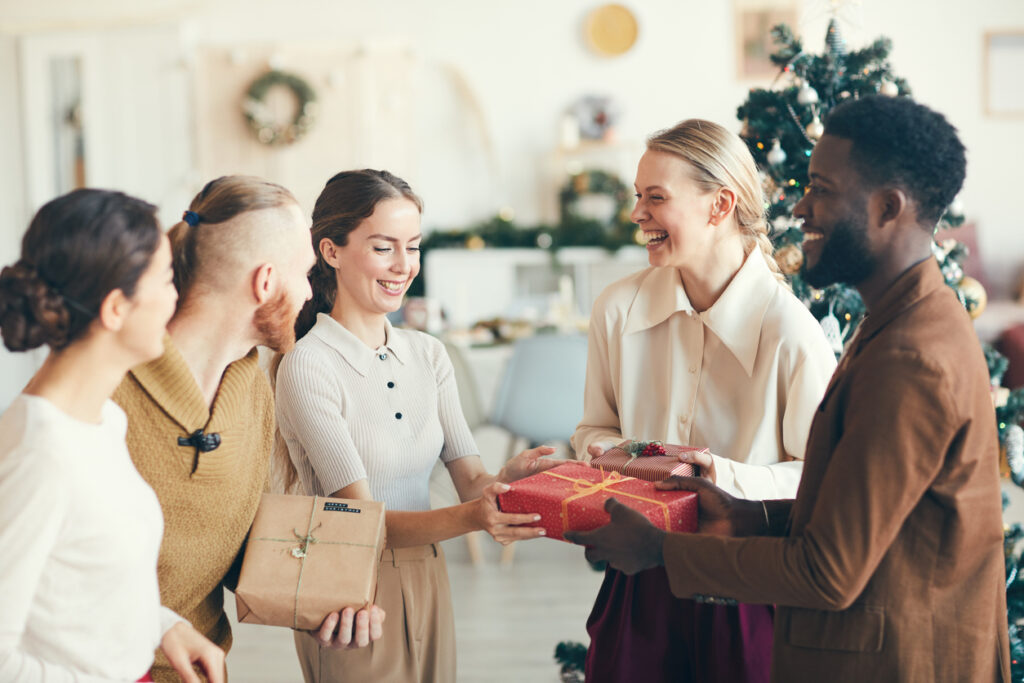 Client Gift Ideas to Show Appreciation
The right gift may depend on several factors such as the type of company you run, the types of clients/customers you interact with, or your budget. Fortunately, there are various client appreciation gift ideas for everyone.
Real Estate Client Appreciation Gifts
As a realtor or real estate company, you're helping people make what is probably the largest financial transaction of their lives. Thank them for their trust in you and help them enjoy their new home. Client appreciation gift ideas can include:
Housewarming care

package

(Our own moving-box friendly meal of soup, rolls, cookies, plus a home design coffee table book)

Cooking utensils

or mixing bowls

Ingredients for their first meal or basic pantry staples

Plants, flower seeds, vegetable seeds, an

herb growing kit

, gardening gloves, trowel

Gift cards to a home decor store
Special treats, such as chocolate-covered strawberries or s'mores supplies (including roasting sticks!)
Dish towels, dish soap, hand soap, sponges
Muffin mixes, muffin pans, and paper liners

Popcorn with different add-on flavors and a bowl, or

gourmet popcorn

A snow shovel or snow day supplies if you live in a cold climate

Basket of jam, jelly,

honey

, flavored syrups, etc. (For an added flair, use locally made or organic products)

Wine glasses

or champagne flutes
Law Firm, Insurance Company, Financial Advisor Client Appreciation Gifts
Legal and financial issues can be a source of stress for many clients. Show your support both professionally and with a gift that's personally refreshing.
Pampering products

like bath bombs, lotions, and skincare items

Create a beautiful basket full of

post-its

, notepads, pens,

magnets

, and

paperclips

. Or simply provide a notepad with your company logo

A calendar with motivational quotes for each day

Tickets to a sporting event or concert

Selfie sticks

, phone cases, mousepads,

pop-sockets

,

earbuds

, or the latest gadgets

Water bottles

, coffee mugs, or

insulated drink sleeves

Seasonal treats, like a caramel apple kit

Golf balls

,

tees

, towels, or

ball markers

Client gift cards for restaurants, movie theaters, or Amazon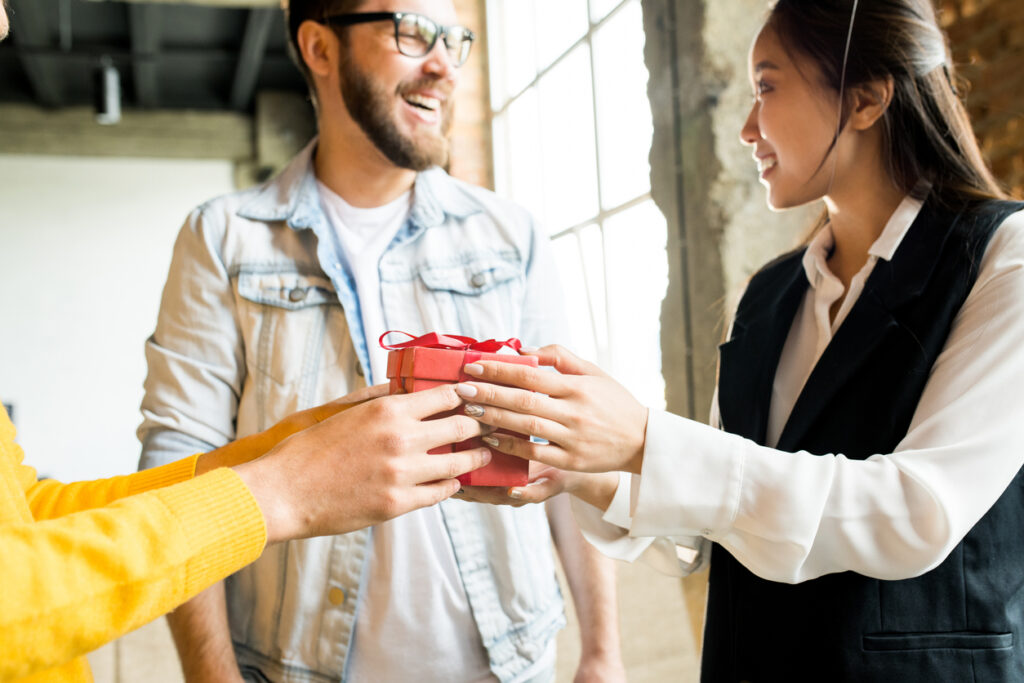 Dental Client Appreciation Gift Ideas
Keep your patients happy between visits with gifts and events.
Toothbrushes, toothpaste,

floss

Patient appreciation events: pool parties, private movie showings, theme park discount days, food truck rally, breakfast with Santa, etc.

Magnets, pens,

notepads

Drawings for prizes

Rewards for existing patients who refer new patients
Medical Patient Appreciation Gifts
Depending on your field of practice, you can thank patients for choosing you in a variety of ways.
New parent gift basket

, complete with our full meal for late-night feedings of every family member!

Baby blankets

, diaper bags, travel containers for diapers and wipes

Baby necessities basket

containing diaper cream, baby shampoo, and other supplies

Stickers

, candy/suckers, coloring books

Calendars,

notepads

, pens, pencils

Encourage reading by giving children a book at well-child visits

Host wellness events with guest speakers, classes, and healthy cooking demonstrations
Retail Customer Appreciation Gift Ideas
Retail customers interact with you a little differently than in some industries, so it makes sense to strengthen customer retention by offering loyalty benefits to existing customers.
Free small gift with purchase

Special discount days

Cardholder rewards programs

Doorbusters

Email promotions

Early access to sales or new products

Free shipping

Free in-store pickup

Discounts for returning or placing a second order within a specified time frame

"Cash" earned from purchases that can be used later

Contests with cash or prizes (like this Soothing Tea Trio!) for the winner(s)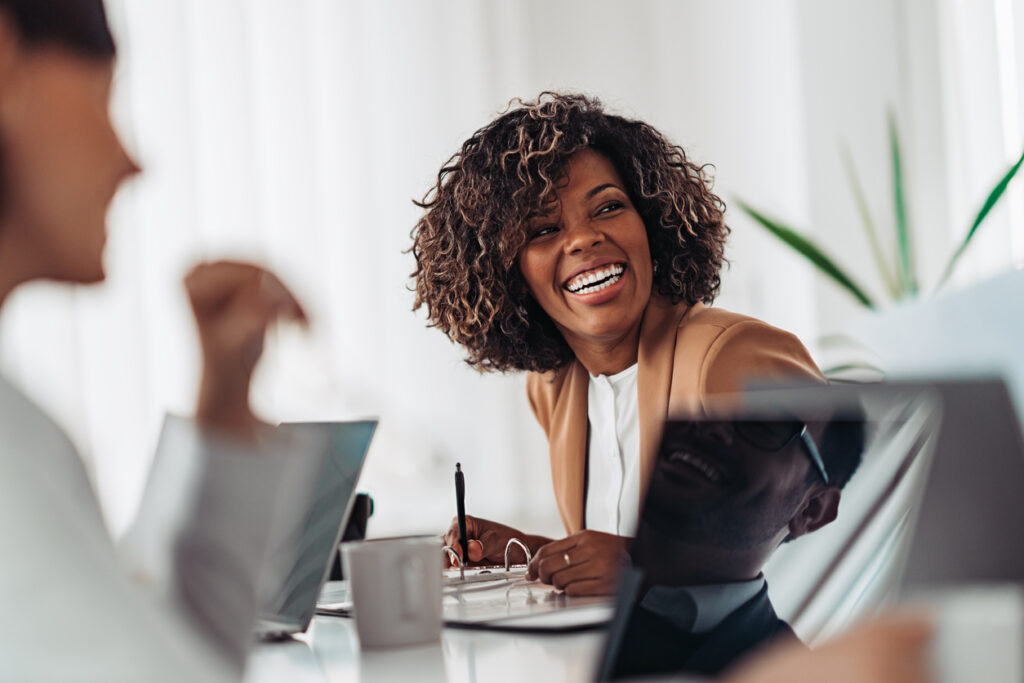 Gift Ideas to Show Appreciation for Staff Members
Remember, it's not just your clients that keep you in business. Whether you run a big or small business, you wouldn't be where you are without your amazing staff. Show them how important they are with a perfect, personalized gift on special occasions.
From secretaries to CEOs, there is an employee appreciation gift idea for everyone. Consider how much you can spend, how much time you need for delivery, and any personal details you know about the recipient, such as allergies or favorite things.
Birthday Gifts
Gift card with a personal thank you note and birthday wish

Personalized cake to share with the whole office

Decorate their office or cubicle

Gourmet soup

, rolls, and everything else they need for dinner so they don't have to cook on their birthday
Get Well Gifts
Popcorn and a

Redbox code

for a free movie

Minky blanket

(if they'll be out for an extended period of time)

Warm fuzzies

(soft and soothing hot water bottle with lavender scent)

Flowers and a card from everyone in the office
Sympathy Gifts
Funeral floral arrangement

Restaurant gift cards

Hire a house cleaning service

Gift card for a massage or spa
Birth of a Baby
Save on Appreciation Gifts With a Corporate Account
Spoonful of Comfort provides gourmet soups, rolls, cookies, and more for companies who want to show appreciation to clients, customers, and customer service staff members. We have thoughtful gifts for any season or occasion, so you can plan an entire year of gifts for customer appreciation if you'd like.
With a corporate account, you'll get a personal account specialist who will handle all of your needs. You can schedule gift orders in advance so you don't have to worry about them later. Plus, you can add orders for immediate delivery when unexpected circumstances arise.

Benefits of Spoonful of Comfort Corporate Accounts
In addition to a personal account specialist and easy ordering, you'll enjoy a number of great benefits when you set up a free Spoonful of Comfort corporate account.
15% discount on all orders

Mailing list and promotional gifts management

Easy bulk ordering using one invoice

Loyalty program to earn a free package for yourself after 10 orders

Advanced setup for shipping preferences

Special holiday packages

- Schedule and simplify your holiday gift checklist with beautiful packages that may include candles, cozy socks, soup, cookies, cocoa, mugs, and more

Corporate gift baskets that work for multiple circumstances
Sign up for a completely free Spoonful of Comfort corporate account today to get started sending a memorable staff, customer, or client appreciation gift box. Reference our extensive list of appreciation gift ideas anytime you need to show someone your gratitude for their hard work or patronage.
This article is part of our
Corporate Gift Giving Guide
to guide you find the perfect business gift for every employee appreciation day and customer appreciation event. Don't forget to sign up for your
Corporate Gift Account
today and get a discount on corporate gifts for your employees, clients, and customers!
Corporate Gifts
Executive Gifts
Gifts for Employees
Gifts for Clients
76 Best Customer Appreciation Gift Ideas [By Industry] (← You are here)