50 College Care Package Ideas [What To Send Homesick College Students]
College Care Package Ideas
Looking for college care package ideas for your homesick student? Look no further. We've done the hard work for you and created a list of 50 unique and thoughtful gifts and care packages for college students.
A collection of their favorite treats, snacks, and beverages. Bonus points if you can get your hands on items they could only get from local places back home.
A comfort food gourmet gift basket prepackaged, ready to eat, and complete with creamy soup, fresh rolls, and some tasty cookies for dessert.
Healthy snacks and drinks to counter all of the energy drinks and takeout. Let's face it, college students can't exactly afford to stock their pantry with organic products and fresh produce.
A delightful package of fresh, delicious cookies for your student to nosh on while they carve away at their load of homework.
A practical care package loaded with groceries. It's a good idea to include quick and easy meals unless your student is a big fan of the culinary arts.
Food storage containers in various sizes so they can pack snacks and lunches instead of blowing their money on fast food and vending machine grabs.
A fresh batch of your student's favorite home-baked goods you made when they were growing up.
A techy smart home assistant (like the Echo Dot) to help simplify college life, keep their schedule organized, and reduce the stress of adulting.
A new laptop cover, a laptop sleeve, or some stylish decals to personalize their gear.
Custom phone case with a picture of the family or a beloved location from their hometown.
Plenty of photos and frames so they can surround themselves with reminders of home.
A copy of your home videos for them to binge-watch on a rainy day. Who doesn't love watching videos of their life when they were young?
Quality noise-canceling headphones for serious study time in the common areas on campus.
A subscription to Netflix, Hulu, or any other platform where they can stream their favorite shows and movies.
A poster of their favorite landmark from home. If they don't have a favorite place, you can opt for an image of the city skyline. There are a lot of shops on Etsy where you can find beautiful creations of any major city skyline or famous monument.
A decorative candle warmer paired with familiar scents that remind them of home.
An LED diffuser with a variety of scented oils for energy, relaxation, and stress relief. Never underestimate the power of aromatherapy.
A super soft pillow and an oversized blanket to snuggle up with during long homework sessions and exam preparations.
Cold and flu care packages stocked with moisturizing tissues, cough drops, medicine, soup, and anything else you used to give them when they were sick at home. (If you're looking for more ideas in this area, you'll find plenty in this list of 103 get well gift ideas).
A care package stuffed with necessary essentials like toilet paper, soap, socks, etc. so they can spend their money on something they actually want.
Motivational posters or cards to draw strength from when they're feeling down. A boxed set of affirmation cards can provide them with a daily dose of positivity and encouragement.
Dorm room decorations to personalize their space, whether it's a new bedspread or a strand of lights to hang above their bed.
Indoor plants that can purify the air and help your student sleep better.
New dishes to replace the mismatching cups and paper bowls.
Soft towels, wash cloths, bath mats, etc.
Tools and supplies that are relevant to their major. Sketchbooks for art students, culinary tools for the aspiring chef, or a new sewing machine for your future fashion designer.
Custom photo book filled with memories and photos of loved ones.
An entertainment care package with games, movies, and gift cards to fun activities in the area.
New holiday decorations so they can get into the holiday spirit and bring back the festive traditions of their childhood.
Custom holiday decorations, like personalized tree ornaments, framed photos of past holidays, or a few of your own decorations to spark the nostalgia.
A gift certificate for a relaxing, stress-relieving spa day. This is one of those gifts for college students that they're sure to greatly appreciate after a stressful exam. After all that studying and preparation, they've definitely earned a deep-tissue massage or a soothing facial.
Gift cards to their favorite department stores so they can splurge every now and then instead of pouring all of their money into the cost of rent and food.
Athletic gear or sporting equipment for the student athlete. Maybe they could use a new pair of soccer cleats or a spacious bag for their gear.
Birthstone jewelry that combines the birthstones of you and your student. You can find these in rings, bracelets, and necklaces.
Apparel from their old school in their hometown. A branded hoodie or T-shirt will allow them to represent their hometown pride and connect with other students who may have come from the same area.
Winter apparel to keep them warm and cozy. Thick gloves, hats, a nice coat, or a brand new pair of snow boots.
Kitchen appliances that will simplify cooking, like an instant pot or blender. This will help your student to cook instead of eating out so often, which is a healthier, more affordable choice not all college students have the liberty of choosing.
Quality cleaning supplies that will make chores easier, faster, and less miserable. A few ideas include a new vacuum, disinfectant wipes, or rubber gloves to make it all a little more bearable.
Extra school supplies such as notebooks, sticky notes, notecards, pens, etc. If you're feeling really generous, you can even get your student a laptop or a new desk monitor. All of these things will help your student do their best work efficiently.
A few upbeat self-help books that will help them conquer the adult world with confidence and some much-needed humor.
Microwaveable heat pad with a calming scent for sore necks and stressful test prep.
At-home spa kit complete with face masks, exfoliation scrubs, and bath salts.
Symbolic jewelry that can bring comfort, inspiration, or fond memories. For example, a compass necklace paired with a good quote can remind students to stay true to themselves every time they wear it.
Personalized stationery for writing thank you notes, birthday cards, and any other words that call for a handwritten message.
DIY manicure kit with nail polish in the college colors.
A high-quality backpack made from durable materials with comfortable shoulder straps for hauling around all those textbooks and a laptop.
New stylish purse with enough room for some notebooks, a makeup bag, and anything else your student might need throughout the day.
Heartfelt letters from the family back home.
A study kit with notecards, highlighters, motivational quotes, and of course, something sweet and sugary to get them through a long night of brainpower.
Childhood memorabilia, from retro game consoles to stuffed animals.
What Are Good Things to Put in a Care Package?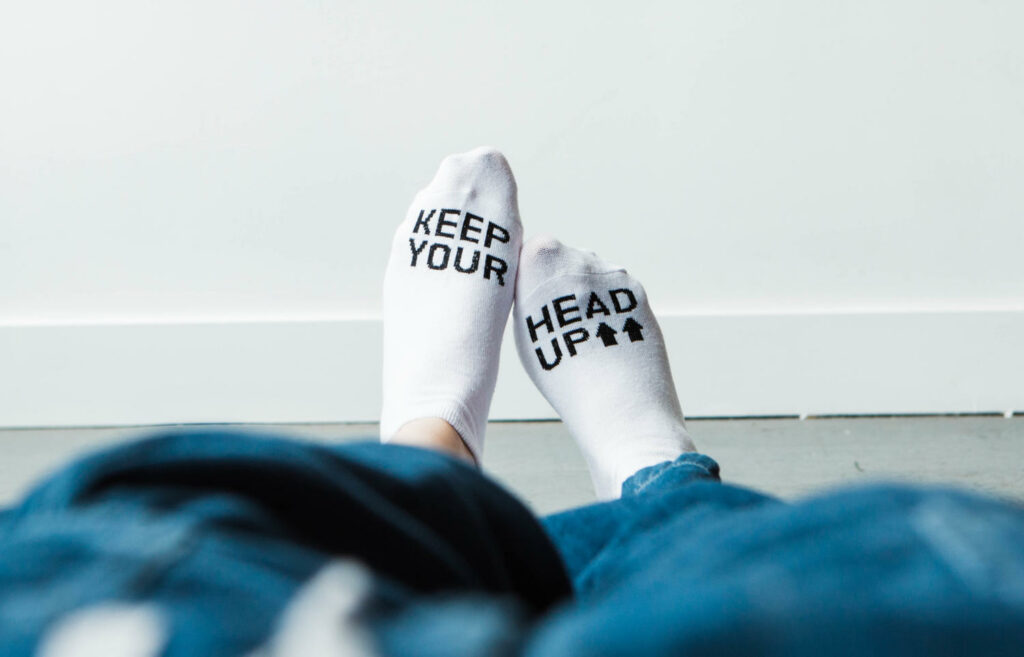 As far as care packages are concerned, perishable items can sometimes be a challenge to send to college students. However, if you want to send perishable items by mail it's best to work with a company that's an expert at getting perishable care packages to your loved one.
Fragile objects are never a good idea, especially if they're valuable. If you want to get your student something valuable or breakable, order the item online and have it shipped straight to their dorm to eliminate the risk of damage.
What Should I Put in a Care Package?
Like we mentioned, avoid adding items to your college care package that are perishable and breakable. Putting together a care package can take a considerable amount of time and effort, so the last thing you want is for your contents to be destroyed before the package even arrives.
In your care package, you should also include a thoughtful letter or note. Add a few bits of childhood memorabilia if possible, or some photos from home.
What Do You Put in a College Care Package?
The best college care packages contain a good balance of items that fulfill either a want or a need. You can get your student some new decorations for their dorm and perhaps a gift card to the movie theater, but it's also a good idea to throw in some essential items they can get a lot of use out of, like school supplies.
As you brainstorm college care package ideas, try to think of memorabilia you can add to help them feel more at home in their dorm: Framed photos, decorations from their bedroom at home, or a piece of artwork that resembles an iconic place in their hometown or a meaningful part of their childhood.
Oh, and money. College students can always make good use of money, whether they're spending it on groceries or some much-needed stress relief.
What Do You Put in a Winter Care Package?
Winter care packages are always a big hit among homesick college students. Send your student a box of comfort with soft blankets, instant coco, canned soups, and some cozy winter apparel. Thick, fuzzy socks, warm gloves, beanies, you name it. They'll love to snuggle up with their winter care package on a cold evening of homework.
What Should I Put in a Healthy Care Package?
Creating a healthy college care package will require some thought on your part, since you can't exactly send a box of fresh-picked blueberries. Fresh produce isn't likely to last as it journeys from your home to the college campus, so you'll want to pack healthy options that are a little more resilient: Granola bars, mixed nuts, dried fruit, and some healthy meal options that are dry and prepackaged.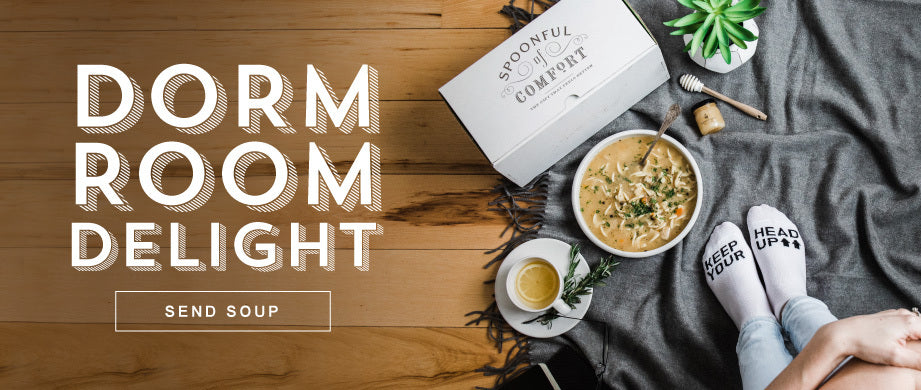 How Do You Send a Care Package with Food?
Food gifts for college students are always a phenomenal idea, but it's not always an easy task to assemble an edible care package. You may want to consider ordering a prepackaged collection of sweet and salty goods, or perhaps a whole dinner that's ready to eat after opening, like our Away From Home Care Package.
If you'd rather put together your college care package on your own, just be sure to separate goods with strong aromas from everything else. Keep everything in the original package—if possible—and avoid packing items that will melt and make a mess of the entire package.
How Do You Create a Gourmet Gift Basket Care Package for Students?
If you're wanting to send an extra-special care package, consider creating a themed gourmet gift basket. This will give you a great starting point when deciding what to include in the care package. Choose a theme based on the student's needs, wants, or interests. For example, a student who is just learning to cook could use a "cooking starter kit," while a student who loves tech supplies would be delighted to receive a gift basket full of the latest tech gear.
Get creative with the presentation of your gourmet gift basket—the actual basket portion of the gift could be anything from a cooking bowl to a shower caddy. Polish off the look by wrapping the whole thing in cellophane and ribbon. Then you can place the whole thing in a box and send it off to the student for an unforgettable mail day.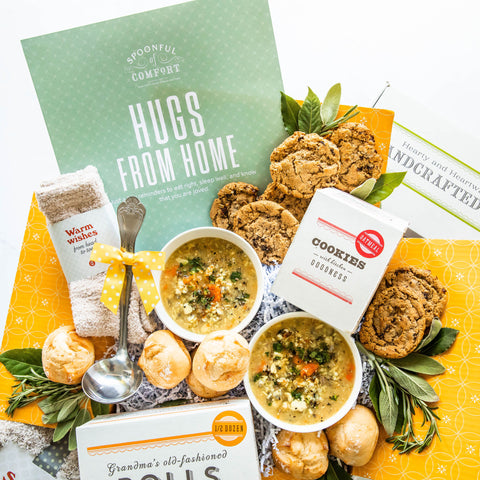 Food Baskets
Do you know a student who loves all things food-related? Or maybe they could use some cooking lessons? In any case, a food basket is sure to be much appreciated by just about any homesick college student. Here are a few food-themed college gourmet gift basket ideas:
Beginner Cooking Basket: Help a student learn to cook by filling a gift basket with a starter kitchen set, including spatulas, knives, spices, and a custom apron with their name on it.
Appliance Basket: Many students live in a dorm where they don't have access to a kitchen, so they'll love having convenient appliances like a panini-maker, portable burner, blender, and some non-perishable food items to go with it.
Coffee Basket: Do you know a student who's always on the go? A coffee-themed basket will help keep them energized all day long. Add your favorite roast, coffee mix-ins, and a personalized mug.
Tech Baskets
Technology is changing faster than ever, so a tech-themed basket will almost always be a novelty for a college student in need of some love. Here are some ways to create a techy gift basket, without breaking the bank:
Charging Baskets: If you've noticed a student who is always running low on a phone charge, set them up with a deluxe charging station, USB cords, a portable charger, and a new phone case. No more running out of battery on campus!
Techy Personal Care Basket: Give the gift of hygiene with a tech-themed personal care basket, complete with an electric toothbrush, electric razor, and any other fancy bathroom gadgets you come across.
Homemade Tech Subscription Basket: Recreate the popular subscription box idea by creating a gift basket full of small techy gadgets and samples. You can even keep it going month after month.
Fashion-Related Baskets
Whether you know a budding fashionista or just want to help out a poor college student who wears their pajamas every day, a fashion-themed gift basket is sure to be a hit. Check out these ideas for fun clothing-related gift baskets:
College Gear Basket: Go, team! Help your students show school spirit with a gift basket filled with hats, t-shirts, and accessories that have their school's name on them. They'll feel more at home when they head to the next sporting event or school rally.
Shower Caddy Basket: Do you know a student living in the dorms or sharing a bathroom with a crowd? Make their life more convenient by gifting a shower caddy basket filled with luxury shampoo, soap, a razor, and a loofah.
Loungewear Basket: It's true, college students spend a lot of time lounging. Help them do it in style by gifting a basket full of comfy basics, such as slippers, sweats, and a cozy top.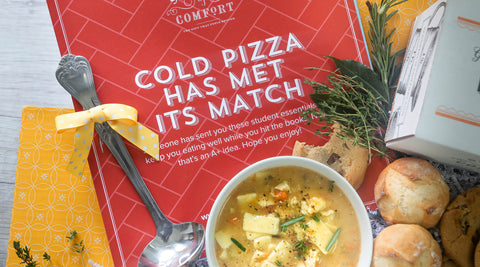 What Is the Best Gift for College Students?
The best gift for college students is to know how much you love and miss them. When you're wondering what to send college students in care packages, remember that you don't need to spend a great deal on a massive care package; some of their favorite childhood treats and a handwritten letter from you will mean just as much. Choose a thoughtful gift, one you know your student will enjoy or appreciate.
At Spoonful of Comfort, we help you send the perfect message with a delicious meal, prepackaged and ready to eat. Find the right gourmet gift basket to send your homesick student today and pair it with a personalized message that will tug at their heartstrings.