Father's Day Gift Ideas: The Ultimate Guide to Unique Gifts For Dad
Unique Gifts for Father's Day
Dad will always love you, but doesn't he deserve something more than just another tie? Get inspired with this ultimate gift guide on Father's Day gift ideas to help you find a one-of-a-kind gift for your dad.
History of Father's Day
The first official Father's Day was on June 19th, 1910, celebrated in the state of Washington. While the origins of Father's Day started small with local events like that honored fathers, it wasn't until 1972 when President Woodrow Wilson made Mother's Day official that dads also got their day. After Wilson's announcement, Father's Day is now celebrated every year on the third Sunday of June.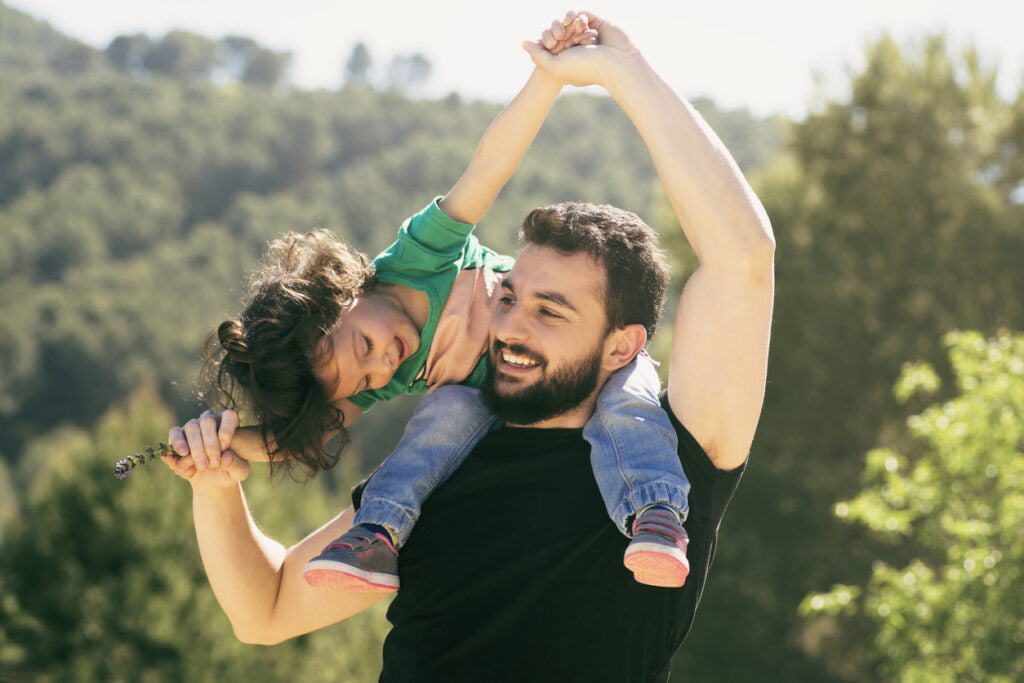 Rather than pursuing a popular gift, here are a few ways to spice things up while still getting him something memorable.
Acts of Service
Gifts don't just have to be something physical. Your dad can also appreciate a thoughtful gift of service.
Tackling His To-Do List:

Many dads have a list of chores they need to do around the house. This can include everything from fixing the sprinklers to finally patching up that hole in the basement wall. Stepping up and taking care of some of the things on his to-do list, or even completing all the chores, is a great gift he will certainly appreciate. It takes away the stress and pressure of the list and gives him more time to spend with the people (and maybe sporting events?) he loves most.

Helping Your Community with Dad:

For some dads, being celebrated and the center of attention isn't their cup of tea. For those dads, you can celebrate Father's Day with them by helping others. Spend time with your dad volunteering at a food bank or shelter. Spending time with him, without making time for him, can be the perfect Father's Day gift.

Personalized Gifts
A personalized gift can make even the simplest gifts unique and memorable. Here are just a few ways you can personalize a present for your dad:
A Classic Twist

- The most typical Father's Day gifts are ties and socks. This year, put a personal twist on them to make a one-of-a-kind present. You can personalize

socks

and

ties

with your face, so Dad will always remember who loves him the most.

Personalized Grilling Set

- A

personalized grilling set

is a great fit for dads who love to spend time out on the grill. It gives Dad a gift he'll enjoy while also making it all about him.
Customized Golf Markers - If your dad loves spending time on the back nine, give him a gift like custom photo golf markers to help him remember you while he's out on the greens.
Meaningful Gifts
Some of the best gifts are meaningful to him, and you—and we're talking more than personalization. Some of the most meaningful gifts focus on family traditions, the fun times you've had together, or other personal connections.
This is also a chance for you to poke a little fun at your dad and smile along with him. If he's famous for having trouble in the kitchen, you can get him a kitchen fire extinguisher or a children's recipe book. There's no easy guide for these gifts because they depend on your dad and your connection with him. Buying something silly, memorable, and one-of-a-kind changes for every dad.
Or, start a meaningful gift by thinking about your favorite dad memories. Remember that first awkward shaving lesson? Learning to drive with him in the passenger seat (yikes!). Or there could be something more sentimental, like the smiley face he'd draw on when you felt defeated and beaten down.
Magnifying a memory can make the details a big deal. For example, remember all those autumn hunting trips with some photos and a 30-caliber pen for Dad? Search for his old cologne and write a note of the times as a kid you remember him wearing it.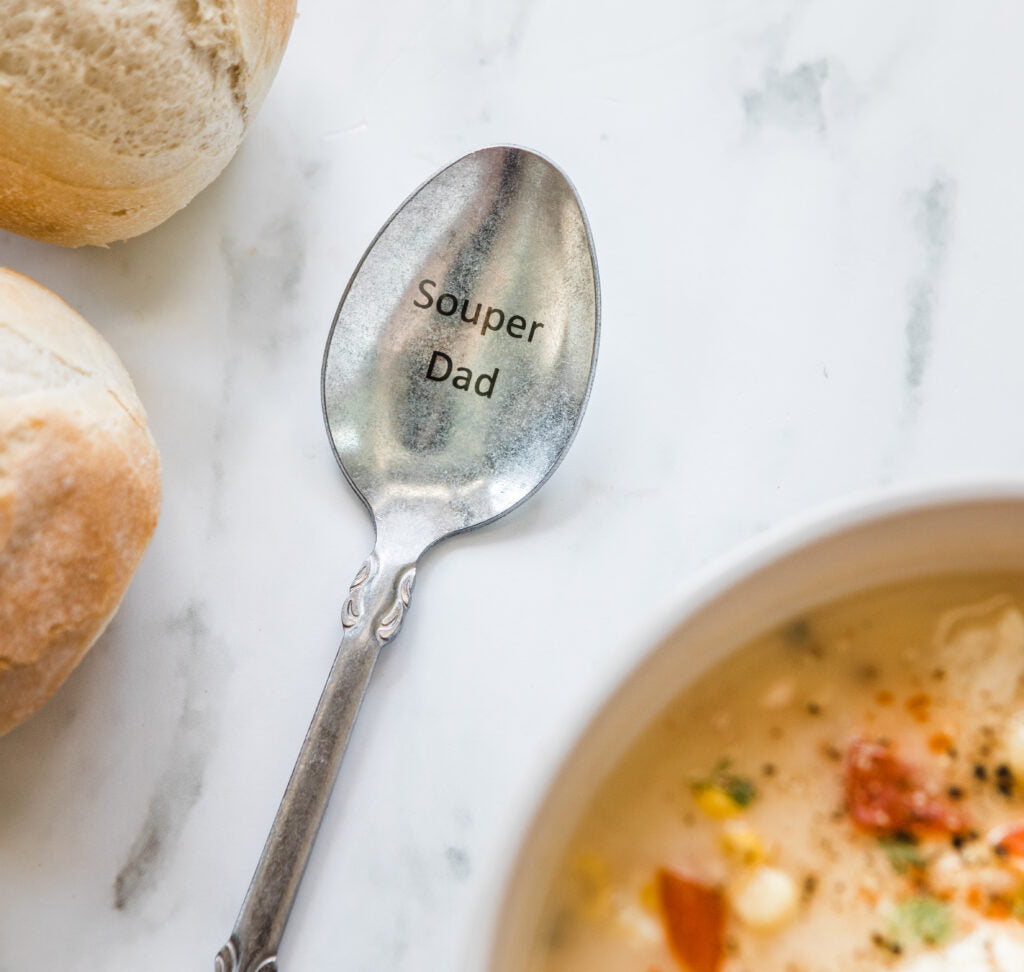 DIY Father's Day Gift Ideas
Something homemade can show how much you love your dad. Not only does it let you personalize your gift for your dad, but it also shows just how important he is to you. Here are a few easy DIY projects you can do this year for Father's Day:
Candy Tackle Box -

With a simple plastic organizer, you can make a gift to lure him in. Rather than filling it up with expensive lures and fishing tackles, fill it with gummy worms and Swedish Fish to make a candy tackle box.

.
Building Memories - It's a

creative way to remind Dad of all of the good memories you've had together

. All you need is a mason jar and some something to put together: Legos, puzzle pieces, etc. If you have younger kids around, it's also a great way to get them involved by having them add to the jar of memories.

A Tie!

- It's a cliche Father's Day gift idea, but a homemade tie is a one-of-a-kind gift he'll never forget and be able to wear with pride. It does involve sewing and patience, but you'll be able to create

one-of-a-kind ties from any fabric

you can find.

Citronella Candle

- Mom isn't the only one who can enjoy a candle as a present. For a dad who likes to spend his time outdoors, a

homemade citronella candle

can help ward off unwanted pests and bugs.
Affordable Gifts
You should never feel like you have to break the bank to get a present for your dad. Some of the best gifts for your dad are small and affordable.
Night at the Movies

- Dads want to know you care, so take them out and spend time with them. Something as simple as going to watch a movie and paying for the popcorn and snacks can be a great way to show your love. If you don't want to go out, even spending a night with them enjoying a new movie or their all-time favorite can still work.
Absolute Best Book. The story is delightful, and the sentiments are all yours. Get this book to let Dad know he's the absolute best or the Best Dad Ever.
Experiences and Activities
Sometimes the best present you can give is your time and attention. Your dad might have everything he needs and can buy, so the best gift you can give is to plan an activity with him. No matter which one you choose, make sure you put away your phone and enjoy your time together.
Gone Fishing

- For a dad who loves to be out on the water, having your company is the perfect time and place for you to show how much he means to you and help you create even more memories.

Game Time -

Help your dad get out of the house and enjoy some time watching his favorite game. Get tickets to a doubleheader, and enjoy catching up with him while rooting for the home team.
Be His Player 2 - More and more dads enjoy playing video games, but with their busy schedules, they don't always have time to play. Father's Day is your chance to be your dad's player two and play a game. Lean in and enjoy "just one more game" with him playing his favorite games.
Father's Day Gift Ideas from Wife
In February, he gave you a memorable Valentine's Day. He amazed you with a thoughtful and personal Mother's Day present a few months later. Now it's your turn to get your husband a perfect gift to show how much you love him. But what can you get him to match everything he's done for you? He might need it, but now is not the time for a stainless steel nose trimmer. Here are some great ideas to show your husband how important he is to you:
Masterclass All-Access Pass

- Your husband might be a jack of all trades, but the Masterclass pass lets him learn from the best in every industry. He'll be able to learn from world-renowned authors, directors, athletes, chefs, and scientists.

Percussion Massager

- You love to pamper yourself with a mani-pedi or a relaxing day at the spa, but when was the last time he got to focus on himself? Help your husband work out some stubborn knots and have time to relax with this

professional-grade massager

.

Digital Paper

- For any avid note-taker or writer, d

igital paper

is a gift your husband will love. It is as easy to use as a traditional notebook.

Still, it allows you to transfer your information to your devices and keep it together without hoarding notes and paper folders.
Father's Day Gift Ideas from Daughter
Trying to find a unique gift for your dad that shows how much he means to you doesn't have to be complicated. The only thing he wants is something from the heart.
Dad Jokes

-

Chances are, you've put up with horrible and painful jokes from your dad. He thinks he's hilarious, but the whole family groans whenever he cracks one of his "punny" jokes.

A

book of Dad Jokes

allows him to get new material while showing him that you love him through every corny joke despite the groans and eye rolls.

Magnetic Wristband

- If your dad is always working on a home project,

magnetic wristband

is a great tool for him. It makes sure the screws or nails he needs are close at hand.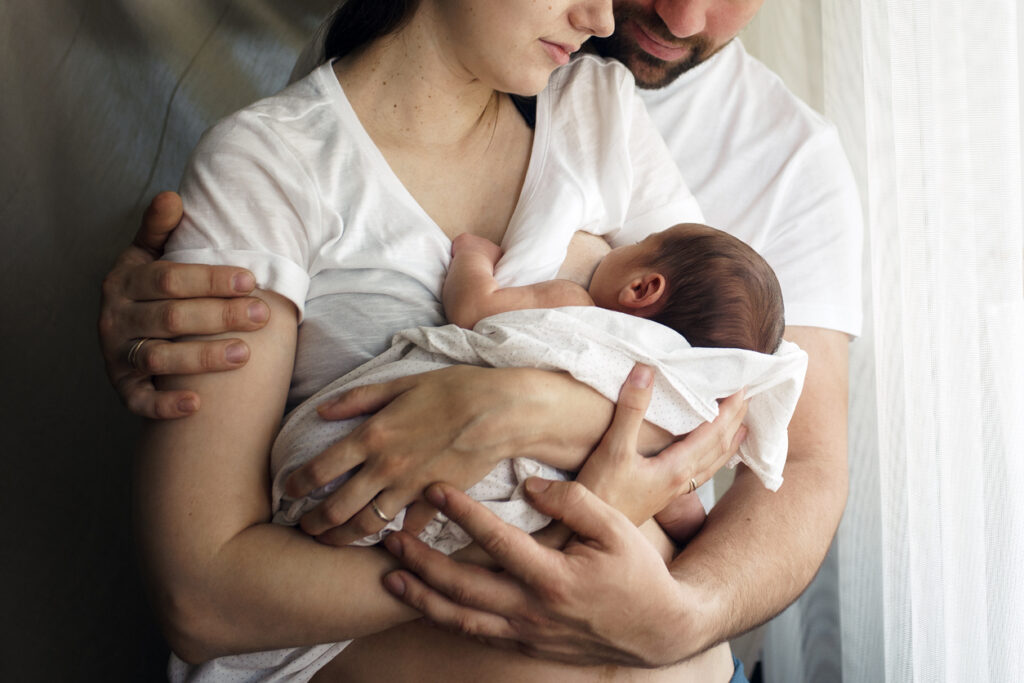 Dad-to-Be Father's Day Gifts
Father's Day Gift Ideas for Older Dads
It's easy to find Father's Day gifts for older dads. They might not need more barbeque and grilling tools, but there are perfect gifts that can help them know how much they mean to you.
Publish Their Stories

- Older dads have a world of experience; chances are, you don't know half of what they've been through.

Each week your dad gets a question about his life, and after a year, you get an entire book of his stories, in his words, to share with him and the entire family.

A Warm Bowl of Soup

-

The easiest way to a man's heart is through his stomach. Spoonful of Comfort is a great Father's Day gift idea for a dad living independently. With no cooking skills required, your dad can enjoy a warm, comforting meal that reminds him of home. Packages can be delivered and enjoyed at hospitals, care facilities, and nursing homes.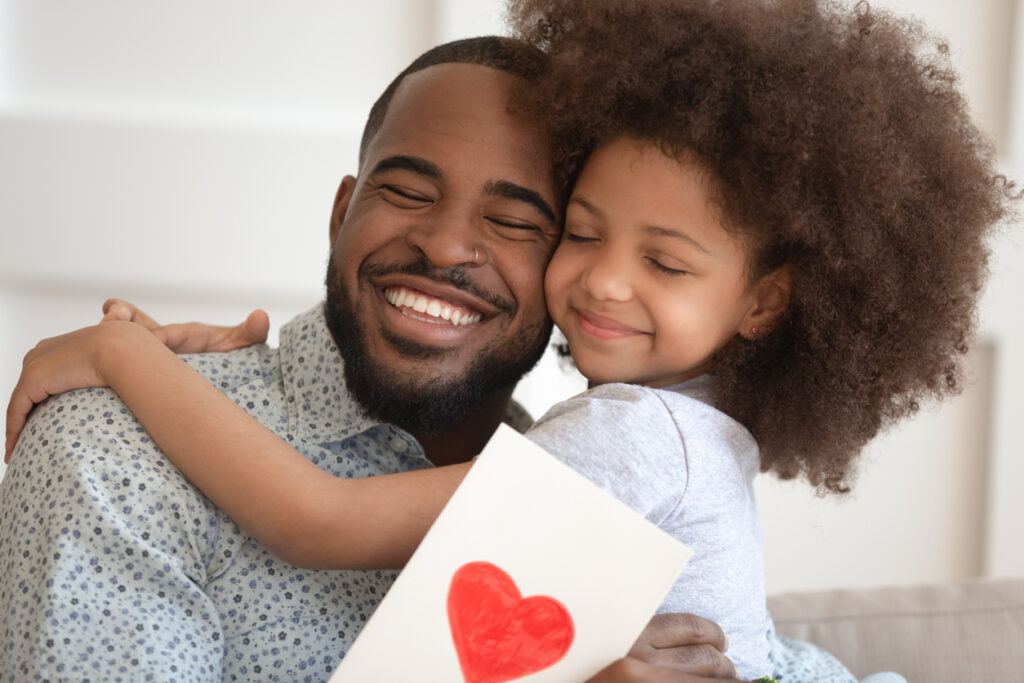 Father's Day Message
No matter which presents you choose to go with, your Father's Day gifts should always include a heartfelt message or card.
Here are a few quick ideas you can add to any card or note to make this Father's Day even more memorable and heartfelt. You can also look over some fun happy Father's Day quotes here.
Father's Day Messages from Daughter
The place you hold in my mind is as big as the place you hold in my heart.

You are my best friend. Thank you for making my life so amazing.

Your guidance, advice, and love have stuck with me through it all. I would not be who I am today without you.

You made growing up fun.
Father's Day Messages from Wife
Happy Father's Day to the man of my heart, the father of our children, and the love of my life.

The only thing better than having you for a husband is our children having you for a dad.

You give our children someone to admire, respect, and honor.
Father's Day Messages from Son
Thanks for acting like a kid when I was a kid, acting like a friend when I needed a friend, and acting like a parent when I needed one.

The older I get, the more I realize how important it is to have a dad like you.

Thanks for all you've done for me. I could never repay you, but I'll happily chip in for some pizza in your honor.
Father's Day Message to a Friend
To a friend who is such a dedicated father that lets his children have fun no matter what! Well, when you are sleeping, anyway.

To a friend that is a superhero of a father. Have an amazing day.

You've inspired me as I've watched you raise your kids with kindness and patience.

You are an incredible father, a caring friend, and someone I am thankful to have in my life.
Spiritual Father's Day Messages
In your eyes, I've seen God's love. In your words, I've heard His wisdom. Through your life, I've found His grace.

God gave me such a good gift when he gave me you for a father.

You showed me the love of God and taught me how to live.
Father's Day Messages When You Can't Be Together
We may not be spending Father's Day together, but we're connected in a way that stretches any distance.

Near or far, I'm always thankful for who you taught me to be.

I wish I could be there to remind you how much I love you, Dad.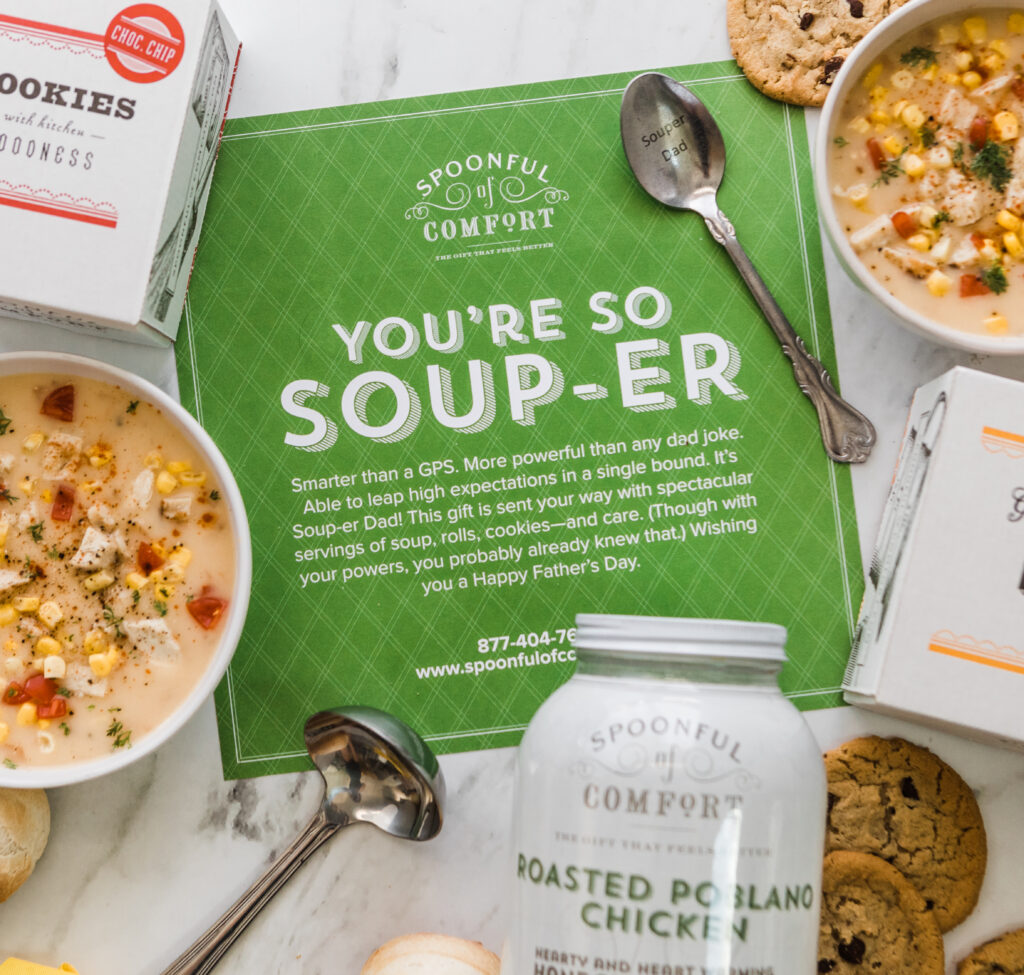 Give Dad Something Special
No matter who you're celebrating on Father's Day, a warm, thoughtful, and ready-to-eat meal is a great way to send your love. With Spoonful of Comfort's gift packages, you'll send a dad-size jar of soup, chewy rolls, papa-pleasing cookies, and a personalized note card. We even have gluten-free and vegan options. So send your love and care to your fathers by sending a Father's Day special soup package.