Get Ready for the Return of Fall TV with these Binge-Worthy Shows
Binge-Worthy TV Shows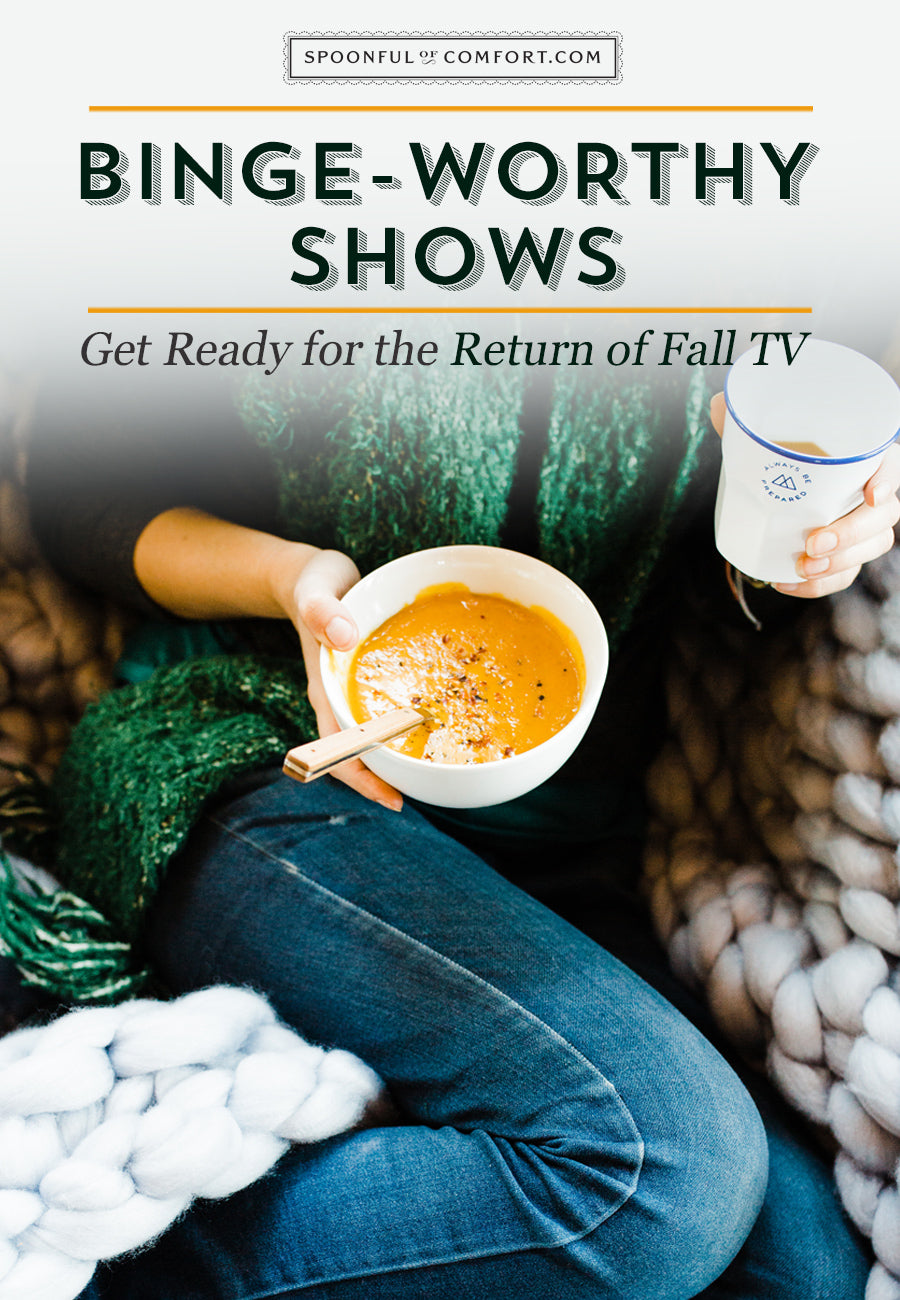 The leaves are turning, and most importantly, the TV lineup is finally changing. Our favorite shows are fast returning, alongside some pretty intriguing season premieres. Want to make the most out of this magical time of year? Start by catching up on some of our favorite series with a binge-watching marathon guaranteed to help you forget a summer of bad Reality TV.
Here's our top picks:
The Crown:
Is it really fall without a period-piece set in Great Britain and filled with fabulous fashion? We think not. Fortunately, "The Crown" is back for a third season, and with a brand-new cast, too! The Netflix series follows the life of Queen Elizabeth II as she and the royal family navigate their personal and political lives under the watchful eye of the English public. We hear this season is full of royal intrigue and scandal, so cozy up with some tea and scones and make sure you're all caught up before the new season premiers this Fall.
The Good Place:
Well, we're forking devastated that this hilarious and quirky series is entering its fourth and final season, but we're also pretty excited to reunite with Eleanor Shellstrop and her merry band of post-life misfits. If you're just getting started, "The Good Place" is a heaven-like Utopia reserved for the very best of humanity, all of whom deserve a happy afterlife after a successful stint on earth. Except Eleanor isn't exactly the best of what humanity has to offer, so how did she end up in "The Good Place?" Often heartwarming, sometimes snarky, and always entertaining, you'll be hooked after the first episode.
This is Us
We promise ourselves we aren't going to cry at the beginning of each episode, and yet, we've never made it through a single show without a box of tissues. We've fallen in love with the Pearson family and can't wait to spend another season celebrating each triumph and getting misty-eyed at every heartbreak. Plus, after the cliffhangers of last season, we need answers. If you're looking for an authentic and wonderfully written family-drama, "This is Us" is for you. Just make sure you've got those tissues handy.
All caught up? There's some great new shows on in the Fall line-up, all of which seem potentially binge-worthy. Here's your chance to get in on the ground floor of the next big hit…
The World According to Jeff Goldblum:
We're totally watching this, right? Host Jeff Goldblum lets us tag along as he follows his insatiable sense of curiosity all around the world. From learning how high-end denim is made, to exploring the world of Korean barbeque, to trying his hand at synchronized swimming, we want to go wherever Goldblum is going. Self-described as a "late Goldbloomer," we can't help but feel grateful that Goldbblum took his time blooming, since it allows us the chance to come along on his wild ride of fun and discovery.
Nancy Drew:
Each year, pumpkin-spice lattes reappear, someone mentions something about "sweater weather," and the CW premiers a show featuring very attractive teenagers battling the supernatural. This time, they've brought our favorite childhood book series to the small screen in the form of "Nancy Drew," and clichés about the CW aside, this show looks seriously fun. Just the right combo of thrilling and charming, we can't wait to see Nancy Drew try and crack her first case while balancing her responsibilities as a small-town waitress. And there's sure to be a love triangle in here somewhere, so stay tuned.
Of course, nothing makes an evening of binging your favorite TV like knowing you don't have to stop watching in order to make dinner. That's where Spoonful comes in—we're always ready to a loved one a homestyle meal of hearty soup, fresh bread, and delicious cookies. So settle back on the couch, pull up the blankets, and get ready to welcome in a new season of Fall TV.