30+ Gift Basket Ideas for Your Sick Friend
Gifts for a Sick Person
Nothing says "I care about you" more than a personalized gourmet gift basket. The sky is truly the limit to what you can fit in a basket and give to someone in need, especially if that someone in need is a good friend who is sick.
While you can't take the pain or discomfort away, you can do little things here and there to try and brighten someone's day and let them know they're loved and that others are thinking about them. Figuring out some personalized gift baskets for sick friends is a good place to start.
If you're looking for gifts for a sick friend or trying to create a gourmet gift basket for a sick person, we have some great suggestions for you. When you take the time to put together a personalized gift basket, you're communicating to your sick friend that you're thinking about them—what they like and enjoy. You can mix and match any of the get well gift suggestions below to create a unique gourmet gift basket for your friend.
Spa Gift Basket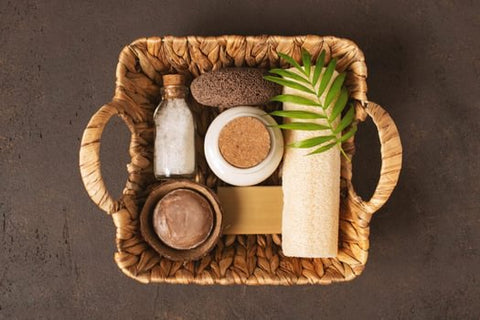 Help your friend or loved one feel pampered and enjoy soothing treatments with a spa basket. Check out our suggestions and incorporate your own ideas into making this personalized gourmet gift basket all the more significant for your sick friend.
Lotion/Perfume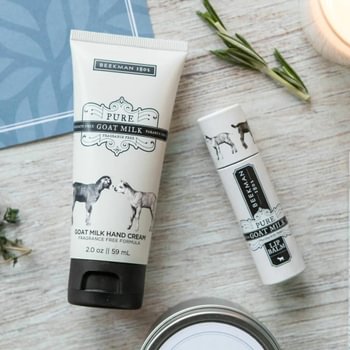 Find all kinds of beautiful lotions and perfumes they can use to make themselves feel refreshed and moisturized. For those who have sensitive skin,
pure goat milk hand cream
is gentle and effective.
Bath Bombs
Taking a bath is a great way to relax and unwind. Mix in some fun or soothing bath bombs and take the bath up a notch.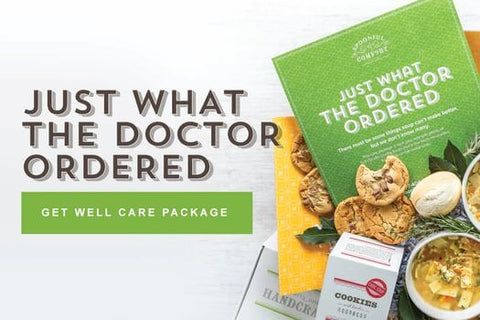 Essential Oils/Diffuser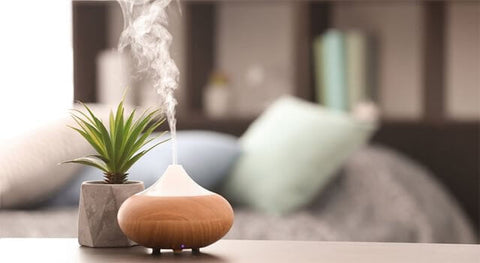 Essential oils are relaxing and offer all kinds of benefits. Get them a diffuser to spread the aromas around their home or room.
Face Masks
Helping them take care of their pores isn't something that should slip through the cracks. Find all kinds of fun and therapeutic face masks to include in your spa day gourmet gift basket.
Art Gift Basket
If your friend is unable to leave their room or bed for long periods of time, a great way to help them stay energized and productive is through arts and crafts.
Drawing/Painting Kit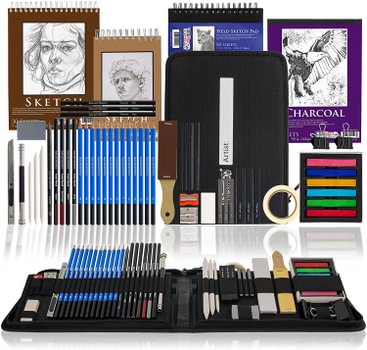 There are all kinds of
drawing and painting kits
you can find for them to use.
Paint by Number
Paint by numbers is an easy way to stay busy and feel accomplished once the project is complete. Plus, they can hang it up and admire it when they're done.
New Brushes/New Paints
Get them new brushes to use on their paintings and a fresh set of paints to go with it.
Adult Coloring Book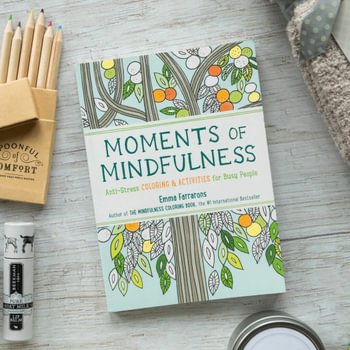 An
adult coloring book
provides all kinds of entertainment and feelings of accomplishment. Coloring is also very therapeutic, which makes it a great gift for a sick friend.
Workout Gift Basket
Maybe your sick friend is into fitness and they're really looking forward to hitting the gym once they get better. Check out some suggestions for a workout gift basket they can enjoy now and later.
Yoga Pants/Sweats
Everyone can use a new pair of sweats or yoga pants. (So much better than hospital gowns and PJs, right?) Couple with a pair of new
socks that encourage
as well as keep their feet warm during recovery.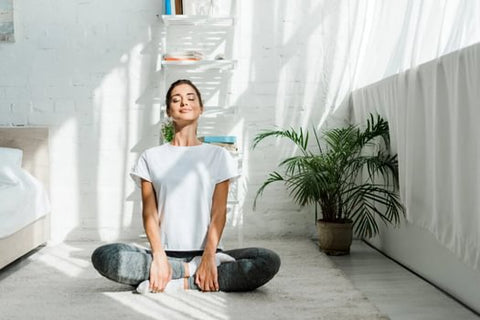 Water Bottle
Hydration is just as important in the hospital as in the gym. Make it easy with
a new water bottle
.
Workout Videos
If they're limited to working out from home for a while, some at-home workout videos or an online subscription might be just the thing they need.
Cooking Gift Basket
Is your friend a foodie? Big into cooking and/or baking? Help them get more into their fun hobby with a cooking gift basket.
New Recipe Book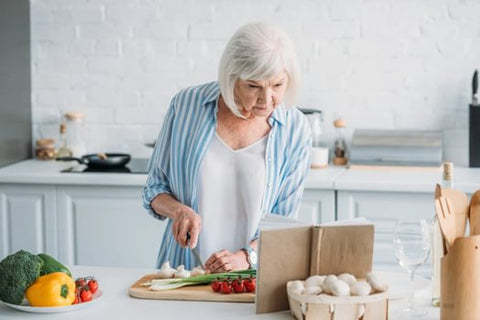 Find a fun collection with photos they can look through during recovery. Include some sticky notes, note pads, or shopping lists so they can plan future culinary creations!
Cooking Utensils and Tools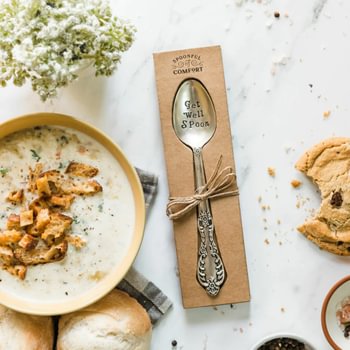 Get them that one baking sheet they've been wanting forever or a new, fancy cooking tool. This
Get Well Spoon
will bring a smile to their face while they're getting their strength back.
Reading Gift Basket
Give your sick friend the gift of a good story or an uplifting book that shows how much you care while they're in recovery. Diving into other stories and experiences will help them forget about being sick, if even just for a little while.
Your Favorite Book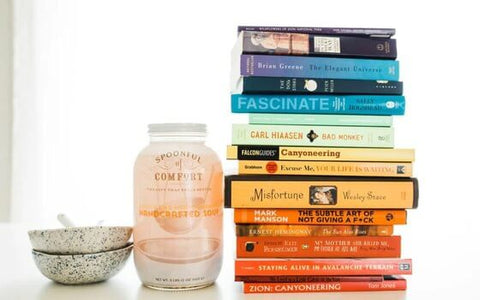 Maybe you've been wanting to share your favorite book with them for a while now, and this is the perfect opportunity to make it happen.
Audio Books
If they don't have the energy to read, audiobooks are always a great alternative. They can even listen while they paint or bake!
Gardening Gift Basket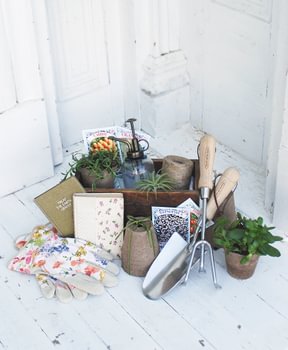 Does your sick friend have a knack for gardening? Taking care of plants can be very fulfilling and therapeutic. Help them find joy in the little things with
a gardening gift basket
.
Seeds
Give them a bunch of seeds to plant and some soil and pots to grow them in.
Flowers
Flowers brighten up any space. Get them their favorites or find some beautiful blooms you know they'll love.
Gardening Gloves
Every gardener needs a good pair of gloves. Whether your friend is in a position to actually use them or not, they'll appreciate the gesture.
Trowel
A hand-held trowel is another great gardening basket gift that enables them to start planting their seeds right away.
Gardening Book
There's a lot to learn and know about proper gardening. A book with some tips and suggestions can help them on their way.
A New Plant
Plant lovers are never going to say no to another plant.
Care Basket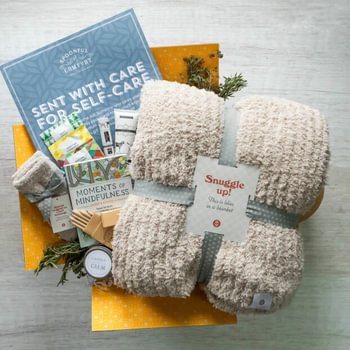 The basic care basket can incorporate just about anything. From medicine to homemade soup, balloons, and heartfelt cards, you can give them any and everything you can think of that demonstrates care and love.
A Mix-Tape/Playlist
Maybe mix-tapes are a thing of the past—but they're a fun flashback and might be a nostalgic hit! If you can't rustle up a CD or cassette player, a digital playlist of favorite songs still does the trick.
Handmade Drawings
Get the kids in your family or theirs to draw cute, personalized pictures and include those in the basket.
Personalized Poems
Feeling creative? Write them a poem or two. They can be funny, cheerful, insightful. Whatever mood you're going for.
Collage of Photos
If you have a long history with this person, a collage of photos of the two of you on your adventures makes a great gift for a sick friend. Remind them of the fun, happy times and show them that there are still plenty of memories to be made.
Feel-Better Finds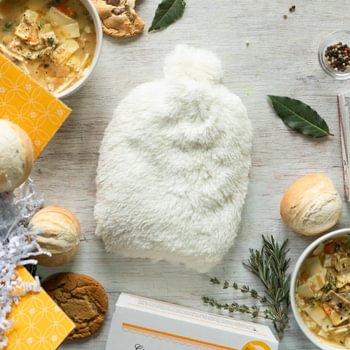 You can customize great gift for a sick person by adding on to one of their favorite things. Any gift can say "Get Well" when you add our handy
Cold Care Kit
or a warmable and
super-soft fuzzy pack
. Just right for soothing injuries, sore muscles, and tummy aches.
Fun Games to Play with Family and Friends
Gift board games, card games, etc. Being sick is no fun, so taking their mind off of it with some fun games they can play with friends and family can help a lot.
Gift Cards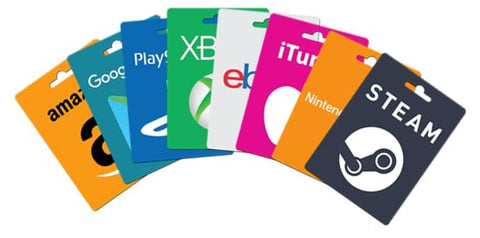 Help them buy that blender they've been eyeing on Amazon, or get them a gift card to their favorite restaurant to look forward to once they recover.
New Cute Pajamas
Christmas morning isn't the only time cute, new pajamas can make someone feel cozy inside and out.
Warm Socks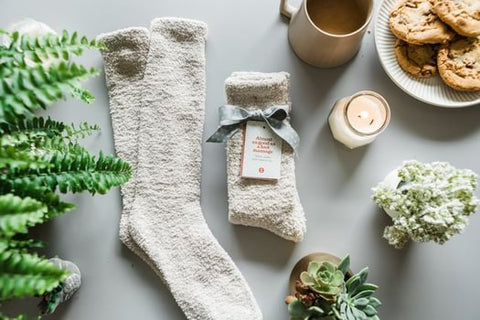 Letters from Friends and Family
Get friends and family together to write them some sweet, personalized notes.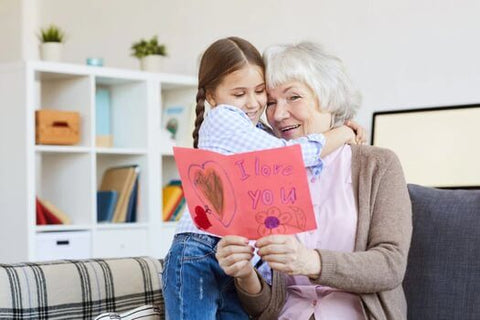 Stuffed Animal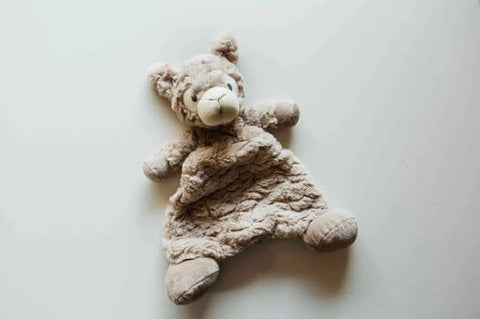 Stuffed animals
aren't just for children—they make adults feel loved and appreciated too.
Balloons
Balloons are festive and brighten up any space.
Get Well Soon Gift Package from Spoonful of Comfort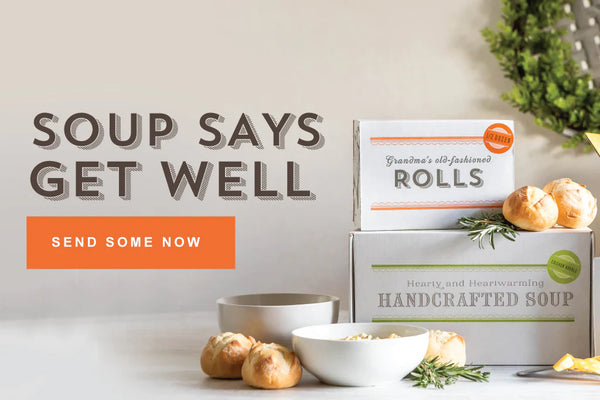 If you aren't sure what to give someone who is sick, Spoonful of Comfort can help you take your care gourmet gift basket to the next level with our Get Well Soon gift package. This package comes with soup, cookies, and lots of love—a combination that is sure to make your sick friend feel all the tender comforts of home.
You are reading a post from our Get Well Gifts Guide. Read on for more great ideas to help those you love (including yourself!) get well soon!
Get Well Gift Ideas
Get Well Food & Flix
Get Well - For the Hospital

How to Wish Them Well
Get Well Packages from Spoonful