Gifts To Be Seen (And Remembered)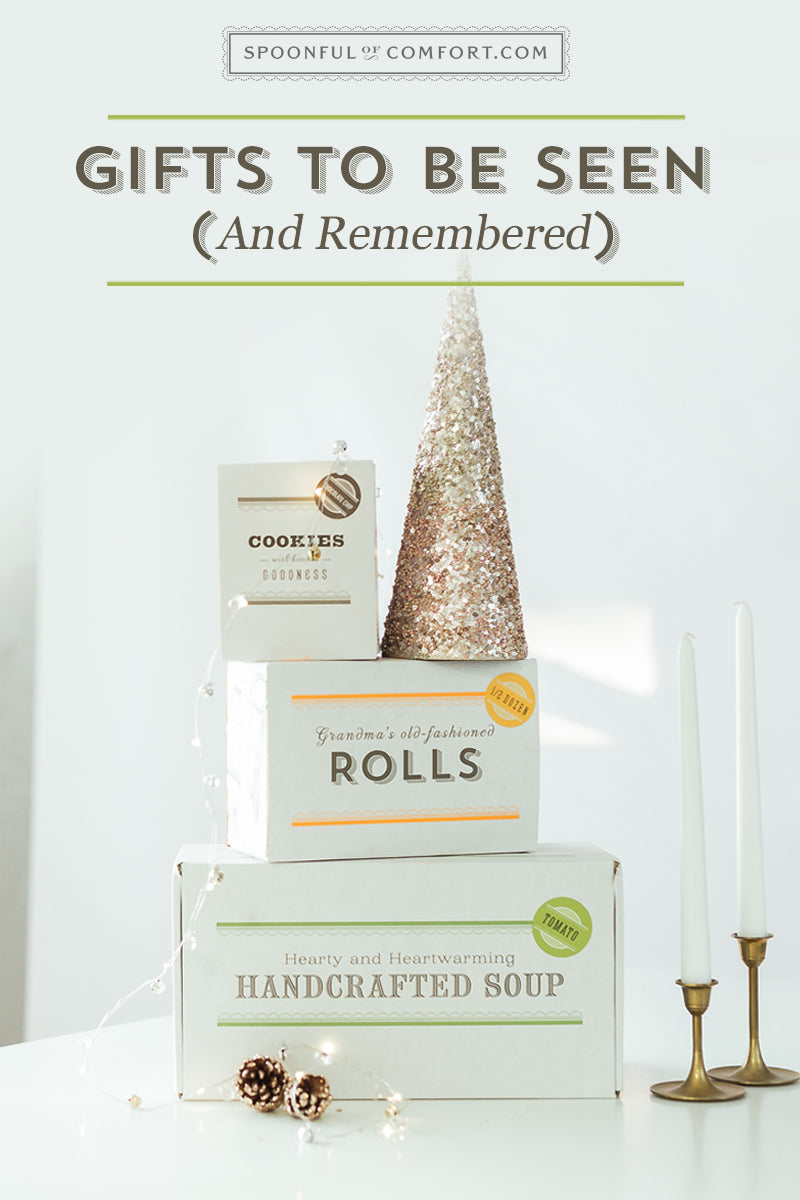 Gifts To Be Seen
You want to thank your customers for their business this year and wish them happy holidays—but so does everyone else.

The holiday season becomes so full of greeting cards and goodies, it can be hard for your company to be heard and seen. However, companies that choose Spoonful of Comfort consistently receive not just thank you notes, but personal phone calls from their customers and clients who were delighted by the gift they received.

What makes the difference? Here's what we know:
1. Big Impression. Big Impact.
A care package from Spoonful of Comfort creates a memorable experience from the moment it arrives. Our boxes are sizeable, and they look special (no generic packaging here). Inside, recipients are greeted with bright colors, an immediate message, and box after box containing soup, rolls, and cookies. This is a gift that won't go overlooked.
2. Perfectly Personalized.
Ever felt you've spent a significant budget on customer gifts, only to have your name and holiday message tossed in as an afterthought? Instead of the typical impersonal, computer-generated message that looks like a shipping receipt, Spoonful of Comfort adds your custom greeting to a cheery folded notecard that won't be missed.
3. Add Your Own Elements
The packages you send shouldn't be about us—they're about your company's relationship with customers and clients. We'll help you customize your gifts to make that connection come through. Consider adding your own business card, holiday card, brochure, or even a marketing item like a keychain or t-shirt to your package. Just ship your items to us and we'll include them as part of your care packages—there's no question who gets all the credit.

Early December is the perfect time to make your gift list—and make sure your holiday gifts get out when you'd like. Spoonful of Comfort can help.

Send us your list of recipients and addresses, or use our handy bulk order form, and we'll take care of everything. Simply choose the package you'd like to send, your company's message and extras (if any) you'd like to include, even when you'd like the gift to ship.

Not sure you're "big" enough for a corporate account? Our corporate orders range from one gift at a time up to hundreds for a shipment. No matter your company's size or needs, you'll have an account manager assigned to you who will take your order, ensure a flawless delivery, and even give you our corporate discount.

Contact us today! Call 801-703-1526 or email karley@spoonfulofcomfort.com to set up your account. With Spoonful of Comfort, your holiday gifts—and the impression you make—will be remembered all year long.