Heart Attack: Valentine Style
Cute Valentine's Messages
You know when you're scrolling through Pinterest, looking at all the awesome craft projects, super parenting ideas, and perfect homes? And it's great and you feel so inspired but also a little concerned?
We love a little pinspiration, but sometimes we have to stop, put our phones down, and remind ourselves that there's lots of ways to be a good parent, that a loving home is more important than a perfect one, and that there's no real-life mandatory crafting requirements. No one is getting arrested if they don't make that Valentine's Day wreath.
But every once in a while, Pinterest really does make it easy for us to do something cool. And a few years ago, we were particularly inspired by a cute project that was simple, sweet, and easy enough that even the most craft-impaired parent could join in.
Starting February 1st, Mom or Dad would tape a paper heart to their child's door, with a hand-written message describing something they loved about their kiddo. By Valentine's Day, the door was covered in words of love and encouragement. No fancy supplies, no photo-shoot worthy reveals, just words, straight from the heart, taped on the doorway each morning.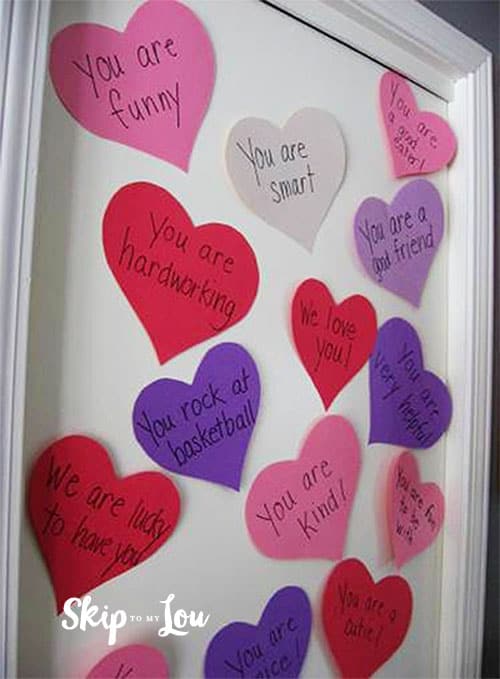 We're planning on "Heart-Attacking" our own kids this year, and we just might get the siblings involved too, but we wanted to go a little bigger and challenge ourselves to spread the love a little farther. So, we're sending some sweet Valentine's Day messages to family and friends in the days leading up to Valentine's Day, and thought you might want in!
Speak From the Heart
We're still keeping it simple with these cute graphics you can print out and stick in a lunchbox, send via text, or share on social media, whatever gets your words to someone you love! A Valentine comes in all shapes and sizes, so feel free to send these to everyone from your gym buddy to your favorite sister.
Whether it's a note of encouragement for a friend who needs to remember that "Life is tough darling, but so are you!" or your significant other who still gives you butterflies every time they send a text—we recommend the "You're my favorite notification" card for that lucky person—we've come up with plenty of ways to show all your Valentines just how much you care.
Love, Sweet Love
Of course, we're going to tell you that soup and cookies are the as-of-now undiscovered mythical sixth love language, and that we don't know a single person who wouldn't love one of our care packages for Valentine's Day this year. But on the off chance that your special someone appreciates words of affirmation and encouragement, we hope these Valentine's find their way into their hearts, inboxes, or just stuck to their door with a bit of tape…