The Best Mother's Day Gift Ideas for Grandma 2021
Gift Ideas for Grandma
Nobody loves you like Grandma does. After all, how can you repay a lifetime of kindness, kisses, and cookies? You can start by finding the perfect Mother's Day gift for Grandma. It's got to be a gift that really counts. And what you write in a card really matters. We can help.
With a little bit of thought (and a little bit of help from this handy guide), you can make your grandmother smile from ear to ear this Mother's Day. In this post, we've put together a great collection of Mother's Day ideas for grandmas of every age and budget.
Grandma deserves to shine in the Mother's Day spotlight this year!. Here's a list of thoughtful and practical gifts for Grandma that might just get you that loving pinch on the cheek.
Mother's Day Gift for Grandma
Take a look at these Mother's Day gift ideas for Grandma. (With so many great gifts, it's good you've got more than one grandma!).
Homemade Gift for Grandma
The perfect gift for Grandma could very well be the heartfelt gift you make yourself! Here are a few ideas you can make that will be perfect Mother's Day gifts for Grandma.
Hug Pillow - For people who aren't that crafty but still want to make something, this is a great option. With only a little bit of felt and fabric glue, you can send your grandma a hug.
Love Flip Book - This pocket-size flipbook is a crafty way to let your grandma know how much she is loved. You can start with ten things you love about her, but you can make the list even longer! Each tab she can flip to will have a handwritten note showing her just how much she matters.
Cookie Butter - Grandma's house might always smell like freshly baked cookies, or she just might be a fan of having a sweet treat, so cookie butter is a great gift for her. This will give her the chance to eat cookies by the spoonful or to use as a delicious dip or spread.
Dip-Dyed Tote - Chances are, you've been out with your grandma and randomly asked for chapstick, a hair tie, a snack, or even a book to read. She reached into her bag, rummaged past last week's grocery store advertisement, and managed to find exactly what you asked for. Grandma's bags are legendary, and she never leaves home without one, so why not give her a one-of-a-kind creation for Mother's Day?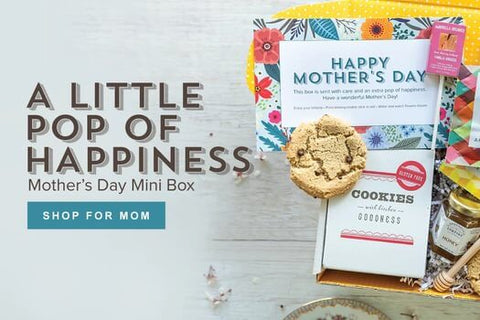 Mother's Day Gift Ideas for Mom in a Nursing Home
No matter where your grandma lives, it's important to make sure she knows just how much you love her. Some nursing homes do have restrictions to what their residents can have in their rooms, so make sure to check with them before sending a gift. (And psst… Spoonful of Comfort has been delighting hospital patients and care center residents with our deliveries for years!)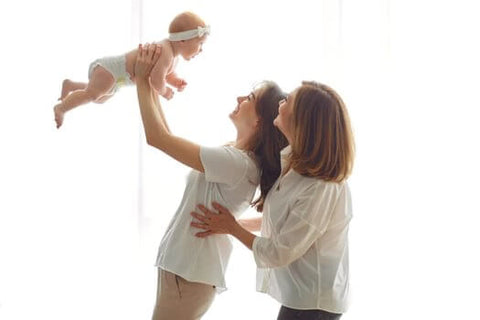 Mother's Day Gift for Soon-to-be Grandma
Mother's Day is a big day for anyone who becomes a mom for the first time, but it's also notable for the moms who get promoted to being a grandma. Keep reading for more great Mother's Day gift ideas for grandmas, including the new ones!
Generations Necklace - The bond between mother and daughter is special, and it's only made better when a mom becomes a grandma. This necklace celebrates the strength of that relationship and lets the new grandma know that you are connected to each other forever.
Hello, Cookie Dough - Even though grandma's house often smells like warm cookie dough, sometimes new grandmas need to pick up a few tips, tricks, and recipes to make a batch that doesn't taste like salt. This book is enough to prepare even the most untrained mom in the kitchen to spoil their grandkid with edible cookie doughs and other treats.
Mother's Day Gift for Grandma from Baby Grandkids
Whether your kiddos are waddling in diapers or are already toddling around, Grandma is sure to appreciate a homemade Mother's Day gift. There's really no limit to what you can create with the right hands and a bin of craft supplies. Here are a few fantastic homemade gifts to help you come up with something she'll adore.
Hand-drawn Mother's Day necklace by Kindergarten Chaos — a nice upgrade from the macaroni noodles.
Thumbprint heart glass magnets on Rhythms of Play, a perfect gift idea for infants and toddlers.
A clay dish in the shape of the grandchild's handprint. Find simple instructions on Simple As That.
Finger-painted flower pots for the grandmother who loves to garden.
A photo calendar with sweet pictures of all the kids.
Mother's Day Gift from Adult Grandkids
If you're too old for hand-drawn necklaces and thumbprint magnets, step up your gift game with a lovely, mature gift with a personal touch. With just a little coordination, all of the gift ideas listed below can be given by an individual, as a couple, or as a group of grandkids.
A flower bouquet personalized with mini pictures of you, both of you, or your whole family.
A scrumptious delivery of freshly-baked sweets paired with a sweet card.
A classic mini photo album stuffed with memories of your time together. You can't go wrong with an old-fashioned, physical collection of memories — as opposed to sending a quick Facebook slideshow.
These charming and heartfelt glowing photo luminaries.
A beautiful package filled with rich, creamy soup, fresh cookies, and soft bacci rolls from Spoonful of Comfort.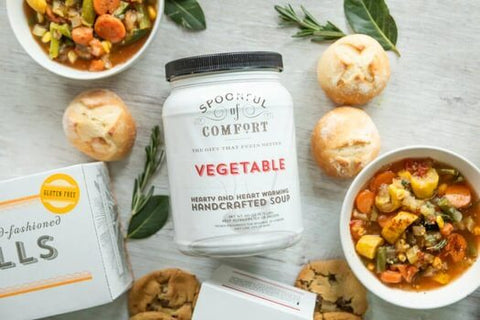 Personalized Mother's Day Gourmet Gift Baskets
Sometimes a gift basket is the best way to go with your Mother's Day presents. When picking out the perfect gourmet gift basket, think about what her hobbies are—other than spoiling her grandkids—to make it a personalized gift that's special for her.
Planted with Love - This basket is a top tier present for any grandma who loves gardening. It comes with pastries and chocolate, as well as garden gloves and flower seeds.
Spoonful of Comfort - With every package from Spoonful of Comfort, you can get a personalized wish along with custom packaging with any of our gift packages.
Bob Ross Painting Package - For an artistic mom, this Bob Ross Painting Package will make her day. It will provide her with all of the tools that Bob Ross uses to help her create one-of-a-kind paintings.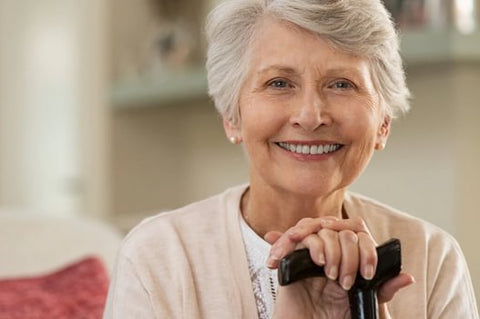 Card for Grandma
Finish off your gift for Grandma with a Mother's Day card and special message just for her. You love your grandma and everything she's done for your entire family, so here are some ideas to get that heartfelt message just right.
What Should I Write in a Mother's Day Card for Grandma?
Not sure what to write in Grandma's Mother's Day card? How can you summarize a lifetime of sweet memories, love, and sugar in just a paragraph or two? If you feel stuck, you're probably overthinking it. Really, ll you need to do is show Grandma some love.
For your Mother's Day message, we suggest you make it personal. Write about your fondest memory, your favorite quality of hers, or all the reasons you're grateful she's a part of your life.
Something as simple as, "I could sure use a grandma hug right now" or "You've taught me so much without saying a word" are great ways to show your love.
If you're looking for something a bit more light-hearted, you can go with, "Thanks for all the cookies and love. And cookies. And did I mention cookies?" or "Thanks for spoiling me rotten."
Mother's Day Quotes for Grandma
If you're not so great at expressing your emotions, borrow someone else's words! Draw inspiration from some of these perfect "Happy Mother's Day, Grandma" quotes.
"If nothing is going well, call your grandmother." — Italian Proverb
"I know what it is like to be brought up with unconditional love. In my life that came from my grandmother." — Andre Leon Talley
"There's no place like home—except Grandma's." — Unknown
"A grandmother is a remarkable woman. She's a wonderful combination of warmth and kindness, laughter and love." — Unknown
"A grandma is warm hugs and sweet memories. She remembers all of your accomplishments and forgets all of your mistakes." — Barbara Cage
"As I learned from growing up, you don't mess with your grandmother." — Prince William
"Your success as a family, our success as a society, depends not on what happens in the White House, but on what happens inside your house." — Barbara Bush
"Grandmothers always have time to talk and make you feel special." — Catherine Pulsifer
"Perfect love sometimes does not come till the first grandchild." — Welsh Proverb
"If becoming a grandmother was only a matter of choice, I should advise everyone one of you straight away to become one." — Hanah Whithall Smith
"To all of the grandmothers who make the world more gentle, more tolerant, and more safe for our children. Never doubt your importance." — Mary-Lou Rosengren
"Grandmother - a wonderful mother with lots of practice." — Unknown
"A house needs a grandma in it." — Louisa May Alcott
"Truth be told, being a grandma is as close as we ever get to perfection." — Bryna Nelson Paston
"Parent-child relationships are complex. Grandmother-grandchild relationships are simple. Grandmas are short on criticism and long on love." — Janet Lanese

What to Get Grandma for Mother's Day
Mother's Day means a lot to Spoonful of Comfort—a company built in honor of our founder's mom. We hope her spirit of warmth, thoughtfulness, and caring shines through in your Mother's Day gift to grandma, your mom, and every special mother-figure you know.
To celebrate Mother's Day in Spoonful of Comfort style, our limited edition Mother's Day gift delivery will make any grandma grin or mother melt for joy. Cheerfully packaged with a heat-and-eat meal (no cooking!) that includes gourmet soup, rolls, cookies, plus special Mother's Day plantable flower confetti. Happy Mother's Day!
If you need some ideas for grandpa on Father's Day as well, check out our ultimate guide here.
See more Spoonful of Comfort Mother's Day Content
[Mother's Day Gift Guide]
[Mother's Day for a Grandma]
Mother's Day Gift Ideas For a

Grand

ma

(➜ Currently Reading)
[Mother's Day General]

➜ Order the special Mother's Day gift package from Spoonful of Comfort!