Here's a Gift Idea For the Coffee Lover in Your Life
Gift Idea For Coffee Lovers
Everyone knows (or is) that special friend who just cannot function until after their first cup of coffee. Said friend is perfectly delightful once the caffeine kicks in, but trying to reason with them before that blessed moment is just a little bit dangerous.

Keep everyone safe and make a coffee-loving BFF especially happy with this fun and simple DIY gift that's perfect for the java enthusiast in your life. Whether you gift this to a teacher, coworker, birthday girl, or even a coffee-loving Dad, you know whoever gets this "perfect cup" care package will feel loved—and more importantly, sane— for the rest of the day.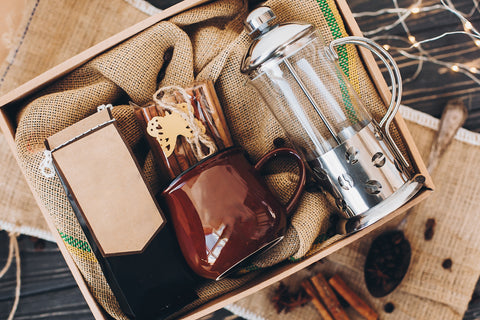 Start by finding the perfect local coffee to make this gift extra special: this is not the time for a generic K-cup or whatever is on sale at the grocery store. If your favorite local coffee place sells beans or special coffee blends, that's a great place to start. Remember that freshly ground coffee tastes best, so look for whole beans, and ask if there are organic and fair trade beans available. In addition to being better for the earth, organic and fair trade coffee is usually fresher and tastes so much better.

Once you've found the all-important the main ingredient, it's time to gather up all the little extras that help a cup of coffee go from good to great. Here are some of our favorites:
A great mug: find an artisan-made mug for your creative friend, or a heat resistant option for the teacher who takes his coffee extra hot. Finding a mug that matches your friend's needs is just another way to show you know them well and care about them.
French Press: a must for any coffee aficionado, a French Press will make sure your bestie enjoys a perfectly brew cup of joe each and every time.
Coffee spoons: pick up a set of cool coffee spoons—we found several eco-friendly and affordable options on amazon, but we've seen fun sets at most home goods retailers and even at party supply stores. Whatever route you choose, coffee spoons are a fun way to make this gift extra special.
Creamers, sugar, biscotti, or whatever sweet thing lets your friend indulge a little: Adding an extra treat to this care package reminds your friend that you care about them, and care about the little things— like how they take their coffee.

Lastly, help your friend keep their coffee-care package organized and ready for action. Head to your local craft store, and look for the following:
Crate or basket: cute and practical, something your friend can re-use to keep beans and sugars organized.
Twine or ribbon, and a nice card that reminds your friend to focus on the important things: coffee, coffee, and more coffee.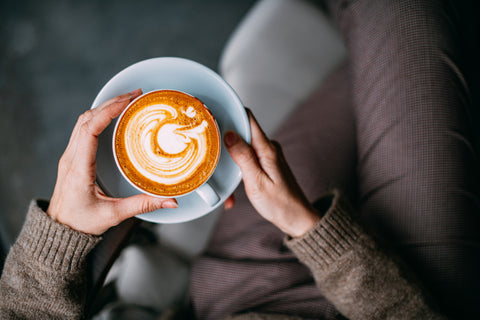 Can't send coffee? Send dinner!
We understand that coffee is important. But sometimes distance prevents us from delivering a care package in person. You can always show the important people in your life that you're thinking of them by sending them a warm dinner of soup, rolls, and freshly baked cookies. Whatever the occasion, we're here with our Soups and Sentiments care packages to help send love and affection from you to anywhere in the continental United States.
Share with someone you love
We love when great ideas get shared. If this post inspires you to surprise a friend with a customized coffee-lovers care package, we'd love to see it! Snap a photo and tag us on Instagram @spoonfulofcomfort #spoonfulofcomfort