Homemade Soup and Handcrafted Love
Handcrafted Love
Christmas Trees are a big deal in the Wymer household. How big? We're talking multiple trees throughout the house big, going out on the coldest, darkest, night of the year to search for the perfect tree big, make-the-Griswold-family-look-like-Scrooge big. This is serious holiday business!
For those who know Spoonful of Comfort's founders Steve and Marti Wymer, none of this information is surprising. Remember, Spoonful of Comfort came from the Wymer's belief that gifts should be meaningful, made with love, and personal. It makes perfect sense that they'd bring that level of dedication to every aspect of their life—especially when it came to find the perfect, most beautiful Christmas tree.
Handcrafted Holiday
If Marti could send each customer a Christmas tree alongside every order of soup and cookies, she would. But until she figures out a way to make that dream a reality, she knew she wanted to find a way to add a little handcrafted Christmas spirit to Spoonful of Comfort's holiday care packages. Enter her husband, Steve. And enter the sweetest Christmas ornaments ever—ones just destined to become the perfect gift for friends and family all over the U.S.
You might have noticed the one-of-a-kind wooden snowflake ornaments offered in some of our holiday packages, which are lovingly (and carefully!) handmade by Steve in his very own workshop. No elves, no magic, just Steve and his tools working away to make your holiday gifts a little extra special.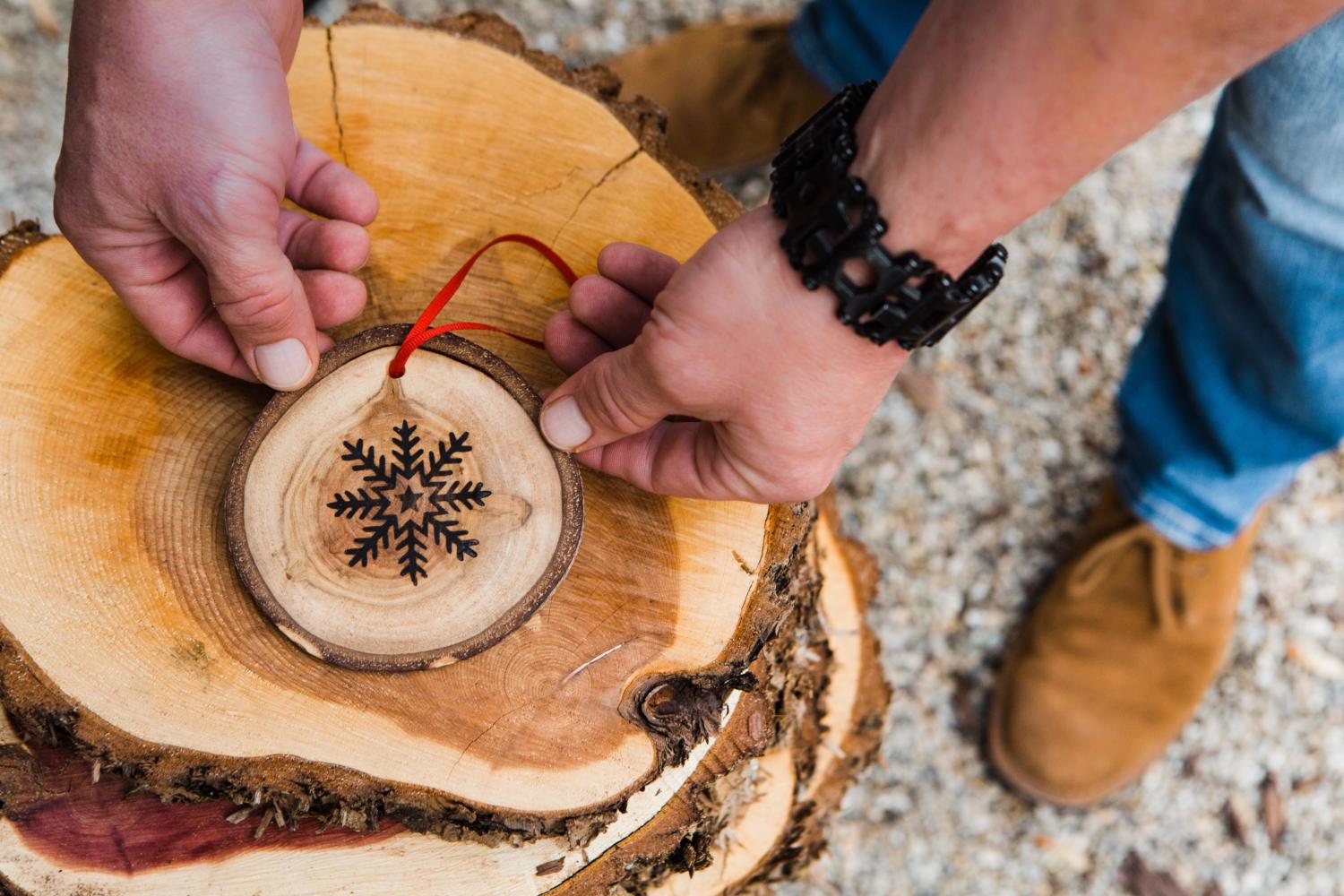 According to Marti, Steve's ornaments truly represent the family's love for the holiday season. Steve started making the ornaments as gifts for his daughter's class fundraiser, and it quickly grew into a business of its own, with resorts and hotels ordering sets of ornaments to use as welcome gifts for guests. He'd find naturally fallen trees to use for each order, and use the family's own Christmas tree to make a special commemorative ornament for the family. Eventually, Marti asked him to make some for Spoonful as a way to bring an extra festive touch to Spoonful's holiday gift line.
"I knew I wanted him to be able to contribute something to our packages that were truly 'his,' especially since I asked him to come work with Spoonful of Comfort full-time when he was already running a successful business," says Marti. Steve's woodworking skills were already at work at his Rustic Roasters company, where he made luxury roasting sticks for big-time S'mores enthusiasts. "It was Spoonful all day, Rustic all night," she remembers. And after Steve nearly lost a thumb during a late-night woodworking session, both Steve and Marti knew it was time to make Spoonful of Comfort their main focus, especially after business exploded following a life-changing appearance on "Shark Tank."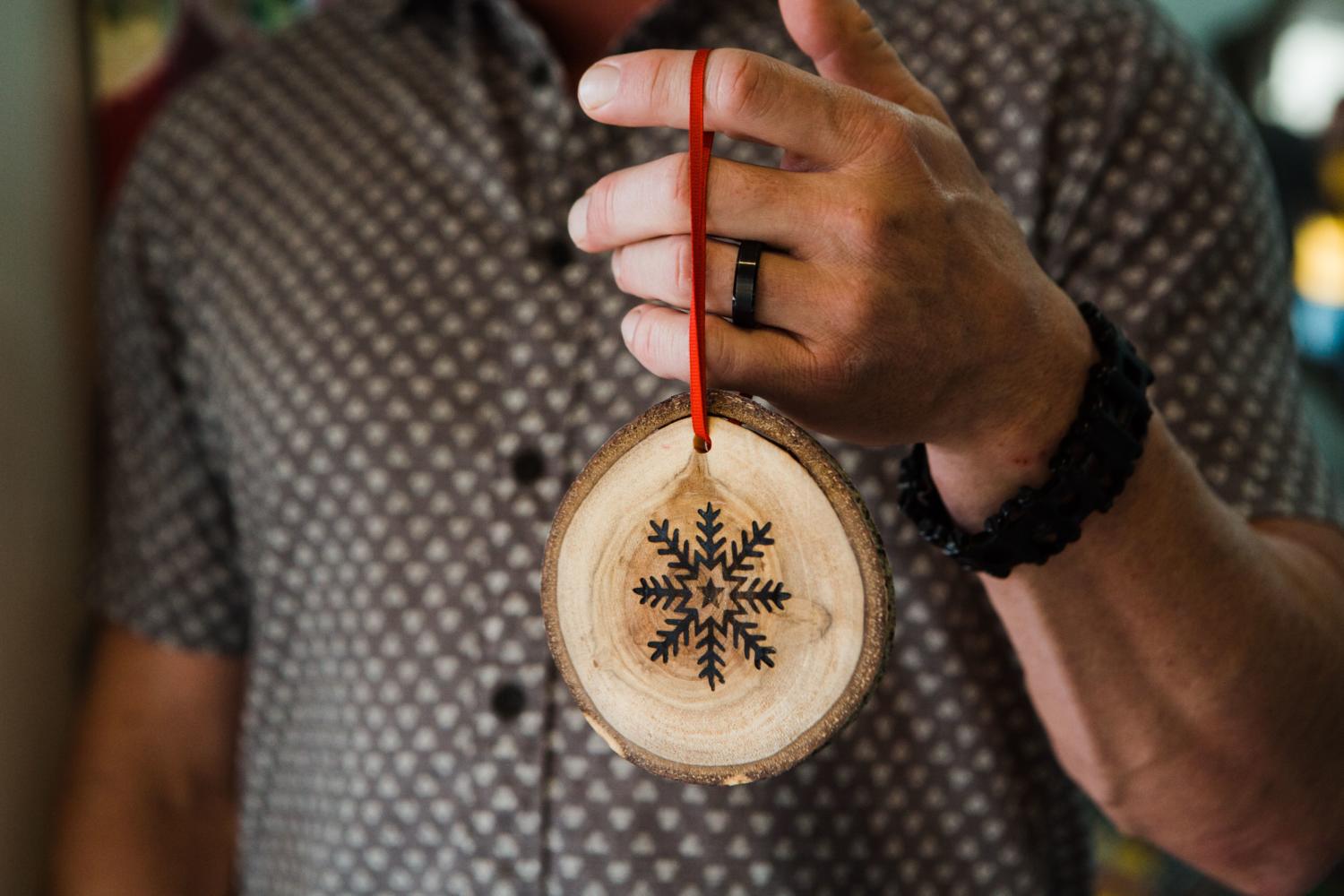 And while Steve will always hold a special place in his heart for a good set of roasting sticks, he loves knowing that something he made will be part of another family's Christmas tradition: "It's like sending my kids out into the real world, and it makes me very happy," he says. As for Marti, she's happy to "see something so personal" included in Spoonful's gift packages, "it feels so good to have his hands involved in something so special." (Especially since those hands still include all ten fingers!)
Share the Merry
Whether you're spending the Christmas season surrounded by family, or finding time to reach out to new friends, our holiday-inspired gift packages are the perfect way to show someone you care. From the ultimate S'mores kit to adding in a cozy blanket alongside an order of soup and bread, we're thrilled to be part of your family traditions. And with a little help from a handmade ornament, we believe any tree can be the perfect Christmas tree.