Christmas Gift Ideas for Someone in the Hospital
Christmas Gift Ideas
For many people, Christmas is a magical and joyous time of year that flies by too quickly. However, for those who have to spend Christmas in the hospital, the holidays can feel like an eternity. This is when the best gift of all is simply your time and presence, paired with an uplifting and thoughtful present.
What Gifts Are Allowed in Hospitals?
The guidelines and restrictions for Christmas gifts for hospital patients vary from hospital to hospital, from unit to unit within a hospital, and even from patient to patient. To be safe, you can contact the hospital to find out their policies before making any purchases. For the time being, here are some points to consider before bringing a gift to your loved one's bedside:
To protect patients with a latex allergy, some hospitals do not allow balloons. Flowers and plants can trigger asthma and other respiratory ailments and allergies as well.
Individual patients will often have restrictions, particularly when it comes to food and drink.
Patients undergoing cardiac care are closely monitored for food intake and output and are usually on a strict food plan.
Blood clots are a big concern after a hip replacement, so patients must avoid foods high in Vitamin K.
Certain types of chemotherapy can be rendered less effective by foods like grapefruit or Seville oranges.
Speak with the medical care team to find out what foods your loved one can and cannot have, and proceed with your gift-giving from there.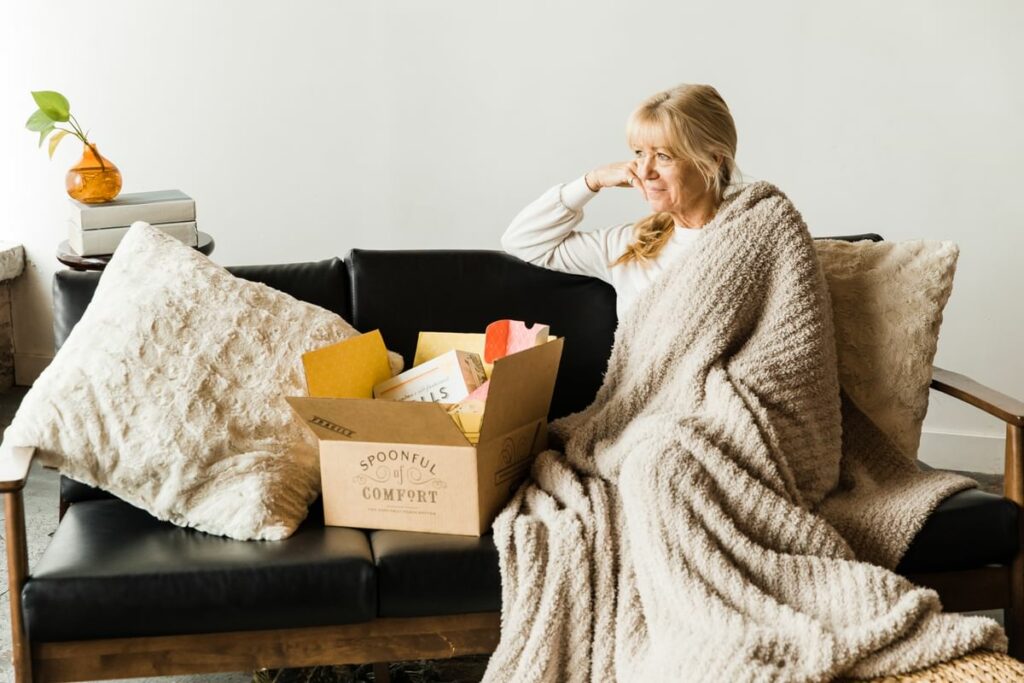 What Is Appropriate?
In general, stay away from gifts that are too noisy, too flashy, too aromatic, and too big. While that ginormous teddy bear may bring a big smile to a child's face (and even some adults), remember that the medical staff must have space to do their job and care for the patient without having to work around items.
Christmas Gift Ideas for Someone in the Hospital
There are many creative Christmas gifts for patients in the hospital. Since they can't get to the Christmas celebrations, bring Christmas to them!
Decorate their room with a few simple trinkets and garlands, or even a battery-operated string of lights.
Bring a small tabletop tree and decorate it together. Maybe make some decorations like paper chains and God's Eye ornaments.
Share the gift of song by putting together a group of carolers (if allowed).
Have a Christmas movie day, complete with special holiday-themed movie treats (if allowed).
Another great gift idea is a spa day, as it can bring unbelievable comfort to someone in the hospital. A mani/pedi, shampoo and style, or makeover can help anyone feel refreshed and renewed. Your male loved one might feel like a new man with a fresh shave, too!
And here are 10 more fun and useful Christmas gift ideas for someone in the hospital:
Gift cards for digital entertainment like:

Google Play
App Store/iTunes
Kindle
Audible

Reading materials or a digital subscription
Podcast subscription
Activity and puzzle books such as:

Sudoku
Crosswords
Word Search
Coloring Books

Miniature versions of games like checkers, chess, and Scrabble
Small puzzles
Advent calendar
Comfort items like:

A super-soft blanket
Warm fuzzy socks
A special mug
Lotions and lip balms

Beauty items such as:

Lipstick
Nail polish
Hair ties
Dry shampoo

A Spoonful of Comfort Holiday Gourmet Gift Basket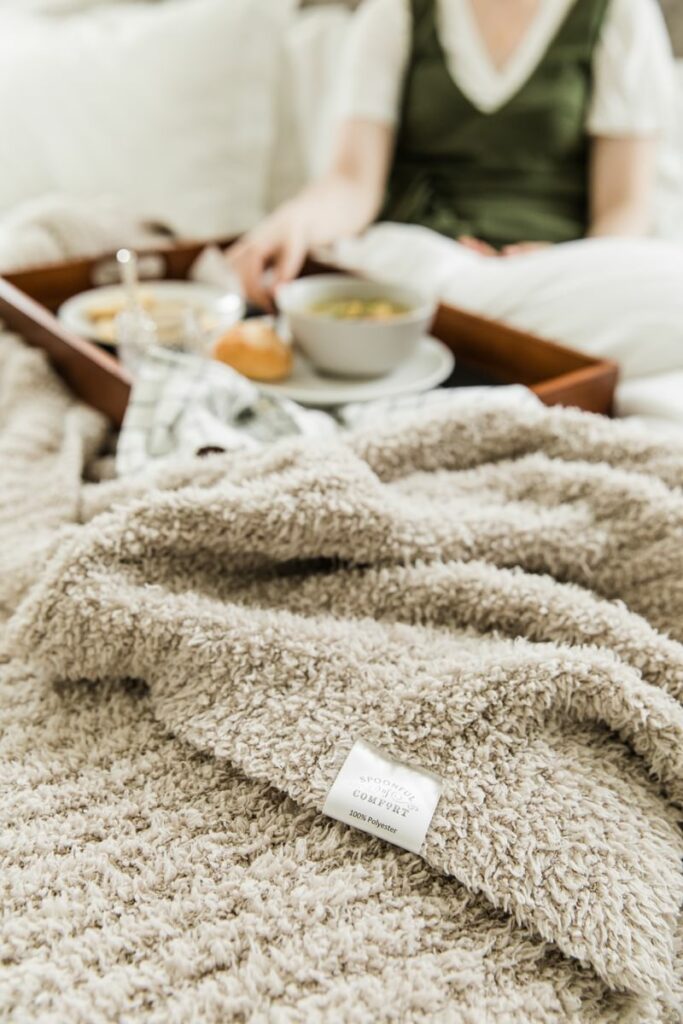 10 Gift Ideas for Kids in the Hospital
There is something so special about the sparkle in a child's eye at Christmas. When that glimmer is dimmed by a holiday hospital stay, you can help to bring them joy with these ideas for children's hospital Christmas gifts.
Miniature versions of big games like:
Card games:
Coloring books or sketch pads with crayons, markers, and colored pencils
Puzzles
Sticker books
Craft sets:

Diamond painting
Latch hook
Rainbow scratch paper
String art

Gift cards for digital entertainment
Books or magazines
Stuffed animals
Advent calendar
It is even more important for children to receive the present of your time and presence during the holidays. As always, check with the medical staff to find out what is permissible, and then plan a family day at the hospital.
Try to do everything you would normally do, like decorating a tree, albeit a small one, and opening gifts. Play Christmas music and have your traditional treats if possible. If allowed, indulge in the aromatherapy of fresh-baked cookies, cinnamon, or evergreen through the use of wax warmers.
And spread the cheer! If your child can be mobile and it is allowed, go from room to room and share a carol with the other patients. Spend the day making cards and then distribute them to the other patients. And don't forget the medical staff! They are away from their friends and family too, and it is a wonder how far the happiness of a heartfelt note of gratitude will travel.
Caring and Kindness
Giving to others is one of the greatest gifts you can also enjoy. Talk to the nurses and other staff to find out if there is a patient who will not have anyone or anything this Christmas, and consider giving them a gift or spending some time with them. Who knows? Maybe your heart will grow three sizes that day.
Add a Spoonful of Comfort
Spoonful of Comfort has a variety of gourmet gift baskets to suit every occasion. Filled with gourmet soups, delicious rolls, decadent sweets, and more, a basket from Spoonful of Comfort is sure to please. Send a smile this holiday season with our beautiful Holiday Gift Basket. Vegan and gluten-free options are also available.