Hospital Gift Baskets: Great Gifts to Send to Someone in the Hospital
Hospital Gift Baskets
When your loved one or friend is in the hospital, you want to make them feel better and show you care—it makes you feel better, too! Finding just the right gifts for someone in the hospital can be just what's needed to make their day and help them feel their best.
Here are a few great hospital gift ideas for sick friends and relatives that are guaranteed to put a smile on their face and raise their spirits as soon as they open their package.
Send a Comforting Meal in a Box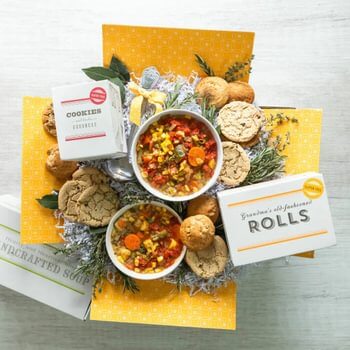 Nothing says you care and want someone to get better soon like a cup of homestyle soup. It's just what mom did for you. Now you can share that same warmth and comfort. Our hospital gourmet gift baskets feature soups that are made with fresh, wholesome ingredients that taste just as great as if you made it for them.
Our classic Get Well care package includes a complete homestyle meal including rolls (just like Grandma made) and perfectly baked cookies. Spoonful of Comfort can ship directly to a hospital, therapy, or care center. (And your package is sure to be a welcome break from hospital food!)
As an extra bonus, Spoonful of Comfort care packages can address many dietary needs. We offer gluten-friendly and vegan options, including soups, rolls, and cookie varieties!
Give the Gift of Warm Fuzzies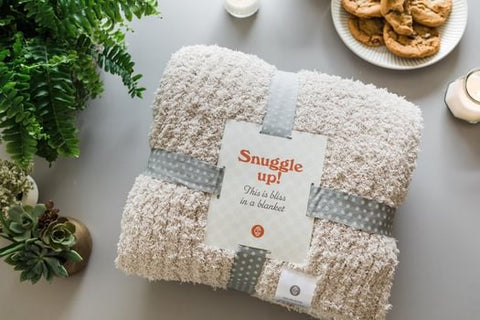 Food isn't the only way to bring joy to someone who's recovering from an illness. Sometimes all they need are a few touches of home to hold onto.
After all, grandma could cure just about anything with her trusty hot water bottle. Take a cue from her with a modern twist. When your loved one, friend, or relative is stuck in the hospital, warm up their environment literally and figuratively. Along with your hospital gift baskets, add a hot water bottle-shaped warmer that's microwave friendly. Or choose our classic Cozy Comfort Throw.
Both gifts are cozy and comforting for a feeling of comfort when surrounded by unfamiliar sights and sounds.
Look for Ways to Help Them Stay Entertained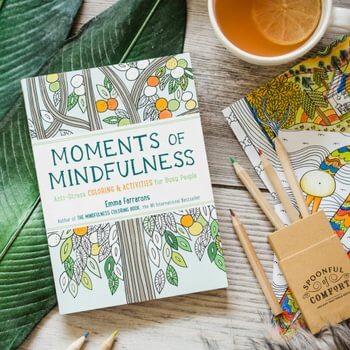 When you're not feeling your best, it's easy to get bored. And in hospitals, there's not much to keep people entertained. Some of the best gifts for someone in the hospital are ones that help them occupy their time and use their imaginations.
If you're creating a basket full of hospital gift ideas for sick friends and relatives, make sure to add some entertainment options. Books, coloring books, and decks of cards are all great choices. These will help take their minds off of any discomfort they're feeling and distract them from the otherwise boring hospital.
Offer Them Your Care and Attention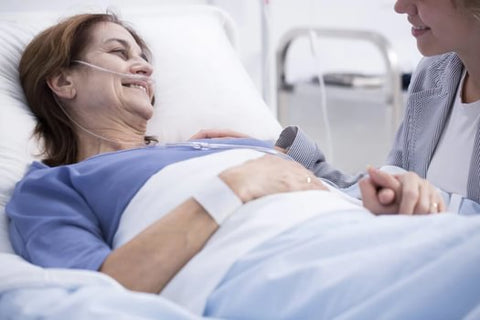 Not all gifts have to be tangible or physical items. Sometimes the best way to show a sick or injured friend or relative that you care is to give them your love and attention.
If you can, drop by the hospital and visit with them. You can use this time to bring a smaller, homemade gourmet gift basket with items to enhance the one you got delivered. Perhaps the best way to show your loved one that you care and want them to get better soon is to ask them what they need after you send them your care package.
Spend some time chatting with them and use the opportunity to catch up, especially if you haven't gotten to see them recently. Before you leave, find out if there's anything they need. Sometimes doctors and nurses can be hard to track down and, if your loved one has a question, you can help them by getting the attention of a medical professional before you leave. If they're not in a place where they can communicate easily, ask their closest friend or family member for suggestions.
Then, follow up on those requests as best you can. This does more than just show your friend or relative that you miss them. It shows them that you care about their well-being and want to help as much as possible.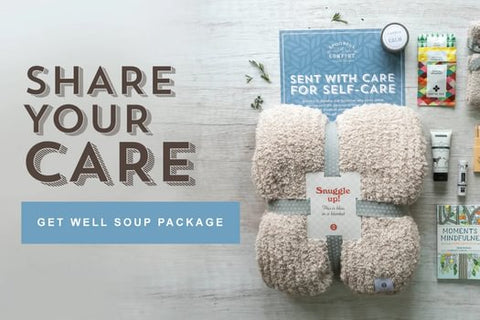 Take Care of Their Chores So They Don't Have To
Another way you can enhance hospital gift baskets is to offer to help your loved one with their chores and other responsibilities around the house. If they have family, consider making dinner and bringing it over for them or order additional care packages to allow them to enjoy the same delicious treats as their loved one in the hospital.
If the person in recovery lives alone, find out what types of things they may need help with now—and maybe even months down the road. Even something as simple as offering to water their plants can make a huge difference in how they feel as they recover.
You can even get creative and add vouchers that your loved one can claim once they get home. The vouchers can include things like making dinner for them one night or going grocery shopping when they're feeling too tired to do it on their own. The only limit is your imagination.
Try Something New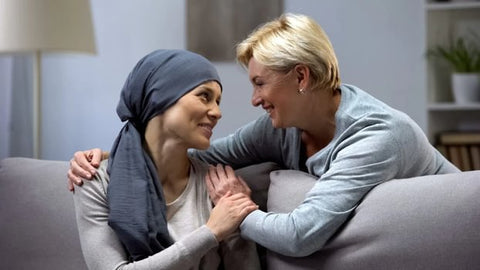 For years, flowers and boxed chocolates have been the standard gifts for someone in the hospital. If you're wondering what to send someone in the hospital other than flowers, think outside the box.
Send a cozy pair of socks to help them feel comfortable. Add a fun spoon that they can use when enjoying that delicious homestyle soup you sent them in the gourmet gift basket. The more personalized your hospital gift baskets are, the more they'll mean to your sick friends and family.
Keep Them Updated About What's Going On
When you're in the hospital, it's easy to feel detached from the outside world. One of the easiest and best gifts you can give to someone in the hospital is routine updates about what's happening with the rest of their friends and family.
Make a call. Send an email. Shoot over a few texts. See what they think about the hospital gourmet gift baskets and let them know what's going on outside the hospital walls. Try to gather well-wishes from their other friends and family if you can, too.
Finding Ways to Bring Joy to a Loved One in the Hospital Is Simple
If you're trying to think of gifts for someone in the hospital and aren't sure where to start, take a step back and think about their personalities. What types of things would bring a smile to their face? What foods bring them joy and comfort when they're not able to be at home?
You can create your own gourmet gift basket or let us help. Our hospital Get Well gift baskets are created with care and designed to bring the same warm comforts of a hug to your loved ones in need. Whether they're recovering from a simple injury or need to spend a little extra time recuperating in the hospital, they'll know you care and value their well-being.
Send a gourmet and comforting soup and cookie get well gift to your friends and family today and help make their stay in the hospital feel a little more like home.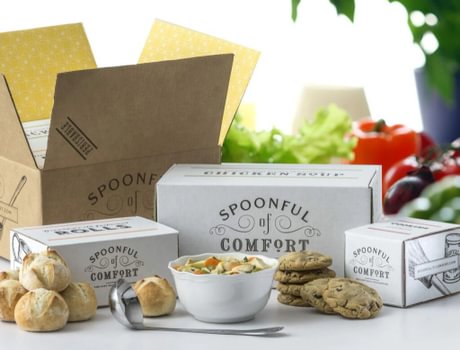 You are reading a post from our Get Well Gifts Guide. Read on for more great ideas to help those you love (including yourself!) get well soon!
Get Well Gift Ideas
Get Well Food & Flix
Get Well - For the Hospital

How to Wish Them Well
Get Well Packages from Spoonful