How to Make Your Sick Boyfriend Feel Better
No one enjoys being sick. And (we hear you, guys), men somehow feel they get it the worst. When your boyfriend is sick, it's the perfect chance for you to show him how much you care by being there for him and giving him a get-well gift while he's recovering.
We've put together a few tips on how to make your sick boyfriend feel better. Go ahead and shower him with all kinds of attention using the following suggestions and ideas we've laid out for you.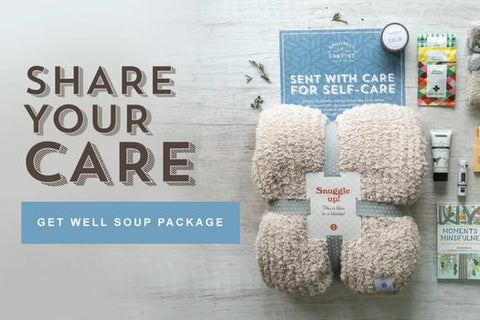 What to Do for Your Boyfriend When He's Sick
What can you do for your boyfriend when he's sick? Turns out you've got a lot of options! From some thoughtful necessities or a nice massage to an over-the-top care package, you're sure to find something on our list that works perfectly for him.
Stock His Medicine Cabinet
He might think he's too tough for cough drops. And he may not feel good enough to head out for ibuprofen. But having some basic OTC pharma supplies is a smart move. Take it on yourself to make this happen and go to the drug store and buy the right kind of medicine for his symptoms. Get him the proper dosage and hand it to him with a glass of water—and make sure he takes it. You just being there will help to soothe him.
Send Him Messages That Show Him You Car
If you're in a long-distance relationship, think about how to make your sick boyfriend feel better over text! Even if you're in the same town and simply keeping your distance while he's contagious, you can still text to show him you care.
If he's a words of affirmation guy, texting will definitely make a difference. And even if he's not, he's sure to appreciate the thoughtful things you say. Texting may also be a nice, enjoyable distraction for you both. Just be yourself and be as comforting as you can.
If you need a little help getting started, some sweet texts might say:
Even though I'm not with you, please know that I'll be thinking about you all day and hoping you get better soon.
I feel so incomplete when I'm not with you! Please get better soon so that we can be together again.
Thinking about you being sick in bed makes my heart ache. I really hope you start feeling better soon.
Roses are red, violets are blue. Get well soon so that I can be with you!
I just sent you an adorable video of a dog sneezing. I hope it makes you smile.
If hugs and kisses were medicine, then I would send you infinite Xs and Os right now.
Guess what? Even when you're sick, you're still the cutest person I know.
Some funny texts might say:
Don't get me wrong, you still look super cute when you're sick, but healthy is definitely a better look for you. Get better soon for both of our sakes!
Sorry if this is super sappy, but I'd do anything to make you feel less crappy.
Guess even bugs and bacteria are attracted to someone as beautiful as you. Love you. Feel better soon!
Could you hurry up and get better so we can go back to making out?
On a scale of 1 to 10, how contagious are you? I just want to know if I should wear a mask when I come over.
If you're in a position to travel and see him, or if you already live close, you can send him helpful texts like the following:
What would taste good right now? Name any food, and I'll go get it for you.
What is bothering you the most right now? Let me ask around and see if anyone has any advice on how to make you feel better.
Are you up for a movie marathon? Pick your three favorites, and we can watch them together.
Need more tissues? Medicine? Gatorade? Text me a list of everything you need, and I'll bring it over.
Texts are great, but you can also send a message that lasts after he's all better. Your boyfriend will know you care every time he looks at something like this cute I Love You keepsake or this book about how he's the absolute best.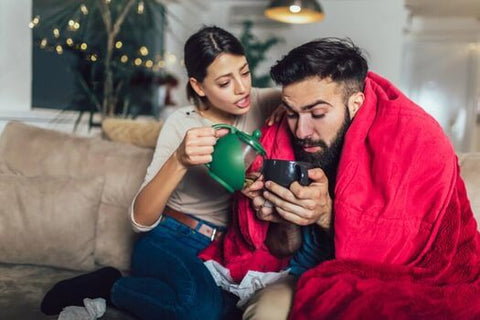 Offer to Help Him in Specific Ways
Comfort him and try to make him feel better in individualized ways. That means don't ask broad questions; be specific. Do the dishes need to be done? Can I do some laundry for you? Does the dog need to be walked? The more specific you are with your questions and how you offer to help him out, the less effort he has to put into answering your questions and the more rest he can get.
Perpetuate an Atmosphere of Ease and Comfort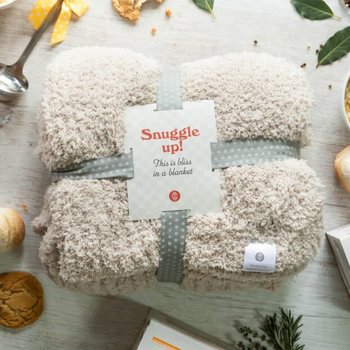 Being sick isn't an easy thing for anyone. Being anxious about getting better is usually only going to make things worse. Whatever you can do to enhance an atmosphere full of comfort and ease will go a long way toward his recovery.
Get him drinks and keep him hydrated
Light a candle
Get him a hot pad or cool washcloth
Put on some soothing music
Close the blinds or drapes
Get a fresh pillow
Cover him with a cozy blanket
And anything else you think he might need
Have a Night In
Offer to create a special sick night in. Watch some movies—and let him pick. No stress, no pressure, just a comfortable night watching something entertaining and spending time together.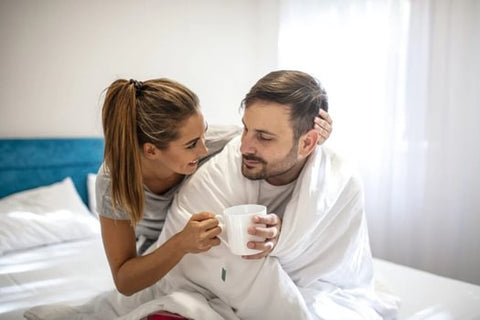 Give Him a Soothing Massage
Giving him a massage can go a long way toward making him feel rejuvenated and simultaneously relaxed. One of the best ways to get over an illness is with lots of sleep, so if your massage can help him fall asleep, you're doing your job well. Try adding some essential oil to the mix and see if that helps him feel even better once you're through.
Be Empathetic
Knowing what to say to your boyfriend when he's sick is important. You might not know everything he's going through at the moment, but you can still be as empathetic as possible. It's amazing how much a few tender, loving words can soothe someone who's sick.
Send Him a Care Package From Spoonful of Comfort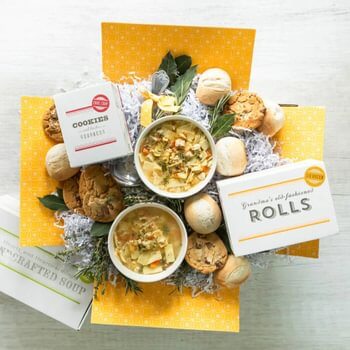 If you're wondering what to put in a care package for your boyfriend, make sure to include soup! There's just something about the welcoming feel that soup has to offer that will make your guy feel warm and fuzzy on the inside—and not just from the effects of the soup. Send him the real deal from Spoonful of Comfort. Our gourmet soup and delicious cookies in our Get Well Soon Gift Package provide the perfect combination of comfort. Receiving such a personalized gift will have a positive emotional impact on him, one that will surely help him feel better and get well in no time.
You are reading a post from our Get Well Gifts Guide. Read on for more great ideas to help those you love (including yourself!) get well soon!
Get Well Gift Ideas
Get Well Food & Flix
Get Well - For the Hospital

How to Wish Them Well
Get Well Packages from Spoonful