Meet Marti | On Soup and Love | The Super Power of Simple Soup
The Power of Soup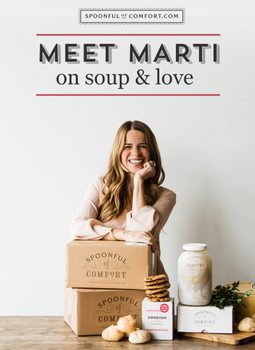 Meet Marti, founder of Spoonful of Comfort. In this video series, Marti shares some behind the scenes stories which have helped her build a heart-centered business. From packing boxes in her own garage, to appearing on national TV, our soup boxes have brought smiles into tens of thousands of homes across the globe.

February is the month of love, and boy do we love celebrating it. It's simply the best time to celebrate not only significant others, but family, friendship, and everything in between. Whether it's your closest friend, or a coworker, we're appreciating all kinds of love this February.
Soup and Love
Remember when you were sick as a kid, and your mom would prepare a nice hot bowl of chicken noodle soup to soothe your sore throat and upset tummy? Looking back at those moments, it's easy to see the amount of love that was being shared over a simple bowl of soup. Sometimes even a bowl of soup is enough to create unforgettable moments that can be cherished for years to come. But why is that? What about soup is so special? Is it the time and effort that goes into it? The thoughtful parent who made it for you? The comforting warmth? Whatever your reason, we've all been touched by the love surrounding soup.


Spoonful of Comfort | Love Wherever You Are
The kids are all grown up, the family has moved away, and the friends are in a different state. How can you still share the special love that comes with a home cooked meal?

Spoonful of Comfort makes it easy. With fresh made soup, rolls, and cookies, we wanted to give you the option to send love, no matter where you are. From college kids who are under the weather, to the sister and her newborn, no matter your situation Spoonful is here for you. Every box is packed with love and care. Every cookie is handmade, every jar of soup, something special. We love to help you spread love.

Come rain, snow, sickness, or health. Big cities, and giant valleys. Friends, family, or acquaintances. No matter who, what, or where, Spoonful is here for you.