The 12 Best Mother's Day Ideas During Quarantine
Mother's Day During Quarantine
Mother's Day gift shopping is a little different again this year. But if there's one thing that quarantine has showed us is that people are resilient. And creative. And caring. At Spoonful of Comfort, we've seen thousands of people reach out to loved ones. The emotions are the same. But the expressions are oh, so fresh.
And that's what we want to share with you! We've put together 12 Mother's Day Ideas during quarantine that will help you to spend time and meaningful moments with your mom.
Activities You Can Do with Mom on Mother's Day
Quarantine may be doing its best throw-down on Mother's Day traditions—say "bye bye" to brunch at a café to dinner with the family. But when those traditions aren't an option, go for something fresh and equally fun.
If you're staying home this year, here are a few Mother's Day ideas for quarantine that still allow you to celebrate mom.
Go On a Walk or Hike
Add a little Mother Nature into Mother's Day (hey, she deserves a shout-out, too!) Make it a simple walk with your mom near her house, meet in her favorite neighborhood, or go on a trail that you can explore together.
Organize a Scavenger Hunt
Hide some candies and knick-knacks around a park or a yard, come up with some clue or challenges to find them, and have the family hunt together. While you compete against your family, you'll also get to see your mom bring out her competitive side (which can be entertaining for everyone).
Have a Drive-by Celebration
It's not just for fast food anymore. Drive-by parties are all the rage and you can make Mother's Day feel big by getting loads of people involved. Have mom sit on her porch or in her front yard and get family and friends to drive by in their cars. Make it a neighborhood celebration where all the moms can wave while kids and grown-ups alike honk, holler, and make some noise to show their love.
How to Surprise Mom on Mother's Day During Quarantine
A good old-fashioned surprise on Mother's Day doesn't have to be a party—a quarantine Mother's Day opens opportunities for a slew of other fun activities to make your mother squeal with joy and awe.
Do Her Yard Work
Mother's Day is near the end of spring, and unless your mother has been working on her yard since the Spring Equinox, there's probably plenty she still needs to get done. Pick her brain ahead of time to find out what her garden plans are.
Does she need mulch? Is there a corner of the yard that hasn't been properly weeded in over a decade? (We all know that corner). Once you've successfully extracted the information, get over there on Mother's Day and start working.
Prepare (and Deliver) Her Favorite Meal
Whether it's something she loved to cook for you growing up, a new recipe you want to try, or her favorite entree from her favorite restaurant, treat her to the meal she loves most. You can even score some bonus points by including pretty plates and flowers when you leave the meal on her doorstep.
Give Her the Day Off
Is your mom the type who always has something on her to-do list? That's commendable, but there's no reason she should be working on what should be her day off. You can help her relax on her special day by telling her to sleep in, watch TV, or read a book in bed while you take care of her chores for the week.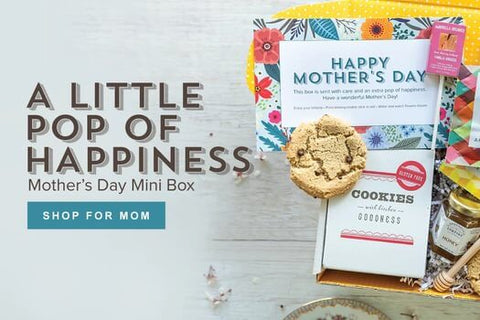 Mother's Day Gift Ideas
Thanks to the internet, you can still easily send your mother a wrapped present in time for Mother's Day. These are some gift ideas that can be especially meaningful during a quarantined Mother's Day.
Because of the ongoing quarantine, you may not have taken a family portrait within the last year. But that doesn't mean you can't still get a portrait done!
Etsy has loads of talented artists who can create an illustrated portrait of your mom with the whole family. These portraits can be an illustrated likeness or photorealistic works of art. Just send the artist a reference picture and they'll deliver something that will surely make your mom cry happy tears.
If your mom loves wearing jewelry, help her get glammed up more often—even if it's to go to the store. This jewelry subscription box by Rocksbox gives your mom unlimited access to new jewelry every month, letting her refresh her look and dress up for herself whenever she feels like it.
Our very own Mother's Day Package is new this year. Yep, we still include the classic meal that delivers the kind of comfort mom herself is famous for:
64 oz jar of delicious soup
Half dozen of homestyle cookies
And this year, we've added a sweet floral lollipop with edible flowers—and get this, the biodegradable stick can be planted to grow a tiny pot of blooms.
We also have our first Mother's Day Mini Package: cookies, tea, honey, and the floral lollipop. Complete either of these Mother's Day packages with fun new accessories like necklaces, a "Best Mom Ever" bracelet, or The Little Book of Motherhood.
Virtual Mother's Day Gift Ideas
Whether your mother lives far away or you don't want to risk getting her sick this Mother's Day, virtual Mother's Day activities can still offer a meaningful experience. Here are a few quarantine Mother's Day ideas you can do completely remotely.
Virtual Brunch
Invite as many people as your mother wants to participate in a virtual brunch on Zoom or Facetime. Everyone can make their own brunch spreads and eat while they chat about how much they love your mom. You could even send brunch food to your mother's house, so she doesn't have to prepare her own meal on her big day.
Since COVID-19 forced so many art galleries and museums to close down, many of them started offering virtual tours. The Uffizi, the famous gallery in Florence, Italy, has its entire collection online, including famous Renaissance paintings like "The Birth of Venus" and "Andromeda Freed by Perseus." You and mom can get together on a video call to look at the gallery together and pick out some of your favorites.
If your mother liked to take regular trips to wine country, virtual wine tasting can bring the vines directly to her living room. These tastings feature recorded and streamed videos from wine experts who critique and give commentary and the different wines. You can even buy the same wines they're tasting so you and mom can taste alongside the experts.

Don't Let Physical Separation Cancel Mother's Day
There are still plenty of ways to celebrate your mother this Mother's Day, even if you can't be physically present with her. These Mother's Day ideas during quarantine can let you share the same feelings of love and appreciation you would give on a normal Mother's Day.
If you wish to send your mother something this Mother's day, you can't go wrong with Spoonful of Comfort's Mother's Day Package. Order it today and await your mom's gleeful thank you.
See more Spoonful of Comfort Mother's Day Content
[Mother's Day Gift Guide]
[Mother's Day for a Grandma]
[Mother's Day General]
Mother's Day Ideas During Quarantine (➜ Currently Reading)

➜ Order the special Mother's Day gift package from Spoonful of Comfort!