Creating New Traditions: 20 Non-Traditional Christmas Meal Ideas
Non-Traditional Christmas Meal Ideas
After the whole world turned upside down, we've all experienced 2021 as a transitional period. Everything from work and education to extracurricular activities and family bonding time—there have been plenty of opportunities for us to question why we do the things we do.
So you might be asking yourself right about now, "Do I want to continue my family's Christmas meal traditions, or do I want to try something new?" If you decide it's the right time to shake things up a bit, you've got our support at Spoonful of Comfort!
Let's take a look at 20 non-traditional Christmas meals that can bring a breath of fresh holiday air to your dinner table.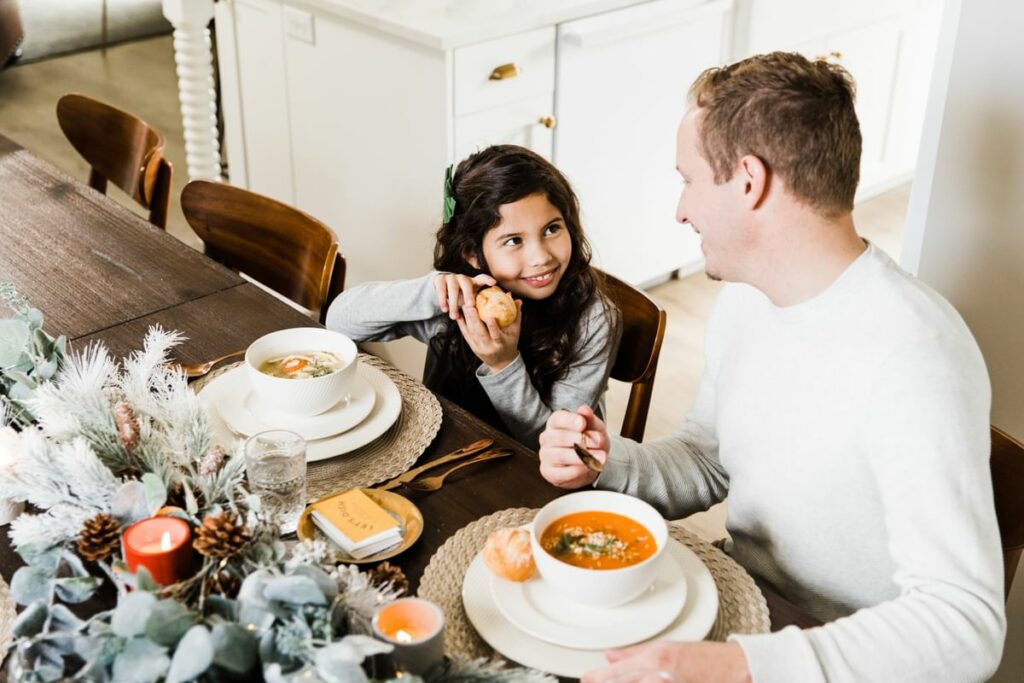 Why You Should Try a Non-Traditional Christmas Meal
At first, you may feel unsure about trying a non-traditional Christmas dinner. Chances are, though, your family and friends will welcome your ideas. Why?
First of all, it's fun to be different! Second, traditional meals can take a lot of money and time to prepare, and perhaps everyone could use an affordable and effortless option right now. Finally, if your goal is to impress even the pickiest of eaters, we've got you covered there as well.
Read through our non-traditional Christmas meal ideas and get excited for this holiday season's opportunity for restart and refreshment.
Bring a Budget Christmas Meal to the Table
A good meal doesn't need to cost a fortune to be festive. We've got some impressive on-a-budget ideas for you to bring to the table.
How about you share the load this year by inviting your guests to share their favorite soup? A soup spread will certainly warm the belly and the soul. Just add some hearty crusty bread, and you've got yourself a lovely evening.
There are no rules when it comes to Christmas dinner, which means you can forego expensive cuts of meat and go for the most cost-friendly ones. Choose bone-in chicken drumsticks rubbed with seasonal spices, ground turkey incorporated into a creamy pasta dish, or bone-in pork chops smothered in a savory fruit sauce. Mmmm! They all sound so good, and we promise no one will miss the huge turkey or giant ham.
Choose only one "splurge" dish, not an entire menu full of them. If pie is really your thing and you only get it once or twice a year, that's where you should focus your budget. The same thing goes for a spiral-sliced ham if that's your choice. But to keep costs down, limit the rest of the meal to more reasonably priced items like boxed stuffing and a grocery store salad kit.
If this has been a truly rough year for your family (as it has been for many), there are plenty of organizations happy to help. They'll give you access to groceries or a full meal so you can celebrate Christmas without worry.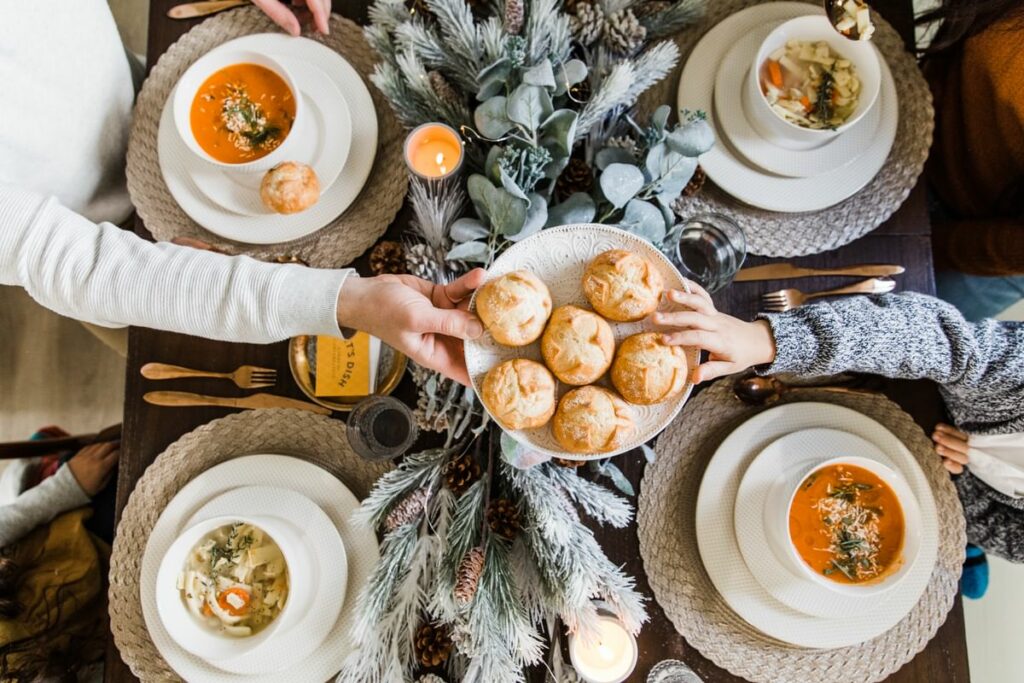 Win Over the Littles with Kid-Friendly Christmas Food Options
Waging a food battle at the dinner table is no way to spend your Christmas night. Call a truce with these yummy, picky-kid-friendly food options.
Candy-cane shaped pepperoni pizza is simple to make. Just form the crust into a hooked shape and place the pepperoni in stripes. Or, build a pizza snowman and let the kids decorate it with toppings they love. Either way, it will fill stomachs up quickly so cousins can run off and play together.
Turkey alphabet pasta soup is healthy, light (read: won't stain), and guaranteed to bring a smile to the faces of kids and their parents alike as they slurp it all down.
Homemade mac 'n cheese is always a winner, but bring it into holiday territory with a sprinkling of cinnamon mixed in and toasted, chopped chestnuts on top. You won't hear any complaints when this dish comes out.
Take refrigerated crescent roll dough and stuff each triangle with cheese. Then stack the rolls into a flat Christmas tree shape on a cookie sheet before baking them. They'll raise together nicely and form a fancy pull-apart side dish that's bursting with joy.
Cook a Gourmet Meal for Christmas Foodies
Some celebratory occasions call for pulling out all the stops. Host your foodie friends and family with a gourmet meal they'll be talking about through New Year's. Here are four alternative Christmas dinner ideas that are as tasty as they are trendy.
Forget the Tofurkey! Better options abound these days, so you don't have to give up flavor and texture when you accommodate your vegan visitor. Roasted cauliflower steaks, butternut squash, and red lentil soup, and sourdough dinner rolls with cashew butter will satisfy anyone gathered around your table.
Lobster isn't just for anniversary celebrations spent on the coast. Christmas is a perfect time to split the shell and feast on this savory, decadent shellfish.
Take the bird outside for a long, slow smoke. While this method takes time, it's pretty hands-off, so you can give your attention to making your sides. The best part? The flavor will blow you all away.
Do dinner tapas style. Instead of making one large entrée and a few family-sized generic sides, put together a charcuterie tray, a variety of Amuse-bouche, fancy canapés, and flavorful small dishes that encourage happy grazing and good conversation. Bonus: Your guests won't feel overstuffed and sleepy an hour afterward.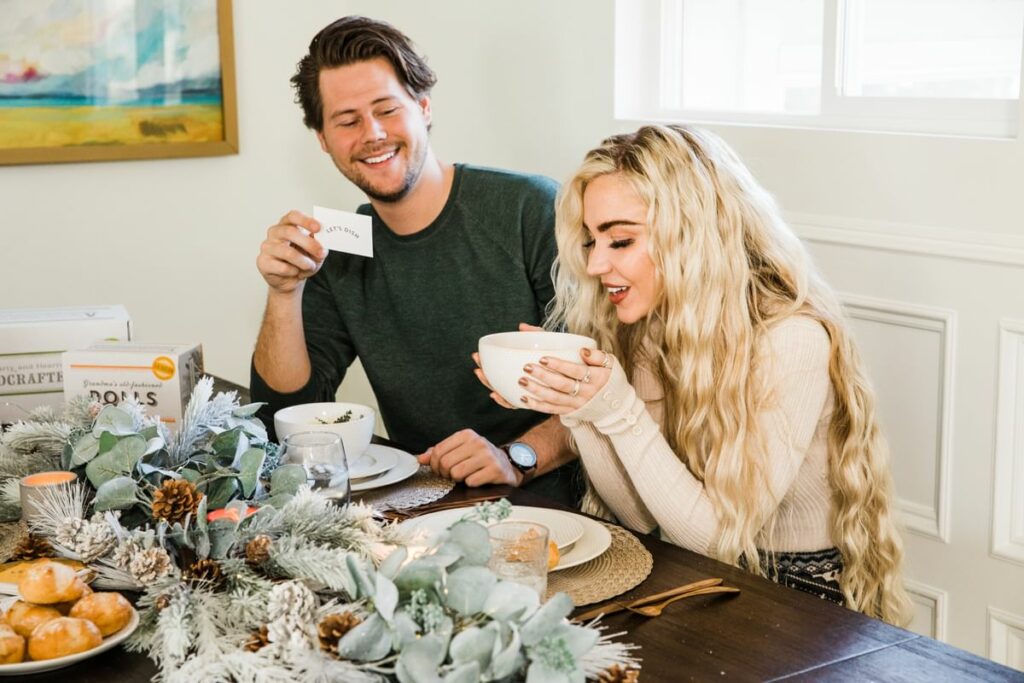 Astonish with Alternative Dessert Ideas for Christmas
You wouldn't think of ending your Christmas night without a decadent dessert to top it all off. There's nothing wrong with the traditional desserts we've all enjoyed since we were young, but if you want to try something a bit different—whether for time restraints or dietary restrictions—we've got some good stuff here.
If you're all baked out for the season, there's no shame in going with no-bake desserts. Favorites include sugar cookie balls, hot chocolate cheesecake, candy cane marshmallow dippers, apple pie parfaits, and gingerbread fudge.
Sometimes going refined sugar-free is exactly what you need by this time of the year. There's no need to wait to kick off your New Year's resolution when you can have a delicious dessert sweetened with rice malt syrup, cacao nibs, almond milk, cinnamon, or fruit.
Make your dessert do double duty as a treat and an activity all wrapped up in one. Everyone from kids to grandparents will want to get in on the action and make good memories to boot. Some fun ideas are handprint sugar cookies that can be decorated as Santa Claus or a Christmas tree, chocolate and caramel dipped apple slices with candy and nut toppings, and make-your-own fruit and cake skewers with spiced cream cheese dip.
If you've always wanted to present a showstopper dessert, Christmas is the perfect time to do it. Research recipes for a Charlotte Royale, terrine, roulade cake, dacquoise, or croquembouche, and prepare yourself for a round of applause.