One-Pot Pasta & Parmesan Soup
Pasta & Parmesan Soup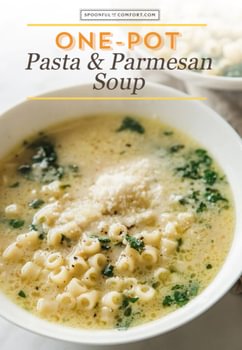 Need a night out with friends or some quality time with a bestie? You might not be able to visit each other in person, but you can still connect with the important people in your life via tech. From Facetime and Skype to Houseparty, Marco Polo, Zoom, and Google Meet, there are plenty of ways to catch up with friends and family from home. Maybe you'll even make it a fancy event and show up to your virtual meet-up with freshly washed hair and real pants! (We don't know why you would ... just saying you could.) Or, you could host a digital dinner party and enjoy a meal together—even while you're staying apart.
Here's how it works: make arrangements for dinner with your local BFF and arrange to drop off a homecooked meal. We recommend our One-Pot Pasta & Parmesan Soup since it's easy to make a batch for yourself and a friend, not to mention it's the perfect grown-up comfort food. Pair this with some crusty bread and a bottle of your favorite wine, and you're ready for your dinner date, doorstep delivery style.
Connecting with Care
Once you're home, grab your own dinner, your favorite drink, and meet up online for some serious BFF reconnecting. Time to reminisce about your college crushes and hijinks, get updates on family, and make plans to see each other in person once it's safe and healthy for everyone to resume normal activities.
It's so important to keep our personal relationships strong when the world feels a little uncertain. Make time to laugh, commiserate, and hope for a brighter future with the people who matter most, all while bonding over a good meal. And if your BFF isn't local enough for a dinnertime drop-off, we've got you covered. Just send one of our care packages instead! It's the easiest way to get dinner on the table so you can focus on more important things—like rewatching your favorite TV show together or trying to remember what really happened at that party freshman year.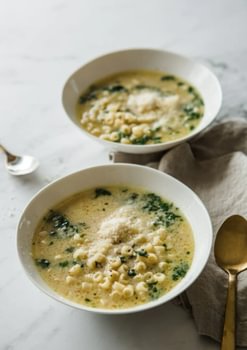 Still good for some time in the kitchen? Recipe for our favorite shareable soup below!
One-Pot Pasta & Parmesan Soup
3 tbsp butter
3 cloves garlic
32 oz chicken broth
1 cup chopped spinach (fresh or frozen)
1 1/2 cups ditalini or small shell pasta
1 cup grated parmesan
Heat butter in a pot until melted. Add garlic and saute until aromatic. Add broth and pasta. Bring to a boil and simmer until cooked al dente. Remove from heat and stir in parmesan and spinach before serving. Season with salt and pepper, to taste. Enjoy!