6 Family Traditions to Start Right Now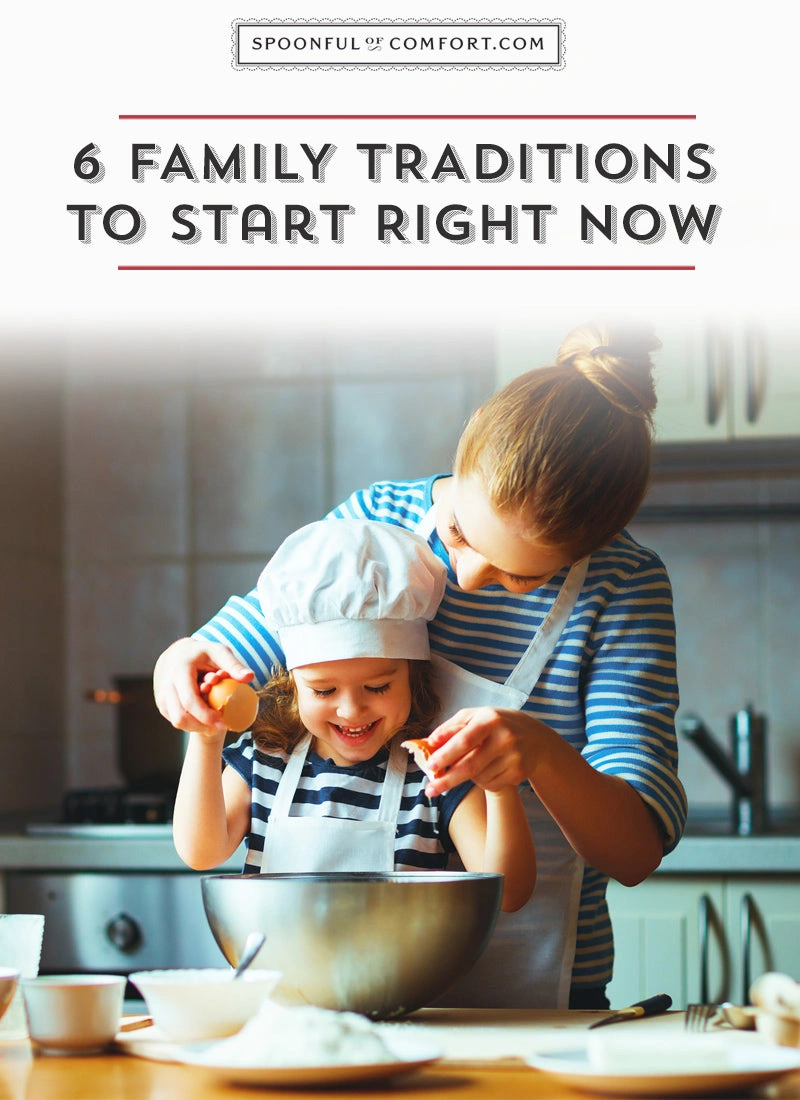 Spoonful of Comfort founder Marti Wymer remembers her favorite family tradition growing up, and it involves a little bit of trickery and a lot of love. Whenever her family visited her grandparents in rural Canada, her Grandma would make a batch of fresh rolls, which were obviously best enjoyed hot out of the oven. So, when Grandma put the tray of rolls on the back porch to cool, Marti and her siblings loved nothing more than snagging a roll off the tray, and claiming that squirrels were the culprits.


Great Family Traditions
Family traditions help create a sense of identity, security, and are a fun way to spend time with loved ones and friends. Want to start some new traditions this year but don't have any nearby squirrels to help corroborate your plans? We've got six simple and fun suggestions for traditions guaranteed to bring your family closer this year, no trip to Canada required.
1. Take family walks.
Whether you go on Sunday morning or every Monday after dinner, weekly walks are a great way to spend time together, get some exercise, and share all the stories, thoughts, and experiences from the week before. (It's also free, which is a great way to make sure a tradition lasts long-term.) Live in a place too cold to walk during the fall and winter months? Find a nearby shopping center and add window-shopping to your tradition—though you might want to avoid a toy aisle if you're bringing little kids along.
2. Make a yearly quote wall.
Hang a bulletin board in your kitchen or family room, and encourage family and friends to post the favorite sayings, quotes, and jokes said throughout the year. (If possible, attach pens, sticky notes, and push pins to your bulletin for easy posting.) From silly knock-knock jokes told by toddlers to the advice of older siblings and grandparents, your family will love adding to the wall and reading (and re-reading) everyone's notes. At the end of the year, take down the posts and share them over family dinner. Kids will appreciate a chance to relive their favorite "inside jokes," and you'll treasure the saved memories forever.
3. Go on monthly one-on-one dates with each kid.
That connection you feel with your partner during date-night? Parent-child relationships can benefit from that same shared time. Discuss possible date ideas with your child based on activities you both enjoy, and spend the time catching up and having fun. You'll be surprised how easily kids open up when given one-on-one time without their siblings and friends around to compete for attention. Alternate dates between parents, or find a way for both of you to participate in a kid-centered date night.
4. Weekly meals (or desserts) everyone can enjoy.
Make Friday night your family's official Pizza Night, or institute Cereal Saturdays or Sunday Night Sundaes. Regardless of what you choose, a weekly gathering helps create a family culture of built-in memories—and if you pick a weekly dinner, saves you the stress of figuring out what to feed the kids that night. (Pizza. Pizza is always a good idea.)
5. A Simple and Easy Birthday Tradition:
During a birthday dinner, have everyone write down something they love about the guest of honor on a small slip of paper. Gather up the papers, and read them aloud at the table, taking turns to guess which person wrote each note. It's an easy but meaningful way to celebrate a birthday and renew connections between family members based on positive memories.
6. Embrace the Movie Marathon:
Work, school, and everyone's extracurricular activities can make it hard to find family time. And if family traditions are stressful, expensive, or hard to recreate, they won't last. Make a tradition that's relaxing and fun with movie or TV marathons that allow time for both relaxing and bonding. Whether you spend the night debating the merits of the new Star Wars movie or quoting alongside a season of your favorite sitcom, this is a family tradition kids will love (and maybe even pass on.)

We're celebrating tradition this month: all the meals, memories, and moments that make your family special, and bring you together month after month, year after year. How do you create traditions and meaning in your family? If your family rituals don't include sneaking hot rolls off the back porch, we can help provide the next best thing— homemade soup, rolls, and cookies delivered to friends and family across the country. We're here to help make starting new traditions easy, fun, and most importantly, delicious.