Slow Cooker Chicken Noodle
Making Chicken Noodle Soup
Spoonful of Comfort founder and CEO Marti Wymer is a big believer in the power of chicken noodle soup. Growing up, it was what her mom made her whenever she caught a cold, had a tough day at school, or just needed a little extra love.
We could all use a little of that home-cooked love these days, so if you're feeling overwhelmed by our ever-changing world, we recommend taking a break, turning on your favorite music, and heading to the kitchen to make some delicious soup of your own. We've modified the recipe to make it slow-cooker friendly, so all you need to do is combine the ingredients and look forward to dinnertime.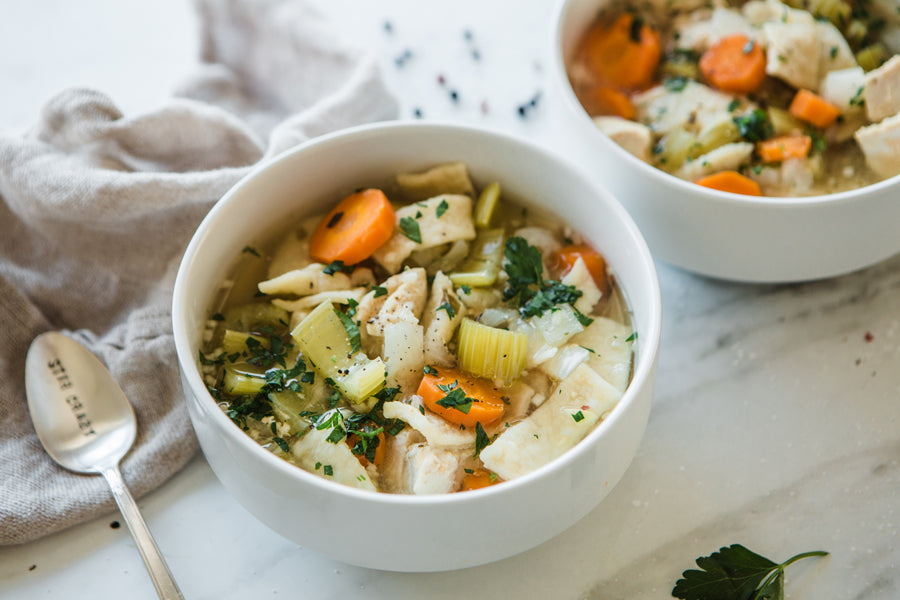 And if you're lucky enough to live near your mom or dad, consider dropping off a care package with some chicken noodle goodness for them to enjoy as well. They won't want to admit it, but your parents might need a little extra TLC themselves these days. And if you were lucky enough to grow up with a mom like Marti's, now is the perfect time to express your gratitude for a lifetime of love with a little love in return. (And hey, you can also return that tupperware you borrowed years ago when you use it to drop off her soup...)
As an adult, Marti found herself living far away from her mom, and was heartbroken when she learned that although her mom was very sick, she couldn't rush home and care for her. It's why Marti founded Spoonful of Comfort, so that it's always possible to brighten someone's day with kind words and good food.
So whether you make and deliver your own, or simply send a care package from us, we hope you find ways to show the special people in your life just how much you care. Expressions of love might not fix all the world's problems, but it can ease a few. And that's enough for us.
Recipe and directions below, and happy cooking.
Slow Cooker Chicken Noodle
3 chicken breasts, diced
3 large carrots, peeled and sliced
3 celery, diced
1/2 white or yellow onion, diced
3 cloves garlic
1 Tbsp dried basil
3 (32 oz) cans chicken stock
1 chicken bouillon
2 eggs
2/3 cup flour
Pinch salt
Place chicken, carrots, celery, onion, garlic, basil, chicken stock and boullion into slow cooker. Cover and cook on high for 6 hours, or on low for 7-8 hours.
In a small bowl, whisk eggs until well beaten, then slowly use a fork to work in flour until a soft, non-sticky dough is formed. Roll dough out very thin, use extra flour, if needed, to keep from sticking. For best results, roll between two pieces of parchment using a rolling pin. Remove top piece of parchment and use a knife or pizza cutter to cut dough into 1/4"x1" noodles. Allow to airdry until soup is finished cooking.
Place noodles in slow cooker and stir well to mix. Cover, set to high, and allow to cook for 20 minutes before serving.
You can also send chicken noodle soup to your family or friend as a perfect gift to warm them. Send Spoonful of Comfort's chicken noodle soup filled with vitamins and antioxidants will be great for adding some energy to the day or helping a loved one recover from that recent cold. With our chicken noodle soup delivery, start by choosing a family-size soup and some favorite cookies. If You add the extras. We'll personalize your package with your note. It's definitely not a bad option. Check out the product page to see more about this comforting and nutritious chicken noodle soup package that can be delivered to your loved one's doorstep.