The Ultimate Guide to the Best Gifts for Team Members
Guide to the Best Gifts for Team Members
Lately, we've been seeing a lot of our care packages going out to teams. Yes, there are still packages being sent as holiday, birthday, and appreciation gifts. But we've also been seeing managers sending soup to lift the morale of employees working from home. We hear about "team lunches" via Zoom with each person enjoying a hot bowl of soup during the discussion.
Team gifts like these lift our spirits. And it got us thinking about other ways people can support each other in the office. Take a look at the list of crowd-pleasing gifts for team members below.
Inexpensive Team Gift Ideas
The best inexpensive team gifts should be personable and positive. There are dozens of cheap gifts you can give your team for less than $20, like:
Coffee Mug Warmer

–

Keep people's coffee from going lukewarm with an electric coffee mug warmer. This way, your team stays energized all day long.

Chill Pills

–

Fill a mason jar with small candies and create a label that says "Chill Pills." When your team gets stressed, they can reach for some candy to help calm down.

Soothing Tea Trio

– These three soothing tea collections from Spoonful of Comfort is like giving your team a hug in a cup.

Stress Balls

–

You can find thousands of different

styled stress balls

to help relieve stress and improve blood circulation and relax muscles.

Snack Box

– Grab your team's favorite chips, candy, and soda and put it together in a gift basket.

Blue Light Glasses

–

Staring at a computer screen all day strains the eyes and causes headaches. Blue light glasses protect against this light and keep your team more comfortable.

Cute Gift Ideas for Team Members
From decorated chalkboards to whimsical desk accessories, these cute gift ideas break the mold of traditional mugs and gift cards.
Potted Succulents

–

Bring some color to your employee's workspace with cute potted succulents. You can choose from a mini plant or an entire garden—whatever best fits the space of your team member.

Cozy Socks

–

Spoonful has a set of cozy socks for men and women that are a great way for your team to get comfortable at home.

Funny Desk Accessory Holder

–

Add some flair to your team members' desks with a funny desk accessory holder.

Cookie Comforts Package

– Our own Spoonful of Comfort Cookie Comforts Package is perfect to share with your team. Send a dozen or more homemade cookies along with a personalized note thanking them for all their hard work.

Mini Sandbox Kit

–

This is lighthearted, fun, and cute. Let your team imagine they're relaxing at the beach or they can build a sandcastle to relieve some stress.

Fun Paper Clip Holders

–

Upgrade the boring paperclip holder with something more fun.

These paper clip dishes

come in various shapes, including a sink, hedgehog, or bird.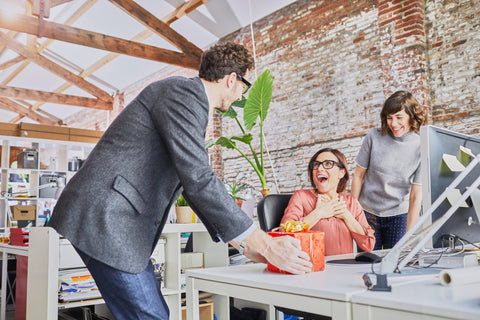 Personalized Gifts for Team Members
Show your team that you're really thinking of them with personalized corporate team gifts. Customizing a mousepad, notebook, T-shirt, or coffee mug with names or a team or company logo helps create a sense of pride and belonging.
Tote Bags

–

Customizing a tote bag is an easy and inexpensive team gift. Consider printing a team photo or inside joke onto the bag.

Tumblers or Water Bottles

–

You can purchase water bottles and tumblers for next to nothing at grocery or dollar stores. Adding some vinyl or stickers is a fast and easy way to personalize them.

Playing Cards

–

Purchasing a customized deck of cards with favorite images makes a fun, engaging gift.

Jackets or Hoodies

–

Consider season-friendly clothing with your team's motto or inside joke printed on it.

Branded Bluetooth Speakers

–

Now whenever one of your team members tunes into their favorite radio station or listens to music, they'll be reminded of your team.
Occasion-Specific Gift Ideas for Team Members
Whether you're welcoming someone new to your team or saying thank you, these team gift ideas for work send the perfect message.
Corporate Team-building Gifts
Give your team a boost in morale, productivity, or inspiration with usable gifts that can include a printed inspirational quote, mission statement, or inside joke.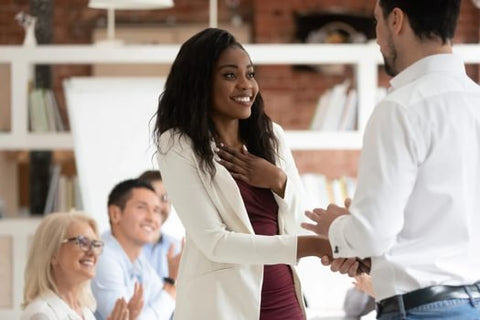 Welcome to the Team Gift Ideas
Giving a welcome gift is a crucial part of onboarding a new team member. Consider some useful team gifts like these for the new guy or gal:
Popsockets

–

Branded popsockets can easily stick to most phones or tablets, making it easier for your team to hold or balance devices.

Portable Power Bank

–

Keep your new team member connected with a portable power bank to stay up-to-date on the latest team news and updates.

Desk Organizer

–

Help your new employee settle in with a cute desk or drawer organizer. This will help employees be organized and productive as they get the hang of their new role.
Thank You Gifts for Team Members
If you want to show your team how much you appreciate them beyond a simple thank you, consider these inexpensive employee appreciation gift ideas.
Cookies, Specialty Cupcakes, or Sweet Treats

–

On any given day, recognize great work by gifting a

box of cookies

(our favorite!), doughnuts, specialty cupcakes, or a jar of favorite treats.

Coffee Sampler

–

Gift a

coffee sampler box

featuring four different kinds of coffee flavors, all shipped fresh.

"Thanks for Being Awesome" Notebook

–

Clear and concise, this mini notebook thanks your team members for a job well done.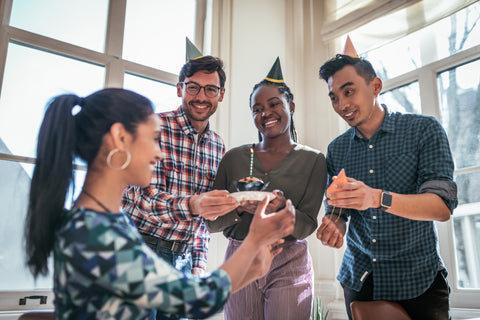 Christmas Gift Ideas for Team Members
When you're thinking about Christmas gifts for team members, you'll want to find something that everyone will love. These inexpensive team gifts are tried and true.
Celebratory Employee Appreciation Gift Ideas
When an employee lands a big sale, completes a major goal, or celebrates a work anniversary, a gift will show how much you appreciate what they do for the company. Try out some unique team gift ideas like these:
Movie Gift Cards

–

Treat employees to a night at the movies with a Fandango or Cinemark gift card. Consider putting a little extra on there for some popcorn and candy in addition to tickets.

Foodie Dice

–

For the employee who can never decide what to eat, Foodie Dice is the answer. We recommend the Takeout Die to help decide what to grab for lunch.

Bluetooth Headphones

–

Wireless headphones are a perfect way to help a team member block out the noise from the office and stay focused on work.

Phone Stand

–

Phone stands provide easy access to phones and help your most productive employees do even more. You can even personalize it with a thank you message.

Desk Treat Jar

–

Find out what your team members' favorite treats are and fill up a cute decorative jar with the goodies. Don't forget the thank you card.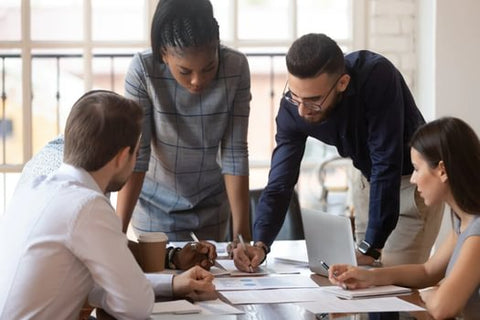 Gifts by Team Departments
There's no shortage of gifts you can give to your teams to make their job easier and show how much you appreciate them. Take the time to think about what type of gift could make their day-to-day responsibilities easier or that could help them relax after a long day.
Gift Ideas for the Sales Team
Salespeople are always busy. They're constantly on the phone speaking to clients, in meetings, or traveling. Any of these gifts below are sure to help you earn their gratitude.
Meals for the family

–

Go beyond appreciating just an employee. Spoonful of Comfort

gourmet gift baskets

are something the whole family can enjoy—a nice gesture to the people who support those long hours and sales trips.

Carry-on Suitcase

–

Help sales associates make their next trip less stressful with the perfectly sized carry-on suitcase. Any of the

bags listed here

are a great choice for busy salespeople.

Porter Bowl

–

For sales professionals who are always on the go, the Porter Bowl makes grab-and-go eating mess-free and encourages healthier eating habits.

Carry-on Cocktail Kit

–

After a long trip, help your salespeople relax and unwind on the plane ride home with the carry-on cocktail kit. Available in a variety of mixes, your team member can mix a cocktail on the plane ride home without paying a fortune for in-flight drinks.

Personalized Luggage Tags

–

For a faster exit from the airport, give a pair of personalized luggage tags that are easily spotted in baggage claim.
Gift Ideas for the Management Team
Rather than give your management team another coffee mug or potted plant, give them something that is useful, thoughtful, and professional.
Business Card Case

–

To help keep their business cards organized, give them a card case. Most can hold up to 20 cards and come in several colors and materials.

Throw Blanket

–

For the late nights in the office, help them stay warm and comfortable with a fashionable throw blanket. There are hundreds of different styles and colors of blankets.

Sheet Masks

–

Bring some much-needed relief to your stressed-out management team with relaxing sheet masks. You'll find these in most beauty supply stores at a low price.

Bottle of Wine

–

If your team member is someone who loves wine, give them a bottle as a token of your appreciation. To help them find their next great flavor, consider giving them a

Winc

gift card where they can try several great wines every month.

Eyeglass Holder

–

Save them the trouble of searching for their glasses on a cluttered desk with a decorative eyeglass holder.

Spoonful of Comfort for the Ultimate Gift Ideas for Team Members
Yes, we're a little biased. But you can't beat the thoughtfulness and attention to detail that comes from a Spoonful of Comfort corporate package. Our soup packages are the go-to classics, but we continually update our offerings with seasonal specialties and limited-edition gifts. Plus, any company can open a free corporate account to receive a discount, bulk ordering, and concierge-style gift management.
There's no easier way to give a thoughtful team gift, no matter the occasion. Order something memorable from our Corporate Collection for your workers today.
This article is part of our
Corporate Gift Giving Guide
to guide you to find the perfect gift for every gift-giving occasion in business. Don't forget to sign up for your
Corporate Gift Account
today and get a discount on corporate gifts for your employees, clients, and customers!
Corporate Gifts
Executive Gifts
Gifts for Employees
The Ultimate Guide to the Best Team Gift Ideas (← You are here)
Gifts for Clients