Thank Your Teacher for "Helping You Grow" With This Simple, Pretty Pot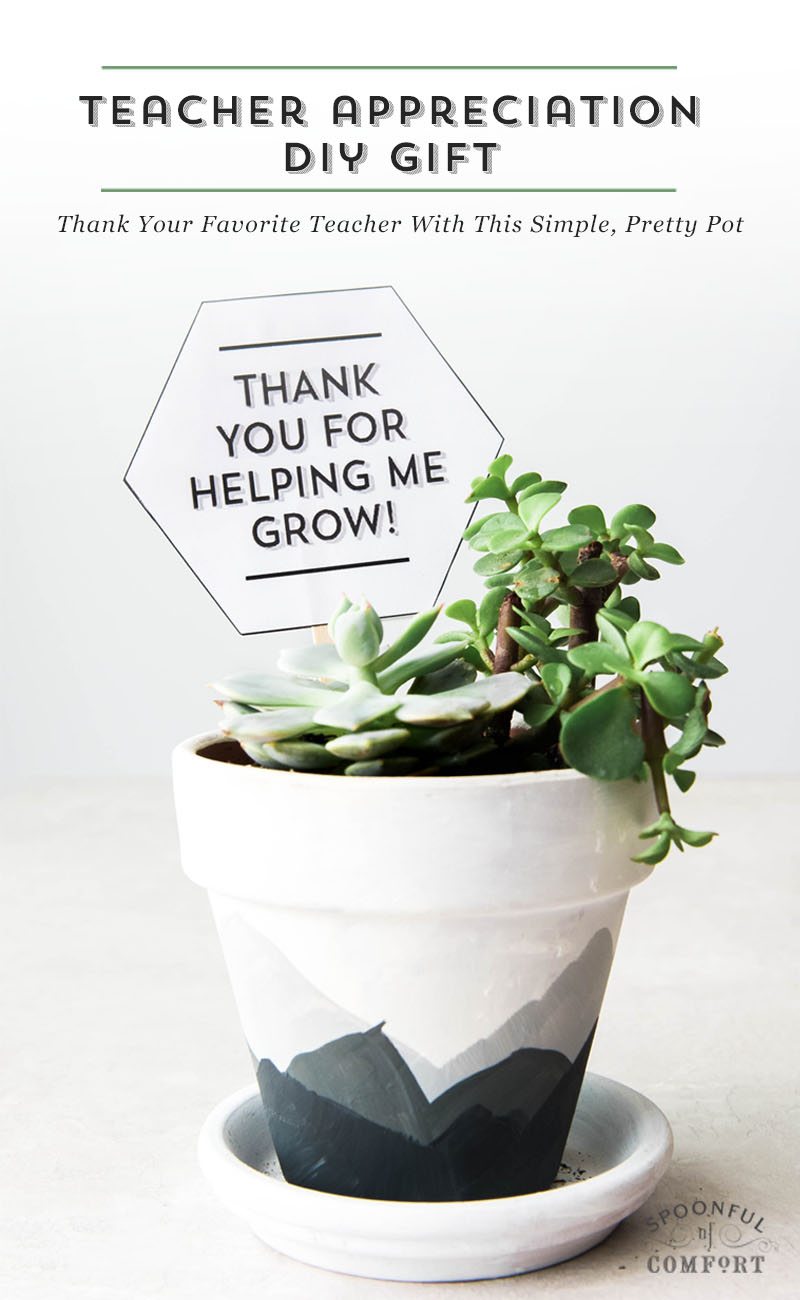 Summer vacation is so close we can almost smell the sunscreen and chlorine. But even if you're down to just a few more weeks of school, your kiddo's teachers are still trying their best to finish the year strong.
Simple, Pretty Pot
Show them you appreciate their hard work throughout the year, and help them survive May Madness with a gift that's fun, unique, and way more meaningful than yet another mug. (Teachers everywhere agree: skip the mugs.)

These adorable DIY succulent planters are something you can make with your kids in a single weekend, but the end result still looks stylish and effortlessly cool. Here's what you'll need to help your kiddos/future artists create a DIY gift that shows genuine appreciation for all the special teachers in your lives.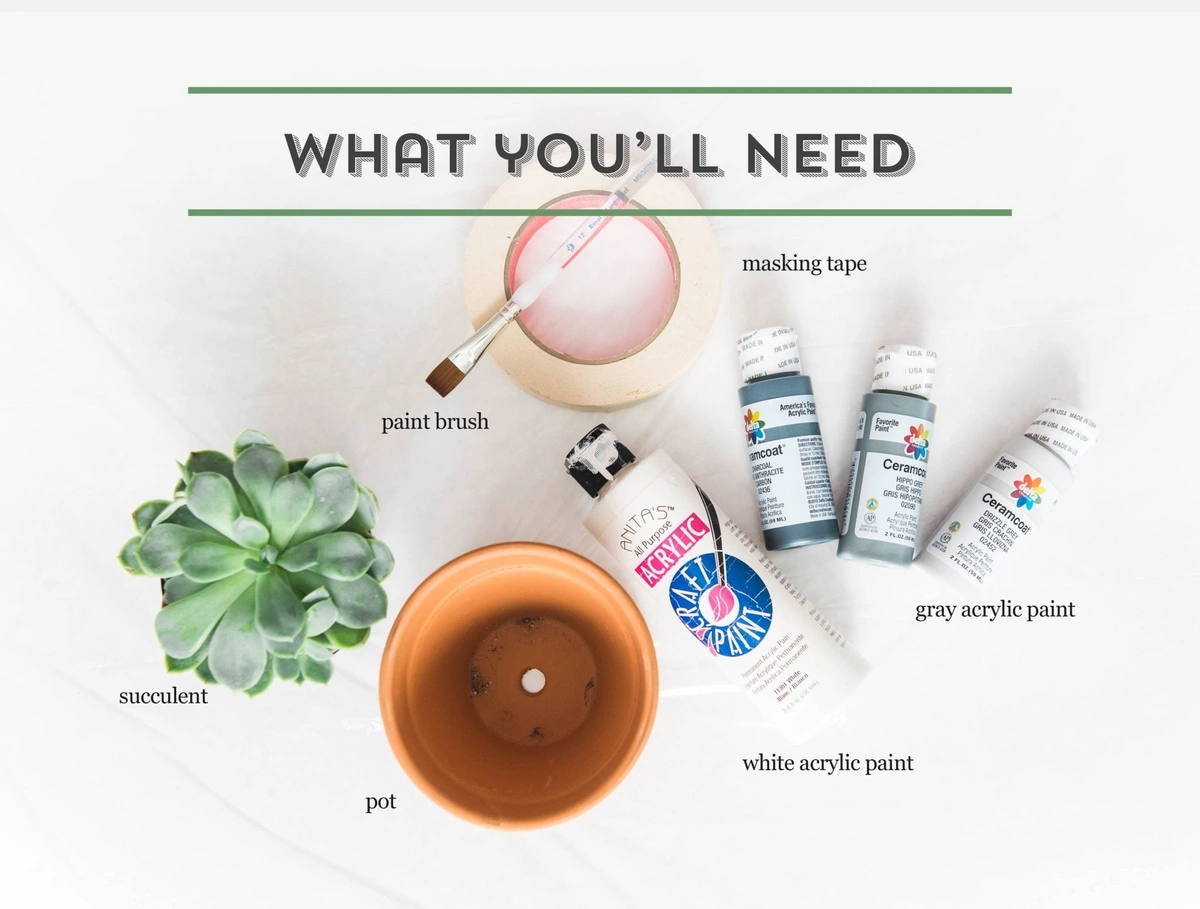 Terra cotta pots, or mini mason jars: Traditional flower pots can be bought inexpensively at any gardening or home improvement center, but you can also use a mason jars or any variety of "found" container to house your succulents. Get creative and mix and match containers and plants for a one-of-a-kind gift.
Succulents: These hardy plants come in a variety of colors and shapes, and are wonderfully low-maintenance. Take your kids with you to a local garden shop to pick out their favorites, or snag some in bulk next time you make an emergency run to Home Depot.
Extra potting soil: (Optional) if you're using a planter that's a bit bigger than the original container for your succulent, some extra potting soil is handy for filling in space and keeping your plant healthy.
Acrylic paints and paintbrushes: Inexpensive acrylic paints work well on a variety of materials, from clay pots to glass. You can find these at any craft store, just don't forget to pick up a package of paintbrushes while you're there.
Masking or painters tape: We love kids freeform creativity, but when going for a particular look masking tape can help guide little hands and keep the design aesthetic in check.
Card, twine, and markers: everything you need for adding a cute handwritten note from your kiddo.

Putting it all together
Clear off a workspace for you and your kiddo, and get creative painting your planters. You can focus on shades of a single color (like we did.) for a monochrome effect, or pick up metallic accent paints for a trendy and totally Instagram-worthy creation.
Start by painting

the outside of the pot and saucer completely with white acrylic paint (you can skip the inside of the pot since it will be filled with soil). Let dry. Acrylic dries pretty fast ~2-5 minutes or use a hairdryer to speed up the process.

Once the base paint is dry, use the

masking tape to tape the outline of 3 large triangle mountains around the pot. When working with older kids you could also choose to freehand these to give the mountains a more realistic, organic look. Paint these large mountains with the lightest shade of paint. We used

Ceramcoat

Drizzle Gray. Next you'll paint the second set with a medium gray shade, like Hippo Gray. When painting the smaller mountain sets, place the peaks between the larger mountains to create the skyline effect. For the final and smallest set of mountains you'll want to paint with the darkest color. We loved the contrast created by Ceramcoat Charcoal.
Take a snack break with the littles while you wait for the layers to dry. Then add a little extra potting soil to the base before planting the succulent. Fill in any gaps with soil, and you're ready to add a cute note. We chose "thank you for helping me grow," but this is a great time to let a kiddo show off their newly improved lettering skills, or write a personalized list of everything they love about their teacher.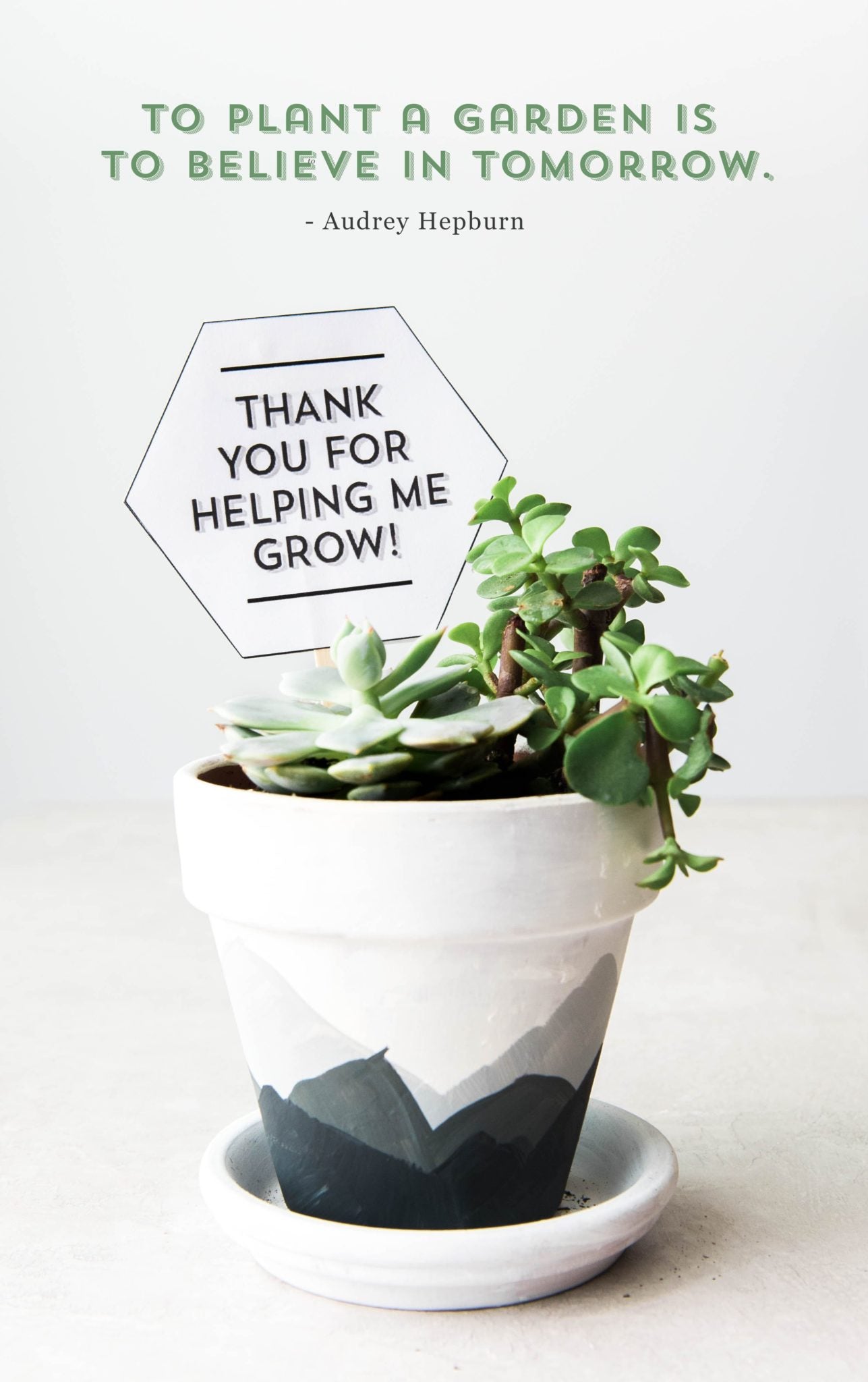 Want to go the extra mile?
We all remember a remarkable teacher that made a big difference in our lives, and if they got super lucky, your kid met their own life-changing teacher this past year. If you really want to show appreciation for an extraordinary teacher, consider sending them a stress-free dinner of soup, rolls, and cookies. We promise this will brighten up any teacher's busy evening, so check out our Soups and Sentiments care packages to find the perfect dinner for your favorite teacher.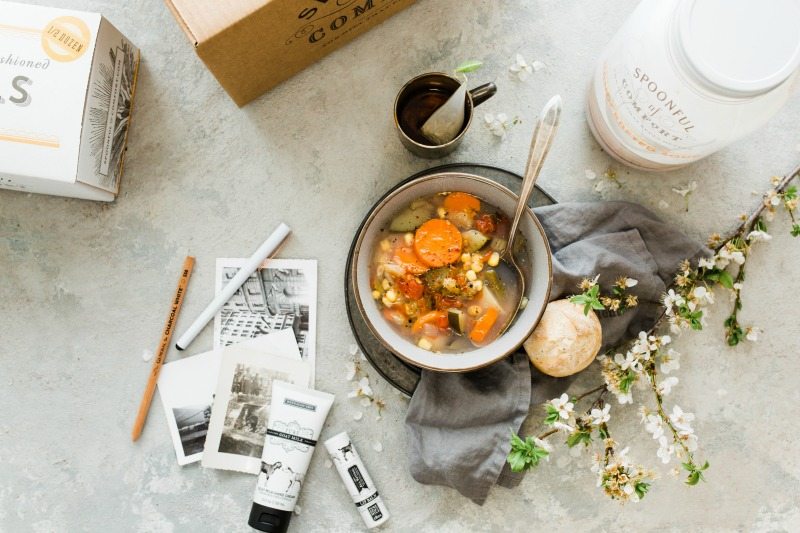 Share with someone you love
We love when great ideas get shared. If this post inspires you to make your own teacher appreciation gift, we'd love to see it! Share the love, snap a photo, and tag us on Instagram @spoonfulofcomfort #spoonfulofcomfort.