The Awards Night Basket Every Party Host Deserves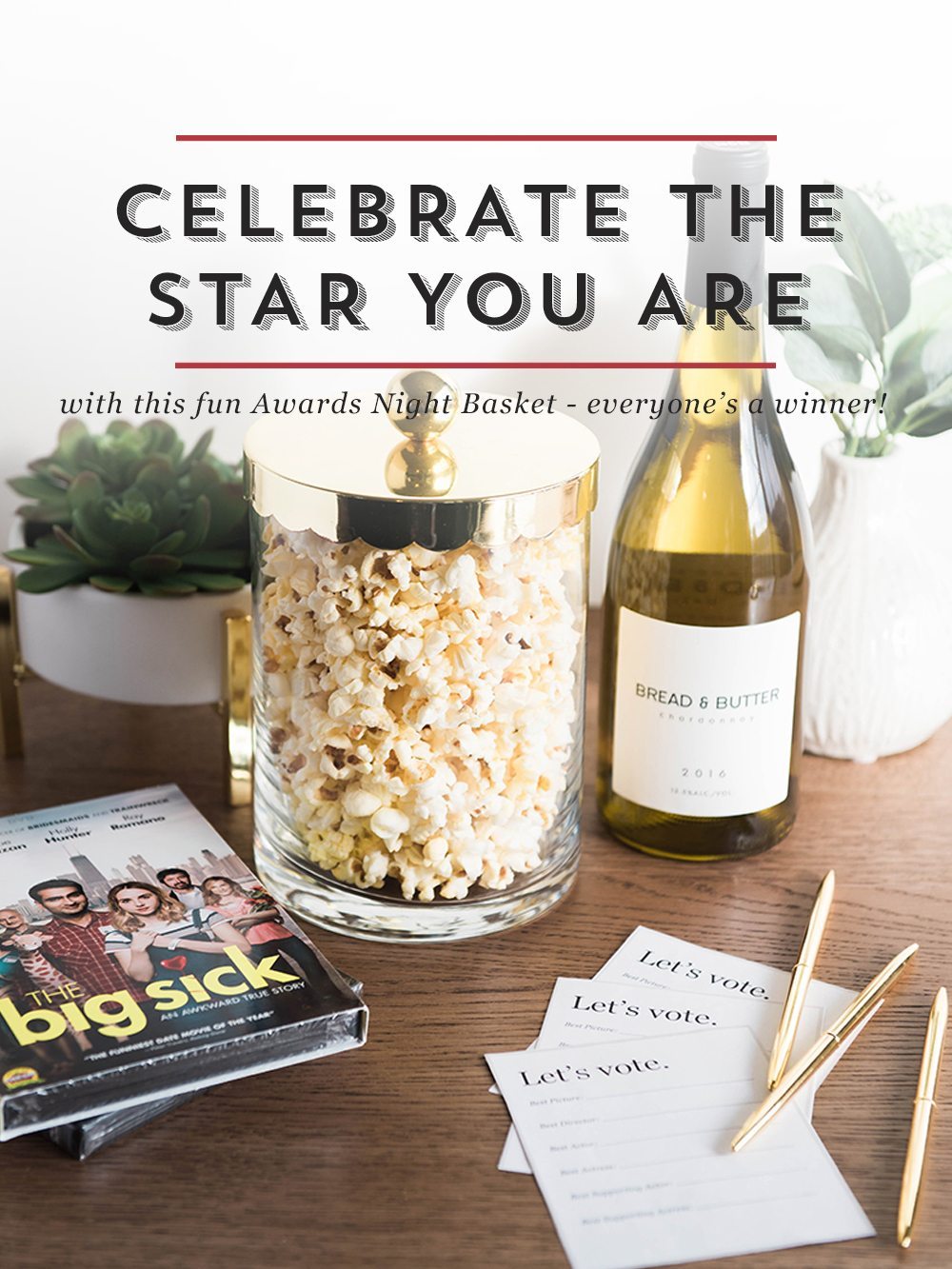 It's the most wonderful time of the year!

(No, don't worry, the Holidays didn't sneak up on you already. Put down the wrapping paper.)

We're talking about movie Awards Season—a special time of year when you cozy up on the couch with a warm throw, your favorite snacks, and your expert-level opinions regarding all things gowns, costumes, and acceptance speeches. It's a perfect night made even better when spent with your favorite movie-loving friends, so why not gift your favorite film enthusiast an Awards Night Gift Basket guaranteed to help her host a fabulous viewing party.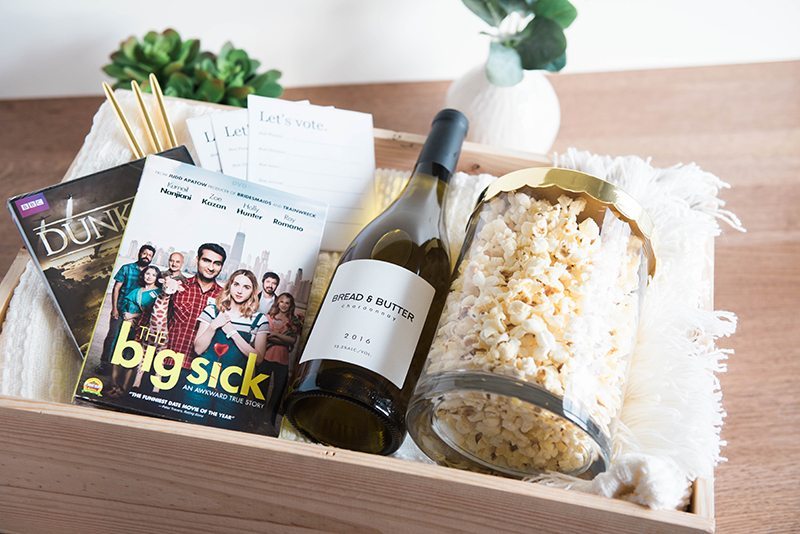 An Awards Night Basket
This gift basket comes together fast but looks as elegant as the haute couture gowns you see on the red carpet, thanks to some special gold accents and a bottle of your favorite Chardonnay.

More importantly, this DIY stunner tells the movie aficionado in your life that you support them in both big and small things— from big life events to a fun night of celebrating the year in cinema.

Here's what you need if you're ready to DIY a perfect Awards Night Gift Basket...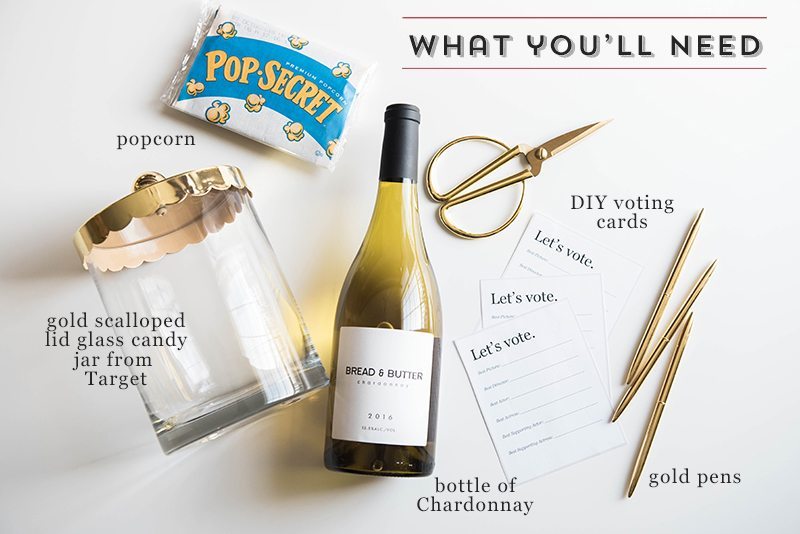 Supplies
Microwave popcorn: give your friend all the fun of a movie theater from the comfort of their home. Readily available at any grocery store, but you're going to need to make a Target run anyway, so might as well head over to their snack aisle ASAP.
Cute glass candy jar: Remember how we warned you about that Target trip? That's where we found this gorgeous jar—we love the gold scalloped lid, and it's the perfect size for holding a bag of popcorn.
Cozy throw: While you're perusing the wonders of Target, pick up a soft throw blanket for maximum movie-watching comfort. (Plus, there's no such thing as too many pretty throws.)
DIY voting cards: Help your hostess and her friends play the part of renowned movie critic by printing out a set of custom voting cards. You can design your own, or find tons of cute templates available online.
Gold pens: Add some glamour to your DIY with some shiny gold pens, perfect for voting for your favorite film in style. We found ours on Amazon, but your local Staples carries them as well.
Chardonnay: Help your friend celebrate like a star with a lovely bottle of Chardonnay. Grab at the grocery store, or from your favorite wine store.
Movies: Gift your friend your favorite award-winning film as a way of saying thanks for hosting a wonderful evening. Hosting can be fun but stressful, so sharing a favorite movie is a great way to remind your friend to relax and enjoy her own night at the movies after the festivities wind down.
Wine crate: We used a wine crate to box up all our movie-related memorabilia (available online and at most craft stores, like Michaels or Hobby Lobby), but any box or basket will work.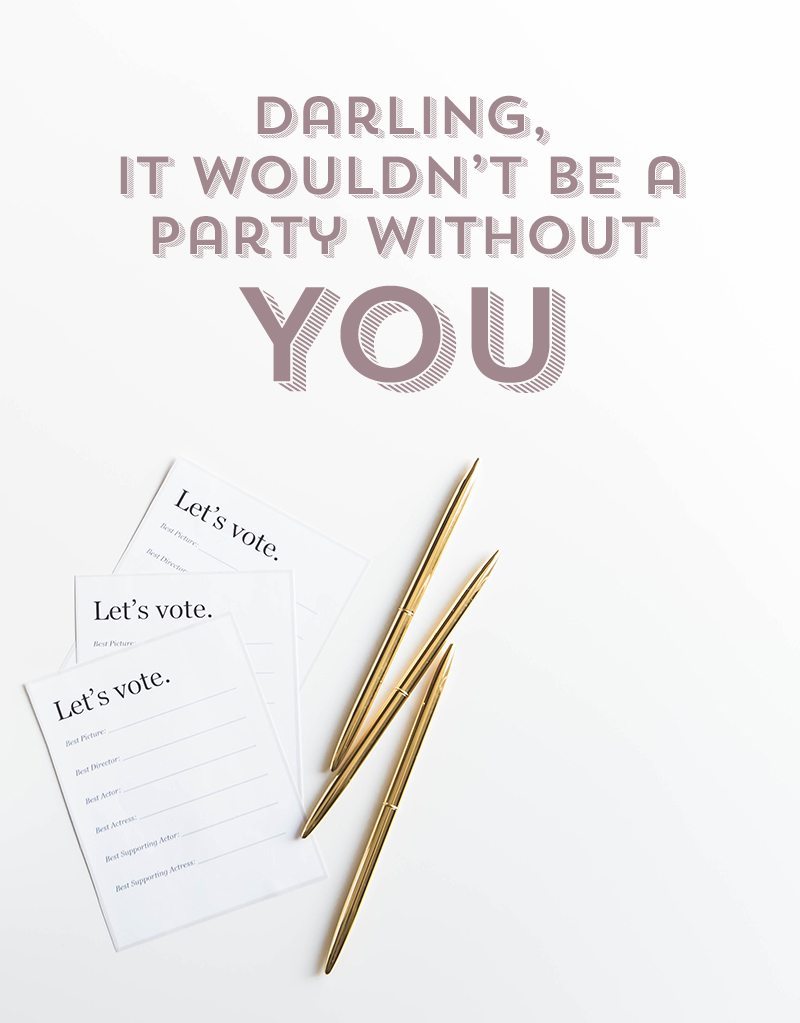 Remember all those after-party interviews with actresses desperate to get home and out of their fancy dresses and uncomfortable shoes? Even award winners want the comfort of a good meal, and if you can't give your movie-loving hostess our DIY Awards Night Basket, you can still show them you care by sending a dinner of soup, rolls, and fresh-baked cookies. Check out our care packages to see how you can brighten a friend's day when you can't be together to celebrate your favorite actor or actress finally getting that long-awaited gold statue.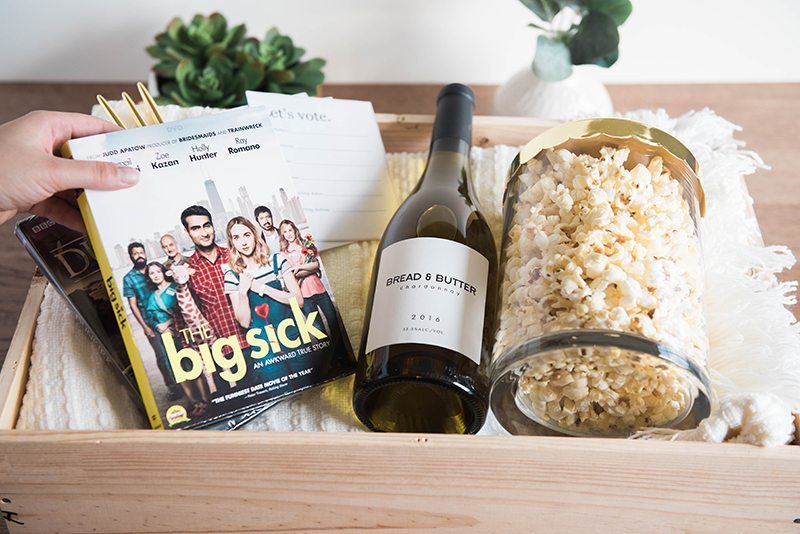 We Love Sharing Good Ideas
Did you deliver a DIY Awards Night Gift Basket to a lucky hostess? Snap a photo and tell us all about it! Let us know how you celebrate Awards season and tag us on Instagram @spoonfulofcomfort #spoonfulofcomfort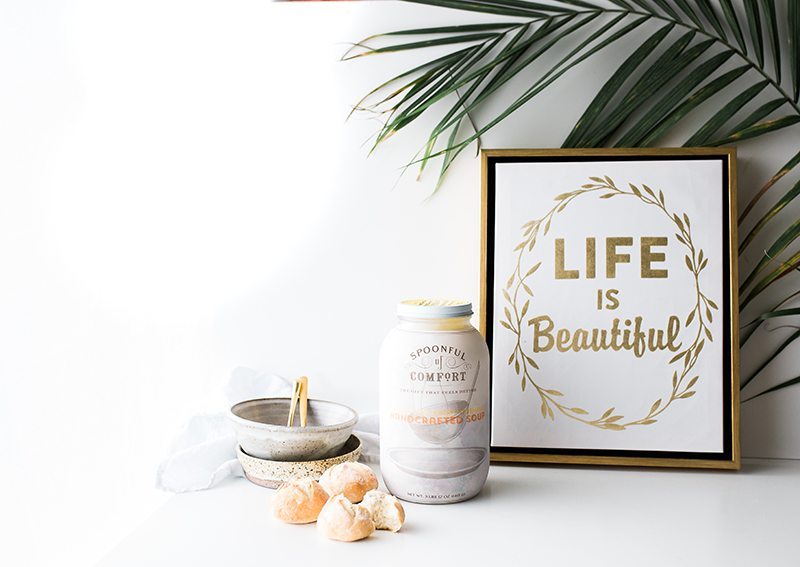 Ready-To-Go Dinner Party
Got a movie-lover that lives far away? Send them a dinner party in a box with our Spoonful of Comfort Soup Gift Boxes. A beautiful jar of soup, fresh baked rolls and cookies. So all they have to do is turn on the TV, heat up our delicious handcrafted soup and enjoy the show! Click here to see all of the winning options & ship a Soup Box straight to their front door.