The Loan to Home Team and Spoonful of Comfort: A Real (Estate) Relationship
Future thinking. It's the kind of mindset of mortgage customers have as they prepare to buy their dream homes. And it's the strategy the Loan to Home Team has as it builds a long-term pattern of nationwide success out of Colorado Springs.
Building Relationships for the Long Term
Krystal Stearns, a mortgage specialist trained in finance as well as communications, sees her business being about much more than monetary transactions. "People don't get mortgages frequently, " she notes, "so there's rarely a strong relationship with a loan officer already in place. Most people end up asking for referrals from friends, neighbors, real estate agents. We want the Loan to Home Team to be that referral."
Building a loyal network of happy customers and agents is a key strategy for the company's growth. That's meant standing out in the industry while building individual trust. Loan to Home goes beyond expert financial services with a deliberate communication plan.
"We immediately want loan applicants to know they're individually important. They're more than a set of qualifications on paper," says Stearns. When someone expresses interest in Loan to Home, it's company policy to follow up with a handwritten card and appreciation present. Once a loan closes, Loan to Home sends a congratulatory gift and note to every single customer. And that's where Spoonful of Comfort comes in.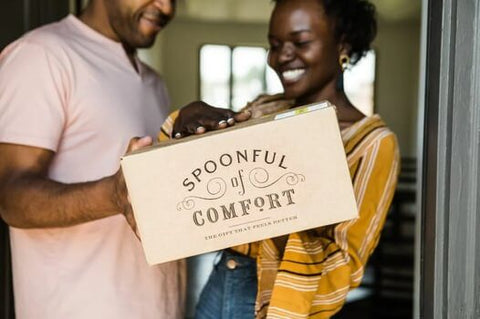 Gifting Goals with Spoonful of Comfort
Loan to Home had experimented with a variety of gift packages, but they hadn't been fully happy with the quality of gift for the price or had been discouraged by items that hadn't shipped well. "We discovered Spoonful of Comfort and made a big order of a seasonal package," says Sterans. "It was received so well, our relationship has morphed into an on-going partnership."
Lately, Loan to Home customers are delighted to be gifted with a Spoonful of Comfort blanket to enjoy in their new home. "We get pictures of people's kids wrapped up in this blanket. Over and over the comments come in that it's the softest blanket they've ever felt. That's just the reaction we need. Years from now, people will still have that blanket and remember that it came from our company. They will refer us to friends who need mortgages. They'll remember us when they move to another home."
Longevity is an essential characteristic of the gifts Loan to Home selects from Spoonful of Comfort. Because the purchase cycle of mortgages is so long, reminders of the company brand need to endure. Blankets and soup ladles are just a few of the items Loan to Home selects because they'll stay in people's homes for a long time.
The company's gifting practice extends to real estate agents, as well. Because Colorado Springs is home to many military families, Loan to Home has focused relationship-building on agents working with military clients nationwide. Loan to Home keeps their VA and other financing services top-of-mind with agents. Realtors in turn love referring clients to the Loan to Home Team, knowing they'll be treated well.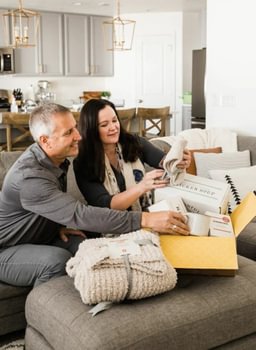 Playing Partner to Growth
This concept of partnership plays out between Loan to Home and Spoonful of Comfort, too. An aggressively growing company, Loan to Home sends dozens of gifts each month and didn't want to be burdened with entering orders individually. The attention they immediately received from the Spoonful of Corporate team made all the difference.
Without missing a beat, Spoonful of Comfort put the Loan to Home logo on note cards, prepared the desired message for each package, and sent the gifts out quickly. Today, Loan to Home updates a spreadsheet twice a month with new names and addresses. Spoonful of Comfort turns each order around within 48 hours. "I send two emails a month, and the job's done," says Stearns. "We continue to get busier as Loan to Home grows. I'm so appreciative to know that this part of our strategy will just get done."
Customization is another benefit Stearns recognizes since it makes the gift feel like it's truly coming from Loan to Home. Spoonful of Comfort keeps a stock of Loan to Home-branded note cards just for their orders. The unique nature of the gifts has been important, too. "Each communication has to set us apart. Anyone can go pick up a nut basket and send it. But when clients open our package, the gift is spot on, the card is personalized. It truly is an experience for them."
The Value of Future Thinking
Stearns admits that the gifting strategy they have in place is not cheap. "You have to look at the life of our clients. I can justify a more expensive gift because it will impact a relationship that will last years. The quality of the message we send reflects the quality of our service and our commitment to that client. For us, that's a meaningful way to grow our business."
That kind of future thinking is rubbing off. The companies are already looking ahead to new gift options to support Loan to Home's communication strategy in coming seasons. And both companies look forward to client relationships—and theirs—growing stronger.
Spoonful of Comfort nourishes businesses of all kinds. To learn more about our corporate gifting service and quantity discounts, visit www.SpoonfulofComfort.com or call 877-404-7678.