35+ Movies & Netflix Shows To Watch When Sick
Dealing With Sicks Days the Relaxing Way
When it comes to sick days, Spoonful of Comfort has come to the rescue more than once. And it seems the perfect sick days have a few things in common: a favorite blanket, a Get Well Soon Gift Package, and a Netflix subscription for access to a variety of the best movies to watch when you're sick.
Whether you don't feel well or your loved one is having a hard time and needs your support, our list of movies to watch when you're sick and our personalized care packages can be the perfect way to show someone you're thinking about them! And of course, if you are feeling overwhelmed with life in general, taking some mental health days is just as important as taking sick days and a great way to get back on track.
So cuddle up, grab the remote, and get ready for a cheery rom-com, inspiring true story, or a good old-fashioned classic. Start your sick day with our list of the best movies and Netflix shows to watch when you're sick.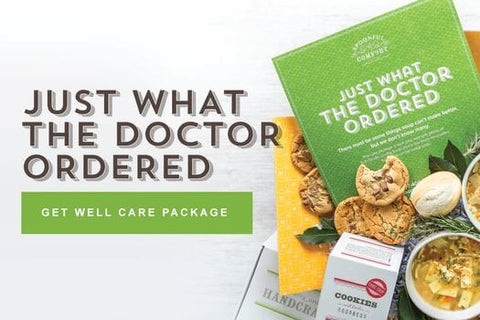 Good Movies to Watch When You're Sick
Captain Underpants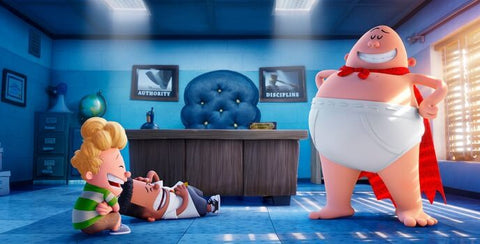 If you have little ones at home, a kid-friendly movie is always a great idea. Captain Underpants is funny and engaging for all ages, and you may even be able to sneak in a nap while your little ones watch. This superhero movie combines action and comedy—perfect for watching on a sick day.
Crazy Rich Asians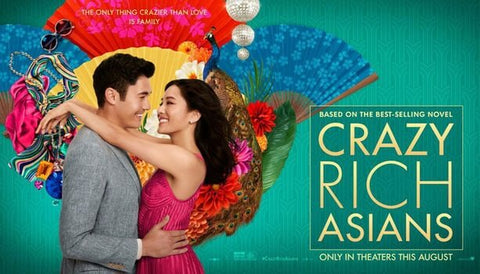 Let your daydreams take flight and watch Crazy Rich Asians as you imagine living your life in high society and wealth while laying on your couch. With its attention to detail, drama, and captivating characters, it's no wonder this rom-com makes the list of best movies to watch when you're sick.
Ferris Bueller's Day Off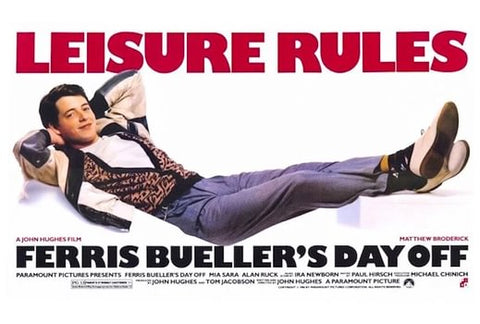 If you are wondering what to watch when sick, Ferris Bueller's Day Off is the ultimate in sick day movies. Maybe you've seen it before; maybe you haven't. Either way, it's worth a watch again (and again and again). An added bonus: This movie is sure to keep you giggling in between sniffles.
The Upside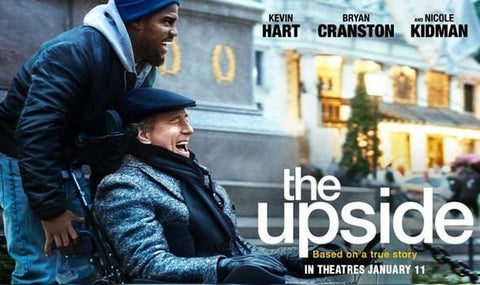 Based on a true story, The Upside is a movie about the growing relationship of two unexpected friends. If you're looking for an inspiring and uplifting movie, this is one to choose.
Pitch Perfect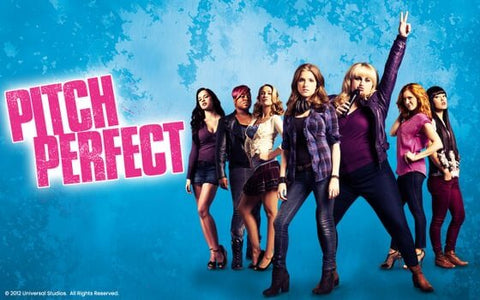 Feel like binge-watching a series? Try this fun trio of acapella flicks with Pitch Perfect 1 & 2 (and be ready when Pitch Perfect 3 is released to DVD and Blu-ray in March). This musical comedy has a stellar cast and is all about a college a cappella group trying to win nationals. These light-hearted movies maybe some of the best movies to watch when you're sick with the flu.
Love, Actually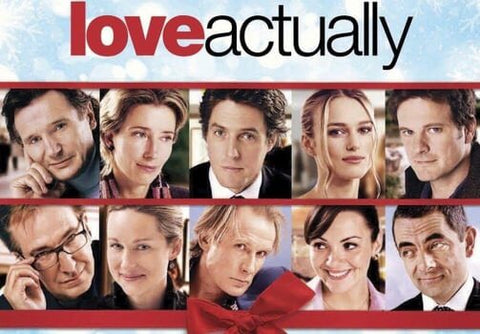 Ok, we know it's not Christmas, but Love Actually is the perfect romantic comedy to warm your heart on a dreary day. Follow the stories of these lovable characters and remember how important it is to show your loved ones you care.
La La Land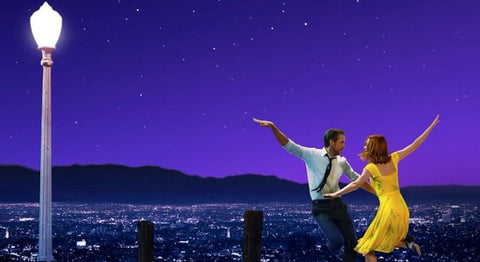 Bring a little sunshine into your day with La La Land, starring Emma Stone and Ryan Gosling. You can lazily relish the classic dancing while also listening to some beautiful songs and soulful jazz music.
Groundhog Day
Maybe you are feeling down in the dumps and need a reminder that it could always be worse. Groundhog Day is an old classic and will have you laughing as Bill Murray relives his worst day ever over, and over, and over, and…well, you get the idea.
Wonder Woman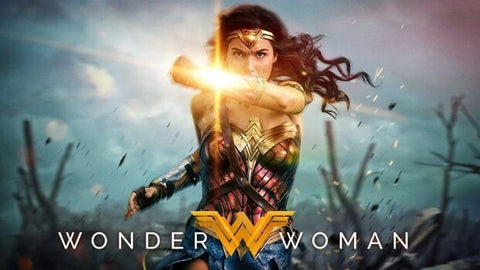 Prefer something exciting and new to help you pass the time? If you haven't seen it yet, the latest Wonder Woman is an engaging story about how Diana, Princess of the Amazons, became Wonder Woman. Watch as she grows up and fights to end a war and embraces her powers. And maybe grab another bowl of hot soup while you watch.
Soul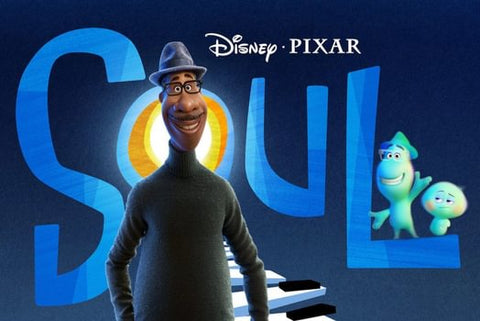 What is a good clean movie to watch? By the end of this Disney/Pixar film, you will be feeling grateful for every moment of each day, even the sick ones. Travel with Joe and 22 through their bonding experiences while appreciating the intricacies of jazz music.
The Princess Bride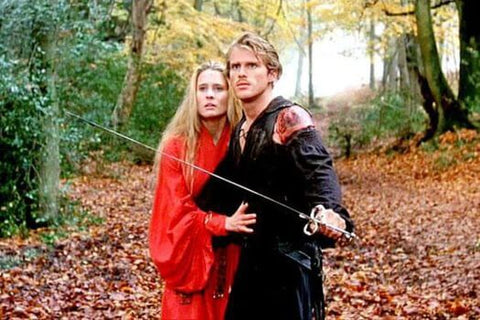 An affectionate grandfather reads from his favorite book to cheer up his grandson, who is sick and stuck in bed. This classic will cheer you up as well with its fun and exciting love story of Buttercup and Westley, which is complete with danger, kidnapping, pirates, sword fights, heroic rescues, and continuous comedy.
The Greatest Showman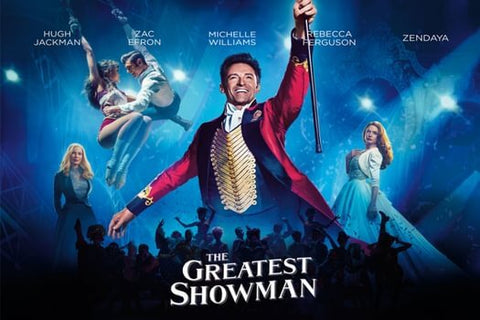 This lively musical follows P.T. Barnum as his imagination comes to life. He gathers a troupe of human oddities and puts together a spectacular show, but he wants more. Many difficult decisions are made along the way, and Barnum learns a hard lesson about what matters most in life.
Little Women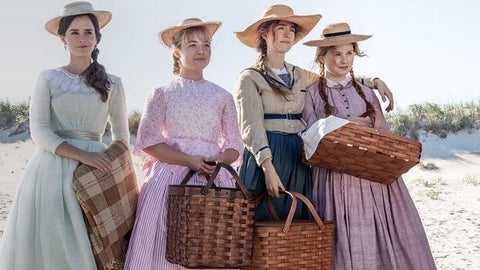 When you're down sick, you may not be up to reading, but you can still appreciate this new take on a classic novel. Little Women will have you laughing, crying, and cheering as you follow the adventures of four beloved sisters.
Forrest Gump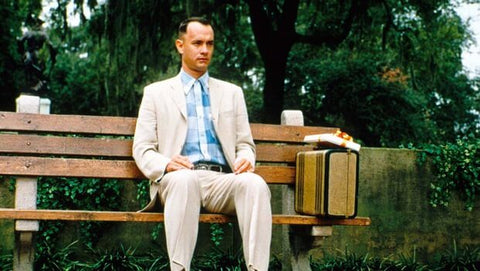 This feel-good film is about a man who faces many challenges in his life. He has to wear leg braces as a child but becomes an incredibly fast runner and athlete. He has a very low IQ, faces bullies, serves in the military, and even gets shot. Somehow he maintains unfailing optimism and manages to be successful, make friends, and have adventures most can only imagine.
The Goonies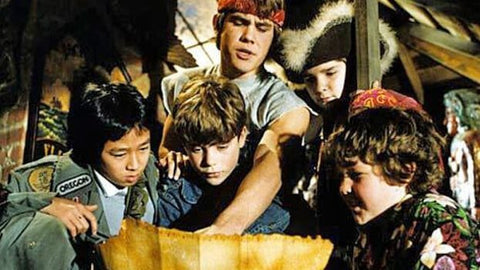 If you love a little nostalgia with your soup when you're sick, then this 80's movie is a gem. Several neighborhood kids face losing their homes to a developer when they discover a map to the infamous One-Eyed Willy's treasure. On their adventure of a lifetime, they face their fears in an attempt to help their families. You'll also get an extra dose of motivation and courage because "Goonies never say die."
Sabrina
Whether you prefer the 1954 original with Audrey Hepburn or are a fan of Harrison Ford, Sabrina is a must no matter which version you choose. Watch the transformation of a shy timid woman transform into someone everyone admires.
Star Wars
The Star Wars saga is the perfect movie marathon choice when you're stuck in bed. Whether you start with Episode I and move forward chronologically or start with Episode IV and watch the originals first, you'll find yourself transported to other worlds and caught up in an endless adventure. From one Jedi fan to another, feel better soon and may the Force be with you.
Harry Potter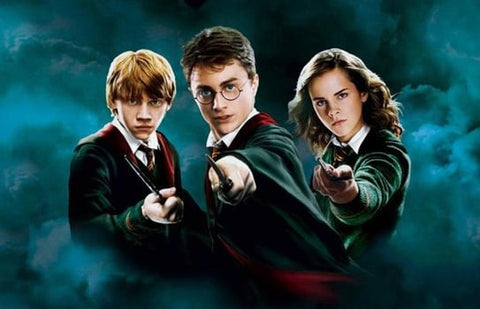 The Harry Potter series contains eight of the best movies to watch when you have the flu. Join Harry, Ron, and Hermione as they repeatedly save the wizarding world from Lord Voldemort and the Death Eaters. Brush up on your magic and enjoy some soup delivered from A Spoonful of Comfort—it's almost as easy as having a house-elf!
Oceans 8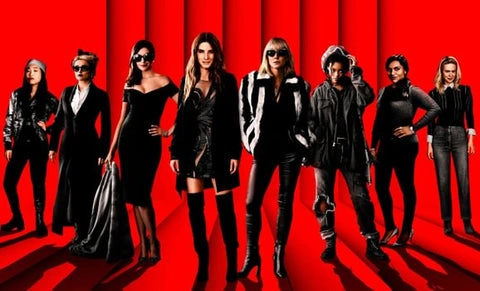 Wish there was one movie with all your favorite actresses? Look for Oceans 8 on Netflix today! Don't worry, this Oceans movie holds up to the classic Oceans name while giving it a new spin. Will all the ladies be able to pull off the heist of a lifetime?
The Hobbit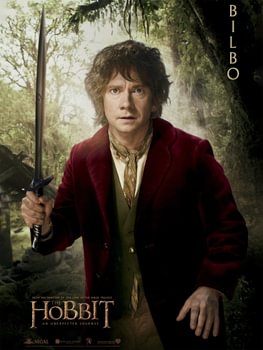 The Hobbit is a three-part series and are all good movies to watch when sick. Based on the book of the same name, these movies cover the journey of Bilbo Baggins (the hobbit) and a band of dwarves seeking to steal back the dwarves' treasure from a fierce dragon. Bilbo is supposed to be the thief who gets it back for them, but first, they all must face their doubts in his abilities and find the strength they didn't know they had.
Back to the Future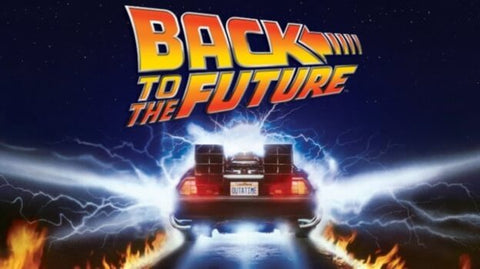 If you're looking for laughs and love 80's pop culture, then Back to the Future is the perfect movie to watch when sick. Doc Brown is a zany scientist who invents a time-traveling car. His young friend Marty McFly winds up traveling to 1955 and meeting the younger versions of his parents. Marty has to find the "younger" Doc so he can get home while trying to make sure his parents still fall in love, and somehow managing not to mess up the space-time continuum. And the best part? This is only the first of three hilarious time-traveling films. (All three are perfect movies to watch when sick!)
Home Alone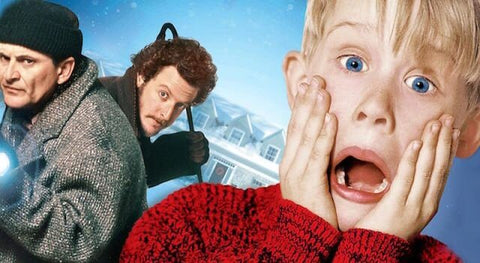 Home Alone is a great movie to watch when you get sick around the holidays. Eight-year-old Kevin McCallister's family takes a trip and accidentally leaves him behind. Kevin employs numerous creative tactics to fend off burglars and survive on his own during Christmas vacation.
The Martian
Matt Damon stars as Mark Watney, an astronaut who gets stranded on Mars when his team has to leave in a hurry—and believe him to be dead. He rations supplies, grows crops, and devises a way to signal the space station on earth. A mission is organized to rescue him before it's too late.
Knives Out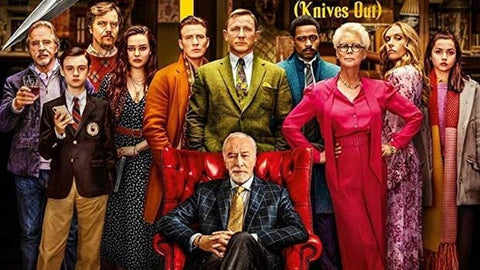 If you are looking for a murder mystery that will help you forget your illness for a while, Knives Out will keep you on the edge of your seat. Follow this whimsical movie through its ups and downs. Plus, watch some of your favorite stars play a role.
The Notebook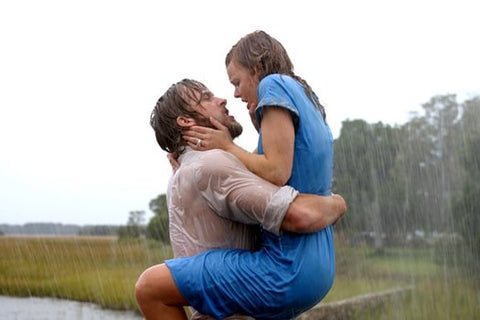 This heart-warming love story is about a poor young man and a wealthy young woman who meet and fall in love, however, her parents don't approve. When they are apart he writes to her every day for a year, but the girl's mother does not give her the letters. She dates another man and gets engaged, but seeing her first love again causes her to question everything. Even if you don't have the sniffles, you'll probably want a box of tissues nearby for this one.
The Incredibles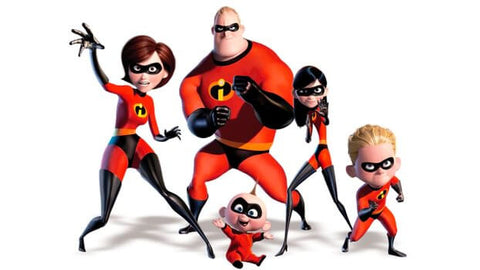 This is another great movie to watch when you're sick and have kids at home. You may find yourself relating to the characters as they fight for their family and discover what makes them super. Or use the time to get some much-needed rest while the kids enjoy the humor and animation.
Hitch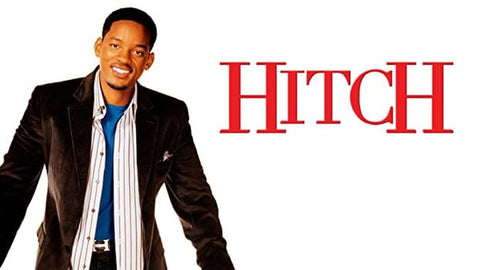 There is no better way to turn a day around than with Hitch. Watch as the love guru, played by Will Smith, helplessly falls in love himself. This rom-com classic is sure to put a smile on your face.
The Lord of the Rings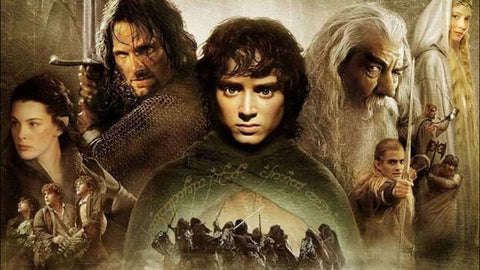 The Lord of the Rings series, based on the book by J.R.R. Tolkien, tells the story of Frodo Baggins, a hobbit on a quest to destroy a ring containing powerful dark magic. Meanwhile, the wizard Gandalf leads a heroic attempt to free the people of Middle Earth. This series is known for its incredible visual effects and has won about a million (roughly) Academy Awards.
Singin' in the Rain
Singin' in the Rain is set in 1927 Hollywood as talking pictures are first introduced. Actors Don and Lina fight for fame as they make the transition. Unfortunately for Lina, her shrill voice must be secretly dubbed over by the talented singer, Kathy, in their musical production. Don falls in love with Kathy as Lina becomes jealous and tries to keep her in the shadows. The cheerful music is perfect for a rainy day . . . or a day when you're home with the flu.
Sing Street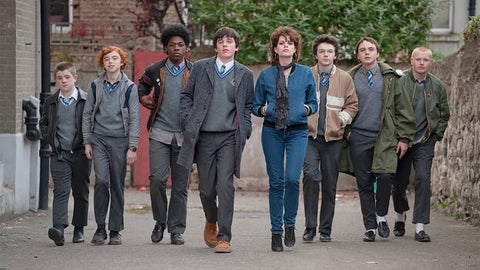 With a mixture of romance and music, Sing Street is ready to win your heart. Forget your woes, and travel back to the 80s with this fun watch.
Black Panther
What should I watch on Netflix when sick?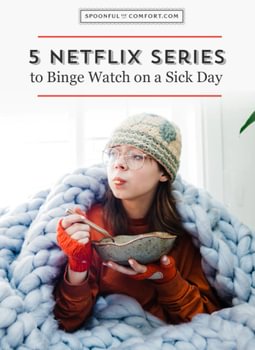 Not to be a downer, but who knows how long you'll be sick. Or maybe you just had a baby and need some time to recover. Luckily, you have a Spoonful of Comfort package full of soups, cookies, goodies, and more, along with a variety of shows to binge watch on Netflix. Make sure to have the remote close by for those "gotta watch again" moments, and get ready to be sucked into one of these classic series.
1. Salt Fat Acid Heat
New York Times Magazine's food columnist and culinary expert Samin Norsat really, really loves food. In her Netflix series, she travels around the world to discover how different cultures incorporate the four main flavors (salt, fat, acid, heat) essential to great tasting dishes. From Italy to Japan to her home in Berkley California, Norsat's lighthearted and enthusiastic personality makes following her around the world fun, and she might even convince you to try something new in your own kitchen. Warning: this show will make you hungry, so be prepared to relax with some snacks of your own.
2. Derry Girls
Set in Northern Ireland during the tumultuous 1990's, Derry Girls follows a group of teenage girls (seemingly) more concerned with surviving high school than the political conflict that surrounds them. Their day to day adventures are the perfect blend of quirky, heart-warming, and irreverent, and you'll find yourself feeling both charmed and mortified on their behalf. This is the perfect show to binge watch during a sick day when your own kids are away at school, allowing you can laugh freely at the misdeeds of fictional teenagers getting in and out of all sorts of hilarious trouble.
3. The Good Place
Turns out life after death can be a little awkward. And hilarious! When Eleanor Shellstrop dies in a freak grocery-cart accident, she finds herself in "The Good Place," where frozen yogurt is always available, and everyone gets a perfect soulmate. Except, Eleanor didn't exactly live a life worthy of eternal bliss. Turns out she was kind of a jerk, and she's taken someone else's rightful spot. Somehow, she'll have to figure out how to navigate heaven without raising to much he**.
We promise you'll laugh your ash off, even on your worst sick day. (Fun fact: there's no forking swearing in "The Good Place.") Go from laughing so hard your stomach hurts to deep, methodical thoughts with The Good Place. Starring Ted Dansen and Kristen Bell, you'll be in love with the twists and turns this comedy has to offer.
4. Where in the World is Carmen Sandiego?
She's back! This animated reboot of the 1990's cult classic is better than ever, and the perfect show to watch if you're binge watching with a sick big kid or pre-teen. (Especially when the alternative might be watching a series of inane YouTube stars film themselves eating cereal…) Clever, full of great jokes, and chock-full of girl-power, you might find yourself watching some episodes on your own, no sick kids necessary. It really is that fun.
5. One Day at a Time
Netflix is killing it in the reboot department, and this revival of a beloved 1970's sitcom is no exception. The series follows Penelope, an army veteran and single mom living with her feisty mother and two teenage kids. While the subject matter might feel complicated—the series addresses issues like divorce, parenting, and the elusive pursuit of work/life balance— the stellar cast and pitch-perfect jokes make this show a family-friendly favorite you can indulge in without guilt.
6. Cobra Kai
If you are a fan of the original Karate Kid, you're in for a real treat. Now is the time to binge Cobra Kai, a Netflix original. See all your favorite characters in a new light coupled with 80s references galore.
7. Kim's Convenience
From being sick to having a bad day, Kim's Convenience is one to make you laugh. Everyone can relate to the different family dynamics of the Kim family while appreciating the comical dialogue on top of it.
Brighten Up Someone's Sick Day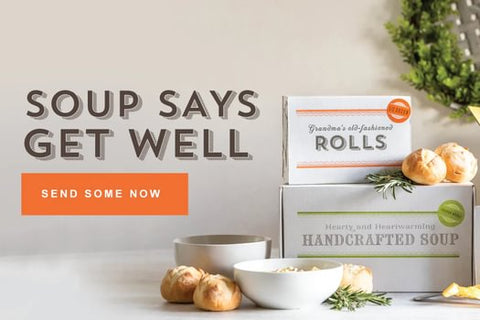 If you've got a far-away friend who's on the mend, why not deliver a box of handcrafted chicken noodle soup, grandma's homemade rolls, and a package of chocolate chip cookies straight to his or her front door? We also have a heartful Get Well Soon Soup Gift package made with soups, rolls, and cookies to brighten up anyone's day and add to any Netflix binge sessions.
You are reading a post from our Get Well Gifts Guide. Read on for more great ideas to help those you love (including yourself!) get well soon!
Get Well Gift Ideas
Get Well Food & Flix
Get Well - For the Hospital

How to Wish Them Well
Get Well Packages from Spoonful