60+ Heartfelt Mother's Day Quotes
Mother's Day Quotes
Mother's Day is just around the corner, and if you're like us, you're looking for a Mother's Day card that perfectly captures how you feel about your wonderful mother, grandmother, wife, girlfriend, or even your best Mom-friend who keeps you sane in times of chaos. She's your closest friend and mentor who's been there for you through thick and thin, so it's important to give her a note that genuinely expresses how much she means to you.
If the standard greeting cards aren't cutting it and you need a little inspiration for writing your own heartfelt message, we're here to help. We've gathered 62 of our favorite Mother's Day quotes for every type of mom—from the ambitious mom boss to the new and sleep-deprived mom to even the grandmothers who instilled wisdom and warm moments in our lives. We know mothers come in many forms, so here's to celebrating all of them.
See more Spoonful of Comfort Mother's Day Content
[Mother's Day Gift Guide]
[Mother's Day for a Grandma]
[Mother's Day General]
60+ Heartfelt Mother's Day Quotes (➜ Currently Reading)
➜ Order the special Mother's Day gift package from Spoonful of Comfort!
Inspirational Mother's Day Love Quotes
There are a lot of wonderful Mother's Day love quotes and anecdotes by renowned people from all walks of life—actors, writers, politicians, and educators. Share a little inspiration on Mother's Day in your social media feed or in a note to mom. Here are a few of our favorites:
"I got to grow up with a mother who taught me to believe in me."
- Antonio Villaraigosa
"Give the one you love wings to fly, roots to come back, and a reason to stay."
- Dalai Lama
"…Love as powerful as your mother's for you leaves its own mark."
- J.K. Rowling, Harry Potter and the Sorcerer's Stone
"Sometimes the strength of motherhood is greater than natural laws."
~ Barbara Kingslover
"Biology is the least of what makes someone a mother."
~ Oprah Winfrey
"A mother is she who can take the place of all others, but whose place no one else can take."
~ Cardinal Mermillod
"A mother is not a person to lean on, but a person to make leaning unnecessary."
~ Dorothy Canfield Fisher
"If evolution really works, how come mothers only have two hands?"
~ Milton Berle
"A mother is the one who fills your heart in the first place."
~ Amy Tan
Of course, no Mother's Day would be complete without a good meal and a treat. So, if you're far away from home this year, send Mom a Spoonful of Comfort Care Package along with her card, and secure your status as the favorite child for one more year. Whether you choose our Rise and Shine gift basket or go with our classic Soup and Sentiments option, we guarantee Mom will feel the love with this gift idea.
"God could not be everywhere, and therefore He made mothers."
~ Rudyard Kipling
"All that I am, or hope to be, I owe to my angel mother."
~ Abraham Lincoln
"Children are the anchors that hold mothers to life."
~ Sophocles
"Mama was my greatest teacher, a teacher of compassion, love and fearlessness. If love is sweet as a flower, then my mother is the sweetest flower of love."
~ Stevie Wonder
"My mother is a walking miracle."
~ Leonardo DiCaprio
"There is nothing in the world of art like the songs mother used to sing."
~ Billy Sunday
"I was always at peace because of the way my mom treated me."
~ Martina Hingis
"My mom is definitely my rock."
~ Alicia Keys
"The only love I really believe, is the mother's love for her children."
~ Karl Lagerfeld
"I will look after you and I will look after anybody you say needs to be looked after, any way you say. I am here, I brought my whole self to you. I am your mother."
~ Maya Angelou
"A mother is the truest friend we have, when trials are heavy and suddenly fall upon us; when adversity takes the place of prosperity; when friends desert us; when trouble thickens around us, she will still cling to us, and endeavor by her kind precepts and counsels to dissipate the clouds of darkness, and cause peace to return to our hearts."
~ Washington Irving
"Of all the rights of women, the greatest is to be a mother."
~ Quote from poet and scholar Lin Yutang
"Mother is the heartbeat in the home; and without her, there seems to be no heart throb."
~ Leroy Brownlow, a businessman, a preacher, and an author
"Children and mothers never truly part—Bound in the beating of each other's hearts."
~ Charlotte Gray
"A man loves his sweetheart the most, his wife the best, but his mother the longest."
~ Irish Proverb
"Life began with waking up and loving my mother's face."
~ George Eliot
"We are born of love; Love is our mother."
~ Rumi
"All I am I owe to my mother."
~ George Washington
"I can imagine no heroism greater than motherhood."
~ Lance Conrad
"Motherhood is the biggest gamble in the world. It is the glorious life force. It's huge and scary—it's an act of infinite optimism."
~ Gilda Radner
"There's no way to be a perfect mother, and a million ways to be a good one."
~ Jill Churchill
"My mother was my role model before I even knew what that word was."
~ Lisa Leslie
"The natural state of motherhood is unselfishness."
~ Jessica Lange
"The influence of a mother in the lives of her children is beyond calculation."
~ James E. Faust
"When you look into your mother's eyes, you know that is the purest love you can find."
~ Mitch Albom
"Most mothers are instinctive philosophers."
~ Harriet Beecher Stowe
"A mother's arms are more comforting than anyone else's."
~ Princess Diana
"I can only hope to be 10% of the mom mine was to me."
~ Charlize Theron
"When you are looking at your mother, you are looking at the purest love you will ever know."
~ Charley Benetto
"It may be possible to gild pure gold, but who can make his mother more beautiful?"
~ Mahatma Gandhi
"Mother is one to whom you hurry when you are troubled."
~ Emily Dickinson
"You sacrificed for us. You're the real MVP."
~ Kevin Durant
"Mothers are like glue. Even when you can't see them, they're still holding the family together."
~ Susan Gale
"My Mother . . . she is beautiful, softened at the edges and tempered with a spine of steel. I want to grow old and be like her. "
~ Jodi Picoult
"There is no role in life that is more essential than that of motherhood."
~ M. Russell Ballard
Funny Mother's Day Quotes
Does your mom have an incredible sense of humor? Lighten things up with a funny quote from her kids to sprinkle laughter on her special day.
"Motherhood: All love begins and ends there."
~ Robert Browning
"Mom, I love you, even though I'll never accept your friend request."
~ Unknown
"Any mother could perform the jobs of several air-traffic controllers with ease."
~ Lisa Alther
"It's not easy being a mother. If it were, fathers would do it."
~ The Golden Girls
"When your mother asks, 'Do you want a piece of advice?' it is a mere formality. It doesn't matter if you answer yes or no. You're going to get it anyway."
~ Erma Bombeck
"The phrase 'working mother' is redundant."
~ Jane Sellman
"I want my children to have all the things I couldn't afford. Then, I want to move in with them."
~ Phyllis Diller
"A mother is a person who, seeing there are only four pieces of pie for five people, promptly announces she never did care for pie."
~ Tenneva Jordan
"An ounce of mother is worth a ton of priest."
~ Spanish Proverb
"A mother is the person you can always call to see how long chicken lasts in the fridge."
~ Unknown
"The most remarkable thing about my mother is that for thirty years she served the family nothing but leftovers. The original meal has never been found."
~ Calvin Trillin
Mother's Day Quotes for Grandma
Grandmothers are kind of the best. We wouldn't be here if it weren't for our moms' moms. Some of our greatest childhood memories are precious moments with our grandmothers. So when you're giving thanks to the amazing and strong women in your life, be sure to include Grandma—she's a mother too. Here are some heartfelt Mother's Day quotes for Grandma:
"Grandmothers always have time to talk and make you feel special."
~ Catherine Pulsifer
"It's such a grand thing to be a mother of a mother—that's why the world calls her grandmother."
~ Unknown
"I know what it is like to be brought up with unconditional love. In my life that came from my grandmother."
~ Andre Leon Talley
"Life doesn't come with a manual, it comes with a grandmother."
~ Unknown
"My grandmother is the person who inspires me the most."
~ Victoria Azarenka
"It is one of nature's ways that we often feel closer to distant generations than to the generation immediately preceding us."
~ Igor Stravinsky
"If nothing is going well, call your grandmother."
~ Italian Proverb
Being a mother is one of the most selfless jobs in the world. Moms are on duty 24/7, so be sure to celebrate them this Mother's Day! And of course, your heartfelt Mother's Day message wouldn't be complete without a good meal and a treat. So if you're far away from home this year, send Mom a Spoonful of Comfort care package. You'll be the ultimate child/grandchild, friend, or significant other.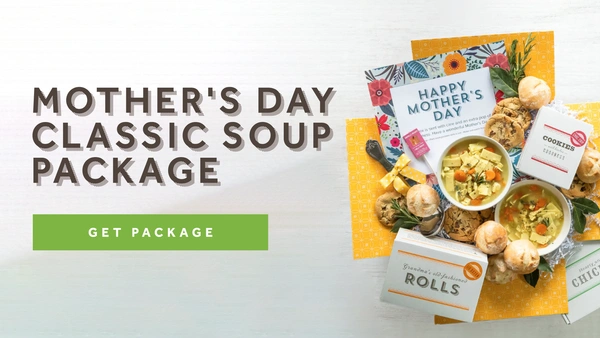 Our limited-edition 2023 Mother's Day package delivery includes a full meal of soup, rolls, and cookies. Happy Mother's Day!
Thinking ahead to Father's Day? Help yourself to a sampling of fun Father's Day quotes & sayings