7 Great Healthy Winter Food Ideas to Try
Healthy Winter Foods To Try
Winter can be a dizzying season of whirling snow, happy holidays, freezing temps, warm glowing fires, and cozy and comfortable meals. It can also be a time when the body gets worn down, so it is important to fill your days with delicious dishes like these eight healthy winter food ideas.
1. Chicken Tortilla Soup
This low-fat, low-carb, low-calorie soup is high on flavor. You can make this amazing chicken tortilla soup as mild or as spicy as you desire by adjusting the chili powder and green chiles or adding a little cayenne. The fresh cilantro and squeeze of lime add a hint of summer to this filling soup.
2. Seafood Marinara
Pasta is one of the most popular comfort foods for several reasons. It's quick and easy to cook, the possibilities are as endless as your taste and imagination, and let's be honest, it's fun to eat!
You can add to the experience by filling your home with the aroma of this super easy marinara sauce as it simmers on your stovetop. Throw in a blend of your favorite seafood for the last couple of minutes, and voilà! Healthy and scrumptious seafood marinara.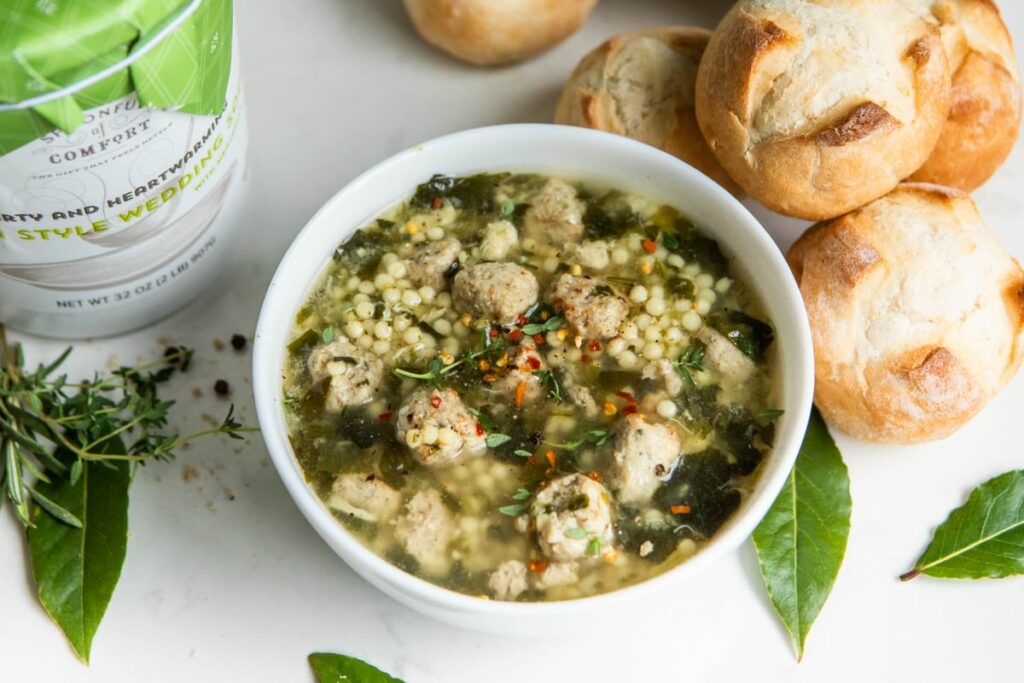 3. Italian Wedding Soup
One counter to cold weather is hearty soups and stews, and one of the tastiest and healthiest is a good Italian Wedding Soup. The heartiness of meatballs, the comfort of pasta, and the vitamins and minerals of dark greens like spinach and kale make this one of the best healthy winter food ideas on this list.
The word "soup" is derived from the Latin word suppa, which refers to bread soaked in broth. Pair a cup of Italian Wedding Soup with some crusty Bacci rolls, finish with a cappuccino and some snickerdoodles, and you will feel full and settled for the rest of the night.
4. Roasted Winter Veggies
There is a splendor in eating locally and seasonally, though it may seem easier to do so in warm weather months. However, you can stock up your winter larder with a share of root vegetables from your local community-supported agriculture, or perhaps you'll be lucky enough to be near a farmers market that moves indoors for the winter months.
To roast winter vegetables, simply toss some sweet potatoes, beets, potatoes, carrots, turnips, rutabagas, quartered onions, cloves of garlic, brussels sprouts, or whatever you'd like in olive oil. Then, season with your favorite seasonings, like garlic powder, white pepper, and pink Himalayan salt, and roast in the oven at 425 degrees F for approximately 30 minutes.
For a fun twist, roast a whole cauliflower (or if that air fryer you got last year has a rotisserie, definitely try that!), and serve topped with a cheese or hollandaise sauce.
5. Spiralized Sweet Potato Enchilada Casserole
Sweet potatoes taste like they shouldn't be good for you, but thanks to their fiber content, they are actually better for you than regular potatoes. They are also a good source of Vitamin C and potassium and can give you 400% of your recommended daily allowance of Vitamin A.
You've already put that air fryer to use cooking your healthy and delicious roasted cauliflower, so now let's bring out that spiralizer. You've no doubt already tried the stupendous spiralized veggie pasta recipes, but imagine surprising your family with a spicy homemade enchilada casserole. They will be asking for seconds—and maybe thirds!
6. Garden Vegetable Soup
It's not hard to fathom how soup came to be. How do you often make soup? You look around, see what ingredients you've got, throw them in a pot, and cook them until their delicious smell fills your home.
We all have our favorite bowl of bliss, but there's just something about a Garden Vegetable Soup that seems to make everything right with the world. Perhaps it's the simplicity of its taste, or maybe it's the incredible combination of flavors and colors. Or, it could be because it's just so darn good for you! Whatever it may be, hot vegetable soup and your favorite sandwich can get you back on track.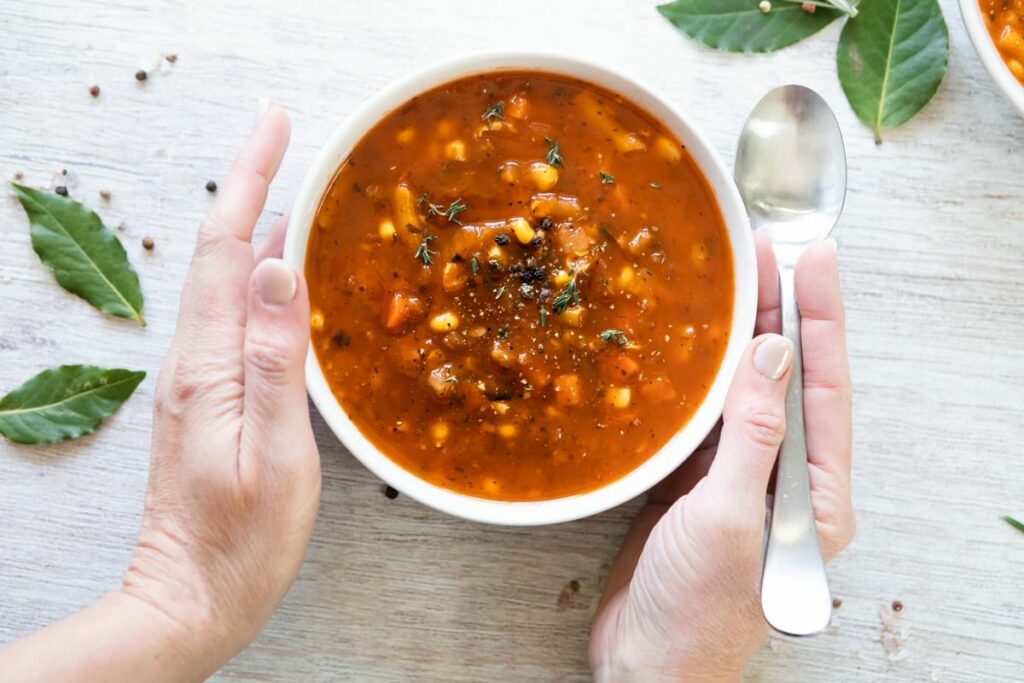 7. Acorn Squash Stuffed with Wild Rice and Mushrooms
Rich in alpha-carotene and beta-carotene, Vitamin C, and packed with fiber, winter squash has reemerged as a superfood. And it is the key ingredient in some of the most mouthwatering winter food ideas you will find. Some of the most popular winter squash include:
Butternut
Spaghetti
Delicata
Acorn
Sugar pumpkin
All of these squash options are fabulous, but acorn squash is the perfect serving size for two people or for one person who loves leftovers. You can also easily prepare two to serve a family of four. This simple stuffed squash recipe is great for those nights when you have other things to do at home and forgot to defrost something for dinner.
To start, halve an acorn squash, scoop out the seeds and pulp, and then bake it on a cookie sheet at 400 degrees F for about an hour. You can bake it flesh-side down in about 1/4-inch of water or roast it flesh-side up with a dollop of butter and a tablespoon of brown sugar or maple syrup.
Fill the center of your cooked acorn squash with a delicious savory mushroom and wild rice stuffing to enhance the sweetness of the squash. For even more flavor depth, use an earthy wild rice paired with an exotic mushroom blend.
Say It with Soup
No time to warm up your home and your tummy with a big pot of soup? Want to share some healthy winter food ideas with loved ones but aren't quite ready to stir up that pot? No worries! Not only can you send delicious soup gift baskets to loved ones (or yourself!) at any time, you can also gift a "Year of Yay" with a monthly subscription to Spoonful of Comfort. Our care packages that include savory soups and other delights can be sent monthly all year, or you can select our 3- or 6-month subscription options.