20 Mothers Day Brunch Recipes That Will Make Mom Proud
Mothers Day Brunch Recipes
Every day is a great day to show Mom how much she means to you, but Mother's Day is an opportunity to ramp up your game and make her feel like the super special person she is. Spoonful of Comfort was created to send thoughtful, reminds-you-of-home gifts to people far away—perfect if your mom lives somewhere else. But if you're lucky enough to be able to spend the day with Mom, here are some wonderful recipes to try.
See more Spoonful of Comfort Mother's Day Content
[Mother's Day Gift Guide]
20 Mother's Day Brunch Ideas

(➜ Currently Reading)
[Mother's Day for a Grandma]
[Mother's Day General]

➜ Order the special Mother's Day gift package from Spoonful of Comfort
1. Almond-Flour Paleo Waffles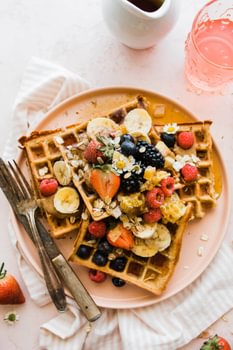 If mom went Paleo or Keto this year, or if she needs to avoid gluten. Mother's Day brunch just got a little more complicated. Don't worry! If you're searching for a paleo-friendly breakfast option that tastes just as delicious as the original recipes, look no further than these almond flour waffles.
GET THE RECIPE.
2. Breakfast Potato Casserole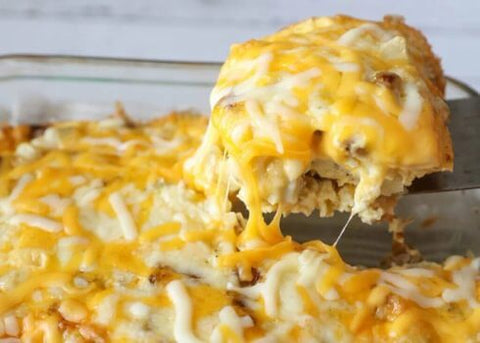 Your time is the greatest gift you can give Mom on Mother's Day. This Breakfast Potato Casserole can be made ahead of time and prebaked, so all you need to do is pop it in the oven to warm. Have fun with this recipe by mixing it up with some of your favorite breakfast ingredients!
GET THE RECIPE
.
3.Breakfast Granola Fruit Tart with Yogurt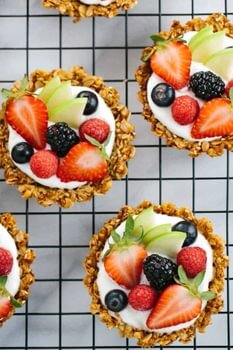 The brunch recipe that let's everyone sleep in on Mother's Day. Make the granola cups the night before and then let everyone fill with there favorite toppings in the morning. GET THE RECIPE.
4. Better Than Sex Fruit Salad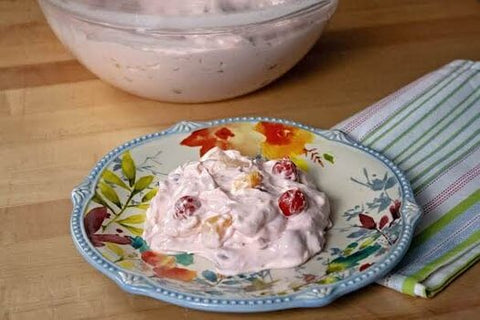 Mother's Day is about spoiling Mom, and this decadent fruit salad will do just that. Call it a salad or call it dessert, just make sure you call it to the table! GET THE RECIPE.
5. Classic French Crepes with Banana and Nutella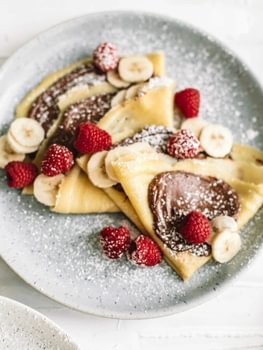 You may not be able to fly mom to Paris, but you can treat her to this Parisian cafe favorite. GET THE RECIPE.
6. Ham 'N Eggs Brunch Braid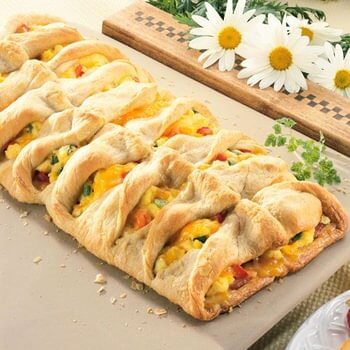 Appealing to the eye and the taste buds, this creamy eggy delight will please everyone. GET THE RECIPE.
7. Fluffy Blueberry Lemon Ricotta Pancakes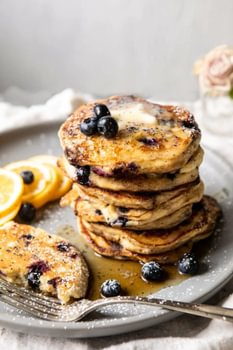 A tall stack of these pillowy soft ricotta pancakes and, suddenly, you're Mom's favorite child. That was easy. GET THE RECIPE.
8. Crisp Ham and Egg Cups
Super tasty, easy to make, and low carb? Yes! Adorn your Mother's Day brunch buffet with these Ham and Egg Cups. GET THE RECIPE.
9. Puff Pastry Smoked Salmon And Goat Cheese Quiche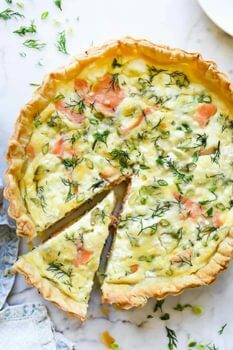 Thanks to a puff pastry crust, this impressive quiche comes together quickly! With a filling of custard-ey eggs, smoked salmon, and crème fraîche or goat cheese this dish is sure to be a Mother's Day brunch all-star. GET THE RECIPE.
10. Strawberry Mango Mint Julep Fruit Salad with Whipped Marshmallow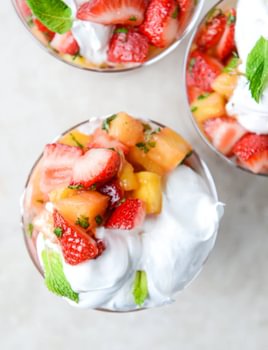 This boozey fruit salad is a fun addition to an all adult-brunch. To save time, you can pick up store-bought marshmallow fluff but we think this homemade version is worth the extra effort. GET THE RECIPE.
11. Tacos for Breakfast! Tacos Rancheros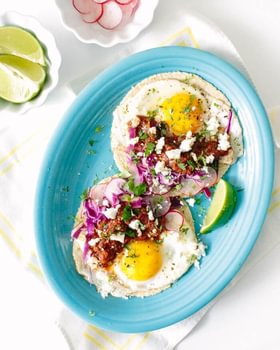 You love Mom, you love Tacos. Now you can enjoy both things at the same time. And while this brunch recipe is super simple to make, the mixed veggies, tangy sauce, and creamy cheese come together in a perfect flavor fiesta— and make you look like a gourmet chef. Hooray! GET THE RECIPE.
12. Breakfast Pizza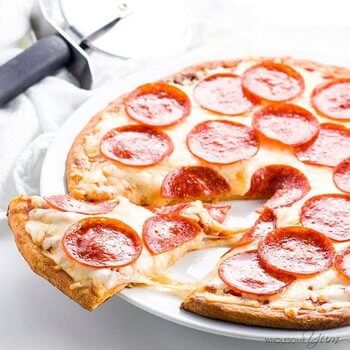 No, we're not talking about cold pizza leftover from the night before. You can keep it simple by using a store-bought crust and loading it up with your favorite breakfast toppings like bacon, sauce, and eggs, or you can go nuts and make your own crust like this recipe.
13. Brunch Bevs
Mother's Day brunch is not complete without some tasty and colorful beverages. If it is an adults-only event, you can try some of these fabulous brunch cocktails. For a family affair, refresh and delight with these non-alcoholic party drinks.
14. Spanish Tortilla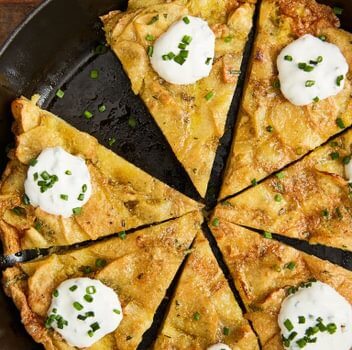 Fluffy eggs with a zip of rosemary are topped with a cool citrusy sour cream sauce in this culinary delight. Sprinkle the sauce with chopped fresh chives for added elegance and flavor. GET THE RECIPE.
15. Everything Bagel Casserole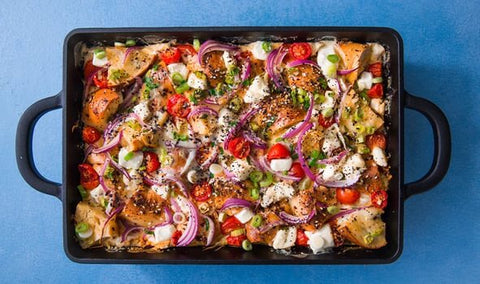 Casseroles are great Mother's Day brunch ideas, especially because you can prepare them ahead of time, and work on other brunch items as they bake. If your Mom loves everything bagels, she will go crazy for this casserole. GET THE RECIPE.
16. Blackberry Tart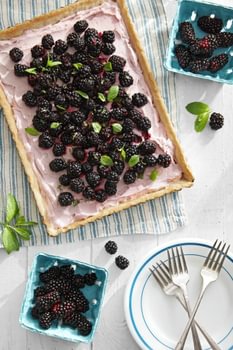 Nothing says "I love you Mom" like cool, colorful, comfort food. This creamy confection will have everyone at brunch oohing and aahing. You will want to make this recipe all year long.
17. Slow Cooker Ham Sandwiches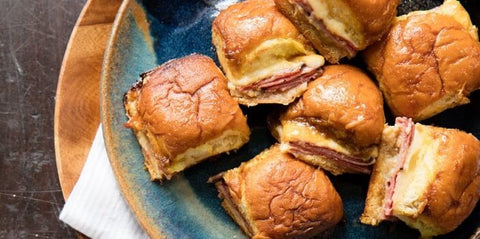 Your stovetop and oven will be pretty full, so break out that slow cooker for these sweet and salty sandwiches. The poured-on sauce makes them wonderfully moist, and the best part is you can serve them right from the slow cooker to keep them warm. Want to really make them pop? Have a small cooker of grilled pineapple rings to add as a topping. GET THE RECIPE.
18. Rooibos-Blueberry-Glazed Donut Holes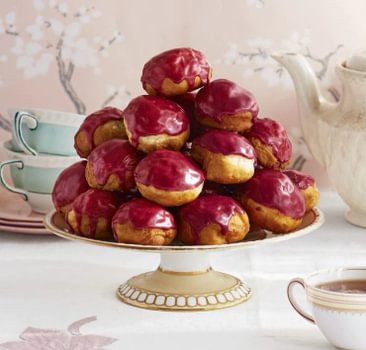 Not only will Mom love all you went through to make these mouthwatering morsels, but their size and color will also add elegance to any brunch buffet. GET THE RECIPE.
19. Coffee Cake Muffins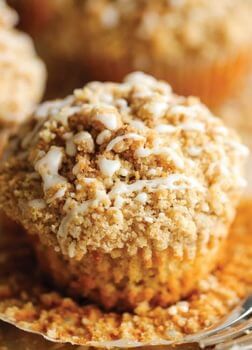 A Mother's Day brunch is not complete without muffins, and these will be a hit. Combining soft muffins with sweet and savory coffee cake, this recipe will have people smiling.
20. Coffee Drinks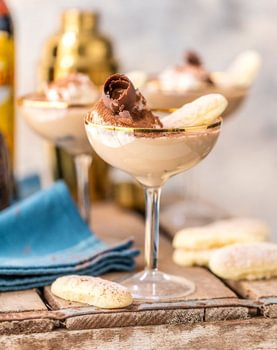 What goes better with coffee cake than coffee drinks? If you are more of a tippler than a teetotaler, there are a number of coffee cocktails to enjoy. For those who prefer their coffee straight, you can use syrups to make tasty non-alcoholic varieties, or try cold-brewed coffee mocktails for something refreshing.
Send a Surprise
Can't be with Mom this year? Instead of making brunch, why don't you send a great gourmet soup gift basket to your mom on this mother's day? 2021 limited-edition Mother's Day gift basket delivery includes a full meal: soup, rolls, and cookies (just like what she'd make herself!)—plus a plantable floral lollipop. Happy Mother's Day!