Best Company Christmas Gifts for Employees
Company Christmas Gifts
Getting presents for your family is a must, but it's important not to forget about your work family. Discover some of the best Christmas gifts for employees for this holiday season and how you can share the Christmas spirit with everyone in your life.
Gift Ideas
Gifts should be simple and from the heart. Thoughtful and meaningful gifts can help employees understand how much you value them. Gifts that employees can use at work are especially effective. Here are some of the best employee Christmas gift ideas that can serve as constant reminders of their importance.

Office Christmas Gift Ideas for Employees
Custom Mouse Pads - If you work at your computer all day, a fun, custom mouse pad with a company picture or logo on it can be a fun, creative addition to any office.
Home Office Essentials - In 2020, many of us moved our work to our home, and we're not quite sure when we'll be back in the office, or if we even want to go back after learning the joys of taking conference calls in pajama bottoms. A home office essentials box gives your employees something to keep improving their home office.
Desk Plants - A bit of life on each of your employee's desks can add style and a breath of fresh air to any office. Make sure you choose plants that are suited to indoor environments so even those without a green thumb can keep them alive.
Busylight - It's not always easy to tell if someone is hard at work at their computer and shouldn't be bothered, or if they're just wasting time on social media waiting for their next meeting to start. Busylight gives you the ability to politely show your status to anyone in the office.
Unique Christmas Gifts for Employees
New Office Chairs - If you work in an office with "good" and "bad" chairs, you know that people will sneak, lie, and bribe others to try to get the best chair. A supportive and comfortable chair for everyone might not be typical, but it will be a memorable employee Christmas gift the entire office will love.
Free Subscription to Digital Streaming - Allow your employees to choose from the streaming service they want. A year subscription to services like Disney+, Hulu, Netflix, Amazon Prime, or HBO Max will give them a present that they'll keep using throughout the year.
Paid Time Off - Sometimes the best gift you can give is something they can't hold in their hands. An extra day or two of vacation time is a present everyone will enjoy.
Rubber Duck - Some programmers spend time talking to a rubber duck to help review their code. The idea is that by talking out your thought process, you can more readily sort out a problem or challenge. And come on, who couldn't use a problem-solving friend who's cute, yellow, and chubby?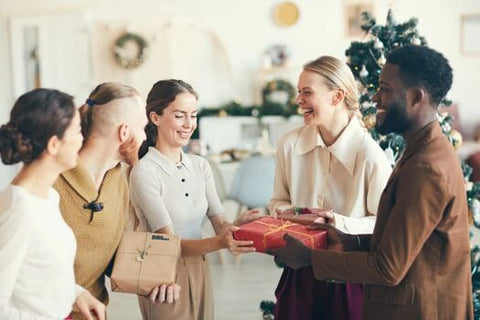 Easy Office Christmas Gifts
Gift Cards - Getting a gift card can be an easy and effective gift—as long as it's allowed by your company gift policy. Make sure that your company allows cash or cash equivalent gift and distribute gift amounts equally.
Fleece Blankets - A snuggly warm blanket with your company's logo on it is always an easy gift choice.
Personalized Christmas Gifts for Employees
Personalized Mugs - Giving each of your employees a personalized mug they can use at work will become essential for their morning coffee. Even for those that aren't coffee drinkers, a mug you can call your own is a bonus in the community breakroom.
Name Plates - Make sure everyone in your office knows who sits where with personalized name plates—you might even consider team nicknames. Or, name plates a fun addition to all the home offices out there.
Personalized Masks - COVID-19 may be something 2020 would rather forget. But, your company can do its part for public health. As your office reopens or as WFH warriors are out and about, you can keep your team safe with these customizable face masks.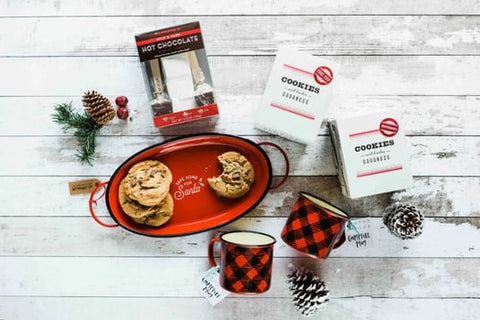 Gourmet Gift Baskets for Employees at Christmas
Spoonful of Comfort Gift Basket - When buying gifts for employees for Christmas, consider the value of a gourmet gift basket. They're something employees can share at home or at the office. Our Spoonful of Comfort care packages come with oodles of food and thoughtfulness. And they're a gift people of all ages and personalities appreciate. Each care package (delivered right to the door!) includes a generous portion of soup, rolls, and delicious cookies for dessert. Look for one-of-a-kind holiday packages, too!
Movie Night Gift Basket - Let your employees enjoy a night of entertainment with this movie night basket. You can even choose to add a gift card to make sure they have a new movie to enjoy.
Christmas Gift Ideas for Managers and Staff
Want to get employees Christmas gifts to fit your work environment? Give a nod to what's going on in your group day in and day out. Gifts like these combat stress, bring laughs, and can make managers and staff smile all year long.
Gourmet Coffee - Monday mornings have never looked better. A sampling of gourmet coffees will keep the pot fresh (and grumpiness at bay) thanks to a wide variety of blends and roasts.
A Dundie - Give a one-of-a-kind boss their very own Dundie Award. Even better, add on a World's Best Boss mug (Michael Scott would be proud).
Smart Squeeze Stress Relief Ball - This is a modern take on the classic stress ball. It pairs up with an app that tracks data from the smart sensor inside and offers exercises you can try, and even has games to play to combat stress.
Scratch Map - If employees are frequently on the road, a scratch map gives people a way to showcase where they've been and where they're looking forward to going next.
Happy Little Sticky Notes - For those organized individuals who run the world via sticky note, get them these Bob Ross beauties. With various note sizes and styles, there's always a way to use them.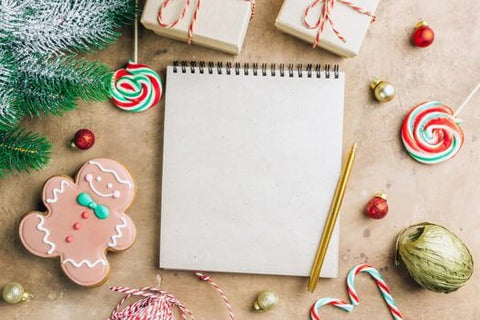 What should you say in the card with a Christmas gift to employees? First rule, be sincere. Thank a person for their work, their talents, their unique contributions. If you need some help adding a little Christmas spirit, consider some of these feel-good thoughts from history, entertainment, and literature.
Christmas Quotes for Employees
Nora Roberts - Nothing ever seems too bad, too hard, or too sad when you've got a Christmas tree in the living room.
Alexander Smith - Christmas is the day that holds all time together.
Edwin Osgood Grover - Santa Claus is anyone who loves another and seeks to make them happy; who gives himself by thought or word or deed in every gift that he bestows.
Pope John XXIII - Mankind is a great, an immense family. This is proved by what we feel in our hearts at Christmas.
J.K. Rowling, Harry Potter and the Sorcerer's Stone - Albus Dumbledor - One can never have enough socks. Another Christmas has come and gone and I didn't get a single pair. People will insist on giving me books.
Pope Francis - God never gives someone a gift they are not capable of receiving. If He gives us the gift of Christmas, it is because we all have the ability to understand and receive it.
David Cameron - Christmas gives us an opportunity to pause and reflect on the important things around us.
Mother Theresa - It's not how much we give but how much we put into giving.
The Polar Express - Seeing is believing, but sometimes the most real things in the world are the things we can't see.
Eloisa James, Paris in Love - I don't want Christmas season to end, because it's the only time I can legitimately indulge in one particular addiction: glitter.
Dr. Seuss, How the Grinch Stole Christmas - Christmas will always be as long as we stand heart to heart and hand in hand.
Winston Churchill - Christmas is a season not only of rejoicing but of reflection.
Janice Maeditere - Christmas is not as much about opening our presents as opening our hearts.
Bing Crosby - Unless we make Christmas an occasion to share our blessings, all the snow in Alaska won't make it white.
Andy Rooney - One of the most glorious messes in the world is the mess created in the living room on Christmas Day.
Brigham Young - Love the giver more than the gift.
Calvin Coolidge - Christmas is not a time nor a season, but a state of mind.
Carrie Fisher - I don't think Christmas is necessarily about things. It's about being good to one another.
Charles Dickens, A Christmas Carol - I will honor Christmas in my heart, and try to keep it all the year.
Charles M. Schulz - Christmas is doing a little something extra for someone.
Bob Hope - My idea of Christmas, whether old-fashioned or modern, is very simple: loving others.
Margaret Thatcher - Christmas is a day of meaning and traditions, a special day spent in the warm circle of family and friends.
Laura Ingalls Wilder - And we are better throughout the year for having in spirit, become a child again at Christmas time.
Taylor Caldwell - Don't let the past steal your present. This is the message of Christmas: We are never alone.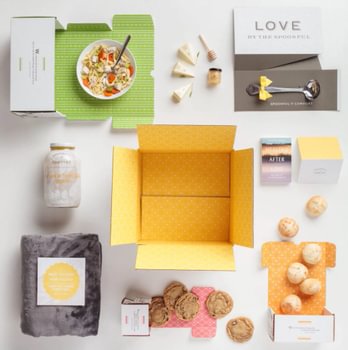 Order Your Spoonful of Comfort Corporate Gourmet Gift Baskets Today
Spoonful of Comfort provides warm, personal, and meaningful gifts for the holidays and throughout the year. Our Corporate Gift Baskets are a heartfelt gift that comes with a hand-written note for a one-of-a-kind personalized gift.
If you decide to make a bulk order of Christmas gifts for your employees, consider using Spoonful of Comfort's corporate accounts for access to discounts. One of our corporate specialists will oversee your orders and help manage the presents you want to give with prompt, personal service. Don't forget to check our eight special editions gift baskets for Christmas.

This article is part of our
Corporate Gift Giving Guide
to guide you to find the perfect gift for every gift-giving occasion in business. Don't forget to sign up for your
Corporate Gift Account
today and get a discount on corporate gifts for your employees, clients, and customers!
Corporate Gifts
Executive Gifts
Gifts for Employees
Gifts for Clients