Best First Mother's Day Gift Ideas for New Moms
Mother's Day Gift Ideas for New Moms
Becoming a mom is a life-changing event, and raising a child is exciting and challenging. So if you have any new mommies or mommies-to-be in your life, show your support and love by choosing a thoughtful gift.
And, if this loved one is about to become a new mom during the unique circumstances of a stay-at-home world, it's all the more reason to show your love and support with a great first Mother's Day gift!
See more Spoonful of Comfort Mother's Day Content
[Mother's Day Gift Guide]
First Mother's Day Gift for a New Mom

(➜ Currently Reading)
[Mother's Day for a Grandma]
[Mother's Day General]

➜ Order the special Mother's Day gift package from Spoonful of Comfort
First Mother's Day Gift Ideas
Picking out the right Mother's Day gift for a first-time mom doesn't have to be hard. To help out, we've put together a comprehensive list full of thoughtful first Mother's Day gift ideas.
First Mother's Day Clothing
Clothing is such a great first Mother's Day gift! It's can be a great conversation starter, be part of a fun photoshoot, or become a cherished keepsake.
First Mother's Day Shirts: You can order a cute first Mother's Day shirt online and customize it with a special design and font for the first-time mom in your life.
First Mother's Day Matching Shirts: What's better than giving a first Mother's Day shirt? Try gifting matching first Mother's Day shirts for both the new mom and the baby.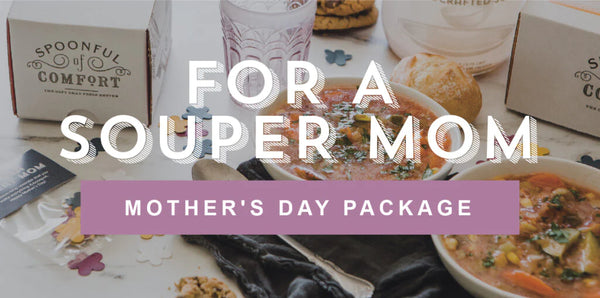 First Time Mother's Day Jewelry
Get the mom-to-be some first-time mom Mother's Day jewelry to go with her first-time Mother's Day clothes. Or, just get her some pretty jewelry she'll really love. Either way, you're giving a lasting gift that will bring back memories each time she sees or wears it.
Locket with Picture: A locket with pictures of the new baby and spouse inside it is a very special, memorable gift.
Thumbprint Pendant: Take a thumbprint of the baby and then have the adorable little thumbprint pressed onto a pendant that mom can wear around her neck.
Baby's Name Necklace: There are multiple options of custom name necklaces you can order online. Have one made with the baby's name on it for mama to wear whenever she chooses.
Baby's Birthstone Necklace: A birthstone necklace with baby's birthstone is another sweet option for first time Mother's Day jewelry for the new mom in your life.
Birthstone Bracelet: Similar to the birthstone necklace—just worn on the wrist—a birthstone bracelet is a thoughtful, delicate gift for any new mom.
Mother's Day Gift from a Husband
If there's one thing the spouse of a new mom should remember, it's that the new mom is going to need some downtime to relax, unwind, and maybe just catch an hour of sleep. The following are some great ideas for gifts a husband can get his wife, and each one shows his appreciation for her as she celebrates her first Mother's Day.
Silk Eye Mask and Neck Wrap Set: Give her the gift of comfort and just a little bit of luxury with a silk eye mask and neck wrap set so she can get some shut-eye during naptime.
Gift Subscription: A gift subscription to a company like Blue Apron is perfect for a new mom learning how to care for a newborn. Making dinner on top of all that can be a hassle, but a subscription to Blue Apron can make that aspect of life a lot easier.
Bathtub Caddy Tray: For the nights your wife needs some R&R, a bathtub caddy tray can make the perfect companion as she soaks in the tub.
Aromatherapy Essential Oil Diffuser: Another great gift that invites relaxation and calmness into any home is an aromatherapy essential oil diffuser. Diffusers go a long way toward adding some refreshing fragrance and serenity to a busy mom's day.
Stress Relief Ball: Who doesn't need a little stress relief in their life? A stress relief ball will certainly come in handy for a new mom.
Wireless Photo Mini Printer: Help your wife capture all the cute moments with baby and turn them into memories with a wireless photo mini printer.
Mother's Day Gift from Baby
Looking for the perfect gift both mama and baby will appreciate years down the road? These fun and sweet gift ideas are a great option for mom "from" new baby.
Baby's Time Capsule: A shadow box or other form of storage is the perfect way for a new mom to hold onto all the little mementos from baby's early years.
Baby's Keepsake Library: Store the little mementos another way with this unique baby's keepsake library designed with room and space for all kinds of trinkets and knick-knacks.
Baby's First Year Memory Book: Give mom a place to put all the fun photos and paper-based keepsakes so they are all in one place and easy to look back on and enjoy.
First Mother's Day Frame: A great gift that she will use for years, a first Mother's Day frame is the perfect place to put a photo of her and the baby snuggling or playing together.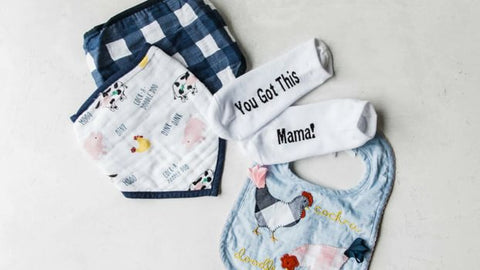 Special Gift for Daughter's First Mother's Day
If you're a mom or a dad with a daughter who's about to celebrate her first Mother's Day as a mom, take a look at these awesome first Mother's Day gift ideas.
Baby Cookbook: She'll appreciate this unique gift with recipes and food ideas to feed her new little one.
Quilt: Whether you ordered it or made it by hand, a baby quilt is something your daughter and her baby will love and cherish.
Family Tree: A family tree is an especially lovely and thoughtful gift that reminds everyone how special family truly is and where you came from.
Personalized Pillow: You can find custom-made pillows online where you can select exactly what you want on the pillow—from birth dates to pictures.
Paint By Numbers Kit: Your daughter might just appreciate the opportunity to get away and take some time for herself. Consider a paint by numbers kit or other types of creative outlets as therapeutic gifts that will give her the chance to have some "me" time.
Send a Spoonful of Comfort
New moms are busy enough caring for others, cleaning, and just figuring out a new way of life. Make sure they're getting the nutrients and love they deserve. Show the new moms in your life that you love and care by sending them the Mother's Day gift delivery from Spoonful of Comfort.
You'll delight the new mom with the cheerful packaging and full meal—soup, rolls, and cookies, plus a limited-edition packet of plantable floral lollipop. Happy Mother's Day 2021!